Meet Abdul Nasser of Basheer Graphic Books, who initially didn't even want to run a book business… Photography: Delfina Utomo
Running a longstanding bookstore business is no easy task – just ask Abdul Nasser of Basheer Graphic Books.
Print is not dead, according to Abdul Nasser Basheer Ahmad, the owner of Basheer Graphic Books. Surrounded by large coffee table books, local literature and a plethora of quality magazines and zines, he adds that print will live forever. "You'll never be able to replicate the feeling of holding one in your hands, the texture of pages and the smell of a new book, and that beats digital anytime," he says.
And it must be a feeling shared by many, especially his regular patrons of the store – including me. I live on the internet and make my living from digital, but I also live for good paper stock (and visits to bookstores) too. Though it was a Monday evening, the store had its share of art students, former art students in office wear browsing the art section, architecture enthusiasts and someone looking urgently for a book on watches. Navigating their way around the store – with its black-and-white chequered tiles and floor-to-ceiling stacks of books – Nasser and his staff attended to all his customers with a smile and intuitive recommendations for their reading list.
Getting hooked on books
His store located in the book enclave that is Bras Basah Complex has been around for over 25 years. Basheer Graphic Books has been a favourite haunt for its collection of modern and niche books, particularly in the areas of design, architecture and art. Its story begins with Nasser's own father,  who was a bookseller. It was the age of migration and like most others, his father was also in the business of trading.
"At first, I didn't want to follow my dad's footsteps! I even told him that I did not want to take over the business," Nasser says. He worked for other bookshops for a while before his dad brought in "reinforcements" in the form of a village elder from back home in India, who persuaded Nasser to stick to the family trade. Fortunately, he had begun to enjoy the trade by then and kept on keeping on. Nasser was officially in the biz for good.
Running a book business 101
For someone who was reluctant to join the book business, it's not hard to see how dedicated Nasser is to the trade. From selling books from suitcases around offices in the CBD in true 80s businessman-style to starting a bricks-and-mortar shop, Nasser has tried it all.
Over the years as the retail sector dipped and sales in his shop declined, he continued to persevere to keep the store in Bras Basah open. He had tried his hand venturing overseas at the suggestion of his customers abroad, but had to shutter down eventually due to low sales and high rental. As of now, only the Singapore and the Kuala Lumpur stores are open for business.
"And then there's also e-commerce, which is direct competition. It's hard to compete with them and keep up because if anything, e-commerce kills small businesses," he says. Basheer Graphic Books also has an online store but Nasser says the physical store will still be his main focus.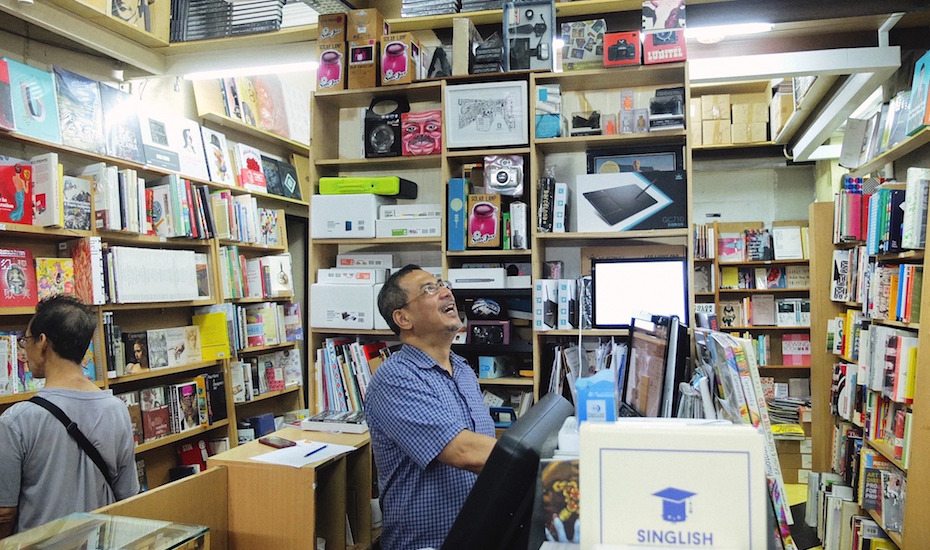 From book (suit)case seller to friendly neighbourhood Bras Basah attraction
He also tried the most obvious modern tactic: social media. "It's almost like free marketing – all I have to do is share a bit about the store and then I get people from all over the globe interacting with us," he says about posting regularly on the Basheer Graphic Books' Facebook and Instagram pages.
The customers are Nasser's favourite part of the job. Meeting people with different stories and preferences make his office hours interesting. "Funny story: once I was in London and I had just boarded the tube – and I met two of my regular customers from Singapore. They were studying in London at the time and we talked quite a bit about the bookshop scene," he recalls. The people also an important part of Basheer – I asked how he curates the books in his store. His reply? Feedback. "I depend on customers and their suggestions on what to stock in the store. It's a good way to learn about trends and also keep up with the times," he says.
For someone fairly new to the world of social media and marketing, Nasser seems to have built a good sense of community with the brand – and enjoys doing so. "It's a good thing I decided to stick with the book business. If I had picked another trade, perhaps the Basheer brand would not have as known," he says.
I asked if I could take a photo of him in his favourite section, and he promptly headed to the architecture section. "Architecture is the most interesting: it's a mix of everything. Something that starts from a sketch on paper and becomes something life-sized, a masterpiece. There's also a lot of philosophy into what they do," he tells me. We chat a bit about his favourite architect, Louis Kahn before we get our shot.
More customers flit in and out of the store, and I eventually make my exit. As I take a stroll through Bras Basah Complex where other established booksellers have been based for years, I began to really appreciate the role of local bookstores in the community. Nothing can ever replace the experience of a physical bookstore. Besides, booksellers like Nasser take the time to listen to customers and hook them up with the knowledge on the printed page – it's more than a sale, it's a bond.