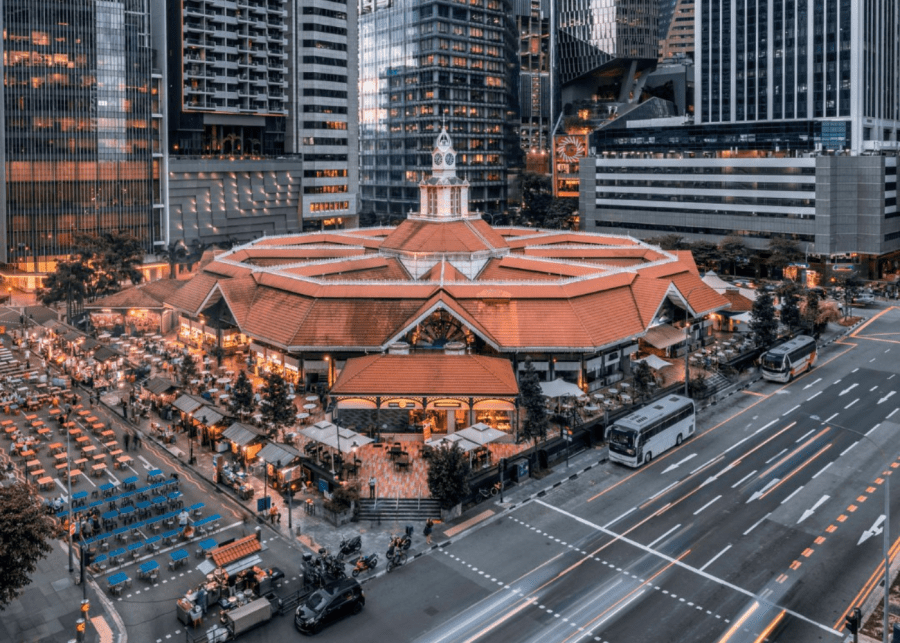 Photography: Lau Pa Sat via Facebook
Boasting over 150 years of charm, Lau Pa Sat has our hearts with delectable hawker food options and retail kiosks.
From its humble origins as one of Singapore's first wet markets to being the foodie paradise that it is today, Lau Pa Sat has come a long way. Formerly known as Telok Ayer Market, the building is one of the oldest, dating back to the 19th century. Trivia: Lau Pa Sat actually translates to "Old Market" in Hokkien and was gazetted as a National Monument in 1973.
Despite constant upgrades such as better seating for crazy lunch crowds, more ceiling fans to keep the place well-ventilated, and new stalls, some things stayed the same. The building's Victorian design elements including its unusual octagonal structure, wrought iron filigree and distinct clock tower with bells that chime every hour, are well preserved.
And thanks to its strategic location in the CBD, you'll find throngs of the office crowd (amongst the usual mix of tourists) coming here for lunch. Not sure where to start? Say goodbye to decision fatigue and read on for some of our top local food picks at Lau Pa Sat.
What to eat and drink at Lau Pa Sat
1. Food Folks
An award-winning brand born out of a shared love for food and experiences, Food Folks is bringing all things food-related to vibrant spaces. This F&B and retail hybrid boasts both traditional and innovative products with multi-sensory experiences. Get good eats from GoPizza, Smol, Shi Hui Yuan, and top it all off with desserts from Project Acai, Muffintory, or Creme & Cone. Grab some alfresco seats at Quay 18, the open space along the perimeter of Lau Pa Sat, and make it a romantic date night under the fairy lights. Don't forget to check out the retail space selling memorabilia and snacks with quirky local twists – perfect as a souvenir.
Food Folks, Main Dining Hall, Lau Pa Sat, 18 Raffles Quay, Singapore 048582
2. Kecha Bubble Tea
Deliciously sinful deep-fried snacks paired with ice-cold bubble tea? Yes, please. We can't get enough of these savoury Taiwanese snacks covered in five spice seasoning. Get the classic fried chicken with enoki mushrooms and tofu sticks to go with the huge selection of teas. And when we say huge, we mean huge. There are several different series of teas that you can try if you feel like venturing out of the realm of the typical brown sugar milk teas.
Kecha Bubble Tea, Stall 28, Lau Pa Sat, 18 Raffles Quay, Singapore 048582
3. NoBak
NoBak partners with The Social Kitchen, a social enterprise that collaborates with organisations to create employment opportunities for disadvantaged communities. It serves up mouth-watering hawker food, like the NoBak Shiok mee with plant-based meats on top of chewy yellow noodles. Sustainable hawker food? Count us in!
NoBak, Stall 27, Lau Pa Sat, 18 Raffles Quay, Singapore 048582
4. Fragrance Garden Chicken Rice
We're not gonna lie, the stall sign caught our attention with the resemblance to mahjong tiles. But we also can't say no to a good plate of classic chicken rice. If you're out and about looking to try bits of our local fare, start off with fragrant rice served up with either roasted or steamed chicken. Top it off with some black sauce and chilli to spice it up.
Fragrance Garden Chicken Rice, Stall 19, Lau Pa Sat, 18 Raffles Quay, Singapore 048582
5. Mr Rice Pao Fan
We love rice and a good soup layered with flavourful ingredients. Combine them both and you get pao fan, which is poached rice soaked up in a soul-warming broth. Perfect for a rainy day. We've been told that the soup here tastes a tiny bit different from other pao fan dishes in Singapore, but there's only one way for you to find out. If you're not into a soupy meal, there are also fried rice options served with savoury pork chops.
Mr Rice Pao Fan, Stall 18, Lau Pa Sat, 18 Raffles Quay, Singapore 048582
6. Fishin' Good Fish Soup
The cute fish-shaped sign coupled with the cat in the logo definitely gives some added charm to this stall. Practically everything is made from scratch at this humble establishment. Whole chicken and fish bones are stewed down to create incredibly rich and nutritious soup bases served with your choice of steamed or fried fish. Don't forget to grab the homemade chilli and top it off with tons of egg floss.
Fishin' Good Fish Soup, Stall 15, Lau Pa Sat, 18 Raffles Quay, Singapore 048582
7. Delhi Express Indian Cuisine
Got a curry craving to satisfy? Pop by Delhi Express Indian Cuisine and savour delicious food covered in fragrant spices and herbs. Soak up creamy and tender butter chicken with freshly made chapatis toasted on an open flame or with fluffy basmati rice. There's also a wide array of biryanis you can try (our goal is to try all of them at least once).
Delhi Express Indian Cuisine, Stall 11, Lau Pa Sat, 18 Raffles Quay, Singapore 048582
8. Thunder Tea Rice
If you're erring on the side of #health on your trip to Lau Pa Sat, why not go for a simple yet nutritous meal? Thunder Tea Rice serves up, you guessed it, rice accompanied with a green tea soup. But don't doubt the minimalist nature of this dish. Rice bowls are topped with basil, mint, beans, peanuts, ikan bilis, and tons of vegetables. Get some protein in the form of side dishes like an omelette or basil chicken.
Thunder Tea Rice, Stall 25, Lau Pa Sat, 18 Raffles Quay, Singapore 048582
9. Butter & Cream Bakery
We don't know about you, but when it hits midday, our team is always craving a sweet treat to power through the rest of our work day. Enter Butter & Cream Bakery – yes, a bakery in Lau Pa Sat, even we were surprised! Indulge in the selection of desserts that'll become the perfect pick-me-up for a mini afternoon high tea session in the office. We had the ever-so-buttery egg tarts, and we're definitely heading back for more.
Butter & Cream Bakery, Stall 6, Lau Pa Sat, 18 Raffles Quay, Singapore 048582
10. Satay Street
And of course, our Lau Pa Sat guide isn't complete without a mention of good ol' Satay Street. When the sun sets at 7pm, Boon Tat Street transforms from a busy road to an outdoor eatery with rows of satay vendors ready to grill their way into your hearts. Enjoy savoury skewered meats paired with rice cakes and cucumber chunks doused in peanut sauce. Order a tall jug of beer and you'll be indulging in street food the local way. If you can't wait for Satay Street to come alive, you can still order delicious grilled meat from various stalls like AZ King Satay (Stall 3 & 4) and Fazlink Satay (Stall 1).
Now plan your next group lunch or dinner at Lau Pa Sat and savour the very best it has to offer.
Lau Pa Sat, 18 Raffles Quay, Singapore 048582