Photography: Chao Ting via Facebook
Feeling chilly? Warm up with a hot bowl of pao fan! We share a list of our favourite stalls in Singapore.
We love pao fan in Singapore, especially on a rainy day. It's not to be mistaken with the gloopy porridge and congee you find in most Chinese restaurants. Instead, its name translates to "poached rice". Think fluffy grains of rice doused in a flavourful broth, and topped with seafood. There are plenty of stalls that promise you a good bowl of pao fan (some are even opened by experienced chefs). But in this list, we share the best of the best.
Best pao fan in Singapore
1. Chao Ting
This is where you've gotta go for decadent pao fan in Singapore. Chao Ting doles out bowls of rich soup served with fresh prawns and fish. Get the Duo Fish pao fan if you're a fan of both fried and sliced fish. You can even add on ingredients like fried egg floss, bitter gourd, and shimeji mushrooms for some extra oomph!
Chao Ting, Far East Square, 132 Amoy Street, Singapore 049961
2. Chef Wai's Poached Rice
Chef Wai's Poached Rice takes things to the next level by serving its pao fan with crispy rice! It's topped with succulent prawn broth and delish ingredients like prawn paste balls. Go ahead and order the Superior Lobster pao fan for a boujee meal. We won't be surprised if you keep coming back for more.
Chef Wai's Poached Rice, multiple locations including West Gate and Takashimaya
3. Le Kitchen Seafood Pao Fan
This pao fan spot is a hidden gem located at Taman Jurong food centre. Each spoonful of soup is packed with umami flavour. It'll definitely be one of your go-to lunch spots on a chilly day. Need a recommendation? Our favourite order is the fried fish lala pao fan that comes with fresh, sweet clams.
Le Kitchen Seafood Pao Fan, #03-126, Taman Jurong Food Centre, 3 Yung Sheng Road, Singapore 618499
4. Yu Huang Premium Seafood Soup
You know you can expect some quality pao fan from this hawker stall. After all, it's headed by a former chef from Canton Paradise and Putien. The seafood choices here are pretty abundant. Think everything from slipper lobster to giant grouper to fish maw. If you want more flavour, have your pao fan served with pumpkin rice instead. It's good enough to eat on its own, and even better soaked in broth!
Yu Huang Premium Seafood Soup, 101 Yung Sheng Road, Singapore 618497
5. San Pin Pao Fan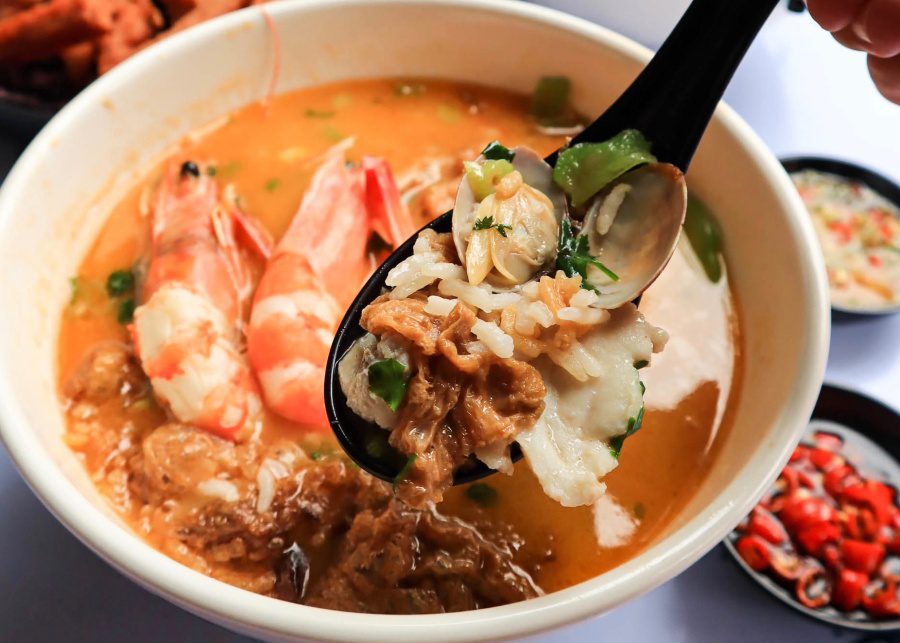 You'll find some pretty unique sides at this pao fan stall in Singapore. Think beef fillet and Iberico pork chop, as well as indulgent fried spam sticks. If that's not enough to entice you, its generous servings might. At only $7, the mixed seafood pao fan includes two large prawns, fried fish, sliced fish, fried egg floss, clams and bitter gourd.
San Pin Pao Fan, #01-18, China Square Food Centre, 51 Telok Ayer Street, Singapore 048441
6. T.K Kitchen – Paofan Paradise
This place doesn't just serve seafood broth. You'll find plenty of other options here including ginseng chicken and white pepper pork. And, instead of white rice, the restaurant uses egg fried rice for that extra wok hey flavour profile (uncle Roger would be proud). Still hungry after your meal? Order some tender red wine pork ribs to share with the fam (or have it all to yourself).
T.K Kitchen – Paofan Paradise, multiple locations including Teban Gardens and Rowell Road
Now you know where to get the best pao fan in Singapore when the skies are looking a little grey!