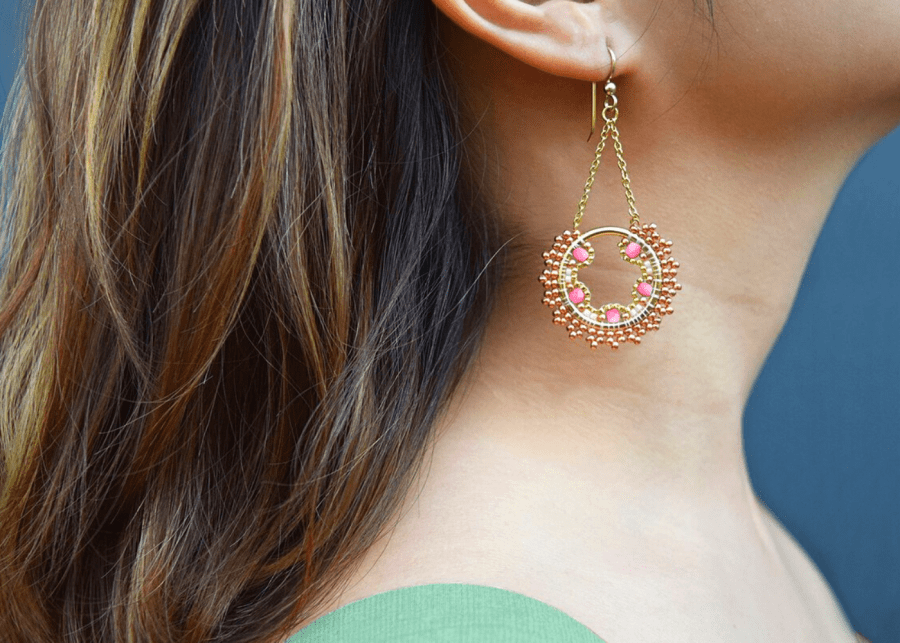 Photography: Eden + Elie
Support artisanal crafters and bag a unique accessory for yourself! Check out these handmade accessories brands for earrings, necklaces, brooches and more.
You can always count on a good accessory to complete an outfit. And when you have uniquely handcrafted pieces in your stash, styling gets even easier. From affordable to luxurious labels, minimal to eye-catching designs, we've compiled a list of stores for you to get handmade jewellery. Shop away!
Where to buy handmade jewellery in Singapore
1. Eden + Elie
You'll want Eden + Elie's ear candy grazing your shoulders on a night out – gorgeous, handwoven statements that are guaranteed to get you compliments. We're loving the Celestia earrings collection for designs woven with premium beads and semi-precious stones, as well as the modern Peranakan bangles that are inspired by the traditional Nyonya kebaya. Fun fact: the brand was named after founder Stephanie's two children, Eden and Eliot.
Eden + Elie, available online
2. Amado Gudek
Handcrafted in Singapore with eco-friendly materials, Amado Gudek's sustainable jewellery collections have stolen the hearts of many. Shop its products for a unique piece of your own: with everything painstakingly made by hand, you can be sure that no two items are alike. Past collabs and custom works have also seen designer Elaine Tan create beautiful accessories with dried plants, recycled Nespresso capsules and other materials.
Amado Gudek, available at Resin Play, #02-02, 37 Beach Road, Singapore 189678
3. WoonHung
WoonHung is an eponymous brand named after the Singapore-based designer, who specialises in creating handmade jewellery from natural materials. Working closely with craftsmen from Cebu in the Philippines, the store stocks geometric wood statement pieces in various hues. From its U-shaped earrings to its cube necklaces, these fun designs are sure to add interest to any outfit.
WoonHung, available online and at OUE Downtown Gallery and Metro Paragon
4. Rouge Trinkets
Days feeling grey? Rouge Trinkets' handmade jewellery will have you feeling chipper. This Singapore-based Etsy store is known for bringing out delightful danglers and neckline statements made of polymer clay. Aside from the joyful pops of colour, you'll see trendy designs like terrazzo and knotted features making an appearance, too.
Rouge Trinkets, available online
5. Carrie K
For a luxurious jewellery piece that's created specially for you (or a loved one), Carrie K has got your back. The brand was born after a month-long apprenticeship with a silversmith, where the founder, Carolyn, was struck with the idea of making jewellery of her own. Now, Carrie K is a well-known name. Get in touch for a bespoke creation, or shop its latest collection of meaningful jewellery designs.
Carrie K, available online and at multiple locations
6. She Loves Blooms
She Loves Blooms is a Singapore-based store with whimsical brooches designed by its founder, Yvette. These colourful pieces are hand assembled from laser cut acrylic or resin to create eye-catching statements. Shop the signature collection for locally-inspired designs – we're particularly taken with the Singapore Peranakan Shophouse Series that spotlights local heritage architecture. Or, check out the brooches with a cause, where your fashion choices can help raise awareness of important issues. The Malayan Sun Bear Brooch reminds us of the plight of venerable sun bears who are at risk of extinction, with a portion of its sales going to the Borneo Sun Bear Conservation Centre. Perk alert: take 15% off storewide for your first order with the code 'HELLOBLOOMS'!
She Loves Blooms, available online


7. Dainty Nine
Jewellery designer and maker Ruth Kui handcrafts each item in the Dainty Nine store. This local brand features artisanal jewellery with a mix of crochet and beaded details, resulting in romantic, dainty earrings that'll add an elegant touch to your lobes. Psst: beaded mask lanyards are available, too.
Dainty Nine, available online
8. Studio Mu Yu
Woodcrafted accessories are the name of the game at Studio Mu Yu. Expect geometric shapes, varied wooden tones and textures from its range of jewellery. Plus, we're all about its latest releases that are inspired by human connection, with the first of this series aptly titled 'heart'.
Studio Mu Yu, available online
9. Paperdaise
Paperdaise is a local handmade accessories brand with laser cut wooden ear studs in adorable designs. Think tiny hedgehogs, retro dragon playground outlines, origami paper cranes and more. And that's not all: there are also fabric button necklaces and hijab pins, laser cut brooches and even handmade headbands for your little one.
Paperdaise, available online
Get shopping to support these artisanal makers and snag a unique accessory for yourself!