Desperately need a foot massage? Pamper your tired feet with a luscious foot bath, an exfoliating fish spa or a tension-releasing foot massage at these reflexology studios.
No time for a thorough two-hour spa ritual? We've got another way to get you feeling like your old self again. Get your feet kneaded into utter submission with our list of foot reflexology spas in Singapore for detoxifying foot massages, fish spas and foot baths. We guarantee you'll be ready to tackle those fab killer heels again.
Feet Haven
The award-winning Feet Haven is clearly not your everyday spa — it's tricked out with cool lighting (hanging light bulbs and standing spotlights galore) and quirky furniture. Spacious and cosy, the value-for-money spa is staffed by experienced masseurs who will make your feet feel brand new. Great for a quick pop-in when you're knackered after cafe-hopping around the Katong area – an hour's massage will only set you back $42.
Feet Haven, #01-01, 136 East Coast Road S428821, p. 65 6344 7311
My Foot Reflexology
Soothing foot massages aside, nothing warms the cockles of our hearts like this spa's social responsibility initiatives – it hires the handicapped as therapists and front line staff. It also trains and employs retrenched older workers, the mentally challenged and deaf mutes. As if that's not a good enough reason to visit, its affordable massages ($35.50) span 40 minutes and work from the knee to the foot, to encourage blood circulation and relieve tired muscles.
My Foot Reflexology,#03-30 Centrepoint, 176 Orchard Road, Singapore 238843, p.6736 2562
Kenko Reflexology & Fish Spa
This household name offers foot massages ($99 for an hour) that come with mini privacy screens for you to relax in your private space. No time for a fussy pedi? Forget scrubbing or pumice stones – the "little masseurs" at the fish spa ($45) will naturally exfoliate dead skin cells and release tension (warning-the tickling sensations will give you a fit of the giggles).
Kenko Reflexology & Fish Spa, #01-29B The Shoppes at Marina Bay Sands, 2 Bayfront Avenue, Singapore 018972, p. 6688 7811
Wan Yang
No fuss, no frills. Established over two decades ago, this foot reflexology centre provides you with traditional healing methods (no fancy foot baths here), reinforced with stronger strokes along the pressure points of the feet. Locating it isn't hard – outlets are scattered all across the island for easy access to quick recuperation.
Wan Yang, #06-19 Plaza Singapura, 68 Orchard Road, Singapore 238839
The Luxe House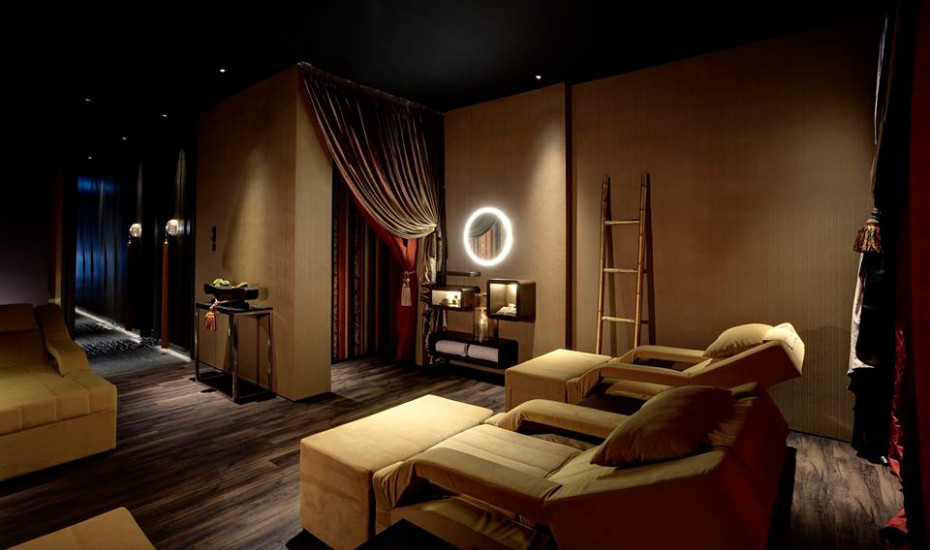 Nestled in the exclusive enclave of Dempsey, The Luxe House stands out as an ultra-luxe spa that specialises in foot therapies. Step into a sublime sanctuary of relaxation – think plush, ornate interiors with lots of velvet and suede –  and be transported to someplace blissful with a rich foot bath, infused with herbs, milk and flowers. Then, repair your soles with a thorough foot treatment (choose from traditional acupuncture or intensive rejuvenating foot therapies).
The Luxe House, 7A Dempsey Rd, Singapore 249684, p. 6479 9997
Green Apple Foot Spa
Located in a three-storey conserved shophouse, this spa lets you enjoy a therapeutic foot massage ($33), and a movie or two in a unique 12-seater movie theatre. Shed away any tension or fatigue in your feet as you catch up on the latest blockbusters. A couch potato's dream!
Green Apple Foot Spa, North Bridge Branch, 765 North Bridge Road, Singapore 198733, p. 6299 1555
Nimble/Knead
Hard to believe this is a spa! The quaint, industrial-chic décor of Nimble/Knead in Tiong Bahru reminds us more of a café. Built from shipping containers, its cool use of lighting, chairs made out of wooden crates (don't worry – you're not being massaged on them) is great for jaded folks looking for an alternative spa experience. Pop by for an hour's worth of foot massage ($42) after brunch.
Nimble/Knead, Tiong Bahru Estate, 66 Eng Watt Street, Singapore 160066, p. 6438 3933
Sole House
Unlike its brick-and-mortar counterparts, Sole House is a mobile service ready to cart its heavenly healing powers to tired souls at home (great for pregnant mummies with swollen feet) or at events. We're already swooning at the thought of slipping off our heels after work and dozing off to a fab foot massage in our own home.
Sole House, p. 6221 7002, e. [email protected]
Hands + Feet Studio
Hands + Feet Studio isn't just a spiffy place to get your nails done. Foot massage services here are top-notch, and geared towards improving blood pressure. Head to the Gallery Room – here, therapists work magic on your aching soles as you recline on a plush arm chair with a glossy mag. If you're really time-strapped, you can even get your manicure fix and massage done at the same time.
Hands + Feet Studio, 44 Siglap Drive, Singapore 456169, p. 6448 7187. Open 11am-11pm daily.
Rule of Thumb
You're guaranteed total relaxation at Rule of Thumb. While attention seems to only be emphasised on your feet, therapists will skilfully target specific pressure points which are connected to other parts of your body. Its location in the Kampong Glam district is also a major plus in our books – treat yourself to a lavish nasi padang meal nearby before taking a well-deserved nap here.
Rule of Thumb, #01-01, 289 Beach Road, Singapore 199552
Ancient Therapy
Okay, we admit it: a reflexology sesh can sometimes be a little tortuous, but there's nothing like a good kneading from a relentless reflexologist to get us back on track. Ancient Therapy on Telok Ayer is a traditional Chinese massage studio – we're talking multiple massages going on in a room – but for us, it absolutely hits the spot when we need to turn the lunch break into an emergency therapy session. We've popped in for just a 15 minute massage, and this is one of the most affordable places in town, so no excuses: squeeze in a treat.
Ancient Therapy, 184 Telok Ayer St, Singapore 068631, p 6223 3873 to book
Precious Foot Reflexology
After long, exhausting work days, we'd love nothing more than having our feet rubbed or a Netflix and Chil way past our bedtimes. What if we told you a that spa in Singapore combines the two? Precious Foot's reflexology services come equipped with tablets so you can catch up on all your favourite shows while your feet gets pounded into submission. Prices are affordable too, and range from to $35 for an hour to $54 for 90 minutes.
Precious Foot Reflexology, locations in Clementi, Toa Payoh, Ang Mo Kio and Jurong.
Natureland
Whether you're a night owl or an early bird, Natureland's got all your ah-and-ah needs covered. It's open for 24 hours so you can squeeze in a massage at all times of the day. Top tip: If you're badly in need of top-to-toe rejuvenation, we highly recommend the 5-in-1 therapy – it features 40 minutes of foot rubs, with 20 minutes of a head, shoulder, neck and back massage.
Natureland, multiple locations including Robertson Walk and Orchard Point.
The White Panda
Spread out over three floors, this serene haven won us over with its winning location. It's situated at the start of the Arab Street precinct, for convenient pop-ins after cafe hopping and explorations of the historic landmarks in the area. Foot reflexology treatments start from $25 for 30 minutes.
The White Panda, 146 Arab Street, Singapore 199830
Ayuthaya Royal Thai Spa
Ayuthaya Royal Thai Spa has it all: the famed relaxation-inducing massages we so enjoy from our favourite no-frills spas in Bangkok, with the ambience and decor of a high end place. Come here if you're looking for an authentic Thai foot massage which targets specific reflex points on the feet to hit all your body's sore points. The treatment also includes a herbal foot scrub.
Ayuthaya Royal Thai Spa, 7 Orange Grove Road, Singapore 258355