Spring cleaning, red packets and reunion dinners – Chinese New Year is here!
Yup, we're a superstitious bunch here in Singapore. On a nationwide level, we don't discount urban legends, we're extra careful during the Hungry Ghost Month and we believe in ghosts (kinda, maybe?). But when it comes to the most auspicious day of the lunar calendar, there are lots of traditions for Chinese New Year we can't help but stick to…
Chinese New Year traditions and rules
It's time for a reunion!
A significant meal that brings the family together, reunion dinners traditionally take place on the eve of Chinese New Year. But nowadays, many people also have it a few days or weeks before CNY, especially if you have multiple gatherings. Some people book Chinese restaurants or have buffets catered, while others prefer the cosiness of meeting up in homes with home-cooked food.
Lo hei or yu sheng is an essential starter to reunion dinners and other CNY gatherings in Singapore. You'll need to recite auspicious sayings while you mix the ingredients with your chopsticks, tossing them as high as possible for good luck. Rivers of gold, folks!
Stay up late on the eve of CNY
After a huge reunion dinner, it's common to stay up late at night, chatting with the family while waiting to usher in the new year together. Some say the later you stay awake, the longer your parents will live. Take this as your cue to spend time with the fam or indulge in a Chinese movie marathon and step into nostalgia.
Nothing is black and white
In the past, colours like black and white were avoided because they are traditionally worn during funerals. Instead, bright hues are preferred. Especially red! It's considered to be the colour of luck and fortune. But in this fashion conscious era, all vibrant shades are a go – as long as the clothes are new (y'know, new beginnings and all). Psst: take a look at our cheongsam haul!
It's a hairy situation
Washing your hair on the first and second day of the new year is believed to be bad luck – it symbolises washing away your fortune. Not a very auspicious start to your year! The same goes for cutting your hair. However, these days, not many people stick to such rules (not washing your hair in tropical weather needs no explanation). But if you're due for a haircut, hop over to the salon way before CNY to avoid the crowds and any surcharges.
Where my ang bao at?
It's customary to give money in a red packet (called hong bao or ang bao) to your family, loved ones and co-workers – but only if you're married. The amount varies depending on your income and your relationship with the receiver, but ang baos are generally a meaningful gesture, so don't stress out too much over what you're giving.
Also, regardless of how old the singles in your family are, they are entitled to receiving red packets. It's a Chinese New Year tradition – and it pays to be single! Another tip: don't forget your well wishes. Oh, and never ever give money in odd numbers or else you'll be tempting fate. Even numbers = good luck.
Don't skip the spring cleaning
If you're super inspired by the Netflix hit and want to Marie Kondo the sh*t out of your home, now's the time. Cleaning your abode and getting rid of old or unwanted furniture is also clearing your home of bad luck and welcoming new and good fortune. Plus, it's practical 'cause you'll most likely be hosting visitors and you want your space to be spick and span. Tip: just make sure you do all the spring cleaning before CNY.
You sweep, you lose!
The act of cleaning during the new year is associated with sweeping wealth away. Taking out the garbage also symbolises dumping out good fortune from the house. So yup, this is one fine excuse to avoid doing housework until after Chinese New Year.
There will be oranges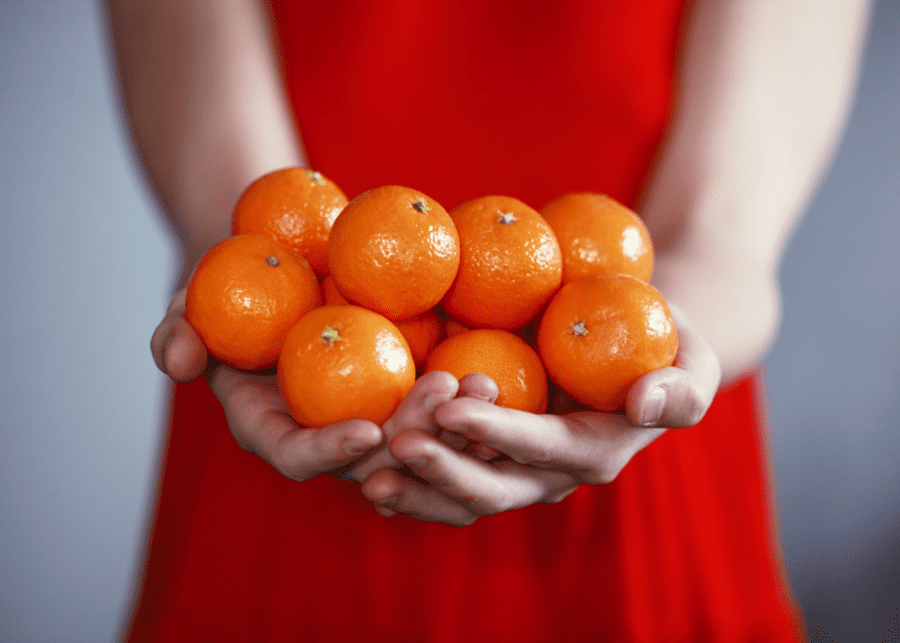 "Kam", the Cantonese word for mandarin oranges, sounds similar to the word for gold. Having these fruits around the home during CNY and giving them out in pairs is said to bring wealth into your life. Oh, and if you're watching a lion dance, the performers will typically hand out mandarins, sometimes with lucky numbers written on them. Don't make a rookie mistake and walk away without yours!
Be on your best behaviour
That means no swearing or gossiping about morbid topics such as ghosts and death. Try not to break anything, too. That includes drink glasses and ceramic plates! It's believed to bring bad luck and misfortune to you in the new year.
That's it: all the Chinese New Year traditions you need to know.