When it comes to pineapple tarts, we can't just stop at one!
Traditional or tarted up? No matter how you like it, there's a perfect pineapple tart in Singapore for you.
As much as we love our desserts, from crepes to tarts to macarons, we're glad pineapple tart season is just around the corner. Buttery and flaky, with a perfect balance of sweet and sour – these glorious Chinese New Year treats are pure gold. As with all things, go for the best in town so you don't waste your calories on unworthy contenders. Here are our top picks for the best pineapple tarts in Singapore…
Best pineapple tarts in Singapore
1. Pineapple Tarts Singapore
Calling all pineapple tart purveyors! Here, you'll find an array of flavours from traditional renditions to innovative creations like charcoal truffle, cheese pineapple and mala pineapple tarts. For something with a local twist, the salted egg flavour fits the bill with its balanced flavour profile of sweet and savoury. Also, look out for classic options like the pineapple ball and pineapple pillow. The former is a one-bite flavour bomb while the latter is an old school version that has a firmer, crumbly texture. Everything's homemade and baked with the finest ingredients, so expect only the best.
Pineapple Tarts Singapore, available online
2. Wang Lai Bakery
Started in 1968, Wang Lai Bakery is a household name when it comes to CNY goodies. Of course, that includes everyone's favourite: glorious pineapple tarts. Following a traditional recipe passed down for four generations in the family, each sweet gem is handmade with finesse. Whether you like 'em open-faced or encased, one thing is for sure – the treats are melt-in-your-mouth tasty. Also, you'll get to enjoy free delivery for orders above $100. Trust us, it's easy to hit that with these goodies!
CNY Goodies Singapore, available online
3. Ding Bakery
​​After selling over 90,000 Chinese New Year goodies last year (that's A LOT of bellies), Ding Bakery is back at it again with delicious, indulgent offerings. Aside from the usual suspects like the melt-in-your-mouth pineapple tart balls, hae bee hiam roll, melting kueh bangkit and salted egg crabstick – which are handmade with zero preservatives – expect newbies too!
Highlights from the new range include the pineapple balls in charcoal, matcha, panda and mango flavours. FYI, Ding Bakery's delicacies have been highly raved about by customers. Add 'em to your snack table now. Perks: early birds can enjoy up to 40% off the CNY goodies and free delivery for orders above $100.
Ding Bakery, available online
4. La Levain
This new artisanal bakery has rolled out four pineapple tart creations for Chinese New Year. Ring in the festive season with the original that's melt-in-the-mouth, tangy and sweet. Alternatively, try the osmanthus or hojicha versions. Feeling adventurous? Go for the mixed herbs rendition which consists of basil, fennel, oregano and thyme in the tart base.
La Levain, available online
5. Le Cafe Confectionery & Pastry
Nicknamed "golf balls", the pineapple tarts from Le Cafe are round, large and oh-so-tasty. The crust may be a little thin, but the store makes up for it by being super generous with the pineapple jam filling.
Le Cafe Confectionery & Pastry, multiple locations including Mackenzie Road and Cambridge Road
6. Kele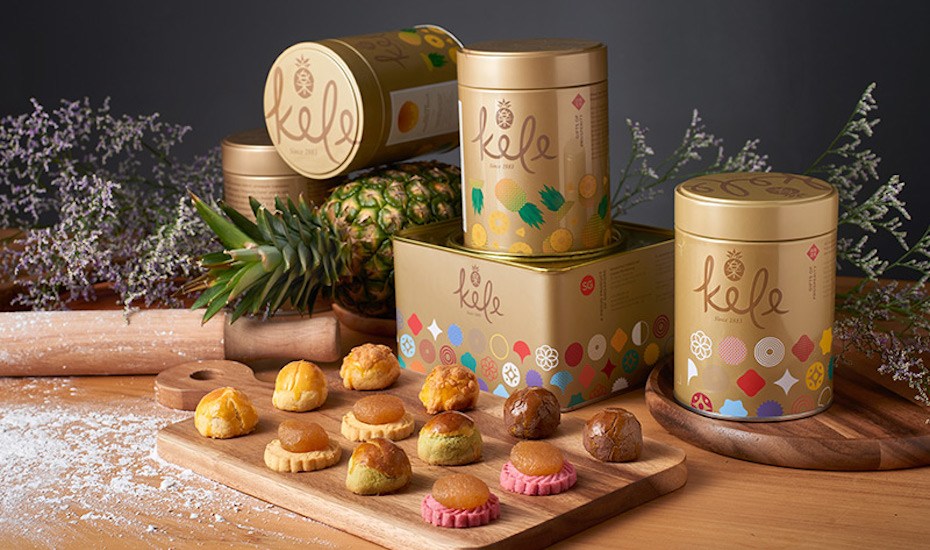 Kele has been around for almost 30 years, so you know it must be doing something right. We love the open-faced pineapple tarts – everything's delicately balanced, from the butter to the texture of the pastry and the sweetness of the pineapple filling. For something different, try the tangerine pineapple balls. They're a new creation that mixes traditional and contemporary flavours in one bite.
Kele, 2 Smith Street, Singapore 058917
7. Keong Saik Bakery
The next time you visit Keong Saik for breakfast, look out for these handmade pineapple tarts at the bakery, where nostalgia meets contemporary vibes. The crust is buttery and rich, and we can never get enough of them pineapple balls.
Keong Saik Bakery, available online or at 41 Keong Saik Road, Singapore 089146
8. SunnyHills
Chunky and rectangular, Taiwan's famed SunnyHills pineapple cakes are a delicacy and for good reason. Packed in a red box with a sweet tiger illustration, these individually wrapped pineapple cakes are heavy on the filling. The dense and textured pineapple jam is not too sweet and sufficiently tart. Plus, the pastry isn't too crumbly so you can have a mess-free binge session.
SunnyHills, #B2-27A, Takashimaya Shopping Centre, Ngee Ann City, 391 Orchard Road, Singapore 238872

9. The Tartlery
Here's an exquisite take on the humble pineapple tart. Helmed by MasterChef Asia 2015 finalist Sandrian Tan, The Tartlery gives its version a fusion spin. Think lemon myrtle-infused cheesecake custard, pina colada cream, pineapple jam and ginger lace biscuit. It's pineapple tarts like you've never seen 'em before.
The Tartlery, available online
10. The Pine Garden
Heartland bakeries are always the go-to for a familiar taste. Here, the homemade pineapple tarts are created from a family recipe and pineapple jam is made using fresh pineapples. If you're looking for something less sweet, the yuzu pineapple rolls are made with reduced sugar so you can happily indulge in pineapple goodness over the CNY period.
The Pine Garden, available online or at #01-2369, Blk 529 Ang Mo Kio Ave 10, Singapore 560529
11. Thye Moh Chan
Serving handcrafted Teochew baked goods since 1943, this well-known confectionery also dishes out delectable pineapple pastries as part of its colourful CNY festive offerings. If you're a fan of local flavours, don't miss out on the mini pineapple pastry with gula melaka-infused pineapple filling.
Thye Moh Chan, multiple locations including Chinatown Point and Paragon
12. Joyus Pastries
If you're working near the Tanjong Pagar area, here's another place to get your CNY goodies. These traditional pineapple tarts are sold in tubs or box sets, with a crisp biscuit base and handmade filling and sans colourings and preservatives.
Joyus Pastries, multiple locations including Tanjong Pagar XChange and Ang Mo Kio
13. Yang Yang
This is a homegrown Singapore brand with pineapple tart family recipes handed down over the years. The traditional premium pineapple balls are all-time favourites. Bite-sized and packed with more than 70 in a box, everyone can join in the eating fun!
Yang Yang, available online
14. Home's Favourites
One of our go-to brands when it comes to purchasing festive cookies, Home's Favourite has three types of pineapple tarts. Think traditional pineapple tarts, pineapple balls and the visually appealing black and gold pineapple tarts. There's something for everyone!
Home's Favourites, multiple locations including Takashimaya and VivoCity
15. Baker's Well
It's pineapple tarts and pineapple pillows galore at this cosy shop on East Coast Road that specialises in homemade baked goods. Besides these signature products, you can also get apple-shaped Nonya pineapple tarts with cloves on the top.
Baker's Well, 35 East Coast Road, Singapore 428754
16. Teaspoon of Love
Made from real pineapple and infused with fragrant Earl Grey, there's little wonder why this bakery's tea-infused pineapple tarts are a crowd-pleaser. Oh boy, are they generous with the filling! These nuggets are small enough to pop in your mouth so there's no need to worry about crumbs.
Teaspoon of Love, available online
Who's ready to snack on the best pineapple tarts in Singapore this CNY?