Photography: Fat Chap
It may be the Year of the Rat but these yusheng platters aren't squeaking around.
You can't have a Chinese New Year feast without one of these. Traditionally served as a shredded vegetable salad with sweet sauce and raw salmon, yusheng (or lo hei, as the Cantonese call it) is an auspicious staple you'll see at most reunion dinners – and you can't miss it 'cos dinner actually begins with this. The goal is to use your chopsticks and toss it as high as you can to mix it all together (don't worry about getting messy), while yelling phrases of good luck and fortune to usher in the new year with your loved ones. (We've put together a video guide if you need a better picture…)
These restaurants have put their spin on the yusheng classic, so go ahead and give their reinterpretations a shot.
Fat Chap
Firstly, how adorable does this yusheng look? Once you've done enough Insta coverage, you'll be glad to know that the Taro-Taro Yusheng has mangoes, strawberries and passionfruit with citrus cured salmon and dangerously addictive crispy taro chips.
Fat Chap, #01-643, Suntec City, Tower 4, 3 Temasek Boulevard, Singapore 038983
Min Jiang
Min Jiang celebrates the Year of the Rat by incorporating golden deep-fried chee cheong fan fashioned like slices of cheese and tossed in cheese powder for an extra kick. The platter is almost too pretty to eat as it features the restaurant's signature intricate illustration.
Min Jiang, Goodwood Park Hotel, 22 Scotts Road, Singapore 228221
Yan
After feeding your family's artsy appetite with a tour around National Gallery Singapore, feed them proper at this rooftop Chinese restaurant with a yusheng that's a work of art. Its Shunde-style "Kaleidoscope of Prosperity" yusheng uniquely uses fried vermicelli as a base, alongside an accompaniment of fresh yellowtail, shreds of purple and yellow sweet potatoes, kailan and pickled ginger. It's also topped with gold flakes for extra "huat".
Yan, #05-02, National Gallery Singapore, 1 St Andrews Road, Singapore 178957
Blue Lotus
You want your reunion dinner to be absolutely perfect, so don't settle for anything less than the signature Blue Lotus Yu Sheng. Not only does this ode to excellence feature tea-smoked Norwegian salmon and sakura ebi, it's also got 20 different ingredients – including 10 herbs and vegetables, two aromatic spices, three types of nuts and more – that bring together harmony and prosperity, which are tenets of CNY celebrations.
Blue Lotus, #01-13, Quayside Isle, 31 Ocean Way, Singapore 098375
Unagiya Ichinoji
From weird to wonderful, we've seen our fair share of yusheng – but nothing prepared us for this. Japanese restaurant Unagiya Ichinoji debuts an unagi yusheng with crispy udon, a first in Singapore. You don't have to hunt for bits of unagi after it's been tossed, as the dish boasts a whole grilled unagi with in-house tare sauce, accompanied with takuan, purple cabbages, beni shoga (pickles), chuka karrage, ikura, ebiko, yuzu peels and pork floss, just to name a few.
Unagiya Ichinoji, available at the Suntec outlet, #03-307, Sky Garden Suntec City, 3 Temasek Boulevard, Singapore 038983
Auntie's Wok and Steam
Wait! Don't throw your diet out the window just yet. Auntie's Wok and Steam is offering a healthy alternative this Lunar New Year, featuring a platter of kale, beetroot, Japanese cucumber, green apple and pomegranate, as well as sunflower seeds, flaxseeds, chia seeds and almond flakes, presented with Scottish smoked salmon. FYI: The Andaz Healthy Yu Sheng is available for dine-in only.
Auntie's Wok and Steam, Level 25, Andaz Singapore, 5 Fraser Street, Singapore 189354
Mitzo
Count on Mitzo to produce some of the most interesting yusheng dishes. This year, it's offering four variations of this iconic dish – abalone yusheng, kanpachi kingfish yusheng, salmon yusheng and the Mitzo fruit yusheng for vegetarians. Pictured atop is the abalone one.
Mitzo, Level 4, Grand Park Orchard, 270 Orchard Road, Singapore 238857
Blue Jasmine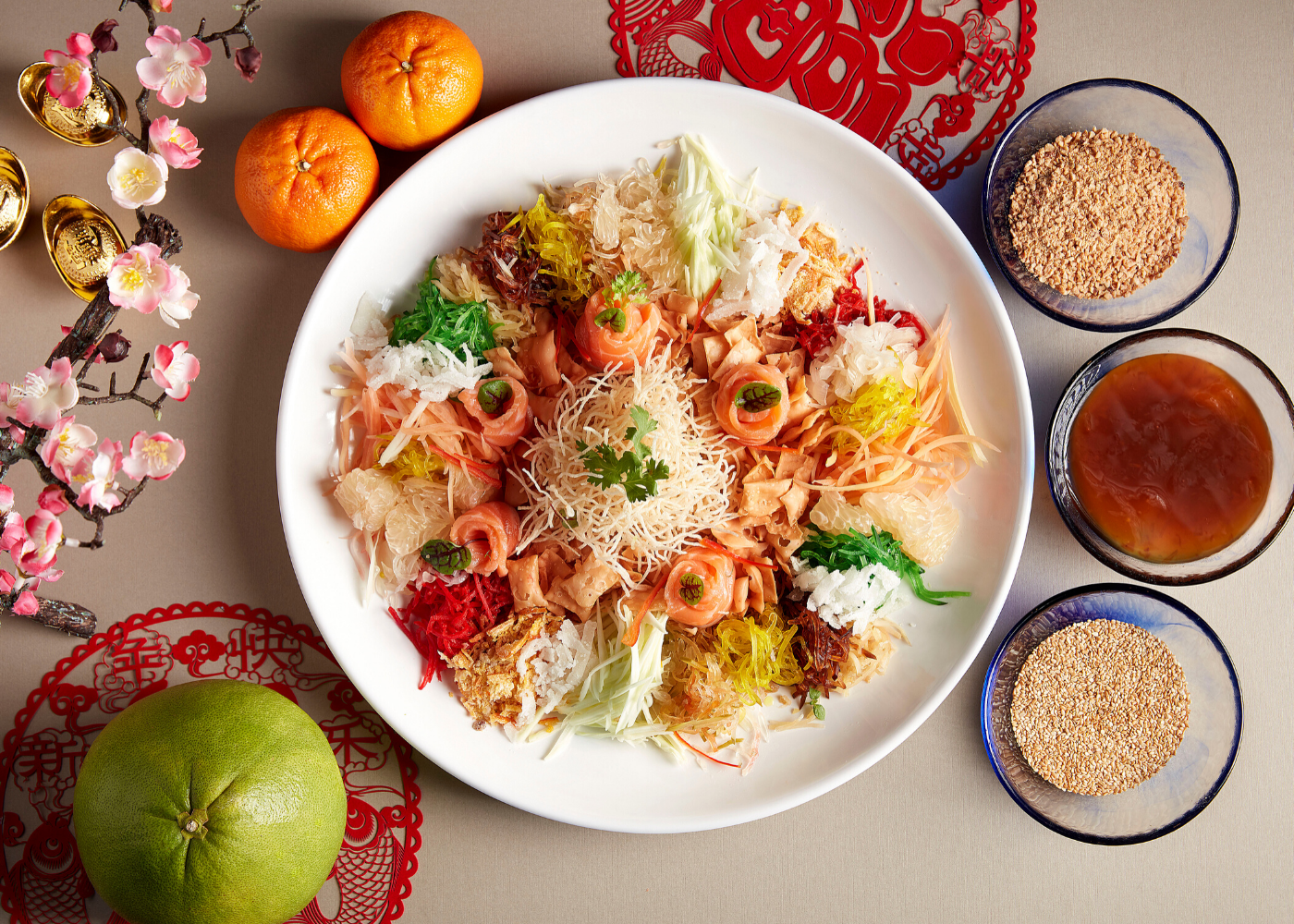 Thai restaurant Blue Jasmine marries the cuisine's iconic papaya salad with its yusheng so expect strips of Thai green papaya, green mango and pomelo chunks in the Thai Chin Yu Sheng. The refreshing dish also has house-made Norwegian salmon gravlax, perfect for those who usually turn down raw salmon.
Blue Jasmine, Level 5, Park Hotel,10 Farrer Park Station Road, Singapore 217564