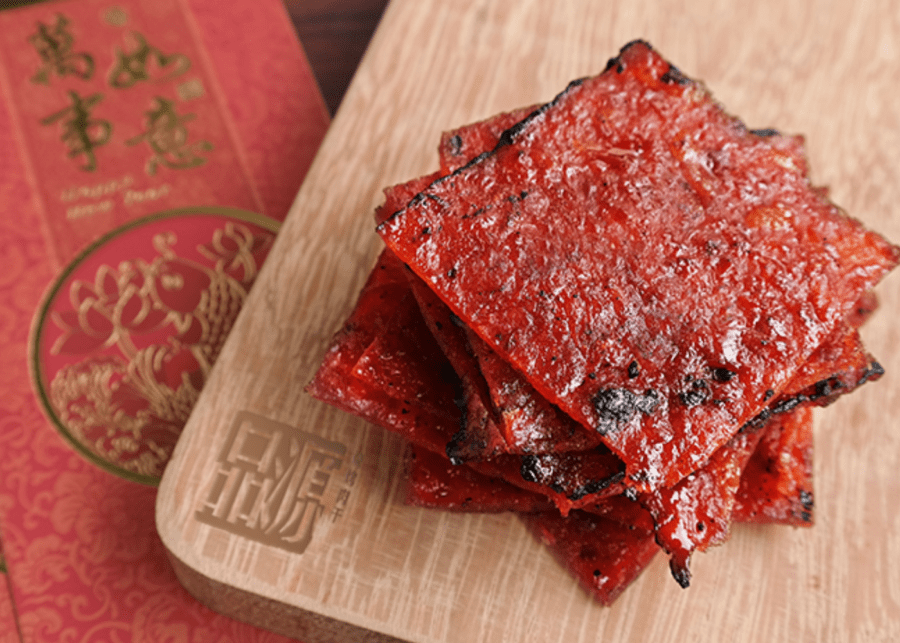 Photography: Peng Guan Bak Kwa via Facebook
We've all seen the insane queues, but which bak kwa in Singapore is worth your devotion? From old school classics to new creations, we've got 'em all.
It's not really Chinese New Year without ang baos. Or pigging out on copious amounts of heart-burning festive snacks, the most popular of which is undoubtedly bak kwa – sweet, smoky pork jerky. And it's gotta have those charred edges. We have no shortage of stores hawking this savoury delight, each of them ardently defended by their munching advocates – and they boast the snaking queues to prove it. To make it easier for you to navigate the wonderful world of bak kwa in Singapore, we've come up with our own list of favourite purveyors of this scrumptious snack.
Best bak kwa in Singapore
1. Peng Guan Bak Kwa
What Peng Guan lacks in variety, it more than makes up for in quality. Every order is handmade from scratch, charcoal grilled to smoky perfection and done to order so you know you're getting the absolute freshest. Choose between traditional options ($26 to $52) for the purists and chilli bak kwa for you spice fiends.
Peng Guan Bak Kwa, shop online or at multiple locations including Chinatown Complex Food Centre and Fu Lu Shou Complex
2. Kim Joo Guan
Using a traditional recipe that's been handed down over generations, the Ong family is well in touch with their craft. All the bak kwa offerings are made with grain-fed Australian pork and char-grilled for a subtle, smoky flavour. Fans of classic bak kwa should try the traditional pork slices ($57 for 1kg), while the mala-flavoured pork slices ($39 for 500g) will satisfy any spice lovers.
Kim Joo Guan, shop online or at multiple locations including South Bridge Road and Royal Square @ Novena
3. Old Seng Choong
Wanna get a little fancy with your bak kwa snacks this Chinese New Year? Grab festive goodies from Old Seng Choong and feast on new treats like black truffle or yuzu bak kwa ($48.80 for 500g). The former is made with Brazilian pork and a blend of summer black truffle paste with white truffle oil, while the latter is an aromatic delight with zest and yuzu juice. Of course, you can also get the traditional one if you'd like ($42.80 for 500g). Oh, and place your order before 15 January to get 20% off!
Old Seng Choong, shop online or at multiple locations include Clarke Quay Central and The Shoppes at Marina Bay Sands.
4. Kim Peng Hiang
Fancy a bit more luck and prosperity for CNY? Check out the family-run store's pineapple bak kwa, a unique combination of savoury and sweet. But if you're keen to stick to the traditional taste, the sliced royal pork creation is tender and juicy, and comes in bright red packaging suitable for gifting. Just beware of the long lines, because you will be waiting for a while.
Kim Peng Hiang, 465 Changi Road, Singapore 419886
5. Bee Cheng Hiang
Homegrown favourite Bee Cheng Hiang is definitely one of the more popular choices. It's practically a household name when it comes to bak kwa in Singapore. If the ridiculously long queues during CNY are any indication, the brand's a pretty safe bet to satiate your cravings for the classic sliced pork bak kwa ($18 for 300g) or the applewood version ($21.60 for 300g). For a spicy kick, there's the chilli variant ($18.60 for 300g).
Bee Cheng Hiang, shop online or at multiple locations including Jewel Changi Airport and Nex
6. Kim Hock Guan
Another stalwart that stands the test of time? The venerable Kim Hock Guan. With a history that dates back to 1905, it remains a family-owned and operated business with a loyal following. The Singaporean brand utilises century-old production methods to dish out its traditional BBQ sliced pork and spicy sliced pork bak kwa. Plus, it avoids minced meat and uses sliced lean meat instead. This one will be a favourite if you like yours chewier and more richly-flavoured. Try bestsellers like the traditional version and spicy rendition, or BBQ bacon, gold coin pork and BBQ sliced chicken.
Kim Hock Guan, multiple locations including South Bridge Road and Bencoolen Street
7. The Marmalade Pantry
This eatery doesn't immediately come to mind when you think of bak kwa in Singapore, but try its popular petite chicken version ($30 for 300g) before you brush it off. Each charcoal-smoked slice is individually vacuum packed for freshness, and you won't find any meat tenderiser, preservative, artificial colouring or flavouring in the recipe.
The Marmalade Pantry, shop online or at multiple locations including Ion Orchard and Oasia Hotel Downtown
8. Kim Hwa Guan
While not as big a player in the bak kwa game as several other stores, Kim Hwa Guan has its own loyal following who favour its tender, thinly sliced nibbles. The pieces here come in sealed bags as well. Perfect for preserving that glazed crunchy surface (the store doesn't skimp on the marinade!).
Kim Hwa Guan, multiple locations including Balestier Road and Toa Payoh Lorong 1

9. Tablescape
As a special treat for Chinese New Year 2022, this modern European restaurant goes the fancy route with its meaty offering. The Josper grilled bak kwa with fresh black truffle shavings ($68 for 600g) is a decadent snack that's showcased in a woven basket and decorated with gold leaf. After marinating for hours in a mix of oyster sauce, brandy and truffle paste, the pork is grilled with applewood chips and charcoal for a fragrant, flavourful creation.
Tablescape, shop online
10. Sang Hock Guan
If you really wanna go old school, make your way here for authentic, traditional treats. This quaint little old school shop in Ang Mo Kio might not be the first thing that pops to mind when the craving strikes. But it's definitely on par with the contenders on this list. Heads up if you're ordering in advance – it sells out pretty fast!
Sang Hock Guan, #01-446, Blk 163 Ang Mo Kio Avenue 4, Singapore 560163
11. Fragrance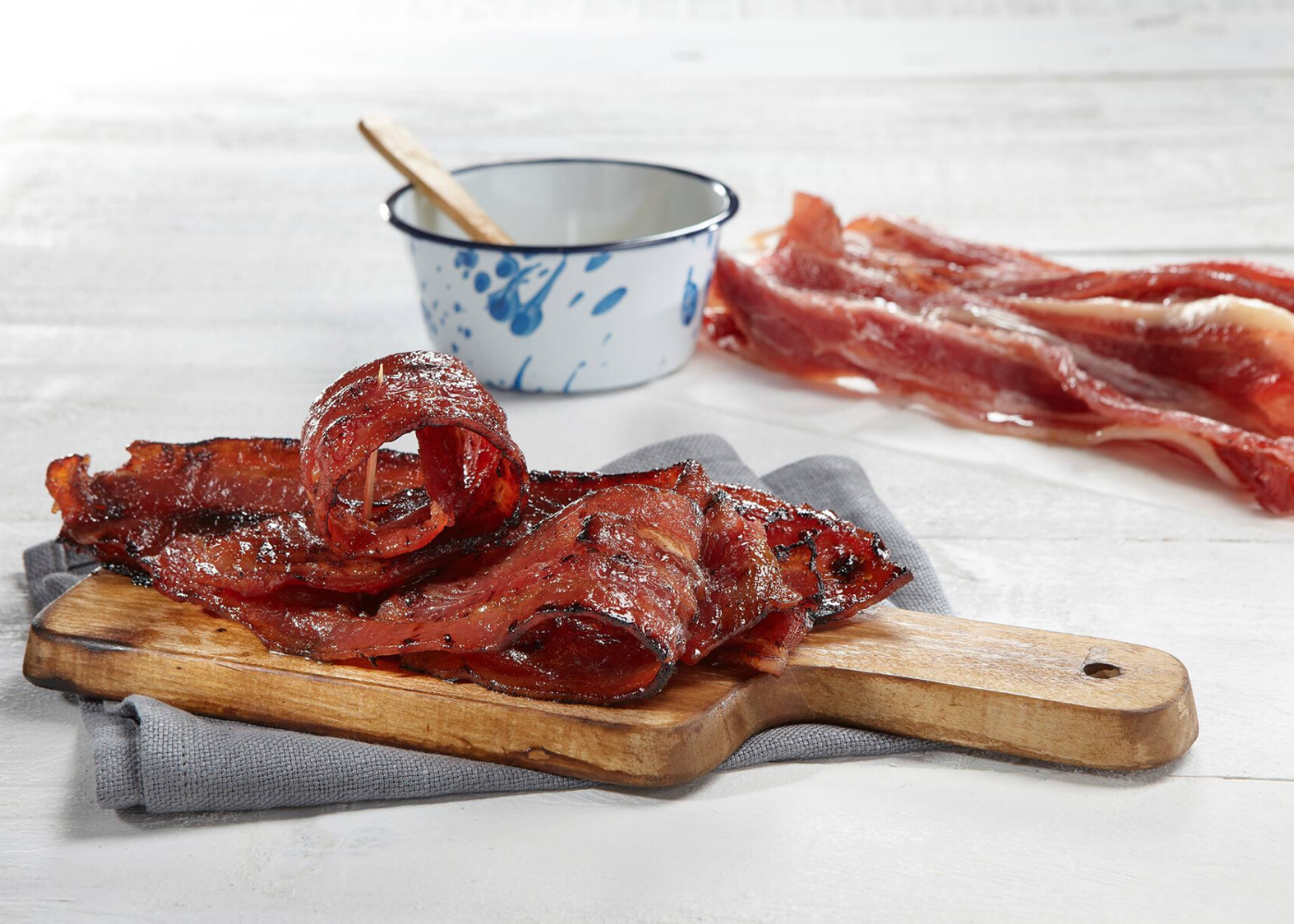 You're really spoilt for choice here. In addition to the signature pork and chicken versions (from $14.79), Fragrance offers bacon, crispy and mala options. It also takes the cake for having one of the strangest offerings: crocodile bak kwa. Any adventurous eaters in the house?
Fragrance, shop online or at multiple locations including Nex and Plaza Singapura
12. Hu Zhen Long
It's been around since 1948 and the current shopfront still evokes a sense of nostalgia with its traditional decor and wooden displays. Besides the traditional charcoal-grilled bak kwa, other unique options include crocodile meat and lobster variations.
Hu Zhen Long, 14 Sago Street, Singapore 059015
13. Lim Chee Guan
Another local favourite that's been around for decades, Lim Chee Guan attracts insanely long queues during the Chinese New Year period. If you're not too fond of the sweeter varieties of bak kwa, give this place a shot for its tender slices of signature sliced pork ($36 for 500g) and BBQ chilli pork ($37 for 500g). Or, try the BBQ prawn ($32 for 500g) and BBQ fish ($32 for 500g) versions.
Lim Chee Guan, shop online or at multiple locations including People's Park Complex and Ion Orchard
14. Friendly Vegetarian
While protein-heads may scoff at the idea of meatless bak kwa, this store's BBQ soy protein and mushroom jerky offering ($6.96 for 250g) makes sure your vegetarian mates aren't left out of the CNY tradition. You can get the spicy rendition, too.
Friendly Vegetarian, shop online or at #01-23/24, Blk 14 Pasir Panjang Wholesale Center, Singapore 110014
15. Ryan's Grocery
For a feel-good factor, we recommend the gourmet version at Ryan's Grocery ($59.88 for 500g). The store's take on this CNY treat, which is made with free-range Borrowdale pork from Australia – sans hormones and antibiotics – uses 60 per cent less salt and sugar than most. It's also free from additives, preservatives and food colourings. We love a good guilt-free snack!
Ryan's Grocery, shop online or at multiple locations including Great World City and Binjai Park
16. Xi Shi Bak Kwa
Established in 1985, this store in Singapore still makes its bak kwa using traditional methods instead of modern machinery. Try the original minced meat in spicy and non-spicy options (from $25), or go for the gold coin pork or chicken bak kwa (from $26). You can also opt for minced chicken bak kwa in original or seaweed sesame flavours (from $26).
Xi Shi Bak Kwa, shop online or at #02-37, 15 Woodlands Loop, Singapore 738322
Time to get your fingers dirty with the best bak kwa in Singapore!