Photography: La Nonna via Facebook
Thin crust or thick crust? Hawaiian or pepperoni? Truffle or egg toppings? How about you try them all at these best pizzerias in the city!
Ah, pizza. It doesn't matter if we're having it delivered right to our doorstep, or pigging out on a fresh one at a cool new hangout — our love for the Italian food classic is deep (too deep, in fact.) Four-cheese, Neapolitan, Hawaiian, pepperoni, or juicy grilled chicken – no matter what toppings or flavours you like, there's something truly superlative on this extensive list. Make like a Ninja Turtle and have a slice of these pizzas in Singapore.
La Nonna
Available for delivery via Deliveroo.
If truffles make you weak, then you must have the La Nonna Signature Pizza (tomato, mozzarella, parmesan, asparagus, egg and black truffle), a sheer truffle blasphemy. The quality of the crust at La Nonna also deserves special mention: light and crispy all around.
La Nonna, 26/26B Lorong Mambong, Singapore 277685
Blue Label Pizza & Wine
Available for delivery via GrabFood and Deliveroo.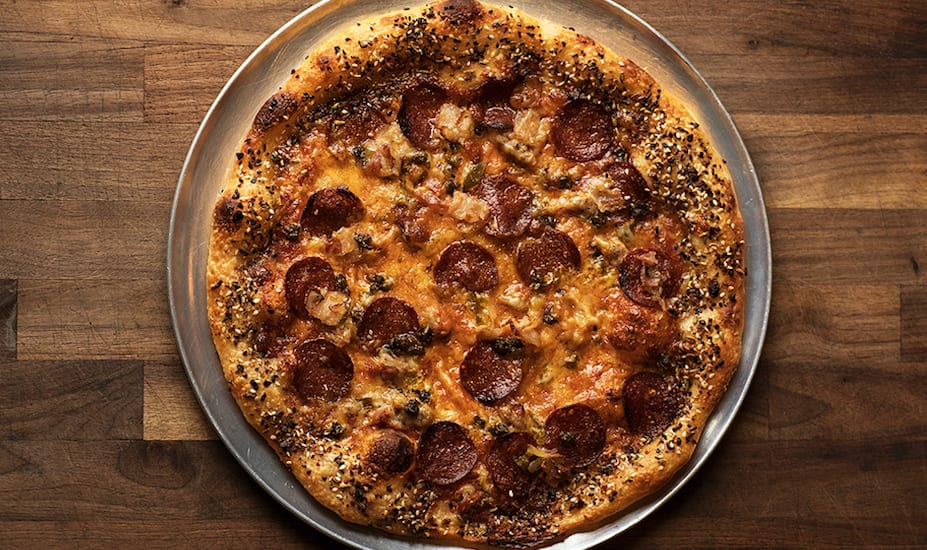 Tucked in Ann Siang Road, Blue Label's got it right in the bag with robust flavours like The Dalai Shawarma, a sumac crust topped with lamb shawarma, fried chickpeas, garlic yogurt and mint and the Umami Bomb – shiitakes, spinach, anchovy, sprinkled with goat's cheese on a cornmeal crust. Traditionalists can go for The Original Famous, a five-cheese blend with a tomato base garnished with fresh basil. And be sure to stay for dessert! We hear that 'Grandma's carrot cake' is a must-try.
Blue Label Pizza & Wine, 28 Ann Siang Road, #B1-01, Singapore 069708; #03-02 Mandarin Gallery, 333A Orchard Road, Singapore 238897
Cibo Italiano Singapore
Available for delivery via Deliveroo and Foodpanda.
Cibo Italiano is the 'good vibes only' kinda resto where friends can hang out and vibe hard. They serve up a mix of Italian grub – cold cuts, cheese platters and pastas but the pizzas sit front and centre. It's also touted as the only negozzio (marketplace) and ristorante in Singapore so you can purchase imported food, oils and dressings, dried and tinned food, wine and liquor.
Cibo Italiano Singapore, 428 River Valley Road, Singapore 248327
PS. Cafe
Available for islandwide delivery.
A heap of truffle fries (that could feed a village), breakfast and brunch options, pastas, dessert that'll satisfy all sweet tooths and gourmet pizza? What else can't these guys do? We were craving hard for pizza while working on this guide (you know, occupational hazards and all) so we just had to order a pie. And boy were we satisfied. We had the Winter Salami Pizza (Hungarian winter salami of szeged, with magalista pork, and a base of mozzarella, cheddar and bologna scamorza cheese) and we must say, it's our new fave. Bonus points for the chilli oil that comes with the pizza, and the surprise chocolate biscuits!
PS. Cafe, various locations.
Da Paolo Pizza Bar
Available for takeaway and delivery via Deliveroo.
The pizzas at Da Paolo Pizza Bar in Chip Bee Gardens are thin, crispy – and best of all – loaded with heaps of your favourite toppings. Plus, they're not too costly and the food arrives pretty fast (10 minutes or so). Our pick: the Bolognese.
Da Paolo Pizza Bar, #01-46, 44 Jalan Merah Saga, Singapore 278116
Jamie's Italian
Get your order directly delivered to you or via GrabFood and Deliveroo.
Treat your tastebuds right at Jamie's Italian The hand-stretched pizzas on the menu have thin crusts that are chewy, yet crisp to perfection. Truffle lovers (who isn't?) must order the decadent Truffle Shuffle (available at Vivocity) that's topped with fontal cheese, balsamic onions, a higher-welfare egg and black truffle, while those with a penchant for cheese will love the Four Cheese pizza that's sprinkled with mozzarella, cheddar, fontal and parmesan topped with rocket and extra virgin olive oil
Jamie's Italian Forum, #01-01/04 Forum Shopping Mall, 583 Orchard Road, Singapore 23884
Extra Virgin Pizza
Order via Oddle or Deliveroo, Foodpanda and GrabFood.
Extra Virgin Pizza's 'Roasted Shrooms' comes laced with truffle oil — something we find hard to resist. The 'Pistachio and Pumpkin' is another popular one to try. If you can't make the trip to the restaurant, they do delivery around the CBD.
Extra Virgin Pizza, Asia Square Tower 1, 8 Marina View, #01-04, Singapore 018960
Riccioti
Available for islandwide delivery.
Riccioti is about more than just the Italian culinary experience. The restaurant showcases the other facets of Italian living like modern art, music and design along with its absolutely irresistible Italian cuisine. While the pizza menu here isn't vast, Ricciotti offers rather interesting pizzas like the Tartufo that has black truffles, quail eggs and mushrooms.
Ricciotti, 20 Upper Circular Road, #B1-49/50 The Riverwalk, Singapore 058416
Dario Pizza & More
Delivery available via Deliveroo.
Speaking of Al Forno, former chef Dario Bonaccorso now has his very own pizzeria after a three-year stint at the pizza stalwart. Dario Pizza & More's all about the thin, crispy crusts. Bestsellers include the salami and cheese-laden Diavola as well as the Bomba (artichokes, mushrooms, bacon, and ham).
Dario Pizza & More, 6 Clementi Road, Singapore 129741
Peperoni Pizzeria
Call or Whatsapp to place an order, or find order via Deliveroo.
If you're looking to feed a large group of people without breaking the bank, book a table right now – Peperoni serves pizza in XXL portions (a whopping 21 inches, good for four to six pax). With pies this affordable and delicious, do expect a crowd on the weekends.
Peperoni Pizzeria, outlets at Greenwood Avenue, Frankel Avenue and Zion Road.
Pietro Ristorante Italiano
WhatsApp your orders at 8688 2798 or 8858 0900 for delivery.
It's understandable to have some reservations about the authenticity of an Italian trattoria run by a Singaporean Chinese chef, but the proof is in the pie, or rather, his brick-oven-baked pizza. Chef Peter Neo, who might seem familiar to you from his TV appearances, has curated a menu of woodfired pizzas like Americana and the frutti di mare with a generous topping of seafood. This is, without a doubt, the best place to get authentic Italian nosh (at affordable prices) in Seletar.
Pietro Ristorante Italiano, 12 Jalan Kelulut, Singapore 809030
PizzaExpress
Delivery available via Foodpanda, Deliveroo and GrabFood.
It's easy to be dismissive of chain restos, but with over 50 years of experience, this casual London pizzeria's arrival in Singapore is a welcome one. Of course, the selection of toppings is dazzling, but the magic is truly in the hand-kneaded dough made in-house and baked thin. Must-try toppings include the Lava – chock-full of burrata, chilli oil and tomato as well as the classic American with pepperoni, mozzarella and passata.
PizzaExpress, various locations.
Picotin Express
Call 6877 1191 or Whatsapp 9829 5451 for home deliveries within a 4km radius or order via GrabFood, Deliveroo, Foodpanda.
A popular spot among families, Picotin Express offers crowd-pleasers like a tandoori chicken pizza, the Bashkir and a bacon, pepperoni, and honey baked ham-topped pizza, the Banker. After chowing down on the good stuff, the little ones can have a go at mini golf!
Picotin Express, locations in East Coast and Bukit Timah
Spizza
Delivery available islandwide. Call 6377 7773 or order online.
Spizza is one of your best options for a quick, casual pizza sesh with your mates and with seven locations islandwide, you're bound to find one nearby. But this isn't just pizza you resort to when you can't find better. At this homegrown pizza resto, there's massive variety to choose from.
Spizza, various locations.
Al Forno
Delivery available for dinner to selected locations.
This long-standing dining spot located in the East Coast is famous for its Saporita (cheese, bacon and egg), and Con Carne (cheese, ham, salami, sausage, and minced beef). If you're not an East-sider, the journey sure is worth it.
Al Forno, 400 East Coast Road, Singapore 428996
Limoncello Pizza & Grill
Available for delivery.
Chef owner Fabio Iannone of Limoncello Pizza & Grill prides himself on bringing the cuisine of the Amalfi Coast to Singapore. The menu features authentic Amalfi-styled cuisine, and that absolutely includes pizzas. Must-tries include the signature Limoncello pizza with a creamy white base, mozzarella, fresh rocket, porcini and beef tenderloin. Like your seafood? Savour the bounties of the Amalfi coast with the tomato based Frutti di Mare with fresh seafood and mixed parsley. The restaurant also offers private dining experiences for more intimate dinners.
Limoncello Pizza & Grill, 95 Robertson Quay, #01-19/20 Rivergate Condominium, Singapore 235256
Alt. Pizza
Delivery options available via GrabFood, Foodpanda and Deliveroo.
Design your own dream pizza at this joint, which offers a wide range of delectable cheeses, homemade sauces, gourmet meats, seafood, and fresh herbs as topping options. Otherwise, go for signatures like The Hangover (tomato sauce, mozzarella, pepperoni, fennel sausage, and parmesan) and Truffle Shuffle (chicken fennel sausage, roasted mushrooms and onions, mozzarella, parmesan and of course, truffle oil) We said it here first: it's one of the best pizza deliveries we've got in Singapore.
Alt. Pizza, various locations.
Pizza Fabbrica
Islandwide delivery available.
Just a hop, skip, and a jump away from hip 'hood Haji Lane is Pizza Fabbrica. One of the newer places on the list, this pizza joint's most-talked-about items would be the Funghi Scarmorza. It features porcini mushrooms, fior di latte, scarmorza, and truffle oil (duh).
Pizza Fabbrica, 69/70 Bussorah Street, Singapore 199482
TWB Pizza and Bar (formerly Crust Gourmet Pizza Bar)
Delivery available via Foodpanda, Deliveroo and GrabFood.
Crust Gourmet Pizza Bar makes some really decadent options. The wagyu beef and marinated tiger prawns is one (psst, it's garnished with hollandaise sauce), and so is the roast duck with steamed bok choy.
TWB Pizza and Bar, 215R Upper Thomson Road, Singapore 574349
Bella Pizza
Delivery available via Foodpanda, Deliveroo and GrabFood.
Want a slice of an authentic Italian pizza? Look no further than Bella Pizza, which has been serving up Neapolitan slices for more than a decade. Besides the scrumptious thin-crust selections, you can also dig into handmade calzones and Sicilian boat pizza.
Bella Pizza, #01-14, 30 Robertson Quay, Riverside View, Singapore 238251