Photography: Ah Lock & Co via Facebook
This is where to find thunder tea rice piled high with peanuts, diced long bean and tau kwa in Singapore.
Trust us when we say thunder tea rice tastes way better than it looks. Also known as lei cha fan, this vegetarian-friendly Hakka dish in Singapore is served with chopped vegetables and a green soup. This varies in deepness of colour between stalls and can appear off-putting to some. But we can't get enough of the aromatic blend of herbs, green tea leaves and toasted nuts. We hear it was even used to feed and energise warring soldiers during the Qin Dynasty and Three Kingdoms period in China almost 2,000 years ago… so it's rich in nutrients and history.
Best thunder tea rice in Singapore
1. Ah Lock & Co
Swing by Ah Lock & Co to get your fill of thunder tea rice. This hip food stall sells Hakka bowls with a contemporary twist. In fact, its rendition of lei cha fan looks more like the modern-day grain bowl. There are eight different types of thunder tea rice variations on its menu, boasting ingredients such as salmon and black pepper beef. It even comes with a cup of green tea for pouring over or drinking on its own.
Ah Lock & Co, #B2-22/23/24, Guoco Tower, 7 Wallich Street, Singapore 078884
2. Lin Da Ma Lei Cha
Amoy Street is full of tempting options for foodies. But when we're in a pinch and want something affordable, quick and delicious, we turn to the thunder tea rice at Lin Da Ma Lei Cha. It even serves a cold noodle variation to help us beat Singapore's perennial heat.
Lin Da Ma Lei Cha, #02-127, Amoy Street Food Centre, 7 Maxwell Road, Singapore 069111
3. Hakka Thunder Tea Rice
Down at Margaret Drive Food Centre, this thunder tea rice stall in Singapore sports long queues daily. Its bowls of rice are topped with a generous amount of chai poh, ikan bilis, cabbage and long bean. And you can even add yong tau foo ingredients like stuffed bitter gourd and tofu for an extra-filling midday meal.
Hakka Thunder Tea Rice, #02-34, 38A Margaret Drive, Singapore 142038
4. Traditional Hakka Rice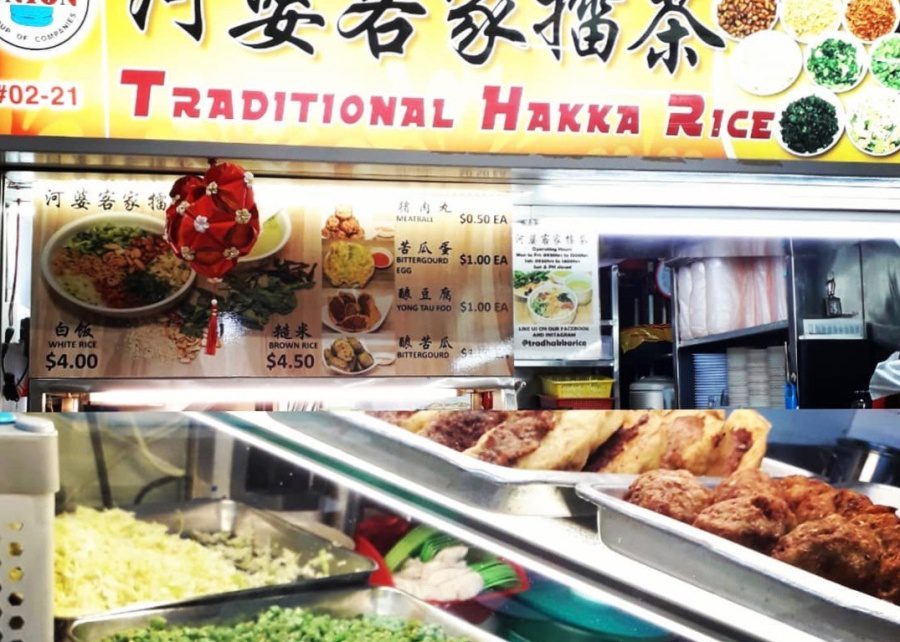 If you're in Tanjong Pagar, take a pit stop at Traditional Hakka Rice. This family-run business churns out mouthwatering thunder tea rice at just $4 a bowl. The paste for the lei cha soup is made fresh every morning, and you can add on side dishes like Hakka meatballs and steamed tofu for extra oomph.
Traditional Hakka Rice, #02-21, Tanjong Pagar Plaza Market & Food Centre, 6 Tanjong Pagar Plaza, Singapore 081006
5. Sunny Choice
Sunny Choice is run by five sisters who are passionate about health and quality. Its thunder tea rice has remained an all-time favourite menu item since the cafe first opened in 2007. We hear the paste for its green soup is a super secret blend of 10 different ingredients by the owner. Order it alongside dishes like veggie sushi and curry rice for a satisfying meal.
Sunny Choice, 434 Upper Bukit Timah Road, Singapore 678060
6. Living Wholesome Vegetarian
Want to cut back on your carb intake? Living Wholesome Vegetarian makes this easy with a 'kosong' set option that comes with less rice. You can even order the bee hoon version of the dish if you prefer noodles. We love that it's topped with crispy chai poh for added texture.
Living Wholesome Vegetarian, multiple locations including Bukit Timah Food and Market Centre and Fortune Centre
7. Thunder Tea Rice
This award-winning stall has been doling out thunder tea rice to hungry patrons for the past 19 years. You can find it at its original location in Joo Chiat, and other outlets like Lau Pa Sat, Thomson Plaza and Fernvale Hawker Centre. Many say the thunder tea rice here remains one of the better versions in Singapore.
Thunder Tea Rice, multiple locations including Joo Chiat and Lau Pa Sat
8. Thunderbolt Tea
The folks at Thunderbolt Tea use a time-honoured recipe that's been passed down from father to son. The green tea soup is savoury and fragrant, and its rice is topped generously with crunchy vegetables and peanuts. Add on delish Hakka fried pork if you need more protein.
Thunderbolt Tea, #01-100, 129 Geylang East Avenue 2, Singapore 380129
Storm to these food stalls for the best thunder tea rice in Singapore.