Seeking out halal food in Hong Kong is easy if you know where to look. From Indian eateries to Islamic centres, these cafes and restaurants serve some of the best halal-certified dishes in the city.
This wonderful city is a foodie paradise that has something for everyone, from local street food, to vegetarian restaurants in Central, and even the best egg tarts in town. The trick is knowing where to go, and to make it easy, we've put together a list of our favourite halal restaurants in Hong Kong. Think delicious Middle eastern eateries that pack-a-punch to the tender evening kebab, they all serve some of the nicest halal food in the city.
Here's where to find the best halal restaurants in Hong Kong
1. Falafel TLV
Falafel TLV is a Middle Eastern restaurant and one of our favourite spots for lunch in Central. Just as their name suggest, they really do make the best falafels in town. There's no arguing the authenticity of Falafel TLV's dishes, with ingredients brought in straight from Israel and cooked fresh daily with a whole lot of love. We can't get enough of their hummus, baba ganoush and tabbouleh – and their shakshuka is also something we eye every time we go. Definitely one of the top halal restaurants in Hong Kong!
Read our full review of Falafel TLV.
Falafel TLV, G/F, 47 Graham Street, Central, Hong Kong, p. 6553 1984, 中環嘉咸街47號地舖
2. Wai Kee Duck Rice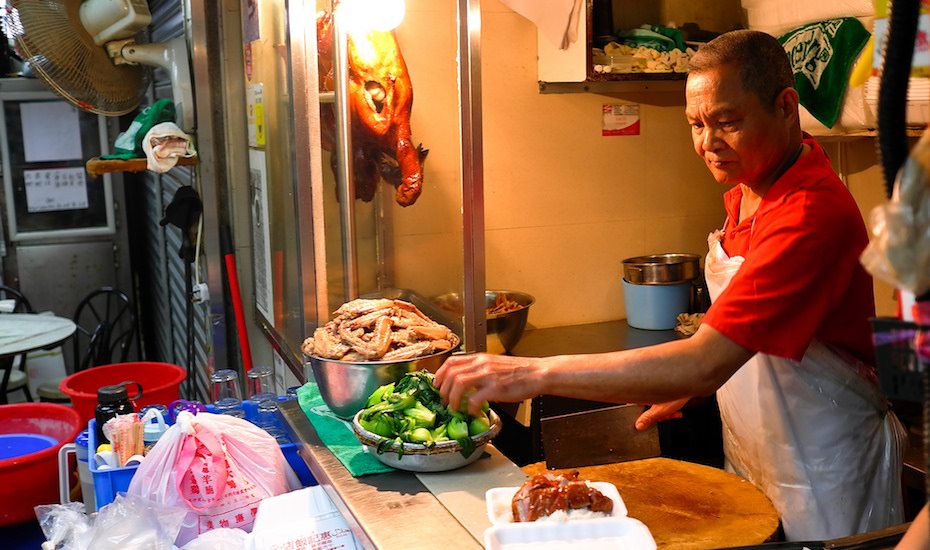 If you're hankering for a halal Hong Kong specialty you need to try Wai Kee's incredible roast duck rice. The modest food stall is located inside the Bowrington Road Market, which if you're a tourist, will give you a true taste of the chaotic Cantonese canteen dining experience. Word of warning: it gets crowded. But Wai Kee's roast duck with rice is truly love at first bite. Think crispy roasted duck skin and succulent melt-in-your-mouth meat. Delish. Their mutton curry also comes recommended if you're not feeling poultry.
Wai Kee Duck Rice, No 5, Cooked Food Centre, 1st Floor, Bowrington Road Market, Wanchai, Hong Kong, p. 2574 1131, 灣仔寶靈頓道21號鵝頸街市1樓鵝頸熟食中心5號舖
3. Warung Malang
It's rare to find authentic Indonesian cuisine outside of the Southeast Asian archipelago, but Warung Malang does kicky Indo food true justice. The eatery serves typical warung food for halal eaters like nasi campur, lontong (rice cakes), and satay ayam. If you're meat-free, Warung Malang also serves excellent vegetarian-friendly dishes like gado-gado and ketoprak.
Warung Malang, 2/F, Dragon Rise, 9-11 Pennington Street, Causeway Bay, Hong Kong, p. 2915 7859, 銅鑼灣邊寧頓街9-11號登龍閣2樓
4. Islam Food
Mr. Ma first learnt to cook Pakistani curry when working at a local police station, catering for Muslim police officers in the 1930s. From then on, he began experimenting more by mixing in spices with Chinese cuisine. The first Islam Food was opened in Prat Avenue but the two locations now both sit in Kowloon City. The speciality here definitely has to be the juicy pan-fried beef buns, be sure to include them in your order. From our experience, we've never come across a disappointing dish at Islam Food!
Islam Food has two locations in Kowloon City. 
5. Loveat Persian Cuisine
This cosy corner in Grham Street is one you'll want to go back for more, and maybe bring a little flock of pals along with you as the portions can be a little much (and well, everything on the menu looks amazing so you may want to share dishes). The grilled beef skewers are a must-try, they can be served alone, with rice, or with naan, all with salad on the side for a healthy touch. Transport yourself to the world of Persia with Persian Black Tea or the saffron herbal tea.
Loveat Persian Cuisine, Shop E, G/F, Garley Building, 47-53 Graham Street, Central, Hong Kong, p. 2595 9900 
6. Sedique Mess
This one's pretty hidden as it's deep inside the cultural hub of Chung King, but it has still build quite a reputation amongst locals. The Pakistani-style eatery specialises in chicken tandoori, that's right, it's an entire chicken all spiced and fried up that'll be ready to dig in. This is also one of the few places where you can try mutton paya, a stew made from goat feet (it is definitely tastier than it sounds!) and it's all reasonably priced so win-win.
Sedique Mess, Block A-3, 6/F, Chung King Mansion, 36-44 Nathan Road, Tsim Sha Tsui, Hong Kong, p. 23674445
7. Islamic Centre Canteen
There's plenty of delicious dim sum at every corner in Hong Kong, but halal dim sum? There's only one. Located within a mosque in Wan Chai, the Islamic Centre Canteen is famous for trading out char siew for chicken and beef. This no-frills canteen serves steaming baskets of dim sum until 3pm, though afterwards you can still order larger local dishes like XO noodles and wonton soup.
Islamic Centre Canteen, 5/F, Masjid Ammar And Osman Ramju Sadick Islamic Centre, 40 Oi Kwan Road, Wan Chai, Yat Sin St, Wan Chai, Hong Kong, p. 2834 8211, 灣仔愛群道40號伊斯蘭中心5樓
8. Aladin Mess
Crazy about curry? Get your fill of halal-certified Indian and Pakistani food at Aladin Mess in Causeway Bay. Order their chicken tikka, some garlic naan, and pair your meal with a fresh mango lassi to cool that heat down. This is one our fave halal restaurants in Hong Kong, thank to its cheap and cheerful atmosphere.
Aladin Mess, 60 Russell St, Causeway Bay, Hong Kong, p. 2808 0250, 銅鑼灣羅素街60號富興大廈2樓
9. Istanbul Express
Turkish food tempts us every time, and Istanbul Express is one of our favourite Turkish restaurants in Hong Kong. We can't get enough of their hot chicken pide with melted cheese, savoury lamb kebabs, and crunchy falafel hummus wraps. Save room for their famous rice pudding.
See more on Istanbul Express, and what to do in Wan Chai here
Istanbul Express has multiple locations in Hong Kong.
10. Ebeneezer's Kebab and Pizzeria
On the hunt for halal restaurants that are open late? With plenty of locations in Hong Kong, you're bound to find an Ebeneezer's on a corner somewhere (usually when you've just knocked back the last beer!) The fast-food halal stall serves Middle Eastern food at a wallet-friendly price. Stop by for a variety of kebabs like donar, gyro, fish, and falafel. If you're up and hungry for late-night bites, this is the place to be, as some stalls are even open until 7am.
Ebeneezer's Kebab and Pizzeria has multiple locations in Hong Kong
11. Bombay Dreams
For a splurge-worthy halal feast head to Bombay Dreams, an award-winning restaurant serving indulgent Indian flavours in a fine-dining setting. Chow down on elevated delicacies like the grilled prawn Tandoori Nisha, Goan Fish Curry with coconut sauce and Chatpati Gobhi. Our hot tip is to pre-order the Raan-E-Dream, a slow-cooked spring leg lamb marinated in yogurt and fragrant spice, that's only available to get in advance. Make sure you leave room for their dessert kulfi ice cream and rasmalai cottage cheese dumplings. If you want to save a few bucks, Bombay Dreams does a less pricy lunch buffet too.
Bombay Dreams, 4/F, Carfield Building, 77 Wyndham Street, Central, Hong Kong, p. 2971 0001, 中環雲咸街77號嘉兆商業大廈4樓
12. Zahrabel Dining Club (CLOSED)
Halal eaters don't have to miss out on some the best restaurants in town. Case in point: Zahrabel Dining Club. The Lebanese restaurant is owned by second generation restaurateurs – the daughters behind the retired husband-and-wife owners of the iconic Zahra. Most days, diners are encouraged to order sharing menus that start at a selection of four dishes, but if you're feeling especially hungry, the sharing dishes go up to 10. The generous feast of authentic Lebanaese mezzes are made from family recipes. If grilled haloumi with zatar dressing, warm fattayer, tender lamb kafta sound good to you, then this is the halal restaurant you need to put on your list.
Zahrabel Dining Club, 239 Hennessy Road, 25th Floor, Wan Chai, Hong Kong, p. 5503 9181, 灣仔軒尼詩道235-239號25樓
13. Sahara Mezz Bar (CLOSED)
If grilled meats and couscous are your bag, then make a beeline for Sahara Mezz Bar. A halal restaurant with a lively atmosphere that can't be beat, Sahara serves Moroccan cuisine with influences from North Africa, Lebanon and the Middle East. Must-tries include the roasted fresh figs with goats cheese, lamb tagine, Morrocan cigar and baklava.
Sahara Mezz Bar, G/F, 11 Elgin Street, SoHo, Central, Hong Kong, p. 2291 6060, 中環蘇豪伊利近街11號地下