Move over, Master Chef! Here are the real cooking maestros in Hong Kong (Photography: NatashaPhoto)
You'd be lucky to get a table at the restaurants run by these best chefs in Hong Kong. So get booking, stat!
You may already have visited all the new restaurants in Hong Kong; you may know the city's street food and local faves inside out. But, did you know that today (20 October) is International Chef Day? As true foodies here at Honeycombers, we'd like to give some love to those who toil in the kitchens night and day, and to the F&B industry for having conquered the pandemic. Here are some of the best chefs in Hong Kong.
International Chef Day 2023: Best chefs in Hong Kong
1. Chan Yan Tak – Lung King Heen, Four Seasons Hotel Hong Kong
Lung King Heen at Four Seasons has been led by Executive Chinese Chef Chan Yan-tak since 2004, when he was lured out of retirement and back to the kitchen. Just a few years later, Chan proved his incredible expertise as he grew Lung King Heen into one of the most in-demand eateries in Hong Kong. Chan attributes Lung King Heen's success as a collective effort made through personally sourced ingredients, teamwork, and an accumulated century's worth of experience. Our favourites at Lung King Heen include the Barbecued Pork with Honey Sauce, and the Braised Superior Bird's Nest with Fresh Crab Meat.
Lung King Heen, Podium 4, Four Seasons Hotel Hong Kong, 8 Finance Street, Central, Hong Kong, p. 3196 8880
2. May Chow – Little Bao
Canadian-born chef May Chow's meteoric rise in the culinary world has been nothing short of spectacular. As the chef and owner of Little Bao, Chow was named Best Female Chef by Asia's 50 Best Restaurants in 2017, and has appeared on multiple popular television programmes like Top Chef and MasterChef Asia. Since opening Little Bao's first location in 2013, Chow's flavourful bao burgers have become a favourite amongst Hong Kongers. Outside of her restaurant, Chow has been consistently using her platform to advocate for the LGBTQ+ community and encourage women to work in professional kitchens. Chow is truly breaking boundaries – one Pork Belly Bun at a time.
Follow May Chow on Instagram.
Little Bao has locations in Soho and Causeway Bay.
3. Barry Quek – Whey
Paying homage to his Singaporean roots, Hong Kong-based chef Barry Quek channels his culinary passion through his unique creations at the Michelin-starred Whey. Introducing diners to modern European dishes revolutionised with Singaporean influences, Quek uses local seasonal ingredients for all of his dishes. His seasonal tasting menus are mostly inspired by his childhood experience living abroad, featuring dishes such as King Crab with Sweet Corn and Laksa; Kuruma Prawn with Jackfruit and Cucumber; and the crowd-favourite homemade Whey's Brioche with Buah Keluak Emulsion. Committed to supporting local farms and reducing food waste, Quek continues to reach new heights in the Hong Kong culinary scene – and we're all for it.
Follow Barry Quek on Instagram.
Whey, UG/F, The Wellington, 198 Wellington Street, Central, Hong Kong, p. 2693 3198
4. Richard Ekkebus – Amber, The Landmark Mandarin Oriental
Two-Michelin-starred Amber at The Landmark Mandarin Oriental has been a long-standing favourite for Hong Kongers. It's been led by the Dutch culinary director, Richard Ekkebus, since opening in 2005. Ekkebus is most recognised for his forward-thinking approach with regards to sustainable cooking, having a gender-balanced kitchen, as well as being flexible and innovative to cater to those with dietary needs. Solely offering prix-fixe menus such as the Amber Experience and Vegetarian Amber Experience, the restaurant also holds a Michelin Green Star for Ekkebus' initiative to use no dairy, less meat, and more organic produce.
Amber, 7/F, The Landmark Mandarin Oriental, 15 Queen's Road, Central, Hong Kong, p. 2132 0066
5. Vicky Lau – Tate Dining Room
Previously a graphic designer, Vicky Lau is a true artist – and it shows through her dishes, too. As a result, she's won The Best Chef Food Art Award and was ranked 49 in the Top 100 chefs in The Best Chef Awards in 2021. She's also led her fine dining restaurant, Tate Dining Room, to two Michelin stars after achieving its first one back in 2013 (and maintaining it since). Lau's ever-evolving tasting menus, with odes to ingredients like fish and kumquat, are testaments to her continuous exploration of art and self-expression through food.
Tate Dining Room, 210 Hollywood Road, Sheung Wan, Hong Kong, p. 2555 2172
6. Kwok Keung Tung – The Chairman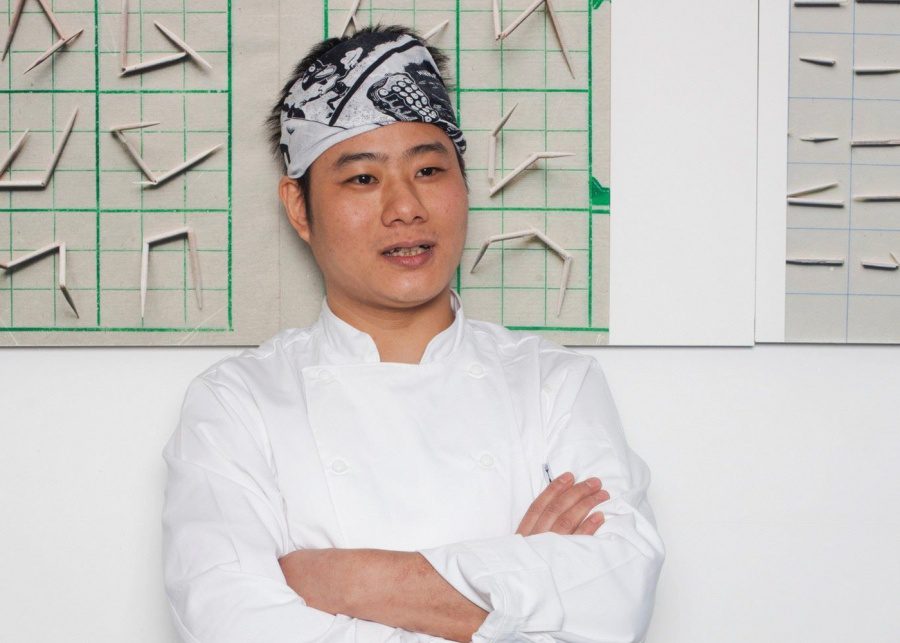 It's all about continuing the legacy of Cantonese cuisine at The Chairman. And with the Michelin-star restaurant nabbing the number 13 spot in Asia's 50 Best Restaurants (and number 50 in The World's 50 Best Restaurants) this year, you'd know that its Head Chef, Kwok Keung Tung, has been doing it right.
Partnering with food connoisseur and the restaurant's owner, Danny Yip, Kwok demonstrates his perfectionism and attention to detail in his cooking. Believing that simple cooking allows the ingredients to shine, Kwok picks only the freshest produce of the utmost quality. He also curates amazing menus at The Chairman, featuring a variety of seafood dishes such as pepper mud crab and geoduck. This restaurant is certainly not to be missed, but good luck with booking a table!
The Chairman, 3/F, The Wellington, 198 Wellington Street, Central, Hong Kong, p. 2555 2202

7. Vicky Cheng – Vea Restaurant
Born in Hong Kong and classically trained under French gastronomic influences, Vicky Cheng pioneers a "Chinese x French" fusion concept at his one-Michelin-starred restaurant, Vea. Integrating Chinese ingredients with French culinary techniques, Cheng displays a high level of precision and finesse in his dishes. Some of his signature creations include the Chinese x French Trilogy, which features Buttered Fish Maw, Abalone Pithivier, and Roasted Sea Cucumber.
Thanks to Vea's outstanding service, the restaurant won the Gin Mare Art of Hospitality Award 2021. Additionally, Cheng was recognised in The Best Chef Awards 2021, placing 60 among the Top 100 chefs around the world.
Follow Vicky Cheng on Instagram.
VEA, 30/F, The Wellington, 198 Wellington Street, Central, Hong Kong, p. 2711 8639
8. Matthew Kirkley – Belon
The Michelin-starred Belon stands out with its elegant, neo-Parisian style and its commitment to ingredient-driven cuisine. Opened by Daniel Calvert, the restaurant was passed on to Executive Chef Matthew Kirkley before reopening in March 2021. Having earned Michelin stars with two previous restaurants (L2O in Chicago and Coi in San Francisco), Kirkley has certainly raised the bar at Belon. Don't miss out on the gems in Kirkley's menu, featuring the Tarte Au Foie Gras with Plum and Macadamia Nut, and the Australian Wagyu Striploin with Chorizo and Polenta. Furthermore, Belon offers a Chef's Table experience, with which you can get up close and personal with Kirkley and his team as you taste an exclusively tailored multi-course menu.
Follow Matthew Kirkley on Instagram.
Belon, 1/F, 1-5 Elgin Street, Soho, Hong Kong, p. 2152 2872
9. Paul Lau Ping-lui – Tin Lung Heen, The Ritz-Carlton, Hong Kong
Two-Michelin-starred Tin Lung Heen is one of the most celebrated Cantonese fine dining restaurants in Hong Kong. At Tin Lung Heen, not only do you get to admire a stunning birds' eye view of the city from the top of the ICC, but you'll also get to sample elegant dim sum and teas crafted by the revered Director of Culinary, Paul Lau Ping-lui. With almost four decades of culinary experience under his belt, Lau is the expert when it comes to refined and authentic Cantonese cuisine. As for the signature dishes here, we'd recommend the deep-fried shrimp toast; steamed crab claw with egg white in Huadiao wine; and the deep-fried crab shell filled with crab meat and onion.
Tin Lung Heen, 102/F, The Ritz-Carlton Hong Kong, International Commerce Centre, 1 Austin Road West, Tsim Sha Tsui, Hong Kong, p. 2263 2270
10. Jayson Tang – Man Ho Chinese Restaurant, JW Marriott Hotel Hong Kong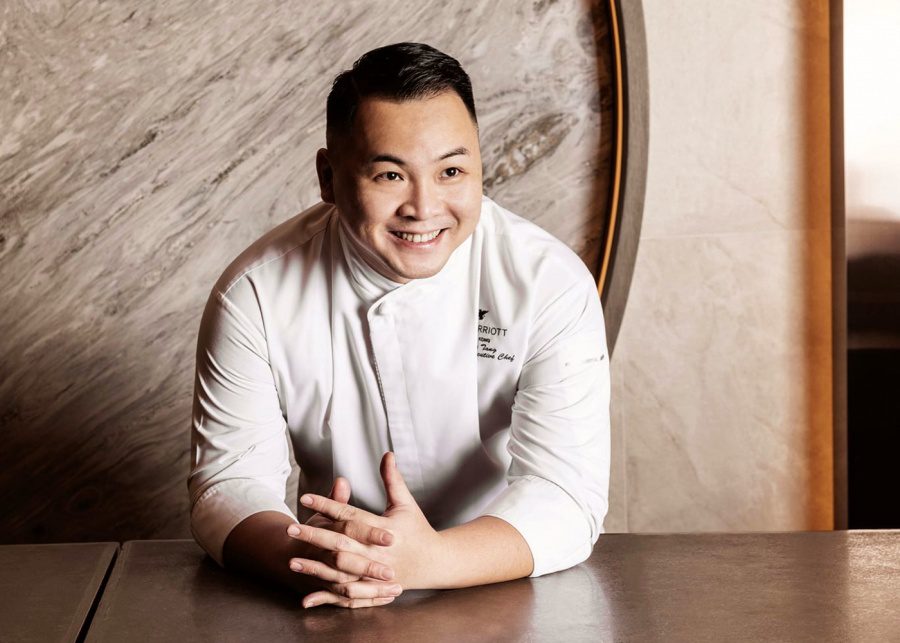 Man Ho's Executive Chinese Chef Jayson Tang is passionate about injecting new flavours into the traditional dim sum and Cantonese cuisine. In addition to creating a myriad of authentic and innovative dishes using fresh seafood and premium ingredients, Tang also collaborates with other celebrated chefs in Hong Kong to explore new facets of Cantonese culinary culture. The most popular items at Man Ho include the Signature Barbecued Pork with Honey Sauce; Pan-fried Hokkaido Scallop in Lobster Sauce; as well as the Signature Deep-fried Crispy Chicken.
Follow Jayson Tang on Instagram.
Man Ho Chinese Restaurant, Level 3, JW Marriott Hotel Hong Kong, Pacific Place, 88 Queensway, Hong Kong, p. 2810 8366
[This article was originally published in October 2022 and updated in 2023 by Min Ji Park.]