Dragon-I的現代風點心不止賣相特別,味道亦出色
There are lots of places you can go to yum cha in Hong Kong, but here are our favourite restaurants to drink Chinese tea, eat dim sum and enjoy traditional Cantonese treats
While in the west, the best brunches consist of eggs Benedict, waffles and bacon, here in Hong Kong we do it with dim sum and bottomless tea. We call this iconic ritual of Cantonese brunch yum cha, which literally means "drink tea" as traditionally a lot of Chinese tea is involved. Living or visiting Hong Kong won't be complete without trying the experience, but if you're still wondering where to go for the really good options, we've rounded up the best restaurants for yum cha in Hong Kong. Grab your chopsticks, and get involved.
Where to go to yum cha in Hong Kong
Dragon-I
Located in Central, Dragon-I is not only one of the city's best nightclubs, but is also a popular spot for tasty yum cha in Hong Kong. During lunch time, you can go crazy on their all-you-can-eat menu that is definitely a value for money for those big eaters. Free of MSG, their Chinese dishes may not be the most authentic, but they create a unique taste that attracts the chic crowds.
Dragon-I, UG/F, The Centrium, 60 Wyndham Street, Central, Hong Kong, p. 3110 1222, 中環雲咸街60號中央廣場平台
Pure Veggie House
Who says you can't eat shao mai and xiao long bao if you're vegan? Head over to Pure Veggie House for a delicious vegan dim sum feast where you can eat guilt-free yum cha in Hong Kong. The dishes are delicate and flavourful, making sure that vegans are not missing out on this iconic eating ritual of Hong Kong.
Find out why it makes our list of best vegetarian restaurants in Hong Kong and read our full review of Pure Veggie House.
Pure Veggie House, 6/F, M88, 2-8 Wellington Street, Central, Hong Kong, p. 2525 0552
Maxim's Palace
Located at City Hall, Maxim's Palace is one of the most famous spots for yum cha in Hong Kong. The Guangdong-style dim sum is served the traditional way using trolleys, from which you can choose the dishes you want. Another perk of eating here is that you won't run out of things to order, as the restaurant has over 100 choices of dim sum to choose from! They have a good vegetarian selection too, so everyone will be smiling after this.
Maxim's Palace, 2/F, City Hall, 5-7 Edinburgh Place, Central, Hong Kong, p. 2521 1303, 中環愛丁堡廣場5-7號大會堂低座2樓
Saam Hui Yaat
Eat dim sum like the locals at Saam Hui Yaat, a humble yum cha restaurant located in Sai Ying Pun where the menu is written completely in Chinese. The tiny restaurant, at which you need to be prepared to sit beside strangers on their mis-matched plastic and wooden stools when it gets crowded, serves classic dim sum like steamed pork buns, steamed prawn dumplings, and rice dough wrapped beef, as well as Chinese teas.
Saam Hui Yaat also features on our guide to best affordable lunches in Sai Ying Pun.
Saam Hui Yaat, 11 Pokfulam Road, Western District, Sai Ying Pun, Hong Kong, p. 2547 3917, 西環薄扶林道11號
Lin Heung Tea House
Established in 1962, Lin Heung Tea House is one of the oldest and most popular tea houses in Hong Kong, so you know you're in good hands when it comes to Cantonese dim sum and Chinese teas. The restaurant is noisy yet fun, giving the guests an even more authentic yum cha experience. Don't forget to also check out the tea house's sibling restaurant, Lin Heung Kui, which will be preferred by those craving the old Guangdong-style yum cha. While you're there, be sure to get their shrimp dumplings, xiao long bao, steamed sesame paste buns, fish maw, and bean curd rolls. So good!
Lin Heung Tea House, 160-164 Wellington Street, Central, Hong Kong, p. 2544 4556, 中環威靈頓街160-164號
Dim Dim Sum
A dim sum specialty store, Dim Dim Sum has four branches in Hong Kong, which are located in Jordan, Mong Kok, Wan Chai, and Sha Tin. The restaurants might be quite small in size but they regularly attract a large crowd thanks to their delicious dim sum choices such as shrimp dumplings, custard buns, BBQ pork buns and more. Another thing we love about this restaurant is that although they are not the most modern, they are well prepared with various menus in Chinese, English, Japanese, and Korean, so tourists won't have to go through a hard time ordering.
Dim Dim Sum, G/F, 112 Tung Choi Street, Mong Kok, Hong Kong, p. 2309 2300, 旺角通菜街112號地下
One Dim Sum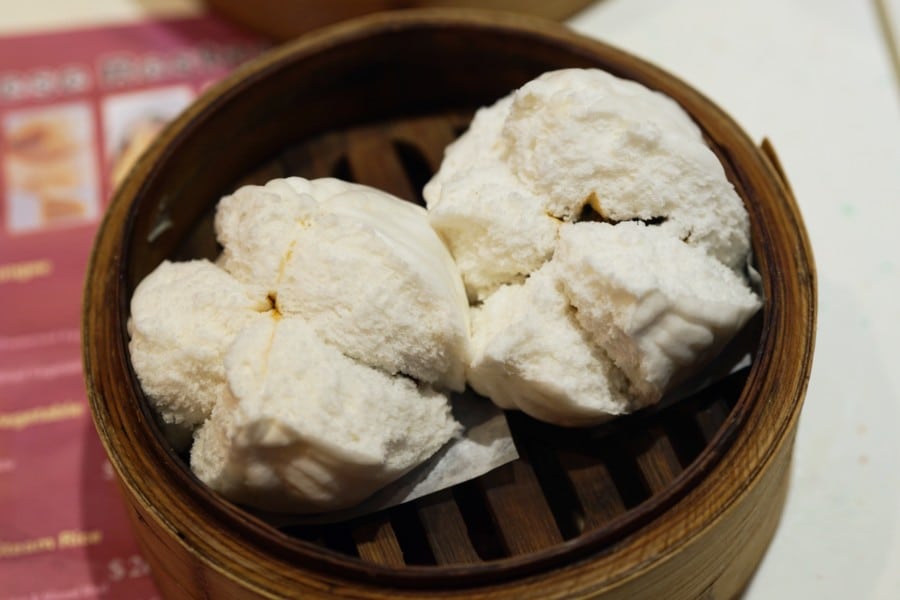 Located in Mong Kok, One Dim Sum is a Michelin-starred eatery that offers a great variety of dim sum. Expect the classic dishes like shrimp dumplings, pork dumplings, rice sheet rolls, steamed buns, and many more. A visit to One Dim Sum will not be complete without getting its popular perfectly textured roast pork buns, so make sure you leave enough room for this local favourite.
One Dim Sum, Shop 1-2, G/F, 15 Playing Field Road, Mong Kok, Hong Kong, p. 2789 2280, 太子運動場道15號京華大廈地舖1-2號