XYZ will push you and make you have a great time thanks to pumping music and neon lights
If you can't get out and ride your bicycle, these spin classes in Hong Kong are the next best thing
With the abundance of fitness studios and gyms in Hong Kong, there are many fun workouts to choose from. As a workout, spinning is an excellent way to relieve stress and also a low-impact exercise that still increases your cardiovascular fitness. If you're looking to try new kinds of exercise or enjoy a 'team vibe' while working out as a group, spinning might be a good choice for you. Check out these spin classes in Hong Kong to get that lean muscle definition for both your legs and core!
1. XYZ
A SoulCycle alternative, XYZ's neon-lit indoor cycling studio makes you feel like you are partying in the streets of LKF rather than pumping your legs. Classes are split into two kinds: Grow Young or Born to Move. Grow Young is for all levels, allowing you to find your own pace and eventually build up your strength to take on the Born to Move Class, which is known for cardio-intensity and calorie-burning challenges.
Read our review of XYZ
XYZ, 2/F, New World Tower, 18 Queen's Road Central, Central, Hong Kong, p. 2865 0999
2. Pure Fitness
For those who aren't looking to feel like a backup dancer in a music video, Pure Fitness's Schwinn spinning is a great experience to try. Pure offers three kinds of cycling classes, so you can find the spin class that best suits your fitness needs. The Les Mills designed RPM workout enables you to control the intensity, allowing you to increase the resistance and then ease back down, boosting your cardio fitness. For a more immersive experience, try the Trip class where cinema-quality video content is projected onto the screen of a purpose-built spin studio to make you feel like you're climbing up a set of switchbacks during a mountain stage of the Tour de France. With nine locations across Hong Kong, it couldn't be easier to hop on a bike for a workout.
Pure has multiple locations across Hong Kong.
3. Velocity Studio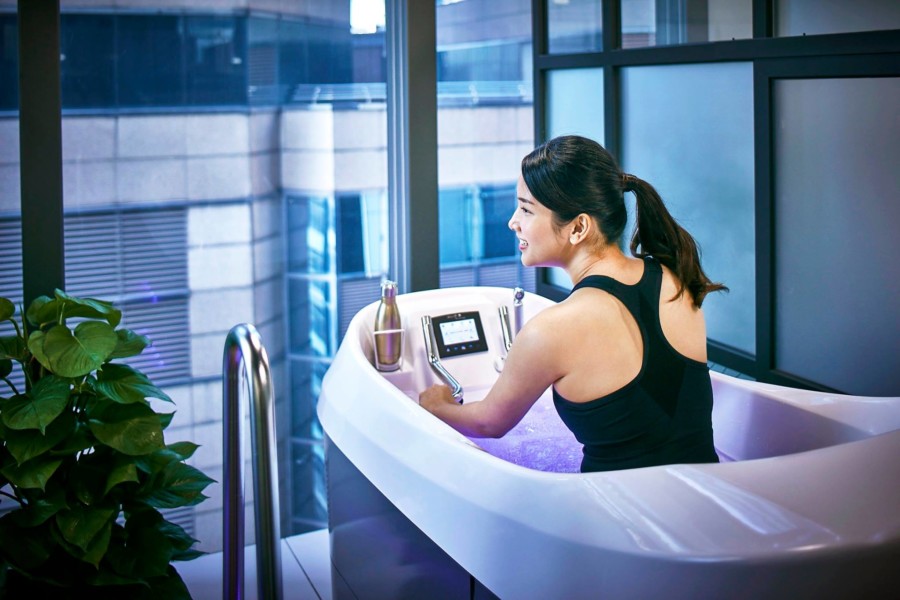 Asia's first ever aquabike studio and Hong Kong's first female-only studio is perfect for those who want to tone their body while rejuvenating their skin. The solo spin bike in the 30-minute class is immersed in a jacuzzi private cabin, all designed in France (oh là là). With its oxygenated, ozone-infused water to detoxify your skin, the studio is best for those who are hustling and bustling in the city and are in need of a sanctuary. A bonus? The jacuzzi jet massage boosts your circulation to reduce the appearance of cellulite.
Velocity Studio, 14/F, Oliv, 15-21 Sharp Street East, Causeway Bay, p. 2110 4460
4. 4ward Fitness
This 4D (width+height+depth+time) indoor spinning simulation takes you away from the urban jungle and is designed to stimulate your sense of touch, sound, sight and balance. The immersive experience includes specially designed motion lights, a state of the art theatre screen and sound system, supplemented by wind effects to intensify your workout. This 600-calorie burning workout is ideal for those who want to increase their cardiovascular efficiency and build their strength.
4ward Fitness, 2/F, MPM Plaza, 11 Nelson Street, Mong Kok, Hong Kong. p. 5802 0123
5. TORQ
Located in Causeway Bay, TORQ studio offers a range of cycling sessions with different varieties of intensity. CYCLE Turbo offers a 35-minute fat-loss class, whereas CYCLE Power uses performance metric numbers and a Functional Threshold Power (FTP) test is conducted for 20 minutes of the class. TORQ studio enables riders to get both the cardio and muscle toning workout done and dusted for the day. Less talk, more TORQ!
TORQ, 3F, Abdoolally House, 20 Stanley Street, Central, Hong Kong, p. 2677 8623