Alright ladies and gents, now let's get in formation! (Photography: Gustavo Fring via Pexels)
Want to get a lean and strong body? Sculpt and tone your core by joining in on a class at the best pilates studios in Hong Kong.
While we love sweating it out with high intensity training at gyms, spin sessions, and online fitness classes, we have to admit that there's no better workout than pilates when it comes to body toning and sculpting (even our wellness guru Avey Cortes is obsessed!). Thankfully, the best pilates studios in Hong Kong will help you tone that core and give you greater leanness all round.
Best pilates studios in Hong Kong
1. PURE
You may know PURE for its hugely popular gym and online classes, but did you hear about the launch of its all-new pureformPilates programme? That's right, the Love Local Award-winning PURE is catching the tail-end of summer with a fresh addition to its line-up of dynamic group sessions. Starting from today at PURE Fitness (ifc mall), pureformPilates will help transform your body, as you engage in one of the most popular exercises around the globe with a Reformer machine. The workout is designed to strengthen your core muscles, improve postural alignment, stabilise the joints, and enhance your flexibility.
Contact the PURE Fitness team to find out more about the memberships and stay connected on Instagram for upcoming news!
PURE (ifc mall), 3/F, ifc mall, 8 Finance Street, Central, Hong Kong, p. 8129 8000
2. Flex Studio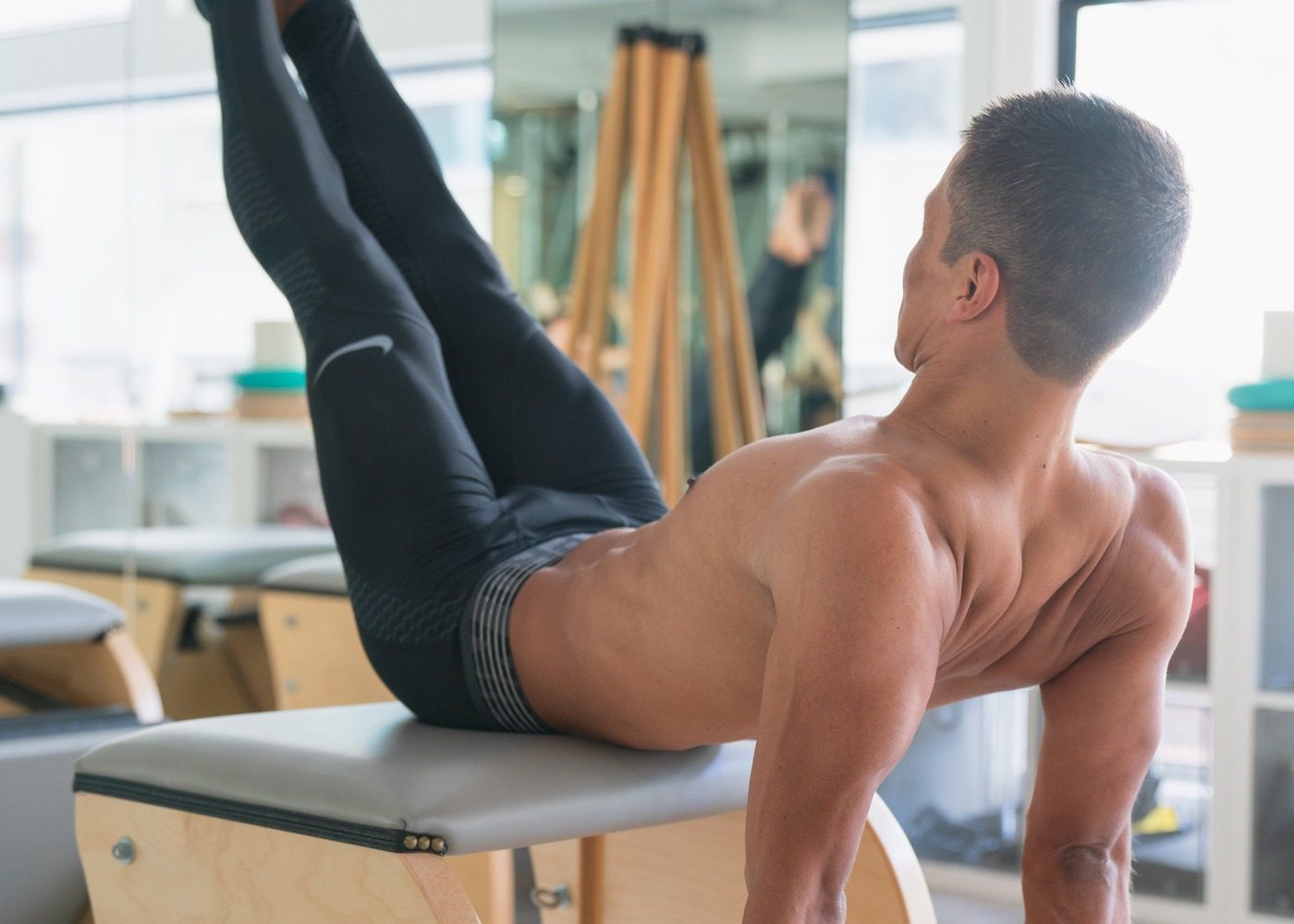 Sculpt, tone, strengthen, and stretch your body at Flex Studio, which offers premium training specialising in pilates, yoga, and Xtend Barre. With an extensive range of Pilates Reformer classes, you'll be able to find one suited to your fitness level and preference. Flex Studio even provides a Pilates Private Assessment after which the instructor can create a bespoke workout plan for you. Classical Pilates classes incorporate different equipment and exercises – there's even a course designed for pre- and post-natal participants! With Pilates Reformer classes, you'll target the "Powerhouse" muscle groups (abs, glutes, thighs, back muscles) and improve balance, coordination, flexibility, and muscle tone.
Flex Studio has locations in Central and Wong Chuk Hang.
3. Anhao Wellness
Created and led by a former French National Gymnast, Anhao Wellness is dedicated to Reformer Pilates, Mat Pilates, and personal training. The studio offers group classes that range from Reformer and Mat Pilates to yoga, which can also be specialised with the personal training for athletes, pre- and post-natal women, and people recovering from injury. The classes are purposefully kept small, so that every person is catered to.
Anhao Wellness has locations in Central and Causeway Bay.
4. Iso Fit
Searching for a pilates studio in Hong Kong with one of the most complete collection of equipment? Iso Fit may be the one you're looking for, as it offers both mat and state-of-the-art gyrotonic equipment. The studio provides private, semi-private, and group sessions with different classes such as Gyrokinesis, Hardcore Pilates Mat, Pilates Mat Plus, and Pilates Reformer. There are also sessions that target specific communities. Find your way to pre- and post-natal pilates, office pilates, pilates for golf and runners, and other focused classes.
Iso Fit, 802-805, 8/F, Yu Yuet Lai Building, 43-55 Wyndham Street, Central, Hong Kong, p. 2869 8630
5. VIM Pilates Studio
A licensed training centre for Stott Pilates, VIM Pilates Studio has a wide variety of pilates classes and fitness training. Available in private, semi-private, and group, the pilates classes include matwork and the use of reformer, cadillac, stability chair, and barrels. Aspiring pilates instructors can also receive training at VIM by joining the intensive and advanced certification courses.
VIM Pilates Studio, 15/F QRE Plaza, 202 Queen's Road East, Wan Chai, Hong Kong, p. 2572 2683
6. Defin8 Fitness
No matter your fitness level or age, you can find a pilates class that best suits your needs and wants at Defin8. Founded by power fitness couple Trixie and Leo Velez in 2016, the studio has bespoke workouts not only for pilates and cadillac, but also for TRX and free weights. The studio is also the first in Hong Kong to launch the Infrared Reformer Pilates Class which helps to quickly loosen the muscles, resulting in more flexibility, and a more robust routine during the class – it's totally safe and makes the experience more dynamic. There are group classes and one-on-one sessions for a more invigorating sesh.
Defin8 Fitness, 17/F, Silver Fortune Plaza, 1 Wellington Street, Central, Hong Kong, p. 9863 5605
7. Moto Studio
Located in the heart of Tsim Sha Tsui, Moto Studio is a well-equipped and spacious studio with plenty of wooden design elements and natural light. For classes, you can take your pick between Pilates Reformer, Gyrotonic, Gyrokinesis, and Pilates Mat. The classes are done in small groups, enabling more personal training and making it easier for participants to ask for help and guidance throughout the sessions. Moto Studio also offers physiotherapy rehabilitation for those looking for a recovery exercise programme.
Moto Studio, Unit C, 7th Floor, Milton Mansion, 96 Nathan Road, Tsim Sha Tsui, Hong Kong, p. 5606 6086
8. O:rin Pilates & Gyrotonic
Employing the principles of Pilates and Gyrotonic, O:rin offers a range of exercises designed to transform and highlight the fluidity of movement. Group Pilates Reformer classes are available as Overall Body Workout or Focused Body Workout, and come in varying skill levels. Private pilates classes and pilates-based physiotherapy are also provided for a customised experience and to help enhance your overall well-being.
O:rin Pilates & Gyrotonic has locations in Tsim Sha Tsui and Quarry Bay.
9. In-Motion
Fully equipped for pilates and Gyrotonic classes, In-Motion is dedicated to give you a full mind-body workout. The studio offers classes on Pilates Reformer, Pilates Mat, Pre/Post-Natal Pilates, Gyrotonic exercises, Gyrokinesis exercises, and TRX Suspension Training. Private classes are also available at every skill level for those who want a personalised session. What's more, In-Motion gives pilates instructor training with the Polestar Pilates Teachers Training programme. This is certainly one of the most comprehensive pilates studios in Hong Kong.
In-Motion, Unit 601, Tower 1, Silvercord, 30 Canton Road, Tsim Sha Tsui, Hong Kong, p. 2376 0033
10. Options Pilates Studio
At Options Pilates Studio, your instructor will work a holistic approach to better the wellness of your whole body. You can take Private, Semi-Private, or Group Classes where you'll make use of equipment like the Reformer, Cadillac, Stability Chair, Ladder Barrels, Spine Corrector, and Arc Barrel. Group sessions like Mat Freestyle, Sculpt and Strength, Jungle Sports Fitness, and more are available too, with classes small enough to grant you more bespoke instruction. Those of you hoping to become pilates instructors yourselves can also turn here for courses to get certified.
Options Pilates Studio, 12/F, 16 Wyndham Street, Central, Hong Kong, p. 3188 8112
[This article was originally published in December 2019 and updated in 2023 by Min Ji Park.]