No pain, no gain, these fitness studios offer everything from yoga to HIIT. So, slip into something a little more comfortable, and hit the gym!
Looking for some stress relief and a good distraction after work? There are an array of meditation centres in Hong Kong, as well as yoga classes and pole dancing classes for those who want to switch things up. And for those who are determined to burn calories, build up muscle and work on your flexibility, our guide to the best fitness studios in Hong Kong will get you all sorted.
Check out these independent fitness studios in Hong Kong
XYZ
Looking to try something intensive and extraordinary? XYZ is your pick. Being Asia's first articulation of the indoor cycling phenomenon, XYZ is designed to help you escape your day-to-day life, intensify your energy levels and regain control of your body. It's no mortal workout (as described by themselves), but those extra calories will have no place to stay for sure.
Read our full review of XYZ.
XYZ, 2/F, New World Tower II, 18 Queen's Road Central, Central, Hong Kong, p. 2865 0999, 中環皇后大道中16-18號新世界大廈2座
House of Fitness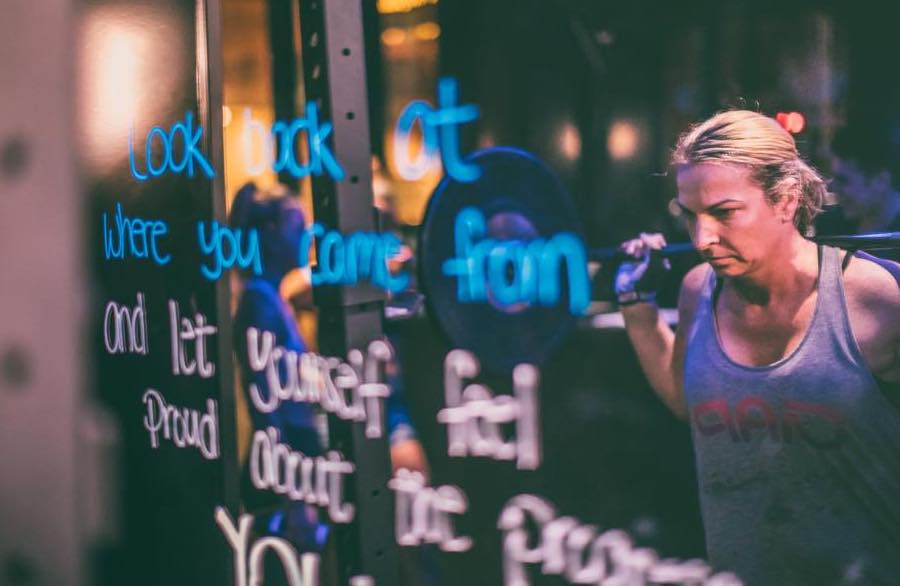 Dark room, dimmed lights, upbeat music, House of Fitness is all about pushing you to the next level in a unique training environment. Located in the heart of Sheung Wan, this boutique high-intensity studio provides a wide range of classes that combine a mix of cardio, weights and boxing to help you build muscle and tone your body – including boxing, HIIT, and other high intensity training courses that increase endurance, co-ordination as well as building strength and aesthetics.
House of Fitness, 18 Possession Street, Sheung Wan, Hong Kong, p. 6825 1081, 上環水坑口街18號
TOPFIT
As one of Hong Kong's premier fitness studios in Hong Kong, TOPFIT offers a great variety of group classes that include H.I.I.T, Yin Yoga, Deep Stretches, Dance Cardio, Curves Ahead (a female-only class to work up their thighs, glutes, triceps, shoulders and back), Kangoo Power, Recovery Mobility Class and many more. All effective and results-driven!
Topfit, 3/F, The Wellington, 198 Wellington Street, Sheung Wan, Hong Kong, p. 2776 7298, 中環威靈頓街198號The Wellington 3樓
XP Fitness Hub
Don't sweat if you're still taking baby steps to adjust to your weekly training routine, XP Fitness Hub is one of the best fitness studios in Hong Kong suitable for women and men of all fitness levels. Providing a selection of interesting programmes such as 4D PRO Bungee, Kangoo Jumps and POUND, the word fun is guaranteed.
Read our review of XP Fitness Hub.
XP Fitness Hub, Li Dong Building, 4/F, 9, Li Yuen Street East, Central, Hong Kong, p. 2951 9178, 中環利源東街9號利東大廈4樓
LIGHTS//OUT
Inspired by nightclub boxing trends that are popular in America and the UK, LIGHTS//OUT is the pioneer of fitness studios in Hong Kong when it comes to offering an immersive fitness concept driven by music and grounded in boxing. Expect party-style lighting and upbeat soundtracks for when you work out next time!
LIGHTS//OUT, 3/F, Block C, Sea View Estate, 8 Watson Road, Causeway Bay, Hong Kong, p. 2512 2262, 北角屈臣道8號海景大廈C座3樓
Defin8 Fitness
Founded by passionate fitness coach Trixie Velez, Defin8 Fitness is the place to go when you want to have a great time burning tonnes of calories. Classes include TRX Circuit, FatBurn, AbsBlaze and Defin8 Barre, and you can't help but have a good time thanks to the banging music and the infectious energy of the instructors. Conveniently located in Central, be sure to book, as spaces fill up quick! This is definitely one of our favourite independent fitness studios in the city.
Defin8 Fitness, 8F & 9F Yu Wing Building, 66 Wellington Street, Central, Hong Kong, p. 9859 8620
Goji Elite
Bridging martial arts, strength and conditioning, wellness and nutrition, Goji Elite is an all-encompassing space that caters to everyone, regardless of age, gender, ability or experience. Set over 7,000 sq-ft in Sai Ying Pun, classes include lifting, cardio and Muay Thai, and the coffee and health bar – The Elephas – will help you with a pick-me-up after you're done.
Goji Elite, 1/F, HK Plaza, 188 Connaught Road West, Sai Ying Pun, Hong Kong, p. 2838 3878, 西環干諾道西188號香港商業中心一樓
The Studio by Jab (Formerly Jab MMA)
Mixed Martial Arts combines technique, strength, flexibility and speed to create a discipline that is hugely popular all across the globe. Training at The Studio by Jab includes elements of boxing, kickboxing and Brazilian Jiu Jitsu, making it a challenging full body and cardiovascular workout. No need to be nervous though, as the team caters to all levels, from beginners right through to professionals.
The Studio by Jab, 5/F Crawford House, 70 Queen's Road, Central, Hong Kong, p. 2851 6684, 中環皇后大道中70號卡佛大廈5樓
Aerial Arts Academy
Aerial Arts Academy is one of Hong Kong's leading pole, aerial arts, dance and fitness studios. Classes at the studio are taught by an international team of licensed professionals who only work with the latest equipment. For those looking to learn new skills and have fun while working out, a range of options are available, such as: hoop, silk, aerial hammock, flyoga and acro circus.
Aerial Arts Academy, 9-11 Shelter Street, Causeway Bay, Hong Kong, p. 2375 8088, 銅鑼灣信德街9-11號
The Studio Sai Kung
The Studio Sai Kung aims to encourage general well-being for all, no matter your fitness level. Offering a large selection of classes such as pilates, yoga, TRX and Zumba, it also holds pre- and post-natal yoga sessions. Once a month, a Yamuna Body Rolling workshop is held to stretch and massage tight and overused muscles.
The Studio Sai Kung, 1/F, 28 Man Nin Street, Sai Kung, Hong Kong, 2791 ​​​9705, 西貢萬年街28號一樓
Torq
When it comes to beloved fitness studios in Hong Kong, you can't beat Torq! The team offers a range of classes to shape your body the way you want. More than just a spin class, in Torq-Cycle, upbeat instructors move participants through different intensities to challenge both body in mind. If you are looking to burn calories, Torq-Switch is the ultimate cross training workout that incorporates bodyweight, TRX, kettle bells and free weights, while Torq-Release helps you unwind using foam rollers and dynamic stretching.
Torq, 3/F, Abdoolally House, 20 Stanley Street, Central, Hong Kong, p. 2677 8623, 中環士丹利街20號鴨都喇利大廈三樓