Is it time to get in shape or switch up your regular training routine? Here are the best gyms in Hong Kong.
Want to relax and get toned at the same time? These pilates studios, boxing gyms or dance classes are our first choice. And if you fitness junkies want to challenge yourself with more intense strength training and cardio exercises, then the best gyms in Hong Kong will definitely help you achieve your goals.
Guide to the best gyms in Hong Kong
1. Pure Fitness
With nine branches in Hong Kong and more in Shanghai and Singapore, Pure Fitness offers state-of-the-art facilities and advanced training tools. Personal training and various private and group classes are also available, from pilates, yoga, and pole dance to spartan training, cycling, terra core, TRX, rip circuit, rings, and many more. Tech lovers will also love Pure Fitness as the gym offers fun experiences like brain stimulator, kBox for flywheel training, multiplayer RealRyder Go Kart as fitness video game, Wattbike, and virtual reality bike and fitness. It's one of the most loved gyms in Hong kong for a reason!
Pure Fitness, 3/F, IFC Mall, 8 Finance Street, Central, Hong Kong, p. 8129 8000, 中環金融街8號國際金融中心商場3樓
2. Anytime Fitness
Open 24 hours a day, Anytime Fitness has branches across the globe, allowing you to use your membership in not only your registered location but also other branches of Anytime Fitness, including those in other countries. With seven locations in Hong Kong, the fitness centre offers gym equipments as well as personal training services.
Anytime Fitness, Shop No.3, 1st floor, The Avery, 16 Hau Wong Road, Kowloon City, Hong Kong, p. 5112 6903, 九龍九龍城侯王道16號1樓
3. Fitness First
International fitness chain Fitness First provides motivation and training through their full furnished gyms and specially crafted exercise routines. To achieve personalised goals, you can get their one-on-one training or freestyle group training that mixes gym equipment and certified fitness guides. There are also various group exercise classes, strength and cardio training, and Muay Fight Pro that integrates Muay Thai with freestyle training.
Fitness First, 37/F, One Exchange Square, Central, Hong Kong, p. 2525 2900, 中環交易廣場第1座37樓
4. LCSD Fitness Rooms
Provided by the government, Leisure and Cultural Services Department (LCSD) Fitness Rooms can be used by anyone who has passed the assessment organised by the LCSD or students who have completed the specific fitness courses in some chosen universities in Hong Kong. Equipped with fitness equipment and free weights, the fitness rooms are spread across various sports centres in Hong Kong Island, Kowloon, and New Territories, and are definitely the best value when it comes to gyms in Hong Kong.
LCSD Fitness Rooms, various locations,
5. Goji Studios
With a total of eight locations in Hong Kong, Goji Studios aims to redefine the traditional fitness concept, offering equipments that are conducive to functional and strength training. The group classes, which can be booked via their app, include yoga, pilates, recovery and relax, Les Mills, fitness, dance, indoor cycling, and other small group workouts, as well as kids' programme.
Read our review of Goji Studios.
Goji Studios, 4/F, 250-254 Gloucester Road, Elizabeth House Block B, Causeway Bay, Hong Kong, p. 2530 3038, 銅鑼灣告士打道250號伊莉莎伯大廈4樓
6. Classpass
While it doesn't technically have a fitness centre on its own, Guava Pass offers member access to a wide range of group studio classes in various fitness centres and loads of open gym options in studios too, so you can do your own thing. Made of a community of fitness studios across the globe, the platform allows you to reserve classes, ranging from yoga and pilates to kickboxing, spinning, and dance, in just one simple click.
Classpass, various locations.
7. Utime
Utime is the perfect place for you if you'd like to train in odd hours. Open 24 hours a day, Utime is unlike the other fitness centre, as it offers no contract, month-to-month membership. Premium equipment for cardio, strength, free weight and functional training are available inside their gyms that are located in Happy Valley, Kennedy Town, and Sai Ying Pun.
Utime, 1/F, King-Inn Mansion, 13-15 Yik Yam Street, Happy Valley, Hong Kong, p. 3998 4896, 跑馬地奕蔭街13⾄15號景怡大廈1樓
8. 24/7 Fitness
While a lot of gyms make you sign year-long contracts, 24/7 Fitness serves monthly memberships only, providing higher payment flexibility for those without plenty of cash. Their check-in service is self-automated and fitness facilities are designed to be eco-friendly. Their centres are also equipped with ion technology sterilisation systems, optimising the air circulation within the gyms.
24/7 Fitness has several locations in Hong Kong
9. F45 Training
Meaning forty-five minutes of functional training, F45 Training is where you can enjoy fun and innovative high-intensity group training. Maximise your metabolism through their cardio classes on Mondays, Wednesdays and Fridays; optimise your performance through resistance training on Tuesdays, Thursdays and Sundays; or engage in an all-rounded body burn through hybrid classes on Saturdays. With thirty-six unique workout classes available, you will never get bored of F45 Training's sweat-dripping fun.
F45 Training has several locations in Hong Kong
10. Ozone Fitness
Ozone Fitness is a boutique fitness centre in Wan Chai that offers free assisted training, where personal trainers will teach you how to use the equipment and maximise your performance. The membership also includes free customised workout designed by trainers, free body composition analysis and small group classes. What's cool is that they have a Himalayan hot stone stretching area near their jellyfish aquarium where you can release all your stress after an intense workout.​
Ozone Fitness, UG/F, Hang Tak Building, 1 Electric Street, Wan Chai, Hong Kong, p. 3590 8500
11. GO24 Fitness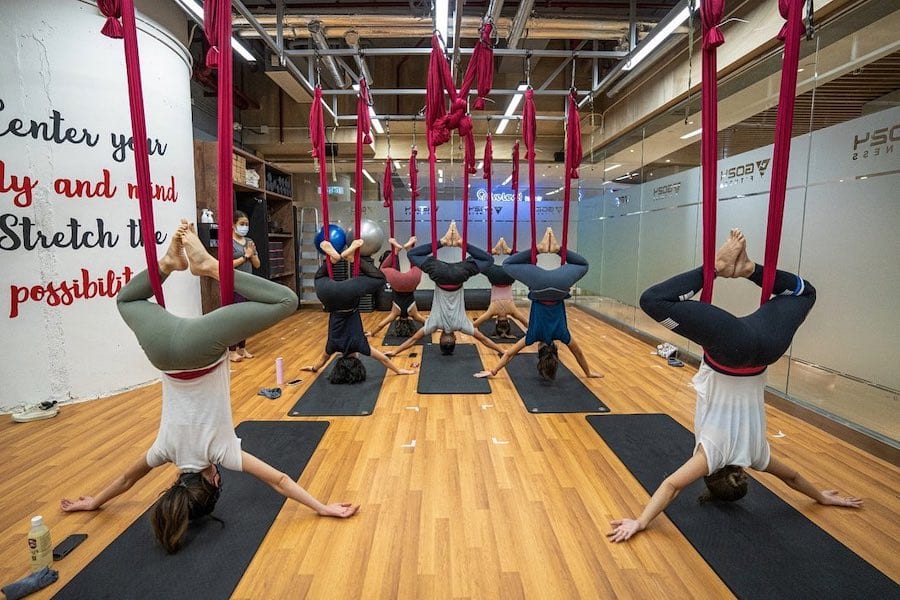 GO24 Fitness first opened its door in Tsuen Wan back in 2018, launching five franchises within just two years. Aiming to provide 24/7 gym services at an affordable price, GO24 Fitness serves contract-free memberships where you can arrange your visits flexibly. Not only do they have advanced fitness equipment but also an array of fun group classes, ranging from deep release yoga to zumba and pilates to TRX.
GO24 Fitness has several locations in Hong Kong
12. Snap Fitness
A 24/7 gym from the United States, Snap Fitness has locations across eighteen countries. Whether you are looking for spin classes, personal training or cardio workout, Snap Fitness has an array of advanced equipment and staff to support your fitness journey. We like the fact that memberships are not limited to one country, and free HIIT and yoga classes are included.
Snap Fitness has several locations in Hong Kong