It's time to throw some punches and conquer the ring! (Photography: Los Muertos Crew from Pexels)
Working out at these boxing gyms in Hong Kong can do wonders for your health and muscle strength, so what're you waiting for?
We've always enjoyed a relaxing yoga class at these cosy yoga studios in Hong Kong, but sometimes it's easier to ease the stress by doing something more physically challenging – like CrossFit or pole dancing. And if you want to focus on muscle-building, then you should definitely check out these boxing gyms in Hong Kong, which can help you build your cardiovascular fitness and improve your strength and coordination. Regardless of your level of skills, their professional coaches are here to help!
Boxing gyms in Hong Kong
1. Def Boxing
Def Boxing is a boxing gym that is the home to Hong Kong's first ever and most decorated professional boxer Rex 'The Wonder Kid' Tso. Whether you're a trained boxer with a championship belt on your waist or a beginner who has never tried martial arts before, everyone can develop their boxing skills here as the coaches will tailor the workouts to fit each of your needs and goals. In addition to personal training, different group sessions are available for both beginners and regulars, and there's also a Student Class designated for young boxers starting from the age of 12. If you've mastered the techniques and want to unleash your competitive side, you can also sign up to either their competition or sparring class.
Def Boxing, B/F, 125 Connaught Road Central, Sheung Wan, Hong Kong, p. 2840 0162
2. Ursus Fitness
Although known primarily as a strongman gym, Ursus actually offers a diverse range of classes including boxing and Muay Thai for all levels. Led by experienced instructors like Benz Aoikam and Khathasit "Ta" Jaisuedee, Ursus' boxing and Muay Thai sessions teach fundamental techniques like combination punching and elbow-knee strikes in a welcoming environment. The scalable classes allow beginners to entry-level athletes to master skills at their own pace, whether training for competition or general fitness. With a supportive community focused on goal achievement, Ursus empowers you to pursue your fitness journey.
And while you're in the area, don't forget to check out our Sai Ying Pun neighbourhood guide for even more exciting discoveries and recommendations!
Ursus Fitness, Units 2-4, 64-68 Pok Fu Lam Road, Sai Ying Pun, Hong Kong, p. 2803 2774
3. Impakt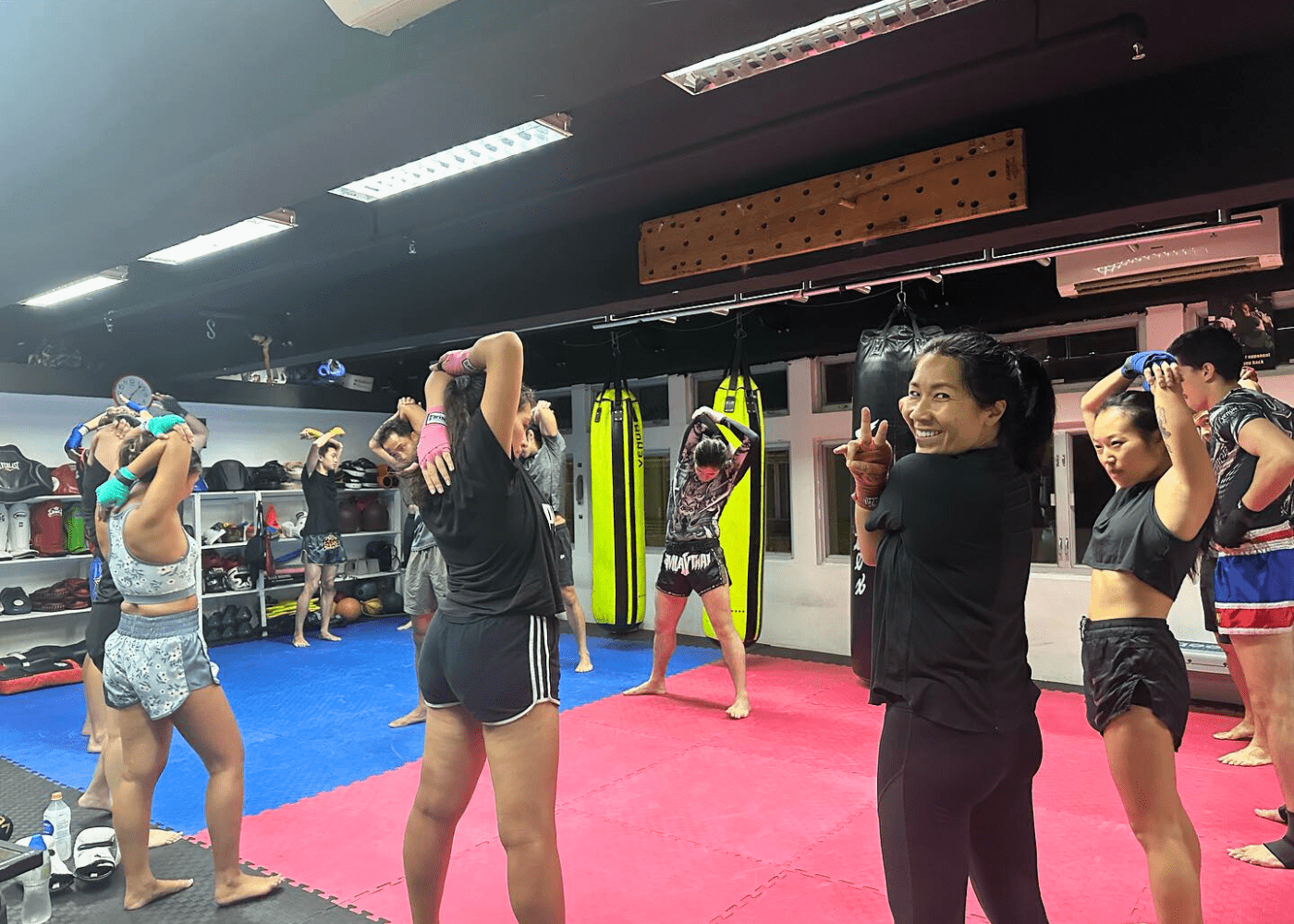 Strategically located in Central, Impakt was one of the first mixed martial arts and fitness centres to open in the city, making it one of our fave boxing gyms in Hong Kong. They offer various styles of martial arts programmes such as Muay Thai, kickboxing, boxing, Brazilian Jiu Jutsu, Kyokushin Karate, and Mixed Martial Arts, which are combined with raw training from aerobic, anaerobic workouts, circuit training, core stabilisation, strength and power conditioning. The space is also equipped with a full size boxing ring and top quality punch bags of various weights, as well as Life Fitness cardio, weight training machines, CrossFit equipments, and power workout machines. This is one of our go-to boxing gyms in Hong Kong.
Impakt, 2/F, Wing's Building, 110-116 Queen's Road, Central, Hong Kong, p. 2167 7218
4. The Fighters Club
Different from other boxing gyms in Hong Kong, at the Fighters Club you will not be drowned in overcrowded group classes, instead you will receive undivided attention and training in 1-on-1 sessions, with tailor-made training based on your individual goal. Each of their range of trainers has completed 100 hours of training on boxing techniques, pad works, bag works, and coaching methodologies with the founder and master trainer. Post-training, you can go for a rejuvenating shower, and a post-work-out energy drink, snacks, or coffee.
The Fighters Club, 2/F, Wings Building, 110-116 Queen's Road Central, Central, Hong Kong, p. 9835 6093
5. Southpaw
With state-of-the-art facilities and a team of expert coaches, Southpaw brings the world of elite-level boxing and Muay Thai training to Hong Kong. Whether you're a beginner or advanced practitioner, this boxing gym offers a range of courses to help you achieve your competitive, fitness, or self-defence goals. The foundational course, Boxing Pad Circuit, focuses on honing punching technique and dynamic footwork through a series of bag drills and pad work. For those of you looking to take your ability to the next level, Technical Muay Thai provides advanced lessons in partner drills and guided sparring, enabling you to apply your newfound skills in the ring.
Southpaw, 3/F, Tung Chai Building, 86-90 Wellington Street, Central, Hong Kong, p. 3565 5155
6. Basic Reflex
As the premier Cuban boxing gym in Hong Kong, Basic Reflex takes a defensive-focused approach to the art of boxing. The step-by-step methodology ensures that students develop their skills from the ground up, with a tailored approach that caters to individual needs and goals. Classes at Basic Reflex place a strong emphasis on foundational techniques, including footwork, head movement, and counterpunching, all inspired by the renowned Cuban style of boxing. You'll be able to gain immense mental stimulation, personal growth, and community support from the supportive environment.
Basic Reflex, 4/F, Bonham Centre, 79-85 Bonham Strand, Sheung Wan, Hong Kong, p. 6463 7347
7. Hanuman
As the largest Muay Thai gym in Hong Kong, Hanuman is all about helping you achieve peak physical condition through the authentic training methods of Muay Thai. Its team of passionate trainers are deeply rooted in the Muay Thai and fitness community, and they've been bringing the best Thai fighters to Hong Kong since 2010. It doesn't matter if you're a beginner or a seasoned pro, the trial classes are open to everyone. And here's the best part: if you decide to sign up for a package on the same day, the team will waive your trial fee!
Hanuman, 13A, Phase 1, Kaiser Estate, 41 Man Yue Street, Hung Hom, ​Hong Kong, p. 2362 3665
[This article was originally published in October 2018 and updated in 2023 by Catherine Pun.]