There's more than just delicious dumplings at Home Town Dumpling. (Photography: Home Town Dumpling via Facebook)
From Hong Kong-style cafes to Thai and Mexican, we've found all the hot Sai Ying Pun lunch spots where you can enjoy affordable and tasty meals.
From where to eat in Causeway Bay to the best hotel brunches and yum cha in Hong Kong, there are unlimited food options available in the 852. And if you want to grab tasty meals for under $90 (because it's almost the end of the month), these Sai Ying Pun lunch spots could help you out.
Sai Ying Pun lunch spots for tasty meals at affordable prices
1. Home Town Dumpling
One of our favourite Sai Ying Pun lunch spots is Home Town Dumpling. Settle in at the restaurant and be overwhelmed by the vast selection of tasty juicy dumplings that you can devour. Cover your pork, beef, seafood, and vegetarian dumplings in soy sauce and chilli and garlic sauce, then chow down on the goodness. The Chinese restaurant also offers a lunch set menu that serves a wide variety of fried rice, fried noodles, soup noodles and soup with a cold or hot drink starting from around $40.
Read more about the best vegetarian dumplings in Hong Kong.
Home Town Dumpling, G/F, 418 Queen's Road West, Sai Ying Pun, Hong Kong, p. 2803 0887, 西環西營盤皇后大道西418號地舖京香餃
2. Mon Wah Tong Kitchen Cart Noodles
Mon Wah Tong Kitchen Cart Noodles is a small restaurant with quality noods, big time. Select your style of noodle, broth, toppings, sides, and degree of spice, alongside a beverage.  What would make a better Hong Kong-style lunch?
Mon Wah Tong Kitchen Cart Noodles, G/F, 326 Queen's Road West, Western District, Sai Ying Pun, Hong Kong, p. 2858 1585, 西環西營盤皇后大道西326號地舖滿華堂茶餐廳小廚
3. Po Lin Yuen Vegetarian Food
Po Lin Yuen Vegetarian Food is a welcoming Chinese vegetarian restaurant with locations in Sai Ying Pun and the nearby Shek Tong Tsui. Not only does the resto serve a number of dim sum and noodles dishes, but it has a daily lunch menu from just $33 which includes your choice of vegetable dish, a bowl of white rice, and a cup of soup. Talk about a good and tasty deal!
Veggie? Same! Check out our fave vegetarian restaurants in Hong Kong.
Po Lin Yuen Vegetarian Food, G/F, 308 Queen's Road West, Sai Ying Pun, Hong Kong, p. 2517 1178, 西環西營盤皇后大道西308號地舖寶蓮苑素食
4. Taco Chaca
Enjoy some affordable Mexican cuisine for lunch at Taco Chaca. There are plenty of options for meat lovers, seafood lovers and vegetarian lovers. Simply select from a wide selection of tacos, nachos, cheesy chips, burritos, and burrito bowls. Then, sit inside and admire the bicycle hanging from the wall, or take a seat outside the little taco restaurant and enjoy the peaceful street view of Sai Ying Pun.
Taco Chaca, G/F, 119 Second Street, Sai Ying Pun, Hong Kong, p. 2559 9519, 西環西營盤第二街119號地舖
5. Soo Viet
Looking for tasty Vietnamese cuisine among all the Sai Ying Pun lunch spots? At Soo Viet, you can sample classics like pho, banh mi, and lemongrass chicken wings with rice, plus there's a full vegetarian menu. This small and humble restaurant is a great place to unwind and dine with your friends, or just enjoy a quick snack and a Vietnamese-style coffee. Head in between 11.30am and 5.30pm to enjoy their lunch set meal with a drink from only $33.
Soo Viet, 247 Des Voeux West, Sai Ying Pun, Hong Kong, p. 2858 1855, 西環西營盤德輔道西247號地舖
6. Chess Cafe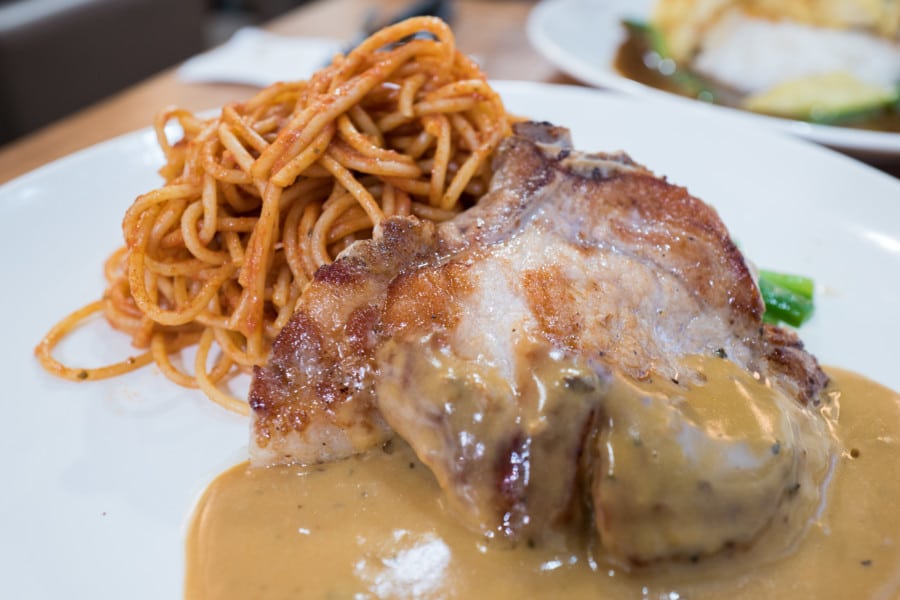 Chess Cafe is one of the Sai Ying Pun lunch hotspots – always crowded with students, regular customers, and repeat visitors. The quaint cafe tucked away in the streets of Sai Ying Pun radiates a warm atmosphere that we love. Enjoy a delicious lunch set between $50 and $82, with options including Chess Cafe's signature pan-fried pork chop, Japanese seafood ramen, and soft shell crab with curry rice.
Chess Cafe, Shop A, G/F, Block 2, 128 Second Street, Sai Ying Pun, Hong Kong, p. 9148 1483, 西環西營盤第二街128號地下A舖三台八座
7. Saam Hui Yaat
This classic yum cha restaurant is always crowded, loud, and full of life. Sit on the mis-matched plastic and wooden stools and look around the establishment to see the dim sum menu inscribed in Chinese. Enjoy a filling lunch feast full of Chinese tea time classics, including steamed spare ribs with rice, prawn dumplings, marinated chicken feet, and steamed pork buns – for just $18 each.
It's no surprise that Saam Hui Yat also makes it on our list of the best dim sum in Hong Kong.
Saam Hui Yaat, 11 Pok Fu Lam Road, Sai Ying Pun, Hong Kong, p. 2547 3917, 西環西營盤薄扶林道11號叁去壹點心粉麵飯
8. River Sichuan Restaurant
Serving authentic Sichuanese cuisine with generous portions and at reasonable prices, River is a popular choice for those looking for a scrumptious lunch at Sai Ying Pun. It has a range of lunch sets to cater to customers eating alone or as a duo. Be sure to try the fish with pickled vegetables, Sichuan-style twice-cooked pork, Chongqing-style chicken marinated with chilli sauce, and other signature dishes. On a side note, you can choose the level of spiciness at this restaurant, so don't fret even if you can't handle spicy food. Or, feel free to go all out – if you can!
River Sichuan Restaurant, G/F, 62 Centre Street, Sai Ying Pun, Hong Kong, p. 2520 3222, 西環西營盤正街62號地舖川之源
9. Just Eat
Just Eat is relatively new in the SYP neighbourhood, having just opened in March 2021. This eatery offers contemporary Viet-Thai cuisine, with the crowd favourites being the prawn rice paper rolls and pho with beef filet. Most items cost below $80 individually, which is fairly reasonably priced considering the portions and quality.
Just Eat, Shop 2-3, G/F, Wah Fai Court, 1-6 Ying Wa Terrace, Sai Ying Pin, Hong Kong, p. 2606 0662, 西環西營盤英華臺1-6號華輝閣地下2-3號舖
10. La Paloma
Okay, so this last one might go just a tad over the budget… But we swear it's worth it! With its bright and colourful interiors, La Paloma exudes cheerful and laid-back vibes reminiscent of Spain, making this restaurant the perfect place to dig into some tasty tapas and sip on some sangria. Start with the popular ternera y foie gras (wagyu beef and foie gras, served with baguette) before trying gambas al ajillo (sauteed prawns with garlic and chilli). Among the oven-grilled items, the cochinillo (suckling pig) is one of the most coveted items. Complete your Spanish experience by sharing some paellas with your friends.
La Paloma, 1/F, SoHo 189, 189 Queen's Road West, Sai Ying Pun, Hong Kong, p. 2291 6161, 西環西營盤皇后大道西189號西浦1樓
Thai Smile (closed)
Hidden on a quiet street corner – you won't be able to miss the bright green sign – Thai Smile offers a selection of flavour-packed curries, soup noodles and chicken rice. Grab the lunch set menu for $38-$46 with a drink, including Hong Kong classics like lemon tea and milk tea as well as Thai-style coffee.
If you love Thai, check out these Thai restaurants in Wan Chai.
Thai Smile, G/F, 2D Western Street, Sai Ying Pun, Hong Kong, p. 2858 5296, 西環西營盤西邊街2D號地舖泰笑容
Kam Kee Cafe (closed)
This Hong Kong-style cafe chain transports you back in time to the early 80s and 90s when Cantonese films were all the rage across Asia. The vintage cafe embraces a classic cha chaan teng design, and is where you can order Hong Kong cafe meals, including baked tomato pork chop rice, beef soy sauce stir-fried noodles, pineapple buns, and instant noodles.
Kam Kee Cafe, G/F, 215 Des Voeux Road West, Sai Ying Pun, Hong Kong, p. 2254 2010, 西環西營盤德輔道西215號地舖金記冰室