Because we all need a clear state of mind and a peaceful surrounding to work (Photography: Desk One via Facebook)
Tackle your to-do list and get down to business in these cosy Hong Kong cafés with free WiFi
Any laptop warrior will attest – slow and spotty WiFi is the absolute worst. That's why we've put together a list of tried-and-tested tea shops and cafes in Hong Kong (and coworking spaces if you prefer a friendly working environment) where their WiFi is as strong as their coffee. Let's face it – whether you're a digital nomad catching up on emails, a freelancer scheduling a client meeting, or just an Insta-fiend needing to post those #caffeinefix pics – free WiFi is a 21st century essential. Plug in and get to work at these cafes with free WiFi.
Get stuff done at these Hong Kong cafés with free WiFi
1. NOC Coffee
With branches across town, NOC Coffee is constantly named one of the best coffee shops for design lovers. We're obsessed with its all-white interiors and concrete walls! NOC Coffee also serves a wide array of coffees, caffeinated drinks and breakfast and lunch food items, so you won't get bored writing your proposal or your term paper. Along with the great coffee, you can expect an equally impressive WiFi signal at all of their outlets.
NOC Coffee has branches across town.
2. Desk-One
If you think cafes can get a little too noisy sometimes, why not go for a co-working space that serves free coffee (and snacks) and comes with undisturbed WiFi? There are different packages available at Desk-One, you can pay $88 for three hours, or $128 for a day pass. The prices increase by $20 during weekends. We love the Reading Lounge, there are comfy sofas, puffs, and individual tables and chairs for some quiet corners. If you are going to jump on a meeting, you can do so in private rooms. Additional services include printing, scanning, lockers, and projector rental.
Desk-One has locations around Hong Kong.
3. Elephant Grounds
The popularity of Elephant Grounds is mostly garnered by students, freelancers, and anyone who wants a sweet escape from work from home. The rustic interior is spacious and has plenty of power sockets to keep your laptop going, and not to mention yummy pastries to keep yourself charged whilst working. The location in Sheung Wan has plenty of seats but it gets filled very quickly, another convenient location is in Star Street, just outside Pacific Place. Plus, it's pet-friendly (outdoor seatings only) and who doesn't want to work whilst getting glimpses of cute doggos?
Elephant Grounds has locations around Hong Kong.
4. Nodi
Call yourself a design enthusiast? Then Nodi is the perfect place to get inspired. Nodi Cafe is an interiors enthusiast's dream, outfitted in a stunning selection of chairs, tables, and even coffee mugs. Settle yourself down as you soak in the design of the place, order a perfectly made latte to get buzzing with energy and really let your creativity flow. The free WiFi is great, but don't blame us if you're tempted to make a purchase for yourself after a few hours stationed there.
Nodi has locations around Hong Kong.
5. Pacific Coffee
We don't need an intro for this well-known cafe that has branches practically in every district in Hong Kong. It's no surprise as to why folks flock to this cafe for work, it's spacious and offers comfortable seating. The WiFi here comes for a limited amount of time (like 30-minute bursts), so you may have to get more than one round of coffee, or of course, there's always New York-style cheesecake up for grabs.
Pacific Coffee has branches across Hong Kong
6. LGB Cafe (Le Gouter Bernardaud)
When it comes to Hong Kong cafes with free WiFi, this one is a fave among freelancers. LGB Cafe is a modern Parisian tea salon where café creatives can spend the day to get some work done. With more than one location, there's always a spot you can easily find a plush seat to sink into. The WiFi is free of course, but LGB's selection of fine coffee, teas and pastries are worth seeking out on their own anyway. Their divine salted caramel macarons are just the ticket to perk you up, and it's great for people watching when you need to take a break from your laptop screen. This is a great spot for when you have meetings in Central.
LGB Cafe, 1st Floor, LHT Tower, 31 Queen's Rd Central, Central, Hong Kong, p. 2522 4000, 中環皇后大道中31號陸海通大廈1樓
7. Nood Food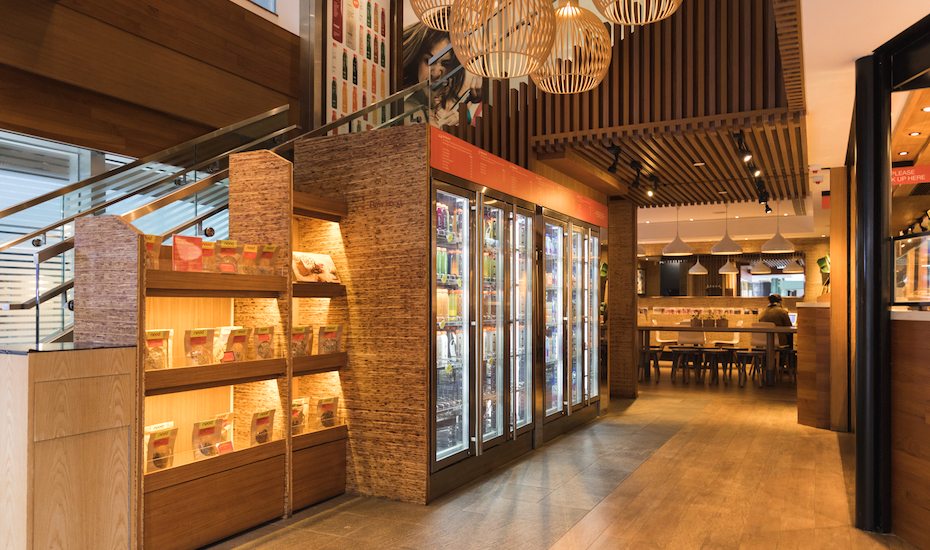 Trying to cut back on coffee and need a healthy alternative to knuckle down over that looming deadline? Nab a spot at one of Nood Food's communal tables and login to their WiFi for a day of productivity. There are even lots of outlets so that your devices are never out of power. Once you're up for a lunch break, Nood Food does great fresh salads and sandwiches and smoothies packed with superfoods to fuel you up for the rest of the day.
Find out who joined Nood Food in making it to our list of healthy restaurants in Hong Kong.
Nood Food has multiple locations in Hong Kong.