Catch up on work at The Study (Photography: courtesy of The Study)
Tackle your to-do list and get down to business in these cosy Hong Kong cafés with free WiFi
Any laptop warrior will attest – slow and spotty WiFi is the absolute worst. That's why we've put together a list of tried-and-tested tea shops and cafes in Hong Kong (and coworking spaces if you prefer a friendly working environment) where their WiFi is as strong as their coffee. Let's face it – whether you're a digital nomad catching up on emails, a freelancer scheduling a client meeting, or just an Insta-fiend needing to post those #caffeinefix pics – free WiFi is a 21st century essential. Plug in and get to work at these cafes with free WiFi.
Get stuff done at these Hong Kong cafés with free WiFi
NOC Coffee
With branches across town, NOC Coffee is constantly named one of the best coffee shops for design lovers. We're obsessed with its all white interiors and concrete walls! NOC Coffee also serves a wide array of coffees, caffeinated drinks and breakfast and lunch food items, so you won't get bored writing your proposal or your term paper. Along with the great coffee, you can expect an equally impressive WiFi signal at all of their outlets.
NOC Coffee has branches across town.
Nodi
Call yourself a design enthusiast? Then Nodi at Tom Dixon is the perfect place to get inspired. Set above the incredible Tom Dixon showroom on Hollywood Road, Nodi Cafe is an interiors enthusiast's dream, outfitted in a stunning selection of Tom Dixon chairs, tables, and even coffee mugs. Settle yourself down as you soak in the design of the place, order a perfectly made latte to get buzzing with energy and really let your creativity flow. The free WiFi is great, but don't blame us if you're tempted to make a purchase for yourself after a few hours stationed there.
Tom Dixon x Nodi, UG/F, 52 Hollywood Road, Central, Hong Kong, p. 2819 1155, 中環荷李活道52號1樓
LGB Cafe (Le Gouter Bernardaud)
When it comes to Hong Kong cafes with free WiFi, this one is a fave among freelancers. LGB Cafe is a modern Parisian tea salon where café creatives can spend the day to get some work done. With more than one location, there's always a spot you can easily find a plush seat to sink into. The WiFi is free of course, but LGB's selection of fine coffee, teas and pastries are worth seeking out on their own anyway. Their divine salted caramel macarons are just the ticket to perk you up, and it's great for people watching when you need to take a break from your laptop screen. This is a great spot for when you have meetings in Central.
LGB Cafe, 1st Floor, LHT Tower, 31 Queen's Rd Central, Central, Hong Kong, p. 2522 4000, 中環皇后大道中31號陸海通大廈1樓
Nood Food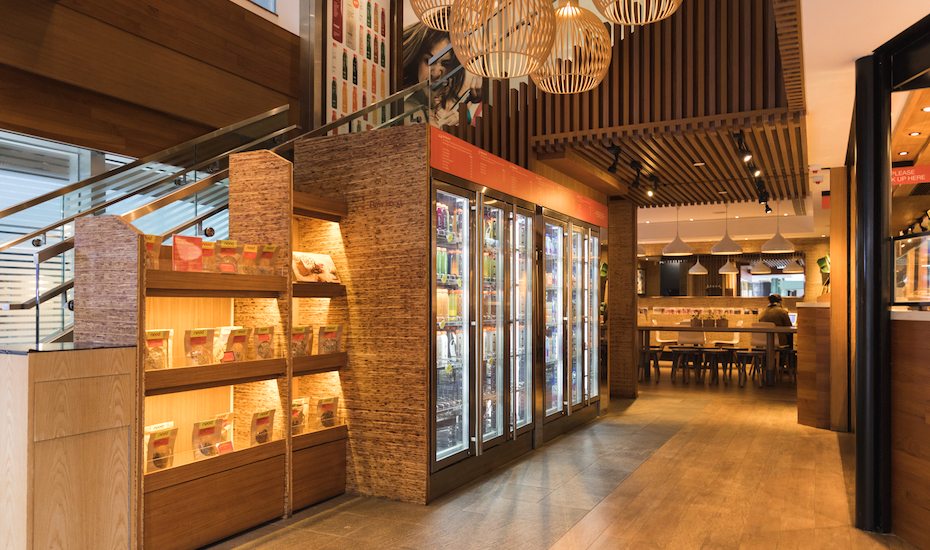 Trying to cut back on coffee and need a healthy alternative to knuckle down over that looming deadline? Nab a spot at one of Nood Food's communal tables and login to their WiFi for a day of productivity. There are even lots of outlets so that your devices are never out of power. Once you're up for a lunch break, Nood Food does great fresh salads and sandwiches and smoothies packed with superfoods to fuel you up for the rest of the day.
Find out who joined Nood Food in making it to our list of healthy restaurants in Hong Kong.
Nood Food, 2/F, Kinwick Centre, 32 Hollywood Road, Central, Hong Kong, p. 8199 8189, 中環蘇豪荷李活道32號建業榮基中心2樓
Why 50
Why 50 in Sheung Wan is one of the most popular hangout for people want to get work done away from home or office. Along with its great coffee, there's also an excellent range of food (yes, to their avocado toast!) and the WiFi is free-flow. There are even plugs if your machine is running out of juice, and the staff are always friendly.
Why 50, Shop E, G/F, Fu Fai Commercial Centre, 27 Hillier Street, Sheung Wan, Hong Kong, p. 6532 4161, 上環禧利街27號富輝商業中心地下E舖