We can feel the freshness from here! (Photography: Knead via Facebook)
Looking for the best salads in Hong Kong? You'll be amazed by how these 20 restaurants craft tasty and healthy bowls of goodness.
Not only are there endless options for vegetarian restaurants and raw vegan food in town, we've also scouted the best places (and restaurants with vegan options) to indulge in Buddha bowls and other great veggie dishes. Whether you're a meat eater looking for a fresh start, or a vegan who simply adores perfectly roasted sweet potatoes, the salads at these 20 cafes and restaurants in Hong Kong will delight your palate and fill you up.
Wondering where to get the best salads in Hong Kong? We got you!
1. Nood Food
Nood Food is located at Pure Yoga or Pure Fitness. You will find a diverse range of cold and warm salad upon entering the brightly lit cafe, from vegetarian mixed beans and roasted pumpkins with pesto, to tender chicken pieces and eggs. Their salad is nicely seasoned but not over the top, making sure you can still taste the ingredients while getting enough flavours. Our favourite is the cold beetroot quinoa salad and warm roasted potatoes with garlic.
Nood Food has multiple locations across Hong Kong.
2. Treehouse
Serving up some of the tastiest salads, wraps and bowl in town, Treehouse has fast become a lunchtime fave in Central. Create your own mix of deliciousness or go for one of their signature salads, such as the Dahlia with roast pumpkin, beets, long beans and tahini sauce.
Treehouse, Shop 1, G/F, H Code, 45 Pottinger Street, Central, Hong Kong, p. 3791 2277, 中環砵典乍街45號H Code地下1號舖
3. Green Common
Not only does Green Common serve a wide range of vegetarian rice and pasta dishes, they also have quite a few salad options. The Gold Globe Salad with dragon fruits and mashed sweet potato (served with vegan ranch) on top is definitely one of our favourite clean salads in Hong Kong!
Read our full review of Green Common.
Green Common has branches across Hong Kong.
4. SaladStop!
SaladStop! is all about stressing a conscious awareness of food consumption and serving healthy and delicious meals to its customers. You can find everything from salads, grain bowls, wraps to yoghurts and gluten-free cakes. And of course, they're also vegan-friendly!
SaladStop! has branches across Hong Kong.
5. SpiceBox Organics
SpiceBox Organics is a go-to for health-conscious peeps to do their grocery shopping and stock up their pantries with superfoods and condiments. Offering a selection of fresh food items, such as vegan lasagne, baked samosas and the signature tempeh burger, the salads at SpiceBox Organics are also not to be missed. Definitely light, tangy and filling!
Read our full review of SpiceBox Organics.
SpiceBox Organics has branches in Mid-Levels and Kennedy Town.
6. Tallore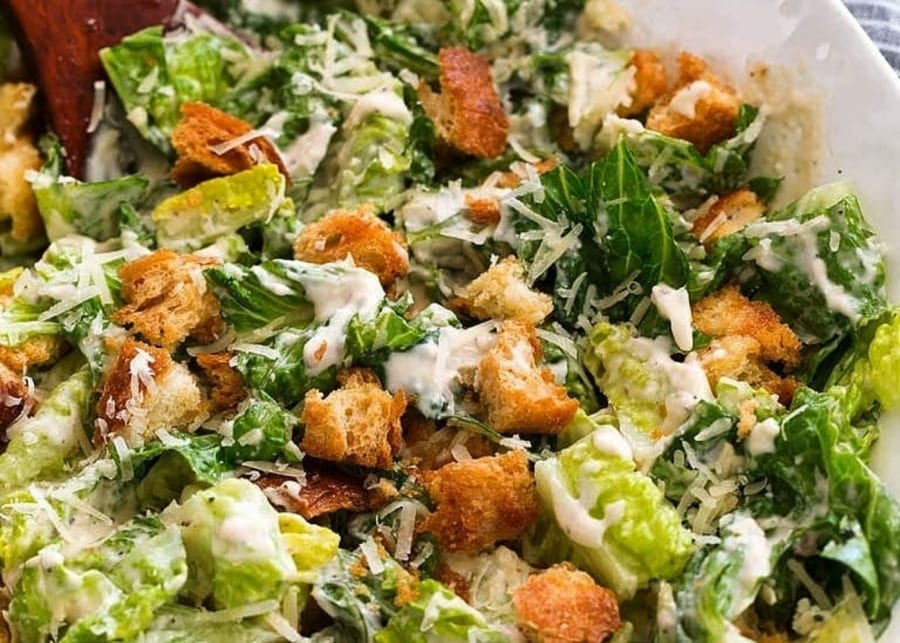 For those who are looking for warm, hearty soups to go with your cold salad, Tallore is one of the best spots in town. This Wan Chai eatery is known for serving homemade soups (totally MSG-free), as well as all sorts of wraps, salads, pastas and snacks. Pair your Mediterranean salad with a shrimp and tuna puttanesca or a herbed zucchini soup for maximum impact!
Tallore, Shop D, 7-17 Amoy Street, Wan Chai, Hong Kong, p. 2327 8630, 灣仔廈門街7-17號D舖
7. Veda
Vegetarian restaurant Veda features a wide range of scrumptious salads and hot dishes. We sampled their soba noodle salad as well as one with crispy brown rice, and they were hands-down fantastic! We'd like to try the Leafy Avocado Salad too, with the tangy tamarind-mango dressing – next time, maybe.
Read our full review of Veda.
Veda, 2 Arbuthnot Road, Central, Hong Kong, p. 3755 3067, 中環亞畢諾道2號
8. POP Vegan
POP Vegan, one of the hottest vegan restaurants in Hong Kong, offers a table full of vegan goodness that never ceases to surprise. Aside from their signature mushroom steaks and burgers, they also serve a great selection of salads, such as the famous vegan tuna tartar and fig salad.
Read our full review of POP Vegan.
POP Vegan, 1/F, 28 Elgin Street, Soho, Central, Hong Kong, p. 2628 6211, 中環蘇豪伊利近街28號1樓
9. Genie Juicery
Best known for delivering a diverse range of juices to local healthy peeps (the Blue Moon coconut water is absolute gold), Genie Juicery also offers a selection of salads. Their signatures such as Asian Invasion, Over the Rainbow and Oaxaca Bowl are packed with fresh kale, purple cabbage and goodies like avocado and roasted pumpkin.
We tried the 3-day juice cleanse by Genie Juicery.
Genie Juicery's salads can be pre-ordered online for delivery.
10. Passion
Passion is a traditional French cafe in Wan Chai. Their salad has a huge fan following, including omnivores and vegetarians. Also serving a myriad of grilled sandwiches, confectionery and French pastries, the cosy environment is perfect for friends to catch up, or for college students to catch up with their uni work.
Passion has branches across Hong Kong.
11. Fete Up
One of the best spots to get salads in Hong Kong, Fete Up offers a variety of toppings for both vegans and meat eaters, including organic coconut rice, quinoa, roasted tandoori sweet potato, Japanese miso vegan mince, chickpeas, roasted chicken, and more. You'll surely be full after eating all these healthy carbs and proteins.
Fete Up has branches across Hong Kong.
12. Knead
Located on Jervois Street in Sheung Wan, Knead is a cosy eatery that offers freshly made sandwiches and some of the best salads in Hong Kong. There are a diverse selection of tasty breads (Turkish bread, ciabatta, baguette – you name them), vegetables, meats, and cheeses for you to choose from, so you'll never get bored of the same ol' salad toppings.
Knead, G/F, 28 Jervois Street, Sheung Wan, p. 2861 7778, 上環蘇杭街28號地舖
13. Fresca
Fresca is a welcoming vegetarian cafe located in the heart of Soho and it's known for its generous portions. The cafe serves an amazing array of cold and warm salads, and their Goi Chay (Vietnamese vegetarian noodle salad) is simply mouth-watering. If you're into healthy sweets, give their gluten-free steamed muffins a try. You'll get a taste of neighbourly love in Fresca that can't be found anywhere else.
Fresca, G/F, 54A Hollywood Road, Soho, Central, Hong Kong, p. 2770 2282, 中環蘇豪荷里活道54A號地舖
14. Kale
Serving a wide range of refreshing salads and hot dishes, such as chicken in herbs salad, seared tuna salad and truffle quinoa risotto, Kale has become a hotspot for salads in Hong Kong. Moreover, a lot of items on its menu are vegetarian-friendly!
Kale, 26 Li Yuen Street West, Central, Hong Kong, p. 2511 1777, 中環利源西街26號
15. Lucy Coffee & Food
Not familiar with the cafes in SSP and Cheung Sha Wan area? Head to Lucy Coffee & Food for its hearty homemade dishes, including the signature kale salad, vegan burgers, and pound cakes that are fresh out of the oven. Often with vinyls playing at the back of the shop, Lucy Coffee & Food is one of the cosiest spots for you to catch up with your friends over good food and music.
Lucy Coffee & Food, Shop C1, Merlin Centre, 55 Po On Road, Cheung Sha Wan, Hong Kong, p. 5508 8318, 長沙灣保安道55號美寧中心C1號舖
16. Urban Bakery Works
Urban Bakery Works is a lovely cafe situated in Landmark that serves amazing salads in Hong Kong. They offer six salads daily, including mostly vegan and vegetarian options that are all labelled, so you can see what exactly is in each. Despite its name, the 'small salad' with three choices will you definitely have you full. We recommend their Spanish corn salad and roasted vegetables.
Urban Bakery Works, Shop 322, 3/F, The Landmark, 12-16 Des Voeux Road Central, Central, Hong Kong, p. 3565 4320, 中環皇后大道中15號置地廣場3樓322號舖
17. Monsieur Chatté
Monsieur Chatté is a charming deli in Sheung Wan that will make you swoon with its authentic French vibes. Aside from the range of products from France (think artisan cheeses, wines and cold cuts), its salad bar is the highlight. Take your pick from over 40 ingredients, plus free toppings and homemade dressings to match – you'll be spoiled by the choice!
Monsieur Chatté, G/F, 91 Jervois Street, Sheung Wan, Hong Kong, p. 2515 0478, 上環蘇杭街91號地鋪
18. Foodbox
Bursting flavours, healthiness, and eco-consciousness all in one box? Sign us up. Offering a variety of freshly made salads, sandwiches, and hot foods for customers to take away, Foodbox's takeaway sets (with eco-friendly packaging) are perfect for those on the go. Every salad box comes with a chef-made soup, too – such hearty goodness.
Foodbox has various branches across Hong Kong.
19. Emmer
Much-loved for the affordable pizza and crazy happy hour deals, Emmer is also a good spot to drop by during lunch to try out their salad selection, which rotates every week. You can opt for a small or large portion and there are three different vegetarian options from which to choose. Our usual go-to includes the beetroot, raspberry, and feta. You can also add a panini for takeaway to have your afternoon snack sorted – trust us, it's totally worth it!
Emmer, Shop 407, Level 4, Pacific Place, 88 Queensway, Admiralty, Hong Kong, p. 2780 1110
20. Locofama
Not only are the Fama Bowls a healthy lunch choice, they're also full of flavour and the portion is hella filling! We love their cajun tiger prawn with chickpeas, and for a veggie alternative the baked organic tofu patties is also a winner. You can also make your own Fama Bowl by first picking your protein, then mix and match with a Buddha bowl, and finally pick your own sides and dressings. What's not to love about this colourful plate of goodness?
Locofama, G/F, 9-13 Fuk Sau Lane, Sai Ying Pun, Hong Kong, p. 2547 7668
Mana! (now closed)
Mana! is one of the most popular vegan and vegetarian restaurants in Hong Kong. Most known for their oven-baked wraps spread with Za'atar, they also have five sumptuous salad choices every day, from smoky chickpeas to kale with cashew cream and roasted vegetables. Our top tip is to add a big dollop of hummus or baba ganoush on top of their quinoa – it creates the perfect balance between smokiness and freshness.
Mana! has multiple locations in Hong Kong.
12Noon (now closed)
12Noon is a charming deli that provides healthy meals and cold-pressed juices. Their best salads include the Tofu Hana salad, 12Noon caesar salad, soba noodle salad and Mexi-Cali salad. Last but not least, their dairy-free coconut pudding with nut crumbles and toasted coconut flakes is also a must-try.
12Noon has branches in Central and Wan Chai.
Grassroots Pantry (now closed)
Grassroots Pantry is the perfect casual dining spot for vegans and vegetarians who are looking for fabulous soul food and great ambience. Using organic and sustainable ingredients, their food guarantees you the quality and freshness. We're fans of their delectable GP Signature salad, as well as their ooey-gooey vegan almond fig tart.
Grassroots Pantry, 108 Hollywood Road, Sheung Wan, Hong Kong, p. 2873 3353, 中環荷李活道108號
Little Birdy (now closed)
Yes, they're most known for their indulgent rotisserie chickens and burgers, but they also serve amazing superfood salads in case you didn't know. Sample their crunchy cabbage and carrot salad or roasted beets and kale salad when you're feeling in the mood for a healthy kick.
Little Birdy, 15-17 New Street, Sheung Wan, Hong Kong, p. 2320 2218, 上環新街16-17號地下
Veggle Cafe (now closed)
Veggle Cafe is a small restaurant located at the food court of E-Plaza in Kwun Tong. They serve a variety of vegan dishes, including brown rice burger, vegan Wellington and vegan tiramisu. For salad of the day, their teriyaki soba noodle salad with shiitake mushrooms has won the popular vote.
Veggle Cafe, Shop G13A & 15, E-Plaza, 7 Shing Yip Street, Kwun Tong, Hong Kong, p. 2456 3330, 香港觀塘成業街7號東廣場地下G13A及15號舖
Supafood (now closed)
Dedicated to reinventing fast food as healthy fuel for all, Supafood offers numerous options for vegans, meat eaters as well as those who follow a gluten-free diet. Try their baked eggplant salad, seared tuna salad, baked tofu coconut brown rice – yum. Bonus: you can get their salads delivered straight to your door.
Supafood, 3/F, 33-35 Hillier Street, Sheung Wan, Hong Kong, p. 2812 6088, 上環禧利街33-35號3樓