Head into a coworking space and get work done! (Photography: Pekic via Getty Images Signature)
Running a start-up and fancy the idea of coworking spaces in Hong Kong? Take a look at our top picks for hot desks and private offices.
Hong Kong is fast becoming a playground for entrepreneurs and start-ups, including the many rising Hong Kong artists and local fashion brands. To follow suit, a number of coworking spaces in Hong Kong have popped up across the city, as people are looking for more flexible and affordable workplaces that offer both hot-desking and fixed-office options. And these are the ones that we think are doing outstanding work for the community.
Best coworking spaces in Hong Kong to boost your productivity
1. WeWork
With spaces across the United States, Asia, and Europe, WeWork is one of the largest coworking space operators in the world. We particularly love the Tower 535 space in Causeway Bay designed by NC Design and Architecture. The location has an urban vibe, private offices and hot desks adjacent to living-room-style spaces that offer the perfect place to chat with fellow users. WeWork is also renowned for its punchy events that include everything from workshops to thought-leader panels, making it one of the most popular coworking spaces in Hong Kong.
WeWork has multiple branches across Hong Kong.
2. The Hive
Proudly founded in Hong Kong in 2012, the Hive is a homegrown brand that now has presence all across Asia, with coworking spaces in Hong Kong, Singapore, Australia, and more. We busy bees at Honeycombers especially love working at the Hive Central X CCG Commons, as the 17,000-square-feet workspace is dynamic, conveniently located, and offers a great sense of community. In addition to hot desks, private offices, and many other facilities, members of the Hive also have access to a range of professional tools, including photography and workshop equipment at the Hive Studios and MakerHive. What's more, with a Hive Membership Card, you can visit all the locations (including those overseas) up to three times a month – for free!
Wanna be part of the Hive's buzzing community? Check out the Open Week to experience the rich benefits of the Hive's membership yourself.
The Hive has multiple locations across Hong Kong.
3. Banyan Workspace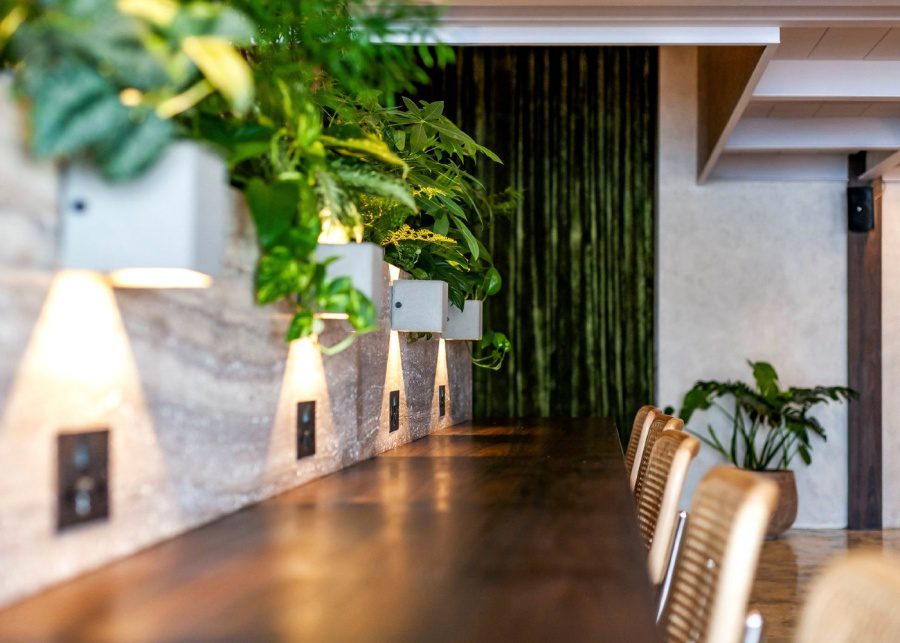 Brace yourself for one of the most beautiful coworking spaces on this list – Banyan Workspace. This boutique shared office and private events venue lies on the Quarry Bay waterfront, offering relaxing views of the East Kowloon. Facilities-wise, Banyan has shared desks, private office suites, break-out lounges, and meeting rooms. One of the things we love the most about Banyan is its commitment to sustainability and supporting our local community. From eco-friendly building materials, to its in-house Giving Back initiatives where it donates a percentage of membership fees to your choice of partnering NGOs – keep doing what you're doing, Banyan!
Banyan Workspace, Suite 1204, Eastern Harbour Centre, 28 Hoi Chak Street, Quarry Bay, Hong Kong, p. 2159 5599
4. FlexFinder
Looking for the best coworking spaces in Hong Kong? Whether you're considering joining a coworking space for the very first time, or wanting to upgrade your working environment, FlexFinder is a great place to start. This digital platform offers a comprehensive list of flexible office listings in the city and has been a reliable resource for start-ups and multinational corporations. We especially like the fact that FlexFinder has a specialised team on the ground who can help negotiate leases and ensure that their customers attain the best possible price. Simply choose your favourite coworking spaces, and FlexFinder will do the rest!
Find out more about FlexFinder.
5. TheDesk
With branches across Hong Kong Island in some of the most convenient locations, including Admiralty, Sheung Wan, Causeway Bay, Sai Wan, and Hung Hom Bay, theDesk is one of our fave coworking spaces in Hong Kong. When you join any of these branches, you're not just getting a great place to work from, but joining an inclusive community that connects members with like-minded businesses to help you grow your brand (and your social circle if you've just landed!) A sleek and minimal interior design plan means that the emphasis is on work rather than extras, so you can build a successful business in a supportive community, no matter the size of your company.
TheDesk has multiple branches across Hong Kong.
6. Garage Society
Garage Society raises the bar by including a pop-up style event space and a sustainable food offering from Tuckshop by Social Club. A pet-friendly space, Garage Society was designed to be a place for tech start-ups and freelancers to come together in a beautiful location in Sai Ying Pun, and that's why we think it's one of the coolest coworking spaces in Hong Kong. The group also has branches in Wan Chai, Central, and Sheung Wan.
Garage Society has multiple branches across Hong Kong.
7. Eaton House
Situated in the heart of Kowloon and dedicated to encouraging grassroots projects by local artists, Eaton House aims to be the ultimate coworking space for innovators, activists and creatives. In addition to its networking series and member events, Eaton House offers full access to the adjacent hotel's hospitality offerings. Members can also find an array of music events taking places at its audio platform, as well as a selection of screenings and wellness programmes.
Eaton House, 380 Nathan Road, Jordan, Hong Kong, p. 2782 1818
8. Spaces
An international collection of coworking spaces that originated in Amsterdam, Spaces opened its first shared office in Hong Kong back in 2018. The first location at Lee Garden 3 – right at the heart of Causeway Bay – has an address with cachet, coupled with easy access to MTR, which makes it the ideal location. Prefer a different neighbourhood? Take your pick from Spaces' four other branches across the city.
Spaces has multiple locations across Hong Kong.
9. Desk-one
Whether you'd like to work, read, or study, Desk-one's tranquil and comfortable shared spaces will ensure a productive day ahead of you. While Desk-one promotes collaborating and learning, it has spacious Quiet Focus Zones – though, of course, you can have meetings and phone calls behind closed doors in its private rooms as well. In addition to its coworking space, Desk-one has a cafe and reading lounge, so that you can sip on a complimentary drink while powering through your work. A cup of coffee, please!
Desk-one has multiple locations across Hong Kong.
10. Mustard Seed
From professional equipment to entertainment facilities and event spaces, Mustard Seed is dedicated to offering entrepreneurs and creative minds a comfortable platform to thrive and realise their ideas. Centrally located in Wan Chai, there are also occasional talks, workshops, and networking events for the community.
Mustard Seed, 2/F, Emperor Group Centre, 288 Hennessy Road, Wan Chai, Hong Kong, p. 2376 3833
11. Ooosh
Here's a fun Cantonese slang for ya – ooosh! Essentially the sound of a triumphant cheer, Ooosh, a local coworking brand, aims to deliver exactly that. From hot desks and private desks, to private rooms and event spaces, this coworking space is well equipped for freelancers, start-ups, and SMEs to grow and thrive.
Ooosh has several locations across Hong Kong.
12. The Great Room
Another stunning coworking space in Quarry Bay is The Great Room at One Taikoo Place. Occupying 24,000 square feet and overlooking the Hong Kong skyline, The Great Room is an upscale and sophisticated space ideal for fast-growing enterprises and client meetings. Dedicated office spaces for any number of people between two and 20 or more are available, as well as hot desks and flexible day passes for those who want to drop by the Drawing Room or Workhall. With the pass, you also gain access to communal areas, private phone booths, and – most importantly(?) – a range of power snacks at the pantry.
The Great Room has locations in Quarry Bay and Central.
Campfire (closed)
Providing spaces with innovative interior design, Campfire offers everything from short-term desks to private office spaces. All plans allow members access to the Campfire canteens, and monthly members have access to all of the different locations. A number of inspirational and social events are held throughout the week to allow members to learn more about each other.
Campfire has locations in Wong Chuk Hang and Kennedy Town.
Paperclip Entrepreneur Campus (closed)
Perfectly positioned in trendy Sheung Wan, Paperclip Entrepreneur Campus is close to the MTR and a number of restaurants and cafes. It offers its members a range of packages, including hot desks, dedicated desks, shared office space, and office rooms. As well as being a physical space for start-ups and entrepreneurs, Paperclip holds a host of events every week, such as talks on angel investing and discussions on doing business in different regions of Asia.
Paperclip Startup Campus, 3/F, Nam Wo Hong Building, 148 Wing Lok Street, Sheung Wan, Hong Kong, p. 3586 2888
andotherspace (closed)
Situated in the heart of Central, andotherspace is a modern and stylish coworking/co-study space that consists of reading and study space, a speciality coffee stand, community space, and more. Most coworking spaces often hold functions and events which might disrupt people's work, so they aim to provide a quiet, calm, and efficient working environment for both professionals and students.
andotherspace, Room 101, 1/F, Hoseinee House, 69 Wyndham Street, Central, Hong Kong, p. 2503 3999
Kafnu (closed)
Located inside Kerry Hotel Hong Kong, Kafnu builds a community for creators and innovators to share their passions and interests. The colourful space includes micro sections of individual workspaces, meeting rooms, as well as communal spaces. Not to mention, people who work here are also granted the access to Kerry Hotel's gym and facilities, making it a triple threat work and lifestyle coworking space.
Kafnu, 2/F, Kerry Hotel, 38 Hung Luen Road, Hung Hom Bay, Kowloon, Hong Kong, p. 3974 5125
The Crafties (closed)
The Crafties aims to offer an easily accessible and comfortable coworking space for craftmen with a purpose. Whether you're a freelancer, a designer, or a social entrepreneur, The Crafties gives its members the freedom of setting up their own shop and home office. The space offers access to workshop facilities, supplies, a library, and a gallery – one of the best coworking spaces in Hong Kong to for you to unleash your inner artist.
The Crafties, Unit 203, Bonham Commercial Centre, 44-46 Bonham Strand West, Sheung Wan, Hong Kong, p. 3461 1368