Treat yourself and your loved ones to a FAB Christmas at Feather & Bone
We've found the tastiest festive treats and Christmas menus in Hong Kong 2021. From full on festive dinners with all the trimmings to delicious afternoon teas, you won't go hungry this year.
Once you've shopped for Christmas trees and Christmas decorations, it's time to organise your wine delivery for the festive season before scouting out the tastiest Christmas menus in Hong Kong 2021. Luckily, we've done all the leg-work for you and have found the most delicious festive treats, buffets, brunches, lunches and dinners for your eating pleasure. Now go stuff yourself silly with turkey.
Christmas menus in Hong Kong 2021
1. Chilli Fagara
Christmas isn't just about turkeys and mince pies! Our fave Sichuan restaurant in Soho, Chilli Fagara, will warm you up with the fiery dishes featured on the nine-course tasting menu (from $818 per person). The feast starts with prosecco along with three appetisers for sharing, such as Baked Clams with Fresh Green Peppercorn, and Lettuce Wraps with Sichuan Preserved Sausages. Next comes the Yin Yang Hot and Sour Soup, with one side holding a broth made with ocean-fresh shrimps, scallops, tofu, and soft sole fish; and the other side featuring pumpkin and crabmeat. Shared mains include the Stir-fried Lobster with Vermicelli, Crispy Fried Lamb Shank, and two other decadent dishes. Finally, the dessert is a Candied Sugar Cage with Fiery Chilli Chocolate Ice Cream. Don't forget to complement your meal with Chilli Fagara's exclusive Fiery Festive Mulled Wine ($128), which is infused with Sichuan peppercorn.
Chilli Fagara's nine-course tasting menu is available from 22 November to 1 January. Note that you need to make a reservation at least two days in advance.
Chilli Fagara, G/F, 7 Old Bailey Street, Central, Hong Kong, p. 2796 6866
2. Buenos Aires Polo Club
We always have a jolly good time at Buenos Aires Polo Club, thanks to its scrumptious dishes and lively, lavish vibes. For its Festín de Navidad sharing menu ($898 per person), you will start with three entradas, like the Iberian cured meats platter, and foie gras terrine with Christmas trimmings. And after the lobster bisque, you'll have a choice between three mains: the show-stopping General Pico Black Angus Prime Rib; an 18oz chateaubriand; or add $388 for a Boston lobster, served with chimichurri and lemon. Accompanying your main are some classic sides, such as mashed potatoes, provoleta mac 'n' cheese, golf salad, and more. Your feast will end with a spiced-baked apple with vanilla ice cream.
Buenos Aires Polo Club's Festín de Navidad is available for dinner on 24 December, as well as lunch and dinner on 25 December.
Buenos Aires Polo Club, LKF Tower, 33 Wyndham Street, Central, Hong Kong
3. The Landmark Mandarin Oriental, Hong Kong
All six restaurants and bars at the luxurious The Landmark Mandarin Oriental will be celebrating Christmas with special menus. These include the Festive Brunch at MO Bar (from $718 per person); SOMMkind of Special Festive Brunch and Boxing Day Dinner at SOMM (from $718 per person); four- to eight-course lunch and dinners in the two-Michelin-starred Amber (from 1,788 per person); Year-end Celebration Menus for lunch and dinner at Sushi Shikon and Kappo Rin (from $1,800 per person); Festive Turkey Dinner with 90-minute free-flow at PDT (from $888 per person); and more. In addition, the LMO Festive Delicatessen will be launched online on 1 December. It'll showcase a selection of seasonal delicacies and holiday treats curated by Chef Richard Ekkebus of Amber.
The Landmark Mandarin Oriental, Hong Kong, The Landmark, 15 Queen's Road Central, Central, Hong Kong, p. 2132 0188
4. Feather & Bone
One of the most popular delicatessen and butchers in Hong Kong, Feather & Bone is presenting the Christmas Sharing Menu (from $598 per person) this season. It includes a Roast Turkey Roulade with fig and cinnamon stuffing, served with cranberry sauce and a variety of classic side dishes. The feast wraps up with a Christmas Pudding, Eggnog Custard, a premier Cheese Selection, and a glass of 'Three Butchers' Mulled Wine. For drinks, there are free-flow packages (from $298) available, too. So, feel free to pair your meal with unlimited prosecco, house white wine, 'Three Butchers' shiraz, lager, and non-alcoholic beverages for the ultimate feast.
Feather & Bone's Festive Christmas Sharing Menu and Vegetarian Sharing Menu will be available from 15 November onwards. All bookings must be made three days in advance for a minimum of four guests. Find out more about Feather & Bone's Christmas offerings and menus.
Feather & Bone has multiple locations across Hong Kong.
5. Chaiwala
Vibrant Indian restaurant, Chaiwala, is hosting a Festive Brunch (from $398 per person) and Christmas Dinner Tasting Menu (from $498 per person) to celebrate the holidays this year. Both sharing menus begin with some crowd favourites: Pani Puri with Jal-Jeera, Aloo Tikki Chaat, and Malabar Scallops. There will then be a selection of fresh-off-the-tandoori meats and spiced vegetables, as well as Kerala Fish Curry and Old Delhi Butter Chicken. As you dig into some Bollywood desserts, get ready for an evening of dancing and entertainment at Chaiwala.
Chaiwala's Festive Brunch is available from 12 to 4pm on 25 and 26 December; the Christmas Dinner Tasting Menu is available from 6pm onwards on 24 and 25 December. Find out more about Chaiwala's festive menus.
Chaiwala, Basement, 43-55 Wyndham Street, Central, Hong Kong, p. 2362 8988
6. Le Garçon Saigon
The festive season is all about sharing the joy with your loved ones, so how about gathering at Le Garçon Saigon for a family-style feast? The Vietnamese restaurant is offering a sharing menu (from $698 per person), which consists of nine dishes, such as toasted banh mi and stir-fried greens, and even free-flow prosecco and house wines – what a sweet deal! A must-try for seafood lovers, the menu features a variety of the freshest catch from the sea. These include oysters, grilled diver scallops served with rice vermicelli, grilled lobster, and more.
Le Garçon Saigon's Le Festival de Saïgon menu is available for dinner on 24 December.
Le Garçon Saigon, 12-18 Wing Fung Street, Wan Chai, Hong Kong, p. 2455 2499
7. Hutong
Haveyou heard, Hutong has moved? Join the festive cheer at their new location at HZentre (which still offers stunning skyline views!). Throughout December, the restaurant will be offering festive feasts and two limited-edition cocktails, the Osmentuhs Mule and Golden Solstice. Hutong's Winter Solstice Dinner and Festive Dinner both dish out 11 courses, with additional charges for wine or cocktail pairings. The Winter Solstice Dinner will feature brand-new innovative dishes such as the charcoal yu xiang crispy pork dumpling and flaming suckling pig. And the Festive Dinner will have patrons stunned with the flaming Peking duck and the garoupa fillets poached in egg yolk broth.
Hutong, 18/F, H Zentre, 15 Middle Road, Tsim Sha Tsui, Hong Kong, p. 3428 8342
8. Ask for Alonzo
From 1-31 December, head to Ask for Alonzo for a family-style feast, complete with free-flow packages. Expect dishes like Piedmont beef ravioli with truffle and roasted jus and red snapper fillet with green asparagus and lemon sauce – both are beautifully executed on the plate and totally Insta-worthy! With the all-vegetarian menu, there's a feast waiting for everyone! There are festive lunch and dinner menus separately.
Ask for Alonzo has multiple locations in Hong Kong.
9. The Astor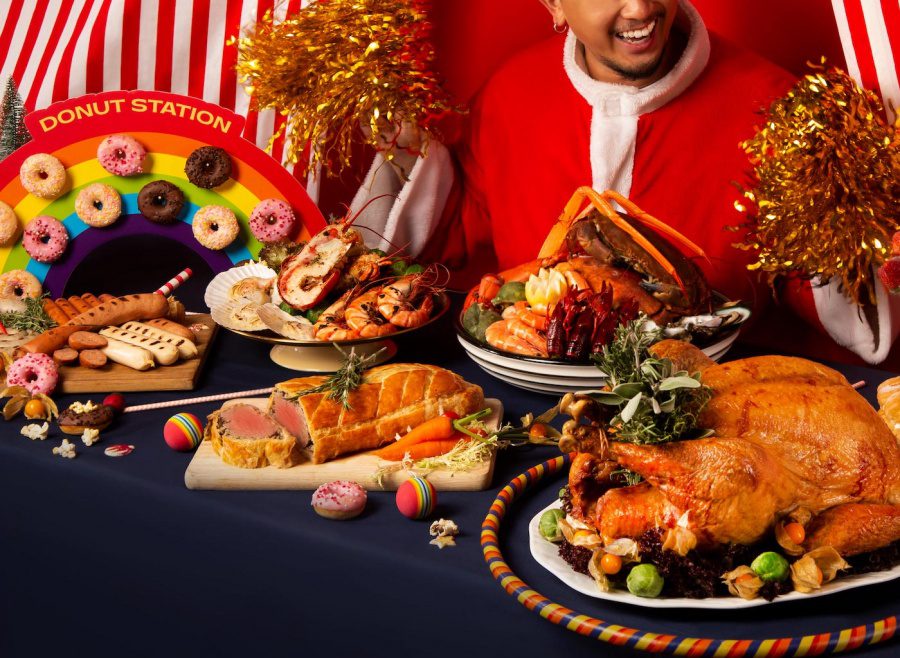 Eaton HK is transforming into a festive wonderland for the entire month of December! The Astor will host a carnival-themed buffet (both lunch and dinner) with traditional Christmas dishes like roast turkey, maple-glazed baked ham, beef wellington, and whole roast suckling pig. One of the must-tries include the grilled lobster with miso sauce and lobster bisque (only available on the weekend). End your buffet with festive desserts like Christmas stollen, panettone, chestnut tarts and more.
The Astor, B1, Eaton HK, 380 Nathan Road, Jordan, Hong Kong, p. 2710 1901
10. Lung King Heen
With the hotel's Christmas mascot Charlie Bear welcoming guests and festive decorations lighting up the entire hotel, the Four Seasons is bringing the Christmas spirit in full force. Head over to Lung King Heen for an extensive nine-course menu on Christmas Day. The special menu includes signatures like diced chicken in coconut curry sauce and wok-fried superior Australian Wagyu beef.
Lung King Heen, Four Seasons Hong Kong, 8 Finance Street, Sheung Wan, Hong Kong, p. 3196 8888
11. La Paloma
How about a Spanish spread this Christmas? Celebrate the holidays at La Paloma on 24 and 25 December with the restaurant's eight-course dinner menu. Dishes include a range of delicious tapas and you can add on their signature lobster paella (which you should!). The meal ends with the festive dessert platter for a sweet taste of Christmas cheer.
La Paloma, 1/Floor, Soho 189, 189 Queen's Road West, Sai Ying Pun, Hong Kong, p. 2291 6161
12. Salisterra
The Upper House is celebrating the festive season with a series of sumptuous menus to mark Salisterra's first seasonal festivities! Bask in the amazing harbour views whilst digging into a plate of smoked chestnut velouté, beef tartare, red prawn cappelletti, roast duck breast, and more. The restaurant is offering a Christmas Eve (either four-course or six-course) dinner, and Christmas day lunch (three-course) and dinner (only a-la-carte).
Salisterra, Level 49 The Upper House Pacific Place 88, Queensway, Admiralty, Hong Kong, p. 3968 1106
Psst – we're still putting together the full list of feasts for Christmas menus in Hong Kong 2021, so check back soon for all the deets! In the meantime, here's what happened last year (to help get your Christmas juices flowing):
Cordis Hong Kong
Beef Wellington, jet-fresh oysters, Prawn Ensemble, Log Cake… This year, Cordis Hong Kong brings a variety of Christmas menus to you at their restaurants and bars. Whether it's a festive buffet at The Place, delicate delights at Alibi, Michelin-starred Canto specialities at Ming Court or a bubbly al fresco dinner at The Garage Bar, all these Christmas meals will leave you feeling warm and satisfied.
Click on each restaurant to learn more about the menus, prices and availability.
Cordis Hong Kong, 555 Shanghai Street, Mong Kok, Kowloon, Hong Kong, p. 3552 3388
Starbucks
This Christmas, Starbucks brings to you a series of festive beverages in addition to many scrumptious delights. Enjoy a heart-warming Jolly Baked Apple Latte topped with golden apple syrup and chewy apple candies. Jolly Baked Cold Brew and Nitro Cold Brew shouldn't be missed out if you fancy a sharper coffee flavour. For those who want to pamper your friends with Christmas treats, Starbucks' Jolly Christmas Platter comes with four pieces each of different bite-sized snacks like Lemon Tarts, Curry Beef Puffs and Blueberry Cheesecakes.
Starbucks has branches across Hong Kong.
Hotel Icon X Godiva Christmas Afternoon Tea
A collaboration between Hotel Icon and the legendary chocolatier Godiva, this Christmas exclusive afternoon tea will satisfy your chocolate cravings with unlimited Godiva soft ice-cream. Other than afternoon tea classics like scones, smoked salmon roulade and macarons, you can enjoy an array of chocolate-themed sweets and savouries ranging from foie gras chocolate parfait to Cherry Black Forest. Enjoy this limited afternoon tea by 17 January 2021 at $368 for one and $658 for two.
Godiva Christmas Afternoon Tea at Green, Lobby, Hotel Icon, 17 Science Museum Road, Tsim Sha Tsui East, Hong Kong, p. 3400 1000
Miss Lee
One of Hong Kong vegetarian's fave Chinese restaurants, Miss Lee brings to you a Dee-lee-cious winter vegan menu with a four-course lunch ($368) and seven-course dinner ($598). On 24 to 26 December, 31 December and 1 January, diners can enjoy exclusive seasonal delicacies such as Homemade Spinach & Corn Wonton, Braised Winter Melon, Claypot Rice and Mushroom & Taro Patty. The menu is conceptualised by chef Siu Hon-chi from two-michelin-starred Ying Jee Club, featuring festive ingredients prepared with traditional culinary techniques. Sip on the special drink Save The Date ($58) infused with red dates and longan for a nourishing warm drink.
Miss Lee, G/F The Wellington, 198 Wellington Street, Sheung Wan, Hong Kong, p. 2881 1811
Braza Churrascaria
Fancy a Brazilian buffet with scrumptious seafood, meats, salads and desserts this Christmas? Brazilian steakhouse BRAZA Churrascaria brings to you a vibrant all-you-can-eat festive brunch ($348) and dinner ($498) on 24 and 25 December. Savour endless offerings of Brazilian cuisine like pork belly de Bahia, conxinhas with chipotle mayo and marinated duck breast with orange. Wrap up the feast with indulgent desserts, ranging from quindim (coconut egg yolk custard) to Bolo de Rolo (Brazilian Guava Cake Roll) and chocolate fountain.
BRAZA Churrascaria, 3/F, Grand Progress Building, 15-16 Lan Kwai Fong, Central, Hong Kong, p. 2890 9268
Rosewood Hong Kong
Chestnut Yule Log Cake, Black Truffle Tiger Prawn, Ribeye Steak.. .Indulge in creative Christmas feasts and beverages at Rosewood's eight acclaimed dining concepts. Whether you are looking for juicy steaks at HENRY, semi-buffets at Holt's Cafe, Chinese delicacies at The Legacy House or festive afternoon teas at The Butterfly Room, the indulgent delights at Rosewood's gastronomic concepts will ensure you are warm this Christmas.
Click on each restaurant to learn more about the menus, prices and availability.
Rosewood Hong Kong, Victoria Dockside, 18 Salisbury Road, Tsim Sha Tsui, Kowloon, Hong Kong, p. 3891 8888
Zuma
Enjoy Zuma's Christmas Christmas edition weekend brunch from 25 to 27 December, featuring an array of Japanese delights like Shogayaki Chicken Breast with Dried Apricot, Vanilla & Wild Berry Chawanmushi and Cinnamon Fluffy Doughnut. Their Christmas night brunch takes place in the lounge from 24 to 26 December, where guests can dig into Zuma's signature dishes while enjoying free-flow Veuve Clicquot Champagne, sakes and beers.
Zuma, Level 5 & 6, Landmark, 15 Queen's Road Central, Hong Kong, p. 3657 6388
The Cakery
A rich chocolate-coated log cake is what makes our Christmas Eve perfect. Serving scrumptious low-sugar and vegan sweets, The Cakery makes ones of the best cakes in Hong Kong that will avoid you from a sugar crash. If you want some Christmas treats for your friends and family , the Limited Edition Christmas Cookie Box, Christmas Cake Pop and Christmas Log Cake are some great options. You can also dine-in at The Cakery for a light afternoon tea, enjoying the hearty flavours without feeling guilty.
Read our full review of The Cakery
The Cakery has several locations in Hong Kong
Bedu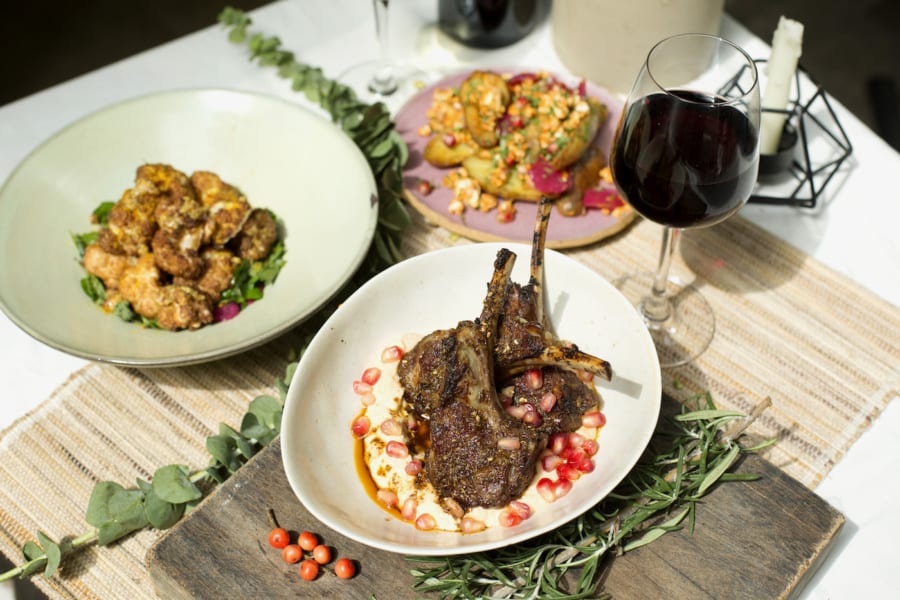 Middle Eastern food lovers, we got you. From November to December, book-in at Bedu for the Group's Chef Menu ($420) where Executive Chef Corey Riches will fill your stomach with five dishes and several starters. The set features a range of signature dishes that are perfect for a family celebration, such as Red Pepper Labneh, Rack of Lamb and Brown Butter Ice-cream. For the exclusive Christmas Day Special, guests can enjoy a la carte dishes throughout the day, such as the brand new Baba Ganoush and Smoked Kingfish.
Read our full review of Bedu.
Bedu, 40 Gough Street, Central, Hong Kong, p. 2320 43450
TokyoLima
Offering Christmas menus from 24 to 26 of December, TokyoLima is the place for mouth-watering food with a Peruvian twist. Sip on some umeshu or sake while enjoying dishes like Maguro Nuevo and Buri Tiradito. Your meal will end perfectly with a flavourful Oye Papi Chocolate Mousse and a gluten-free Chocolate & Almond Cake. Whether you are joining TokyoLima for their Christmas Tasting Dinner ($580 after 6pm and $680 after 8pm) or Festive Brunch ($448), the bountiful course menu will get you in the festive mood.
TokyoLima, G/F, 18-20 Lyndhurst Terrace, Central, Hong Kong, p. 2811 1152
Fortnum & Mason
Fortnum & Mason never disappoints us with their beautifully-crafted sweets and fragrant teas. This Christmas, they have everything you need for the festivity, ranging from pretty decorations to mouth-watering sweets like puddings, pies and champagnes. Some Hong Kong exclusive gift sets include The Fortnum's Christmas Collection ($2288), The Merry Christmas Gift Box ($1630) and The Season's Greetings Basket ($1385). Other heart-warming items are St James Christmas Pudding ($148-$298) and Christmas Tea Caddy Ornament ($289).
Shop Fortnum & Mason online or visit their stores.
Uma Nota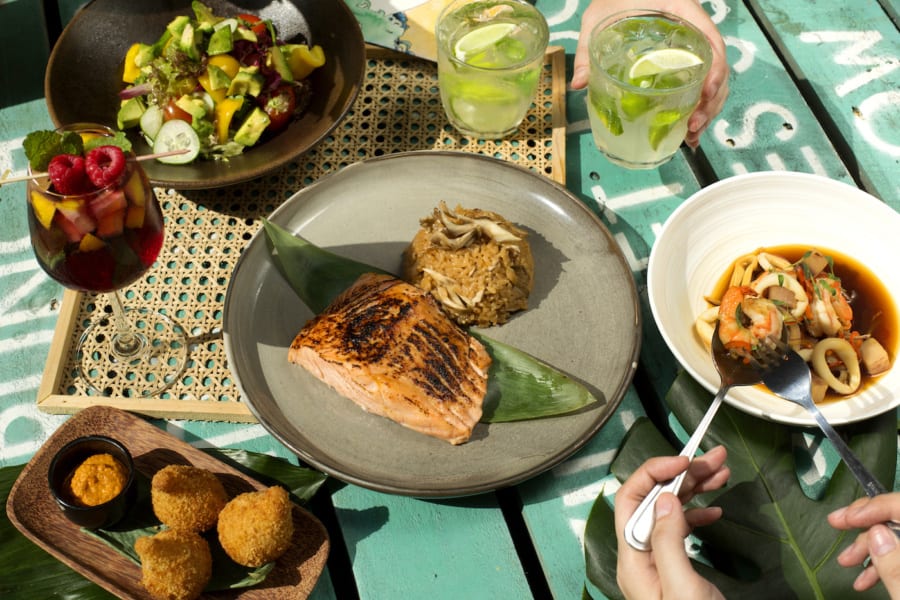 Samba time! Get funky at the dinner table with Uma Nota's Festive Chef Menu ($450) from November to December. Dig into five a la carte favourites like Beef Skewer, Baked Salmon with Saikyo Miso Marinade and Coxinhas de Frango. Want to get in the festive mood during the day? Join their Festive Brunch da Rua ($350) on weekends and public holidays in December. Feast on the best Roasted Spring Chicken, Pao de Queijo and Ceviche of the Day.
Uma Nota is one of our fave lunch spots in Central.
Uma Nota, 38 Peel Street, Central, Hong Kong, p. 2889 7576
Terrible Baby
Terrible Baby, Hong Kong's one-of-a-kind bar and music venue, presents two festive cocktails exclusively available in December. Enjoy the creamy Coquito (on the left; $85) blended with coconut milk, coconut cream, condensed milk and a hint of cinnamon flavour, adding a quirky twist to usual eggnogs. Woodfire Cocktail (on the right; $85) is created by Bar Manager Axel Gonzalez's signature mezcal, amaretto, coffee liquer, cold brew coffee and homemade syrup. With jazzy live music and creative cocktails, Terrible Baby is a great place for a festive drink with your friends.
Terrible Baby, 4/F Eaton HK, 380 Nathan Road, Jordan, Kowloon, Hong Kong, p. 2710 1866
Big Birdy
Peri Peri Turkey anyone? A recently opened resto in Sai Ying Pun, Big Birdy dishes up a holiday feast with a 3.5 kg USA free-range hormone-free Turkey. Finishing on a flaming grill, the turkey is brined for 24 hours before being dry-rubbed with Peri Peri spices, retaining the juicy and soft texture. Enjoy an array of hearty homemade sides such as mashed potatoes, maple glazed carrots and coleslaw. The Biggest Birdy Holiday Feast ($880) is available from mid-November until the end of the year, serving four to six people for both dine-in or takeaway.
Big Birdy, Shop 11, 48-78 High Street, Sai Ying Pun, Hong Kong, p. 2360 0968
The Astor
From 5 December to 31 January, a decadent whiskey and chocolate-themed Christmas Afternoon Tea Buffet is available at Eaton's all-day dining concept The Astor. At $228 to $328, diners can indulge in an array of sweets and savouries, ranging from whiskey BBQ pork ribs to chocolate choux cream puff, and Japanese fried chicken to dark chocolate whiskey mousse. The buffet also includes two free-flow cocktails crafted by renowned mixologist Axel Gonzalez from Terrible Baby.
The Astor, Level B1, 380 Nathan Road, Yau Ma Tei, Hong Kong, p. 2710 1901