Let's get decorating! (Photography: Hunt on Photos Studio via Pexels)
Baubles, tinsel, hanging decorations, stockings, trains, Santas, lights, and everything else Christmassy that you could possibly need - here's where to buy Christmas decorations in Hong Kong.
Christmas is just around the corner, so it's time to hit the Christmas markets and pick up a Christmas tree, as there's no better way to get into the festive spirit then swapping out your usual home decor with some Christmas bling! From quirky tree ornaments and festive dinnerware to luxury light-up Santas, check out our roundup of where to buy Christmas decorations in Hong Kong.
Where to buy Christmas decorations in Hong Kong
1. The Lion Rock Press
As far as stationers go, you can't really beat The Lion Rock Press for its creative quirkiness! This family-run business was established over a decade ago with an aim to sell fun, original Hong Kong-inspired products at an affordable rate. From dragon boats, dim sum, and star ferry hanging decorations to tram-themed gift-wrap, we adore the The Lion Rock Press for its originality and love for Hong Kong.
The Lion Rock Press, Unit 1005, 10/F, Arion Commercial Centre, 2-12 Queen's Road West, Sheung Wan, Hong Kong
2. Francfranc
This Japanese-born home decor shop is a great place to stock up on luxe holiday Christmas decorations in Hong Kong. From beautifully crafted wreaths to delicate glass ornaments, to LED garlands and artificial Christmas trees, Francfranc has everything you need to deck out your home. Besides going for the traditional red and gold festive bling, you can also opt for the Christmas Starter Set, which consists of vividly colourful ornaments that can instantly brighten your space and create a jolly, magical vibe.
Francfranc has multiple locations across Hong Kong.
3. Indigo Living
Hong Kong's premium designer furniture store, Indigo Living, is one of our go-tos for modern Christmas accessories. Transform your home into an enchanting festive retreat with Indigo Living's stylish furniture and accessories – all offered at competitive prices to help you step up your decorating game. Find multi-jewelled glass balls, crystal snowflakes, glittered hummingbirds, ballerinas, stocking holders, festive Nutcracker tableware, and more at this ultimate one-stop shop for Christmas decorations in Hong Kong.
Indigo Living also makes our list of fave furniture stores in Hong Kong.
Indigo Living has mutliple locations in Hong Kong.
4. Aeon Living Plaza
If you're shopping on a budget, Aeon Living Plaza is the place to be for extra affordable Christmas decorations and lights. With multiple locations around the city, all the fix-ins for crafting a Christmas to remember are just an MTR stop away. Snow globes, ornaments, artificial trees, and more twinkly goodies come to shelves every festive season. Imported from Japan, these cool accessories start from just around $12 per item – what a steal!
Aeon Living Plaza has locations across Hong Kong.
5. Toy Street
Looking for a day of festive fun with the kids while buying Christmas decorations in Hong Kong? Hop over to Wan Chai's popular Tai Yuen Street, also known as "Toy Street". From vintage toys made in Hong Kong in the 1970s to cute Christmas decor and gifts, you'll have tons of fun strolling down the alleys and passing by stalls upon stalls of festive goodies.
Check out more local markets in Hong Kong.
Toy Street, Tai Yuen Street, Wan Chai, Hong Kong
6. Log-On at City Super
Every year, Log-On brings its shoppers the best of all things Christmas. Whether you're looking to jazz up your Christmas tree with some new lights, or hoping to fit in some last-minute gift buying, Log-On has you covered. From deluxe music box carousels to snow globes to train-inspired tree decor, there's something for everyone here.
Log-On has multiple locations in Hong Kong.
7. Typo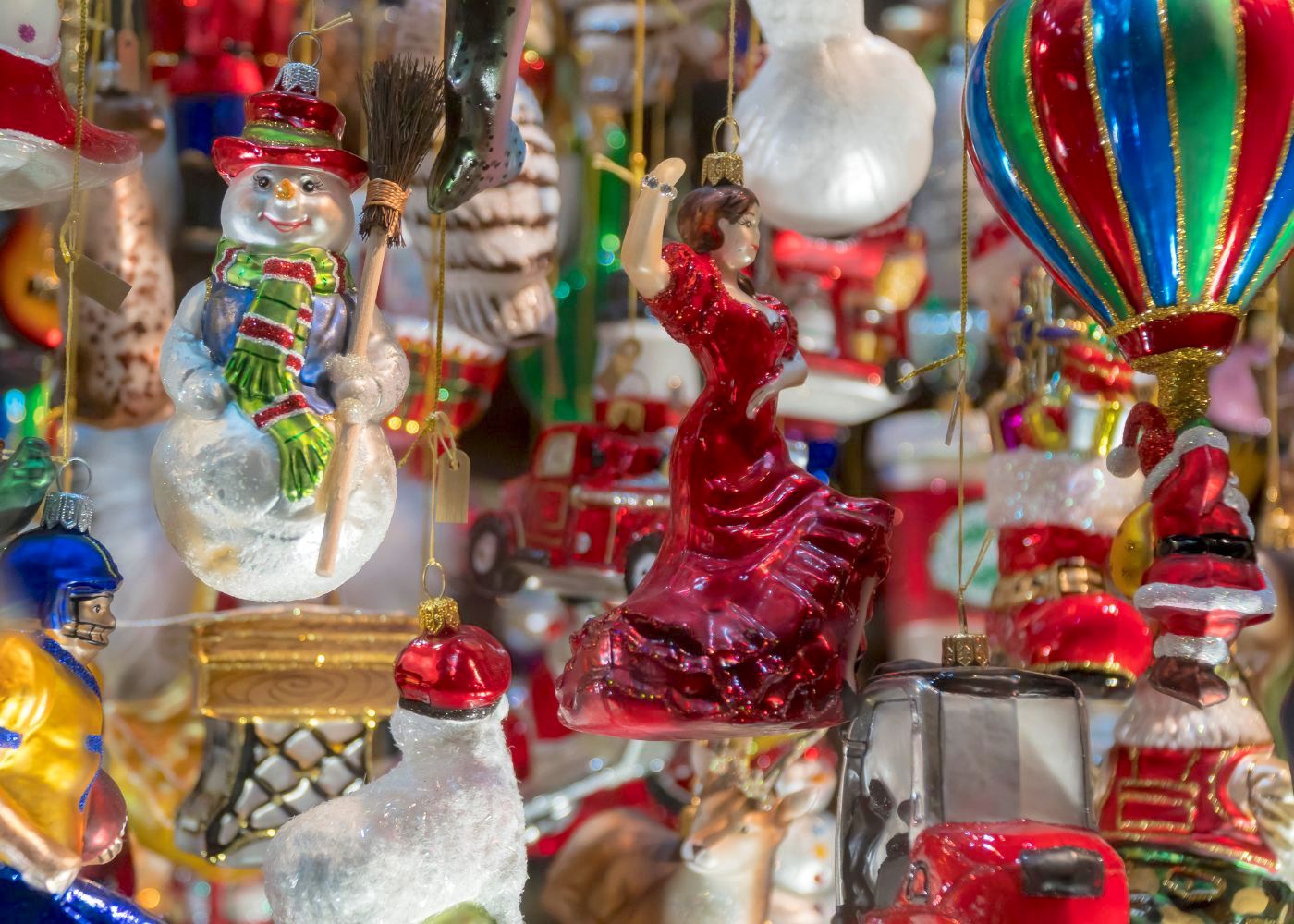 For those looking to add a bit of unconventional decor to your crib, Typo is the place to go. Movie buffs and TV show fans will definitely love the ornaments themed around Friends, Rick and Morty, Harry Potter, and other iconic series. As an added bonus, most decorations, greeting cards, and simple gifts found here are also inexpensive, making Typo a great spot to shop for Secret Santa.
Find Typo at Cotton On locations across Hong Kong. 
8. Ikea
If you're ready to brave the crowds, you can't beat Ikea for good value and quality! Whether you're looking for ornaments, decorations, or stockings, Ikea has got you covered. You can buy artificial trees and sets of Christmas baubles all while staying on a budget. With affordable prices like these, you'll have your tree decked out without breaking the bank!
Ikea has multiple locations across Hong Kong.
9. Brighten Mall
One of the most eye-catching shops at the Flower Market – especially around the time of Christmas – has to be Brighten Mall. Not only is it filled to the brim with beautiful decorations and plants, it's also in a prime location that you just can't miss. Here, you'll find a whole range of Christmas trees (real and artificial), ornaments, nutcrackers, and more. This is a store that can single-handedly transform your entire house into a Santa Claus village!
Brighten Mall, Mong Kok City Building, 154-158 Prince Edward Road West, Prince Edward, Hong Kong, p. 2787 2203
10. Zara Home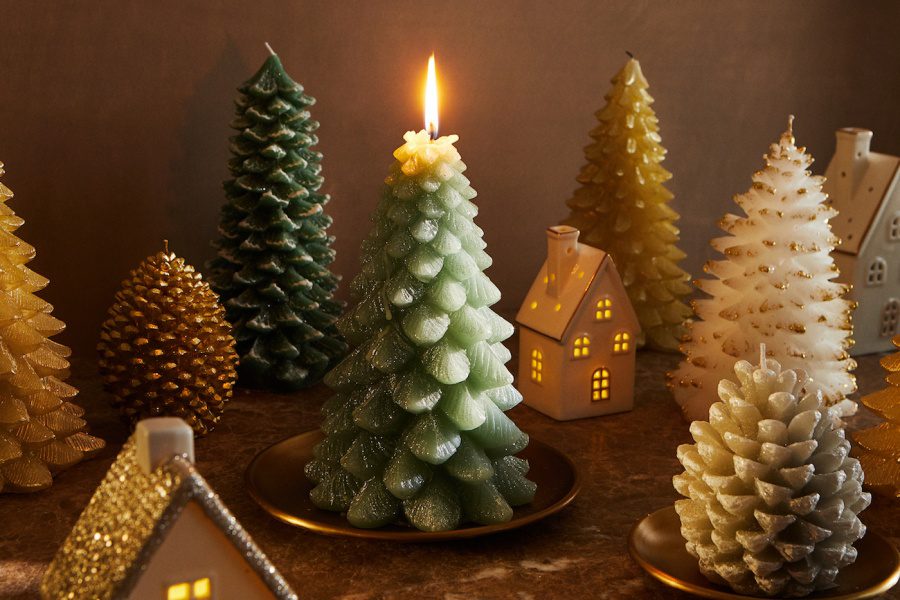 Shop for stylish, luxe, and affordable decorations at Zara Home. Most of its products feature earthy tones, adding instant cosiness to your space. If you're hosting a holiday feast, you can shop for festive napkins, plates, tablecloths, and mistletoe coasters (how cute!). Add some cone candles as the centrepiece for your table and get the party started!
Zara Home, G-26, Festival Walk, 80 Tat Chee Avenue, Kowloon Tong, Hong Kong, p. 2462 3268
11. Lane Crawford
Looking to up the whimsy on your Christmas tree this year? Lane Crawford's Christmas Lane is just the place to shop for decorations that will delight and awe. Here, you can get elegantly designed Christmas baubles or delicate novelty decorations like Hello Kitty or Kermit the Frog. Whatever theme you're going for this year with your Christmas decorations, Lane Crawford will without a doubt have what you're looking for.
Lane Crawford has multiple locations across Hong Kong
12. Marks & Spencer
Another affordable place to buy fantastic Christmas decorations in Hong Kong, Marks & Spencer is just the ticket for both traditional and quirky decorations that will make any tree pop. While you're at it, stock up on festive home decorations and stocking fillers – whatever you need, odds are Marks & Spencer can provide. Want to add a bit more magic to your life? Check out the Harry Potter collection to deck out your space with a little wizardry.
Marks & Spencer has multiple locations across Hong Kong
13. Inside
If you want stunning Christmas decorations in Hong Kong that are also skilfully made, Inside has plenty of choices for you – all crafted by artisans from around the world. With hand-painted tree ornaments, quilts, handmade wreaths, candles, and more, you can cover your home in classy, one-of-a-kind decor. These intricate ornaments make great holiday gifts too, so spread the Christmas cheer!
Inside has multiple locations across Hong Kong.
14. iDecorate
Adorning your home with Christmas sparkle doesn't have to be expensive! At iDecorate, you can always find on-trend decor at affordable prices no matter the season. Get into the festive spirit with quirky doughnut ornaments, gingham-style stockings, Christmas napkins, greetings cards, and more.
Read our interview with the founders of iDecorate.
Shop iDecorate online.
[This article was originally published in November 2019 and updated in 2023 by Min Ji Park.]