Celebrate Christmas on the South Side at Stanley Plaza's holiday market
Get in the festive mood, as there's something for everyone at these Christmas markets and fairs in Hong Kong, whether you're looking to shop for presents, enjoy Christmas treats, or pamper yourself at a spa!
It's the holiday season, which also, unofficially, means that it's time to roll out the Christmas decorations, set up your trees, because what's the festive season without anticipatory celebrations? There's lots to enjoy this year with the lineup of holiday menus and Christmas events – add these Christmas markets and fairs in Hong Kong to your list, too.
Christmas markets and fairs in Hong Kong 2023
1. Stanley Plaza: Chillmas by the Sea
Sail away with us to the South Side of Hong Kong for Christmas 2023! Stanley Plaza's inaugural Australian-themed Chillmas by the Sea is bringing you to the Southern Hemisphere. Celebrating the scorching "winters" of Australia rather than traditional chilly winds, this one-of-a-kind Christmas market in Hong Kong offers over 150 stalls of holiday delights. For three consecutive weekends starting from 9 December, head over to Stanley for artisanal crafts, enchanting cuisine, and Australian Christmas gifts. Game booths and exciting photo spots will also be sprinkled around the market to bring you the charm of Australian holidays. To ensure that everyone can get into the festive spirit, Stanley Plaza has arranged complimentary shuttles from Admiralty, Shau Kei Wan, and Aberdeen Pier. Shed your winter layers, bring out the flip-flops, and get festive Australian style!
Stanley Plaza, 23 Carmel Road, Stanley, Hong Kong, p. 2813 4623
2. K11 Musea: Christmas Village Pop-up
Back for another round this holiday season is K11 Musea's Christmas Village Pop-up, every Friday to Sunday until 1 January. Get ready to shop till you drop as coveted festive goodies like premium advent calendars, limited-edition products, unique holiday sets, and more will be ripe for the picking. Brands such as Vetopia, The White Concept, and Taboocha will be present for pre-registered shoppers to enjoy. You'll even receive a special greeting card and a Mulled Wine Cookie from Cookie DPT, as well as a chance to win beer items from the Stella Artois Ring Toss!!
K11 Musea Christmas Village Pop-up, Art & Cultural Centre, 6/F, K11 Musea, 18 Salisbury Road, Tsim Sha Tsui, Hong Kong, p. 3892 3890
3. CHKC Christmas Car Boot Market
Hong Kong's very first Christmas Car Boot Market is coming to Dolphin Square from China Hong Kong City. Spanning four weekends throughout the month of December, shoppers will be able to experience this unique market for free with pre-registration. This Christmas market, consisting entirely of makeshift booths out of – you guessed it – car boots, is aimed to promote greener living and spending. Vendors are encouraged to sell pre-loved, vintage, and upcycled items in the market, surrounded by Christmas decorations made from recycled materials. Along with the car boot stores, the market will also feature food stalls, game booths, outdoor shows, and mini concerts.
CHKC Christmas Car Boot Market, Dolphin Square, China Hong Kong City, 33 Canton Road, Tsim Sha Tsui, Hong Kong, p. 3119 0288
4. The Murray: Christmas Market
Get geared up for this year's Murray Christmas Market from 15 to 17 December. The Cotton Tree Terrace is transforming into a festive holiday market filled with decorations, French gourmet, baked goods, wine, jewellery, pottery, and art. Bring your Christmas list and take your pick between a variety of artisanal brands, including Faved by Samanthi, Alchood, Maison Argaud, Anna Smith Pottery, and more!
The Murray Christmas Market, U/G, Cotton Tree Terrace, The Murray Hong Kong, 22 Cotton Tree Drive, Central, Hong Kong, p. 3141 8888
5. Discovery Bay: Christmas Wonderland
Celebrate a Christmas Wonderland the Italian way at Discovery Bay as Buon Natale Italian Wonders arrive to mark the joyous season! Returning to DB is the Christmas Sunday Market hosted by Handmade Hong Kong, which will take over the plaza on 10 and 17 December. Over 100 booths will be on-site to fulfil all your Christmas shopping needs with handmade goodies, clothes, household items, and more. Additionally, a special charity market held by The Neighbourhood Advice-Action Council will take place at DB Plaza from 24 to 26 December, featuring carollers as well as a Santa meet-and-greet. Hop on a ferry this winter to #SupportLocal and deck your halls with one-of-a-kind Christmas decorations.
Discovery Bay Christmas Market, DB Plaza, Discovery Bay Road, Discovery Bay, Hong Kong
6. Lane Crawford: Astier De Villatte Holiday Market
This holiday season, hop over to IFC Mall for an enchanting Christmas market, curated by the founders of Astier de Villatte at a transformed Lane Crawford. You'll find over 100 elegant ceramics as well as collections of lighting, chocolates, stationery, and holiday decor. This eight-week programme also features the artistic stylings of Rajiv Surendra. Be whisked away into a magical forest as Surendra wraps Lane Crawford in his intricate, hand-drawn forest scenes. Don't forget to pick up exquisite holiday homewares and decorations as you explore luxury brands, like La Mer, Barrie, Swarovski, Loewe, and more!
Lane Crawford, Podium 3, IFC Mall, 8 Finance Street, Central, Hong Kong, p. 118 2288
7. Swire Properties: White Christmas Street Fair
Stroll by Tong Chong Street and explore the White Christmas Street Fair, an annual charity event hosted by Swire Properties. Expect chocolatey delights as the street gets transformed into Chocoland to evoke warm memories of your first chocolate-eating experience. Life-sized attractions, game booths, Christmas shopping, festive treats, and live performances will be packing Tong Chong Street to bring you plenty of holiday cheer. Swing by the first weekend from 30 November to 3 December, or wait for the second from 8 to 10 December.
Swire Properties White Christmas Street Fair, Tong Chong Street, Taikoo Place, Quarry Bay, Hong Kong
8. The Repulse Bay: Christmas Market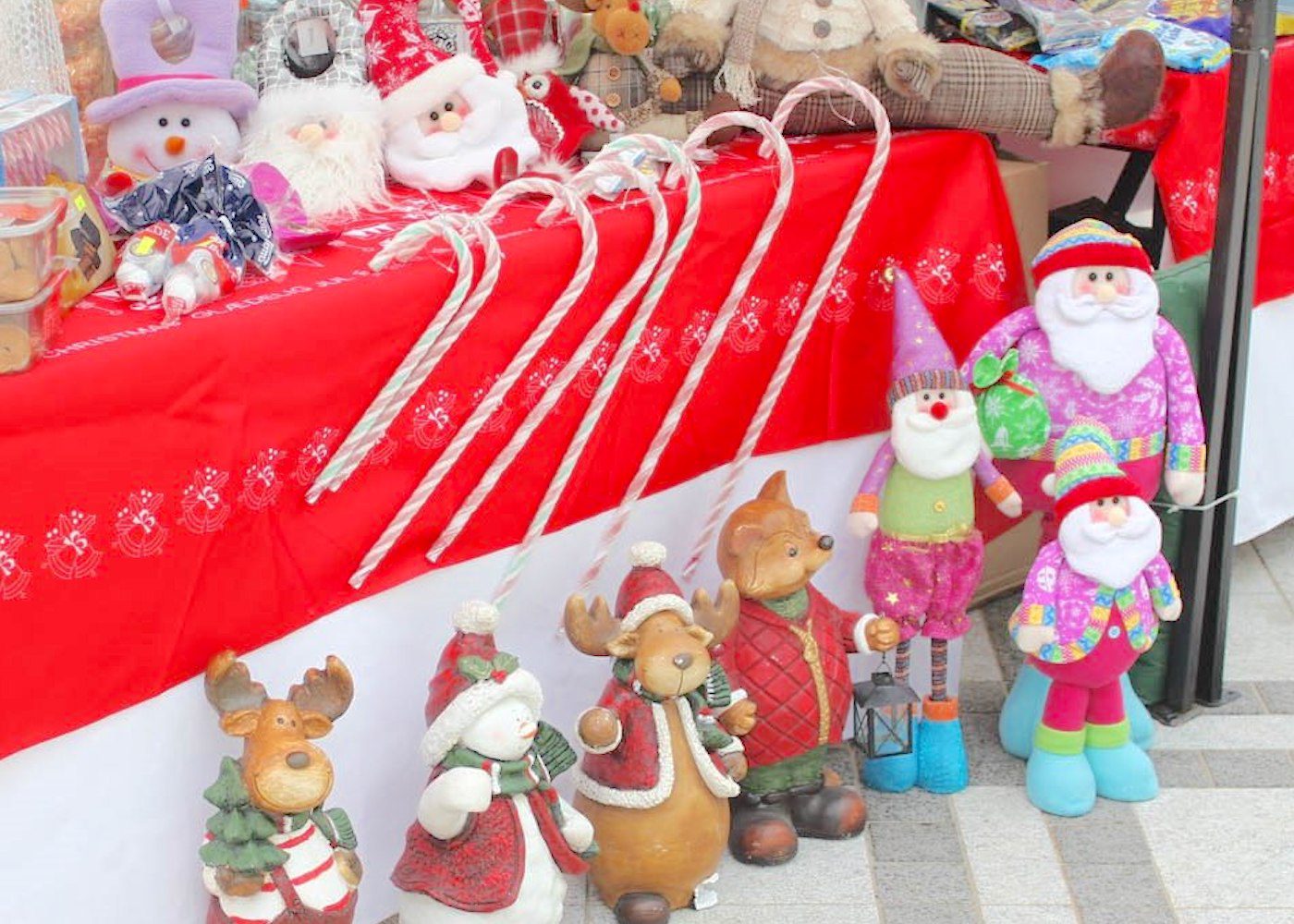 Handmade Hong Kong is gathering the city's finest artisans and crafters for the Christmas Market at The Repulse Bay. On 18 November, come by the South Side to complete your holiday shopping, all while supporting local vendors. Brands like Malm Designs, Playful Socks, Venture Studios, and more will be touting their wares and turning the Seaview Terrace into a holiday wonderland.
The Repulse Bay Christmas Market, Seaview Terrace, The Repulse Bay, 109 Repulse Bay Road, Repulse Bay, Hong Kong
9. Highgate House School: Christmas Fair
chedule a family day on 25 November to attend the Christmas Fair at Highgate House School! The school will be opened to the public for children's crafts, games, puppet shows, food and drinks, and more. Enjoy delicious treats at the bake sale, with mulled wine in between festive DIY sessions like ceramic painting and breadmaking. Vendors like Stockholm, BusyMats, Tree Children's Lodge, and more will also be setting up shop for you to complete your Christmas shopping list. All proceeds from this holiday market in Hong Kong will go towards renovation projects for Highgate House School. Remember to register (for free!), as there's limited capacity.
Highgate House School – The Peak, G/F, 100 Peak Road, The Peak, Hong Kong, p. 2849 6336
10. Prestige Fairs: Gift & Lifestyle Fair
This holiday, forego online shopping and make human connections while you pick up Christmas trinkets at the Prestige Gift & Lifestyle Fair. On 29 November and 12 December, head over to Conrad Hong Kong's Grand Ballroom to come face-to-face with a deluge of artisanal and local vendors. At one of the largest lifestyle fairs in Hong Kong, you can expect thousands of shoppers stopping by for last-minute gifts and stocking stuffers.
Prestige Gift & Lifestyle Fair, Grand Ballroom, L5, Conrad Hong Kong, 88 Queensway, Admiralty, Hong Kong