Honjo's free-flow brunch is one of our firm favourites in Hong Kong
From luxurious hotel gourmet to dim sum, there's something for everyone in our guide to the best brunch in Hong Kong.
Hong Kong is known for its multicultural culinary scene, whether it's finding the most popular halal restaurants and French bistros, or local favourites like yum cha and hot pot, there are always a great deal of options. And everyone fancies a good weekend brunch, for it's even more relaxing and perfectly sinful with buffet goodness. So here, we present to you our picks for the best brunch in Hong Kong. Enjoy!
33 best brunch deals in Hong Kong
1. Honjo
We always have the best time at Honjo! This restaurant brings a modern twist to traditional Japanese cuisine, infusing creativity into the dishes. Spacious and convivial, Honjo draws in a regular crowd with its free-flow brunch. Psst – try not to get too tempted by the unlimited sashimi, maki, and nigiri, as you'll also be served a selection of starters to share! Following the wagyu in chorizo oil and ebi-yu, you can take your pick between various mains, such as flank steak, grilled salmon, and Honjo tempura. While there are desserts to finish you off, be sure to complete your brunch experience with a two-hour free-flow drinks package, which includes bottomless sake, wine, cocktails, and more. The best thing? Honjo's brunch goes from 11.30am all the way till 3pm, so that you and your loved ones can indulge in a leisurely feast over the weekend and holidays.
Got your forks at the ready? Book your table at Honjo online.
Honjo, 1/F, 77-91 Queen's Road West, Sheung Wan, Hong Kong, p. 2663 3772
2. Breeze Bistro
With the splendid, floor-to-ceiling views of Victoria Harbour, free-flowing drinks, and delicious French-Italian fare at Breeze Bistro, brunch in Hong Kong doesn't get much better! Located on the Kennedy Town waterfront, Breeze Bistro is a casual neighbourhood eatery, ideal for all occasions. Kickstart your day off with its incredible Weekend Brunch (available on Saturdays, Sundays, and public holidays, from 11am to 3pm) at the amazing value of just $318 per person. You'll begin with a variety of sharing starters such as Parma Ham Bruschetta and Escargot; followed by a choice of main, with options like Half Roast Poussin, Breeze Cheeseburger, Ribeye Steak and Eggs, Whole Grilled Seabass, and more. The brunch will finish on a sweet note with the Dessert of the Day.
And because no brunch is complete without some tipples, make sure to try the signature cocktails and wines at Breeze Bistro. Free-flow packages go from $240 for 2.5 hours of bubbles, red and white wines, house spirits, beer, and soft drinks. Feel free to stick around after your brunch, too, for the Sunset Sessions on the second to last Saturday of every month. You'll be able to enjoy free-flow cocktails and a live DJ spinning Balearic beats from 4 to 8pm, complemented by sharing platters and, of course, unbeatable scenery of the sunset – the perfect Saturday wind-down.
Breeze Bistro, 7-8 New Praya, Kennedy Town, Hong Kong, p. 9020 6210
3. Lucciola Restaurant & Bar, The Hari Hong Kong
Celebrate the weekend with a brunch at Lucciola, which features hearty Italian fare in a warm, welcoming environment, accompanied by superb customer service. Carefully crafted by the culinary team using the finest seasonal produce, Lucciola's "Pranzo Italiano Weekend Brunch" showcases an array of Italian classics, recreated with a contemporary twist.
Highlights on the menu include a selection of antipasto, ranging from freshly shucked oysters to La Burrata Pugliese, to Hand-cut Piedmont Fassona Beef Tartare. Then, you get to pick your main course, among options such as Handmade Spaghetti Pasta with Lobster Tail; Grilled Norvegese Salmon; and U.S. Prime Ribeye. Brace yourself for the grand finale, as the dessert trolley rolls up right next to you with its decadent spread of treats! We bet you'll love the signature Tiramisu and Cannoli. Don't forget to enhance your feast with a 90-minute free-flow package, which includes Champagne, wines, G&T, Aperol Spritz, and more to wash everything down.
Lucciola Restaurant & Bar, 1/F, The Hari Hong Kong, 330 Lockhart Road, Wan Chai, Hong Kong, p. 2129 0333
4. Jiangsu Club
If you're in search of an elegant brunch in Hong Kong your family will love, look no further than Jiangsu Club. After opening in September 2022, this Chinese restaurant is now adding the Weekend "Splash" Bottomless Champagne Brunch to its exquisite line-up of dim sum and a la carte offerings. It comes with the option of 90-minute free-flow Dom Pérignon Vintage or Moët & Chandon Impérial Champagne. There are an incredible variety of dim sum, appetisers, and desserts – all unlimited – in addition to several signature items. Our favourites include Steamed Xiao Long Bao; Fried Dumpling with Diced Abalone; Stir-fried Rice Roll with XO Sauce; Pan-fried Crispy Beef Dumplings; Mini Wonton with Fresh Coconut Soup; and more.
Jiangsu Club, 2/F, Alliance Building, 130-136 Connaught Road Central, Sheung Wan, Hong Kong, p. 6230 8973
5. Nicholini's, Conrad Hong Kong
Foodies, you'll need a map for this brunch in Hong Kong! Nicholini's at Conrad is upgrading its weekend brunch to let you have a taste of the very best of European cuisine. Spanning across the entire eighth floor of the hotel, "European Brunch on the Eighth" is curated by Chef Riccardo Catarsi, taking you on a sensational gastronomic journey as you visit numerous cook-to-order food stations and enjoy served-to-table delicacies.
You can start at the spread of antipasti, with 20 types of appetisers including cold cuts and cheeses – even a whole wheel of parmigiano! After indulging in seasonal oysters and other marine dishes served to the table, you can head to the seafood section to get your fill of Boston lobster, king crab leg, tiger prawn, and more. Next, try the homemade pasta, freshly prepared at the pasta station. For a quick trip to the Mediterranean, make sure to sample the paella and arancini, before dropping by the barbecue section for some juicy Tuscan porchetta and German sausage. Remember to save space for your main course though, with options such as Provençal rack of lamb and Barramundi fillet. To wrap things up, satisfy your sweet tooth with a dessert platter, followed by tiramisu, strawberry romanoff, and churros. Love a good free-flow? Add on the drinks package to indulge in unlimited alcoholic beverages throughout the three-hour brunch.
Psst – book your brunch spot at Nicholini's via the eShop for 10% off!
Nicholini's, 8/F, Conrad Hong Kong, Pacific Place, 88 Queensway, Admiralty, Hong Kong, p. 2822 8801
6. Francis West
Injecting a new buzz to Peel Street, Francis West is quickly becoming one of our go-to brunch spots in town. Offering a unique fusion of flavours from Maghreb in North Africa, the Middle East, and the Mediterranean, The Big Brunch begins with a selection of mezze, with our favourite being the Stone Baked Frena – a type of Moroccan flatbread which goes perfectly with hummus, pickles, and matbucha (slow cooked tomatoes, bell peppers, and garlic). You can then pick between seven main dishes, with options such as Seafood Couscous; "Mughrabi" Chicken Parm; and the Steak and Eggs with a twist, featuring lamb rump, fried eggs, and harissa potato. End the brunch on a sweet note with the traditional Knafeh, or the refreshing Kumquat, made with saffron, orange custard, and almond.
We also love Francis West's selection of beverages, with many wines spotlighting smaller and low-intervention producers in the Mediterranean region. The house-made Vermouth Spritz is a must-try in the summer, and we simply can't get enough of the sweet and refreshing gazoz!
Francis West, G/F, Felicity Building, 42 & 44 Peel Street, Central, Hong Kong
7. Bianco & Rosso
Inspired by Renaissance Europe and the charming roadside bodegas in Spain, Bianco & Rosso is a wonderful escapade for urbanites with its elegantly chic interiors and laid-back vibes. The restaurant serves the four-course Odyssey Brunch every weekend, which consists of two starters per person, one pasta, one main, and an add-on dessert. Highlights on the menu include Polmard Beef Tartare, topped with confit egg yolk, lilliput capers, and house-made Gaufrette chips; Spaghetti Martelli luganega sausage ragout; and the crowd-favourite Whole Three Yellow Chicken with Vermouth chicken sauce to share. Wash it all down with two hours of free-flow Vermouth spritzers, signature cocktails, wine, and bubbles.
Bianco & Rosso, 29 Gough Street, Central, Hong Kong, p. 2813 1669
8. Maka Hiki
Fancy a tropical escape this weekend? Check out the all-day brunch at the kid- and pet-friendly Maka Hiki for a full day of fun and delicious fare! Its Weekend Brunch Menu includes the option for two hours of free-flow, the perfect accompaniment to the restaurant's most popular dishes. The starters and sides are all made for sharing, followed by one main dish of your choice, then ending with desserts. Expect moreish classics such as Roti with Curried Chickpeas; Grilled Mahi Mahi Curry; the signature Half Lambok Baby Chicken; and Homemade Rhum Baba. In the Night Brunch, guests can enjoy the special Salmon Crudo, too.
If you're a fan of cocktails, make sure to try the restaurant's island-inspired cocktails, such as the Pina Colada; our favourite Bikini Girl; and the popular Dum Dum Give Me Rum Rum. Drinking with your friends? Make it a real party with the infamous Forgotten Shell, a sharing cocktail for up to 12 people and topped up with a whole bottle of Champagne!
Maka Hiki, 2/F, Little Tai Hang – The Corner House, 98 Tung Lo Wan Road, Tai Hang, Hong Kong, p. 2155 1777
9. Barkada
Barkada, assemble! Meaning "group of friends" in Tagalog, "Barkada" is the ideal spot for you to chill with your friends and loved ones over a relaxed, sharing-style brunch over the weekend. Dive into the signature Pica Pica Platter, featuring Lumpiang Shanghai (crispy chicken spring rolls), Adobo Popcorn Bites, and more. You can then pick a main course, with our recommendations being the unique Spicy Funky Coconut Noodles with succulent Bagoong Tiger Prawns; and the Instagrammable Sizzling Sisig. Complete the experience with a Mango Float and free-flow bevs.
What's more, in September 2023, Barkada is launching an exciting Karaoke Throwback Brunch on the first Saturday of every month. In addition to the usual weekend brunch offerings and free-flow, guests can groove to throwback hits played by a live DJ before singing along in a karaoke party. It's time to unleash your inner Beyonce!
Barkada, 48 Cochrane Street, UG/F, Foco, Central, Hong Kong, p. 2663 0238
10. LPM
Be warned: pace yourself at LPM's "La Vie en Rosé" Champagne brunch! The French-Mediterranean feast begins with a free-flow selection of appetisers – a whopping 14 of them – including the classic Frog Leg Aioli; the signature Tuna Carppaccio; our favourite Warm Heirloom Tomato Tart; and many more. Next, you can choose a main course among options such as the crowd favourite Homemade Pappardelle with Beef Ragout and Mushroom; and the Squid Ink Risotto with Zucchini Flower; plus a side dish. As for dessert, we simply can't get over the Pain Perdu Facon – French toast with spice ice cream. And of course, what's "La Vie en Rosé" without some rosé? Sip on the free-flow Figuière Méditerranée Rosé Jeroboam and Champagne magnums of NV Legras & Haas Rosé Brut. Feel free to try the new cocktails, too, like Riviera Blanc, made with Ketal One, Côtes de Provence Blanc, and pink peppercorn Saint Germain.
LPM, H Queen's, 23-29 Stanley Street, Central, Hong Kong, p. 2887 1113
11. A Lux
Sample the refined "Buon Fine Settimana" brunch at A Lux to celebrate the weekend, with the stars of the show being the premium Siberian Sturgeon Caviar and free-flow Champagne. In addition, you'll be served a selection of antipasti, followed of your choice of house-made pasta. The speciality of Executive Chef Kwan Wai-chung, the pastas at A Lux will easily be one of the highlights of your experience. Take your pick between the signature (and our absolute favourite) Carabineros Prawn Fettucine; Abalone Spinosini with Garlic and Chilli; Parmesan Risotto with Lobster-Scallop Ragout; and more. As for the mains, meat-eaters would love the refillable Roasted USDA Ribeye (yes, you read that right, so better come hungry!), or go for the Half Spring Chicken, Barramundi, amongst other options. We hope you still have room for dessert, because you won't want to miss the dessert trolley, laden with mille-feuille, tiramisu, macaron, chocolate truffle, hand-crafted cheeses, and more.
A Lux, Shop M2, M/F, Baskerville House, 13 Duddell Street, Central, Hong Kong, p. 2663 9938
12. Hue Dining
Swing by Hue Dining for brunch before visiting the exhibitions inside the Hong Kong Museum of Art. Available every weekend (and accompanied by brilliant live jazz performances on Sundays), the Australian brunch is headlined by the free-flow Gosset Extra Brut Champagne and includes an assortment of sharing starters, a main, and a dessert. Whet your appetite with the seaweed crackers with smoked paprika and whipped cod's roe; kingfish, saffron, and fennel salad with Gremolata; heirloom tomato topped with soft poached egg "kimchi Shakshuka"; and more. For the mains, take your pick between the Limestone coast wagyu flank steak served with confit garlic, maitake mushroom, and heirloom carrots in Madeira sauce; house-made Cumberland sausage served with wholegrain mustard mash potatoes, white onion, chives, and pork crackling; and other dishes. To wrap up, we recommend the sweet and refreshing nut and seed granola with sago pudding, mixed berries, and yoghurt ice-cream.
Hue Dining, 1/F, Hong Kong Museum of Art, 10 Salisbury Road, Tsim Sha Tsui, Hong Kong, p. 3500 5888
13. Olé
We're head over heels for Olé! Celebrating its 25th anniversary this year, the renowned Spanish restaurant is offering its greatest hits for brunch, including a wonderful selection of tapas to share such as Spanish Iberico ham with tomato bread; our fave "Gambas al Ajillo" sizzling tiger prawns; the tender Grilled Spanish Octopus with ratte potato, alioli, and paprika; and more. Next, you can choose your main (we recommend the special Red Prawn Paella & Sea Urchin alioli for its amazing burst of flavour!), then finish off with a choice of dessert. With live music in the background, you'll be serenaded by guitars during your meal, which only makes this brunch even better. The price point is fantastic too, with free-flow options for wine, cava, and sangria.
Olé, 1/F, Shun Ho Tower, 24-30 Ice House Street, Central, Hong Kong, p. 2523 8624
14. KITCHEN, W Hong Kong
What makes a perfect Sunday? A fantastic free-flow brunch, of course! Hop over to W Hong Kong's KITCHEN for its Sunday Brunch Buffet package, complete with bottomless VCP Champagne, wine, beer, and more. While you enjoy the sunshine and stunning ocean views from the floor-to-ceiling windows, start off with a selection of fresh seafood, followed by crowd favourites such as Flambé Beef Sandwich with Caramelised Foie Gras; the made-to-order Japanese Soft-boiled Egg with Caviar on Lobster Froth; and the "Pacific Rim" dish of Tomato Pesto Crusted Lamb Rack. Before you try the exclusive desserts, don't forget to check out KITCHEN's new signature cocktail station, too, which offers upbeat summer-themed tipples to elevate your feast.
Purchase your ticket to the brunch via W the Shop for an exclusive discount!
KITCHEN, 6/F, W Hong Kong, 1 Austin Road West, West Kowloon Station, Kowloon, Hong Kong, p. 3717 2299
15. Cruise Restaurant & Bar, Hyatt Centric Victoria Harbour Hong Kong
What better way to celebrate the weekend than to revel in Hyatt Centric's scrumptious brunch (from $788 per person)? At Cruise, the Hotel's rooftop restaurant and bar, you can take in panoramic views of the Harbour while sharing a range of hearty dishes with your family and friends. On the first Saturday of every month, you can enjoy the flavours of both land and sea with bottomless Teasers such as yellowfin tuna, Hokkaido scallop, pork hock, and charred sweet corn.
Next, graze on main dishes like the Satay Shashlik with pickles, peanuts, and coconut; Canadian Chilli Lobster and Blue Swimmer Crab; along with Egg Fried Rice & Crispy Roti. Carnivores will love the M5 Wagyu Sirloin Ssam, with mustard relish and ginger. Finally, wrap up your meal with Fire and Ice – a refreshing coconut ice cream served with summer berries, prepped right by your table. Be sure to whip out your cameras for this one!
Oh, and did we mention that Cruise's brunch package comes with 2.5 hours of free-flow drinks – including the deluxe G. H. Mumm Champagne? Complete your ultimate brunch experience with the unlimited Signature Punch by Mackenzie Ross, house wines, beers, and soft drinks. And why not check in for a staycation and keep the party going all weekend?
Cruise Restaurant & Bar, 23/F, West Tower, Hyatt Centric Victoria Harbour Hong Kong, 1 North Point Estate Lane, North Point, Hong Kong, p. 3896 9898
16. Nissa La Bella Bistro & Wine Bar
Take a mini-trip to the French Riviera with the luxurious weekend brunch at Nissa La Bella. (Bonus points: no jet lag! But with the option to add free-flow drinks – including Whispering Angel rosé wine and Veuve Clicquot Champagne – you might still be in the mood for a lie-in on the next day.) Coinciding with the transformation of its interiors and concept, Nissa La Bella has also refreshed its brunch menu, injecting a unique touch of whimsicalness and French artistry into the neighbourhood. There are multiple options for you to choose from to whet your appetite, including Fresh Fish Ceviche, Terrine of the Day, Eggs Benedictine with Parma Ham, and more. Next, the show-stopping main – with choices like Hanger Steak or Roasted Chicken – comes with generous sides, such as potatoes, fries, or salads. As for dessert, go for the Pain Perdu, French Crepes, or Fruits Tart to finish off on a sweet note – or the Cheese Plate for a savoury one!
Nissa La Bella Bistro & Wine Bar, 10-14 Upper Station Street, Sheung Wan, Hong Kong, p. 9549 3882
17. Sunset Grill, Sheraton Tung Chung Hong Kong Hotel
Delight in panoramic views of the sea and rich Mediterranean flavours at Sunset Grill with its Weekend Brunch menu. Start off with a Seafood Platter, filled with Fine de Claire Oysters, Norwegian Snow Crab, Half Lobster, and more. Next, head over to the Chef Table to find a selection of antipasti and pinchos which pay tribute to Chef Martín's Catalan heritage. These snacks include croquettes, Garlic Prawns and Beef Sliders, Picanha Steak with Potato Mash, various European cheeses, and more. For the mains, choose between Steak and Egg; Hokkaido Scallop with Fennel Puree; Joselito Ibérico Pork Secreto; or the vegetarian Ratatouille. Finally, you'll be served the Dessert Platter, comprising cream puffs, Oreo cheesecake, raspberry mousse, and fruits. Wash it all down with a drinks package – non-alcoholic and alcoholic bevs are both available.
Reserve your seat online via the hotel's e-shop to enjoy exclusive discounts.
Sunset Grill, 19/F, Sheraton Hong Kong Tung Chung Hotel, 9 Yi Tung Road, Tung Chung, Hong Kong, p. 2535 0025
18. Uma Nota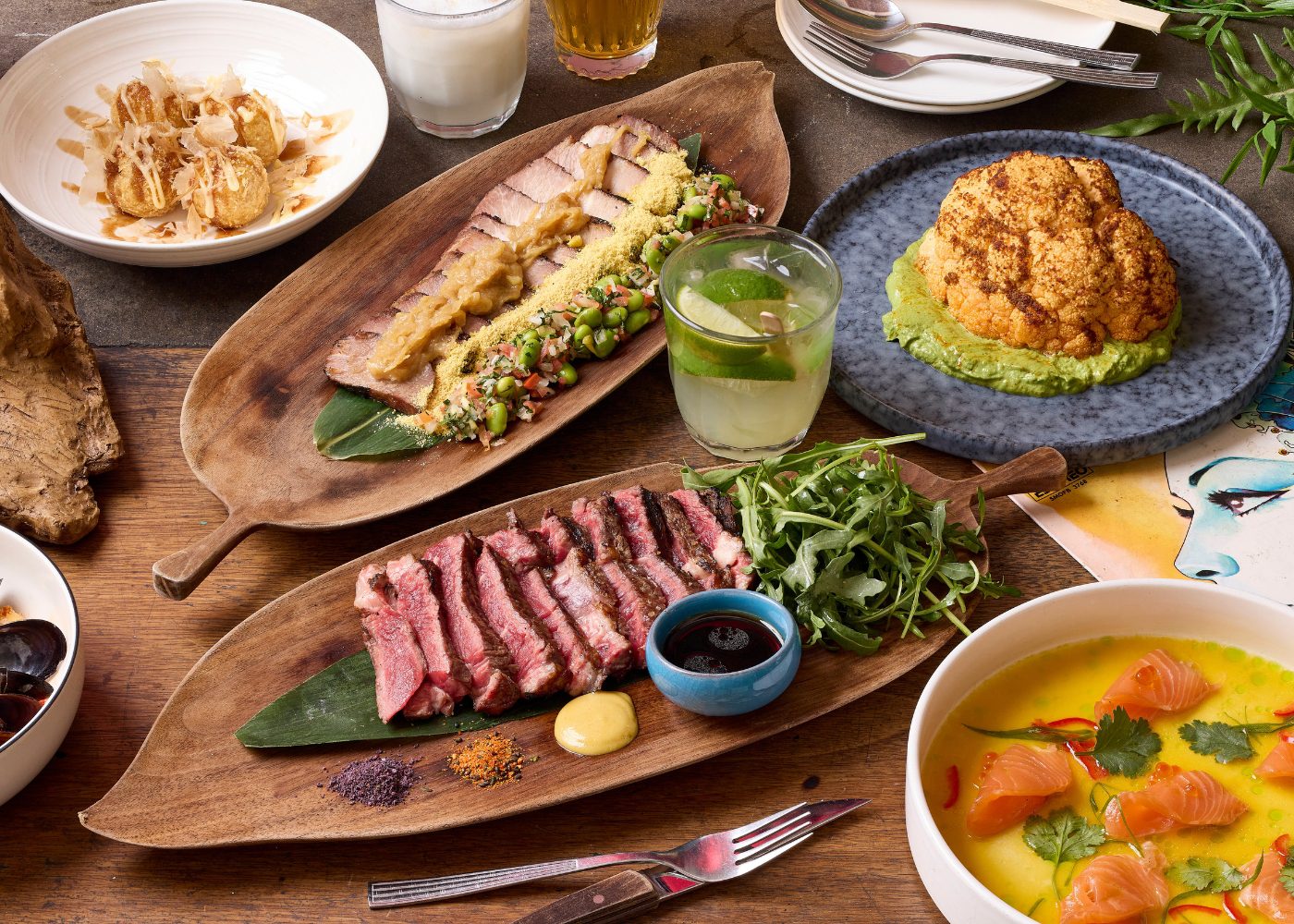 Celebrate the weekend and public holidays at with Uma Nota's signature brunch. Begin with six Petiscos Starters such as Takoyaki a la Uma Nota; Salmão Curado; and Crispy Soft Shell Crab Salad. Then, opt between four mains to share. Choices include Tobanyaki Amazonico (seafood stew); Carne de fumeiro (smoked pork shoulder); and the crowd favourite File de Costela (21 day-aged Ribeye steak). Don't forget to save room for the classic dessert platter with ice cream and seasonal fruits at the very end!
Wanna take your Uma Nota brunch experience up a notch? Join the monthly special O Carnaval Brunch on the last Saturday of every month! Beginning on 29 April, the iconic brunch party offers an immersive and entertaining experience with vibrant dishes, free-flow drinks, and energetic performances, including drumming, dancing, and more. The food menu is different to the usual brunch, with unique offerings like Lula a la brasa (grilled squid served with red bell pepper chimichurri and cassava farofa); Karaage ao Passarinho (Japanese-style fried chicken served in Brazilian boteco-style); Churrasco platter with chargrilled rib-eye, pork sausage, and spring chicken served with baby potato, roasted vegetables, mixed greens, and Brazilian vinaigrette; and more.
Uma Nota, 38 Peel Street, Central, Hong Kong, p. 2889 7576
19. Maison Libanaise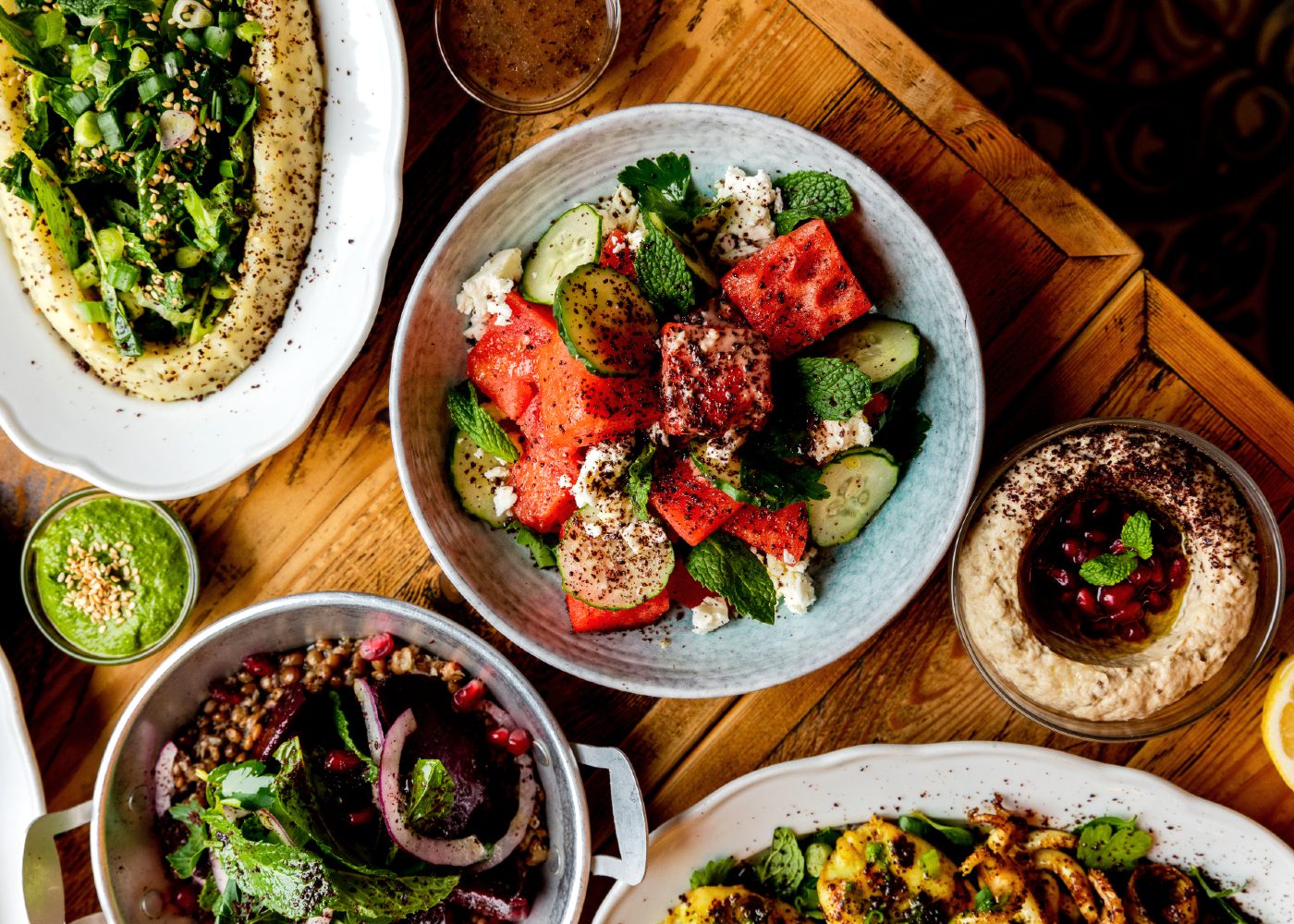 In search of a unique brunch experience in Hong Kong? Gather with your loved ones at Le Salon of Maison Libanaise! From noon on the second Sunday of every month, the Lebanese canteen is hosting Grillades À La Maison – a Beiruti Sunday rooftop barbecue tradition that offers sharing-style dishes to be enjoyed as a group. Your feast begins with a variety of mezze such as Hummus, Baba Ghanoush, Watermelon Feta Salad, and Levantine Fattoush. Then comes a selection of barbecued mains – all meticulously seasoned and grilled to perfection by Head Chef Teya Mikhael. Dig into unlimited Traboulse Shish Taouk, Green Shatta Squid, Kafta Skewers and – our favourites – Baharat Cauliflower Steak and Kabse Tiger Prawns. Feeling hot next to the grill? Cool off with some flowing bubbles, rosé, or sangria (non-alcoholic options available), before wrapping it up with a refreshing fruit platter.
Maison Libanaise, 10 Shelley Street, SoHo, Hong Kong, p. 2111 2284
20. Tokyolima
Planning to head out for a nice brunch in Hong Kong? Tokyolima's Matsuri Brunch will be the perfect way to spend your weekend and public holidays. The brunch begins with a trio of appetisers to share, followed by the restaurant's signature Ki-Mo-Chi Fried Chicken; The Weeknd Salad; and Edamame Hummus. Next, for the entree, you can take your pick between Nikky Katsu; stir-fried rump steak; pan-fried mackerel; and more. To wrap things up is the Easy Breezy dessert platter. Don't forget to order a free-flow package to wash it all down!
Tokyolima, G/F, 18-20 Lyndhurst Terrace, Central, Hong Kong, p. 2811 1152
21. Dan Ryan's Chicago Grill
Crispy bacon, pancakes, omelettes… Get ready for the quintessential American brunch in Hong Kong at Dan Ryan's Chicago Grill. The weekend brunch menu here offers classic items such as Buttermilk Pancakes with Maple Syrup – a stack of three fresh, fluffy, American-style pancakes; Smoked Salmon Eggs Benedict; California Omelette with honey ham, mushroom, and Gouda cheese; and more. Can't pick a favourite? Go for Dan Ryan's Classic Brunch which has a bit of everything – from crispy bacon and eggs, to breakfast sausage to pancakes. For a sweet finish, try the Carrot Cake Milkshake – a decadent mixture of carrot cake, hazelnut syrup, and vanilla ice cream. Make your brunch boozy by adding the 90-minute free-flow drinks package with house wine, selected beer, and spirits.
Dan Ryan's Chicago Grill has multiple branches across Hong Kong.
22. The Tai Pan, The Murray, Hong Kong
The Tai Pan at The Murray, Hong Kong creates a feast for the senses. We recommend getting there early to kick things off with some free-flow champagne and cocktails before starting off your food journey at the semi-buffet. Find a variety of salads, cold cuts, and cheeses, or head straight over to the beef carving trolley. Next, you can take your pick between different middle courses, with options such as Lobster Benedict and Angus Beef Tartare. Then tuck into your choice of main, like the Jumbo Tiger Prawns and Seafood Laksa, and Grilled Baby Chicken. Wrap up the brunch at the sweets counter, with its epic selection of homemade cakes, pastries, and fruits. In addition, the brunch at The Murray is also kid-friendly, with an assortment of fingers foods and treats to keep them happy in the children's section.
The Tai Pan, The Murray, Hong Kong, 22 Cotton Tree Drive, Central, Hong Kong, p. 3141 8888
23. Zuma
This chic and spacious Japanese izakaya's brunch is naturally one of Hong Kong's favourites – they've bagged the Gold Award in our 2023 Love Local Awards for Best Brunch! Their weekend brunch runs from 11am to 3pm – plenty of time to sample their sharing plates. For mains, you can opt for flavourful dishes like teriyaki salmon fillet, spicy beef tenderloin, grilled hamachi kama, and more. And then indulge in an extravagant dessert platter served much like a sashimi – fresh fruits on ice, with ice-cream on top and assorted desserts. You can add in 2.5 hours of free-flow bubbles, because what is brunch without free-flow? Choose from their signature, deluxe, or premium selection of French champagne to start your weekend on the right foot.
Zuma, Levels 5 & 6, Landmark Atrium, 15 Queen's Road Central, Central, Hong Kong, p. 3657 6388
24. Hutong
Taste the flavours of northern Chinese cuisine with the Feng Wei Brunch at Hutong. Coinciding with its move to the nearby H Zentre, the weekend brunch menu has also been refreshed, now offering unlimited dim sum and appetisers. And as if the stunning views of the Victoria Harbour aren't enough, the chef also prepares selected dishes at the table for your entertainment. With free-flow champagne, cocktails, wine, sake, and beer as part of the menu, the Feng Wei Brunch is definitely one of our favourite brunches in Hong Kong.
Hutong, 18/F, H Zentre, 15 Middle Road, Tsim Sha Tsui, Hong Kong, p. 3428 8342
25. Ruam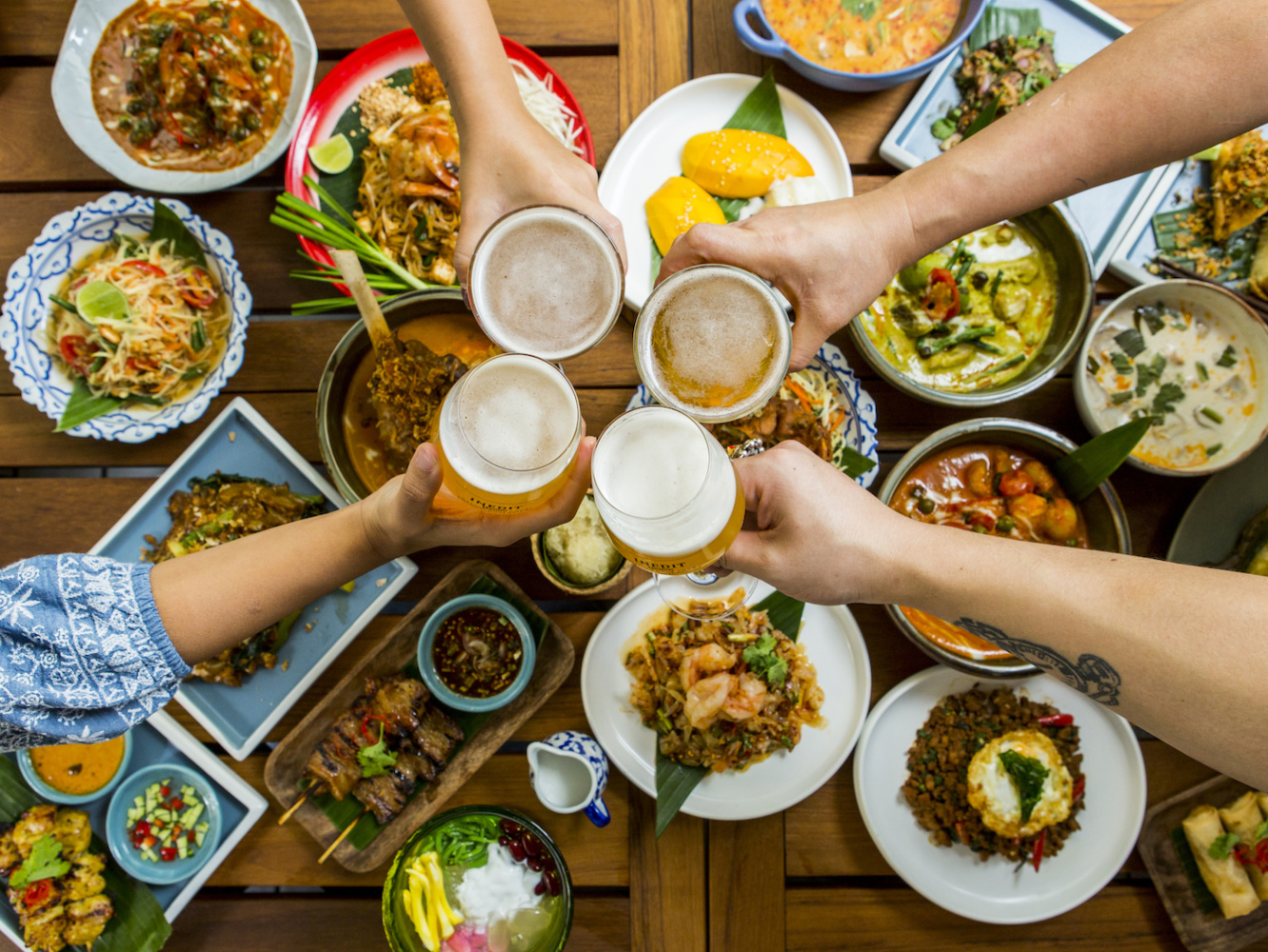 We can't get enough of the Thai extravaganza at Ruam! For brunch, you get to share an assortment of small plates, such as juicy pork neck; Som Tum papaya salad; fresh pomelo salad rice paper rolls; and more, before choosing a main dish from the menu. Enjoy the green chicken curry with jasmine rice, or go for the classic Pad See Ew – whichever you choose, you'll be in good hands. Make it boozy with a two-hour free-flow package with wine, prosecco, and Singha lager.
Ruam, Shop 9, 1/F, J Senses, 60 Johnston Road (entrance on Ship Street), Wan Chai, Hong Kong, p. 3160 8535
26. Spiga
Located in the heart of Central, Spiga's Italian brunch is a perfect way to enjoy Sunday with friends and family in Hong Kong. This al fresco restaurant features one of the freshest buffets in town, filled with premium Italian cold cuts, jet-fresh seafood, salads, and other delicacies. You can also tuck into the meats offered at the carving station, complemented by pasta and hot dishes. Next, order a main dish, with choices such as homemade tagliolini with Italian black truffle, Pecorino fondue, and raw egg yolk; roasted whole New Zealand lamb rack; Piedmontese beef tartare, prepared tableside; and more. In addition to leaving some room for the desserts, you can add on a wine and cocktail free-flow for two hours. This is definitely one of the best brunches in Hong Kong, with the live music making it a lovely meal to remember.
Spiga, 3/F, LHT Tower, 31 Queen's Road Central, Central, Hong Kong, p. 2871 0055
27. Chaiwala
The neighbourhood favourite, Chaiwala, brings good food, drinks, and colour to your weekend! Be transported to India in a venue decorated with flowers, lights, and colourful Holi powder. Dig into a selection of chaats served to your table for sharing, then you can order your tandoor and curry dishes (with vegetarian, vegan, and gluten-free options available), lastly followed by a selection of desserts to close out this brunch. Looking for free-flow? For an extra, you can sip on some lassi, wines, and even champagne.
Chaiwala, Basement, 55 Wyndham Street, Central, Hong Kong, p. 2362 8988
28. Hotal Colombo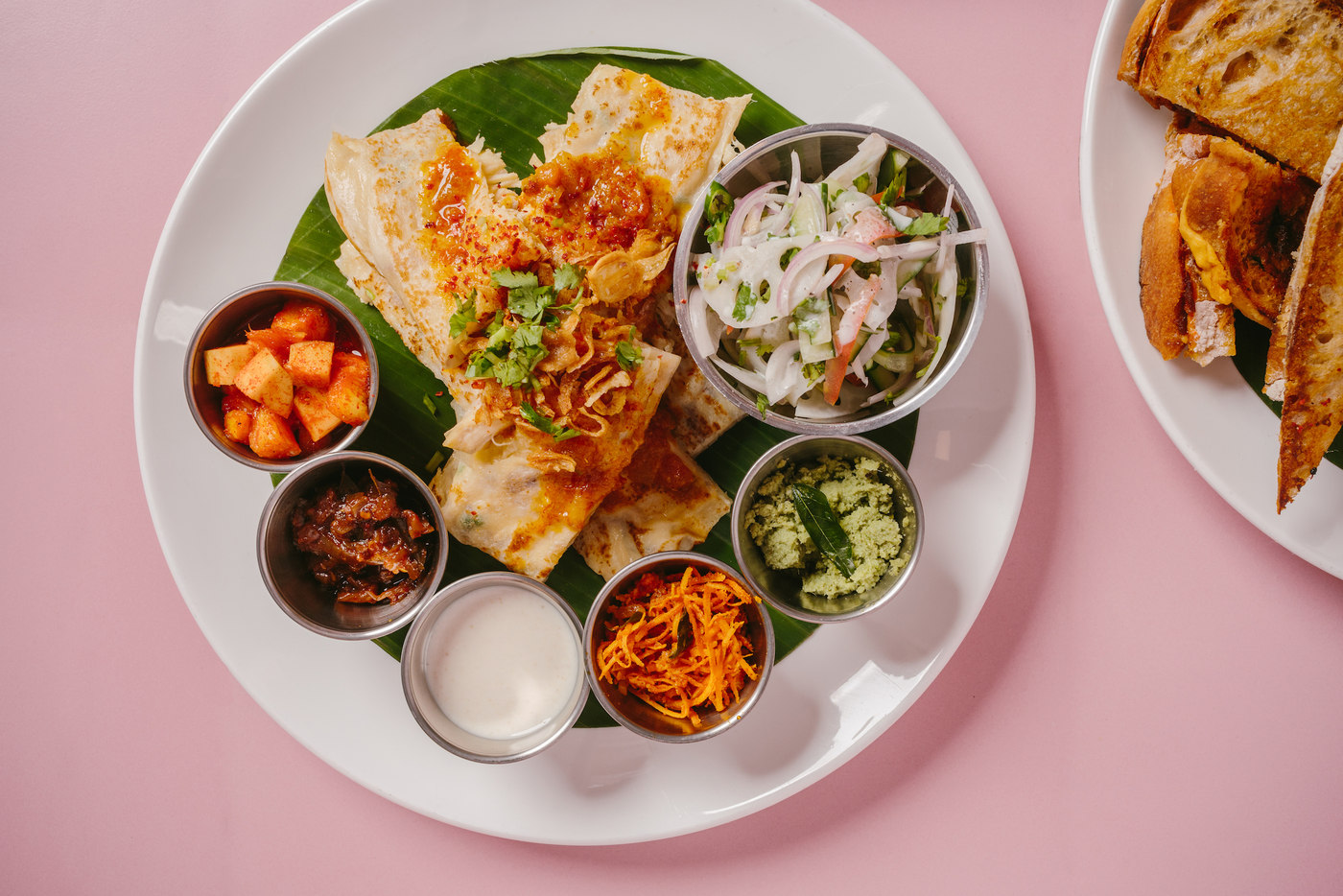 On the hunt for a cheap and cheerful weekend brunch? Hotal Colombo has you covered. Whet your appetite with some devilled chickpeas and other snacks as you decide on which main you'd like to enjoy. Choices include Kothu and Jaffna Shrimp Kari, but our favourite has always been the String Hoppers and Pol Sambol. Throw in a jug of cocktail or a dessert, and you'll be officially done for the weekend.
Hotal Colombo, 31 Elgin Street, SoHo, Central, Hong Kong, p. 2488 8863
29. Casa Lisboa
Home to contemporary Portuguese cuisine, Casa Lisboa offers a fantastic weekend brunch menu. Its Portuguese Winter Brunch offers five starters to share, featuring classics like Red Prawn Tartare; Caldo Verde Soup; and Garlic Octopus, followed by a choice of main. Chase it all down with a sweet treat, and you will be all set to take on the weekend. If you want free-flow bevs to pair with your food, there are sangria, wines, and cocktails available.
Casa Lisboa, 2/F, Parekh House, 63 Wyndham Street, Central, Hong Kong, p. 2905 1168
30. SOMM, The Landmark Mandarin Oriental, Hong Kong
The SOMMkind of Brunch at The Landmark Mandarin Oriental is a deluxe way to mark the weekend! The experience comes with 90 minutes of free-flow sparkling wine, seasonal cocktails, and other beverages curated by the sommeliers. Begin with a huge box of artisanal starters to share, featuring homemade Sourdough Bread, Cinnamon Roll, and Nori Brioche; Freshly Shucked Ebisu Winter Oyster; Home Cured and Smoked Ocean Trout; and more. Then, choose a main from seven options such as the Western Australian Spiny Lobster BBQ on the Binchotan; Toothfish on the Plancha; the signature Bresse Pigeon and Foie Gras Pithivier (to share); among others. End the feast with one of SOMM's scrumptious desserts and you are done for the day.
SOMM, 7/F, The Landmark Mandarin Oriental, 15 Queen's Road Central, Central, Hong Kong, p. 2132 0055
31. Madame Fù
Classic Parisian decor meets Chinese favourites in the historic site of Tai Kwun. Guests here are not only spoilt for choice when it comes to seating and setting, but Madame Fù's weekend Love to Brunch also offers unlimited Peking duck, dim sum, and lots more. We love that there are also full menus for vegetarians, vegans, and those who require gluten-free options. And, of course, don't miss out on the restaurant's free-flow of bubbles, wines, sake, and spirits.
Madame Fù, 3/F, Barrack Block, Tai Kwun, 10 Hollywood Road, Central, Hong Kong, p. 2114 2118
32. LucAle
Brunch for six days a week, with free-flow drinks at no extra cost? You heard that right. At LucAle, get ready to dive right into a food coma with unlimited plates of salads, mixed cold cuts, and burrata with parma ham. Plus, your glasses will always be full, as the brunch comes with two hours of free-flow house red, white, and sparkling Italian wine. If you want something more filling to prep your stomach for the bottomless drinks, opt for a pasta or meat dish to add onto your brunch.
LucAle, Shop A, 100 Third Street, Sai Ying Pun, Hong Kong, p. 3611 1842
33. Fumi
Holy crab! Head over to Fumi to taste the exquisite A4 Miyazaki Beef and Snow Crab Leg Weekend Brunch. Savour unlimited Japanese delicacies, ranging from salads and sashimi, to tempura and grill. You can pick one main dish, such as Assorted Sushi; Mini Rice Bowl with Chopped Toro and Japanese Leek; Japanese Maitake Mushroom and and Vegetable Small Pot; among other options. There are three free-flow packages to choose from, with the most comprehensive one covering champagne, wines, sake, and beer.
Fumi, 6/F, California Tower, 30-36 D'Aguilar Street, Lan Kwai Fong, Central, Hong Kong, p. 2328 3302