From open-air classes in Ubud to ocean-view shalas in Uluwatu, here are Bali's best yoga studios & cool classes to get your "Om" on...
Do you know your Ashtanga from your Kundalini? Or your Bikram from your Bhakti? Whether you're a dedicated yogi or a total beginner on the mat, Bali has long been the place to practice the art of yoga. With its peaceful and paradisal surrounds, its spiritual vibes and wide open spaces for saluting to the warm Bali sun, the Island of the Gods is a yogi's playground – and Bali's best yoga studios are no different.
From hip and happening yoga classes in Canggu and Seminyak, to traditional and ancient practices in Ubud and Sanur, we've stretched and flowed our way across the island to bring you the very best yoga studios in Bali. And to help you decide which one is right for you (are you a Yin yogi or a Bikram buff?) we've also included each studio's specialty, plus the level of practitioner they cater to. Namaste, Honeys!
The best yoga studios in Canggu
1. The Practice
A five-star yoga centre with high-quality classes and world-class teachers in a truly breathtaking setting, The Practice is bursting with impressive superlatives. But what sets this stunning studio apart from the rest (besides its spectacular open-air bamboo structure overlooking the rice fields) is its commitment to bringing back traditional teachings of yoga into our everyday lives – harnessing the principles and teachings of yoga both on and off the mat. They explore the science and art of traditional practice under the guidance of experienced teachers, with daily asana and meditation, master classes, workshops, a monthly women's circle and teacher training programs for both new and experienced practitioners. They even have a virtual online studio so you can stay connected no matter where you are in the world.
Best for: Traditional practices in a community setting for more experienced yogis.
The Practice, Jl Batu Bolong No. 94A, Canggu, p. +62 361 300 3446 / +62 812 3670 2160, e. [email protected]. Open Mon – Sat from 7.30am.
2. Samadi Bali
Samadi Bali is where you'll find daily yoga classes, yoga teacher trainings and holistic wellness treatments all under one roof. They bring in the best yoga teachers in Bali who have trained extensively across the island and around the world. Self proclaimed 'people benders', the team includes multinational yoga experts and community builders. Teaching Ashtanga daily, the Samadi team describes yoga as 'learning to dance with the universe'. They're dedicated to healing and renewal, all in a lush and inspiring environment. Post-stretch, enjoy a thirst quenching coconut and some healthy healing food at their delish Samadi Kitchen lab.
Best for: Advanced Ashtanga Yoga in the traditional Mysore Yoga Style of self practice. Classes for all levels and other styles are also available.
Samadi Bali, Jl Padang Linjong No. 39, Echo Beach, Canggu, p. +62 8123 831 2505, e. [email protected]. Open daily from 7am.
3. Desa Seni
Not only a gorgeous tropical spot to stretch and sweat, Desa Seni is described as an art village that showcases culture, religion and wellness rituals – including traditional yoga classes. With daily classes, personal yoga retreats, wellness packages, a holistic spa, organic restaurant and an artistic gift shop (plus gorgeous accommodation for total wellness immersion), Desa Seni is a true haven for yogis. The dedicated and passionate teachers lead classes that vary from open-level Hatha and restorative Yin, to challenging Vinyasa and Rocket Ashtanga, as well as trance-inducing Kundalini and meditation. All of this takes place in an open-aired Balinese pavilion surrounded by exotic tropical gardens.
Best for: Private yoga practice with a personalised program to improve each individual's wellness.
Desa Seni, Jl Subak Sari No. 13, Pantai Berawa, Canggu, p. +62 361 844 6393 / +62 811 399 536, e. [email protected]. Open daily.
4. Pranava Yoga
Pranava Yoga is a positive space designed for different energy and yoga levels – a place to share a love and passion for both yoga and spirituality. Attracting a community of yogis from all over the world, Pranava Yoga is a grounded melting pot of cultures, surrounded by nature and lush rice fields. The variety of classes here are suitable for all levels, from Vinyasa and Ashtanga, to Hatha and Anti-Gravity Yoga. The intuitive teachers will observe and adjust your postures according to your capability, helping you gain the maximum benefit from the practice by honouring where your body is on your individual yoga journey.
Best for: Anti-gravity yoga and daily classes for all levels in a community environment.
Pranava Yoga at Matra Bali, Jl Pantai Berawa Br Pelambingan No. 37, p.+ 62 361 844 6486 / +62 819 9909 5888. Open daily from 8am (Sun from 9.30am).
5. Serenity Yoga
Laid-back, tranquil, and yet in the heart of vibrant Canggu, Serenity Yoga is a hidden, tropical oasis on the environmentally-friendly grounds of Serenity Eco Guesthouse. Offering both variety and affordability in its yoga schedule, at Serenity, you can choose from more than 10 yoga styles, budget-friendly packages, and even special events on breathwork, self-love and life-coaching. From Power and Aerial Yoga to Yin and Tantric yoga – there really is something for every yogi here. And to top it all off, the whole property is smoke- and alcohol-free, home to an eco-friendly guesthouse, an all-in-one holistic lifestyle retreat with outdoor pool, a permaculture herbal garden and the vegan, chemical-free Alkaline Restaurant for a healthy post-stretch feed.
Best for:  A wide variety of classes and workshops for all levels in a welcoming and affordable space.
Serenity Yoga, Jl Nelayan, Canggu, p. +62 361 846 9251 / +62 811 3888 472, e. [email protected]. Open daily 7.30am – 7pm.
6. Nataraja Bali Yoga Shala
Located on the outskirts of Canggu in the calming residential 'hood of Umalas, this traditional school of yoga is guided by the well respected Indian Guru, Yoga Acharya Nilesh R. Tiwari. As the name suggests, Nataraja Bali Yoga Shala is inspired by Nataraja – the dancing form of Shiva. It celebrates all things movement and healing related, dedicated to spreading and igniting joy. The unique community of yogis here come not only for the range of classes (from Mysore-style Ashtanga to Spine Shakti, as well as Yin and Hatha yoga) but also for the Vedic Kitchen that serves up a nourishing post-stretch menu inspired by Indian Ayurvedic cuisine.
Best for: Specialised classes and therapeutic sessions designed to reach physical, mental and emotional harmony.
Nataraja Bali Yoga Shala, Jl Raya Kedampang No. 67, Kerobokan, p. +62 817 7990 7901, e. [email protected]. Open Mon – Sat.
7. Udara Bali
Udara, AKA air, houses yoga, detox and wellness retreats, all in one adult-only wellness destination and resort. Soul searchers can stretch it out in not one, but four yoga shalas located high up in the air, overlooking the Indian Ocean, Bali's ancient temples and rice fields. Fly high with the resort's specialty Aerial yoga, or feel grounded with healing flows and Yin yoga. Special events like sound healing, theta healing and even silent discos are also held here from time to time, while healthy meals are available every day post-stretch at the organic restaurant. Even when we're not joining a class, we love stopping by for a spa day in the Finnish sauna and ice plunge hidden within the utterly unique meditation cave…
Best for: Solo travellers looking for Aerial yoga classes in an open space, high up in the air.
Udara Bali, Jl Pura Kramat, Seseh, p. +62 361 906 7555 / +62 877 6537 7313, e.
[email protected]. Open daily from 6.45am (Wed from 7.30am).
8. Guan Yin Yoga Shala
Named after the Goddess of Compassion, Guan Yin Yoga Shala is where you go to seek peace and to nurture your body and mind. For starters, it's primely located within the Indonesia-inspired Hotel Tugu Bali, surrounded by lush gardens and cooled by an ocean breeze. The studio itself offers a calming, oasis-like atmosphere, courtesy of the high ceiling, thatched roof and the hundred year old statues (one of which is the 120+ year old statue of Guan Yin herself) and Balinese carvings. Choose from Yang-based yoga (Hatha, Vinyasa or Ashtanga), or Yin and restorative yoga – whichever you fancy, the certified teachers will help you release any pesky energy blockages…
Best for: Those seeking a reprieve from the hustle and bustle in a traditional Balinese setting.
Guan Yin Yoga Shala at Hotel Tugu Bali, Jl Pantai Batu Bolong, Canggu, p. +62 813 3702 0904. Open daily from 8am.
---
The best yoga studios in Ubud
9. The Yoga Barn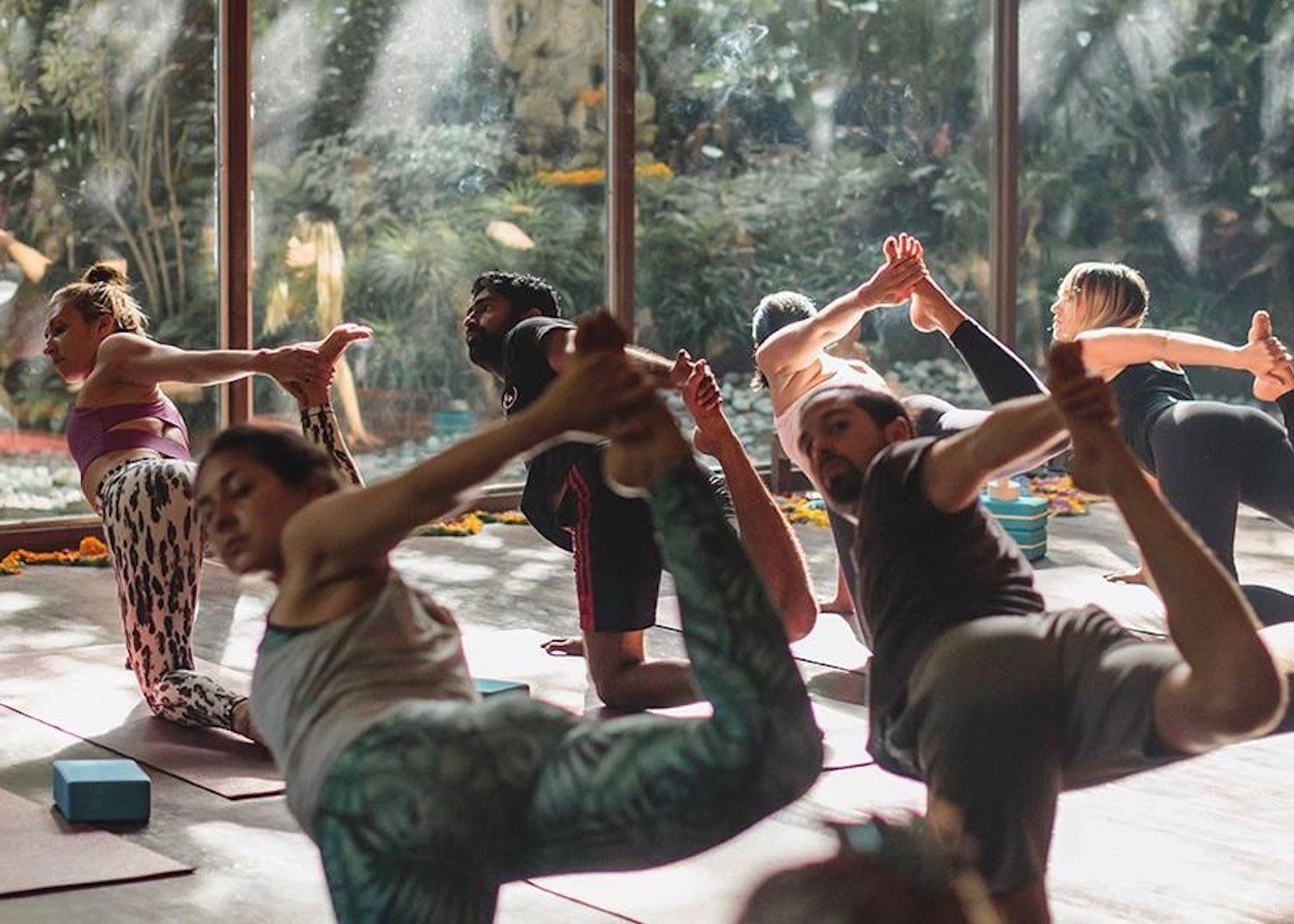 One of the first, largest and most popular studios in Bali, The Yoga Barn is a mecca for yogis in Bali. It's the place where anyone with a yoga mat under their arm is making a beeline for, where healing and renewal meets community vibes and more than 10 daily classes and regular retreats to choose from. The professional teachers and visiting faculty teach classes from traditional Hatha, Vinyasa Flow, Power, Pranayama, Restorative, Iyengar, Yin and Aerial, to meditation and Ecstatic Dance (which we weren't brave enough to try!). As one of the largest yoga centres in Southeast Asia, there's also guest houses here, as well as the Garden Kafe, cacao and juice bars, and if you're really ready for a big life change, you can even enrol onto yoga teacher training courses.
Best for: Everything and everyone, for all levels and yoga types.
The Yoga Barn, Jl Hanoman, Pengosekan, Ubud, p. +62 361 971 236 / +62 811 3983 789. Open daily from 7am.
10. Radiantly Alive
Radiantly Alive is a homely, welcoming yoga studio that truly captures the enchantment of Bali. With its contemporary offerings rooted in ancient traditions and authenticity, the yoga and movement classes, workshops and yoga teacher trainings are all led by professional and inspiring yoga teachers from all over the world. In three gorgeous, dedicated shalas, you'll experience top quality yoga classes in a variety of styles: Radiantly Alive Vinyasa, Ashtanga, Restorative, Sky Yoga, Roll & Release, Kundalini, Yin and Acro Yoga. They also offer workshops for sound healing, mindfulness and trauma release – the options for radiating from the inside out are endless.
Best for: Unlimited class passes and unique healing workshops.
Radiantly Alive, Jl Jembawan No. 3, Ubud, p. +62 361 978 055. 
11. Ubud Yoga House
A beautiful, boutique yoga studio that's all about offering small classes in an open-air space (all overlooking the rice terraces and surrounding jungle!) Ubud Yoga House is a student-centred studio that personalises its classes for both beginners and advanced yoga students. Within a warm, welcoming and homely environment, they offer workshops, sound mediation, retreats and teacher trainings alongside Vinyasa, Yin, Hatha and sunrise yoga classes. If you're after an intimate, boutique-style studio, this one's for you.
Best for: Traditional yoga styles in small, personalised classes.
Ubud Yoga House, Jl Subak Sokwayah, Ubud, p. +62 821 4418 1058 / +62 813 5348 7009, e. [email protected]. Open Mon – Sat from 7.30am.
12. Ubud Yoga Centre
Ubud Yoga Centre is a modern, two-tiered space that's filled with light, art, nature, good vibrations and happy hearts. The three contemporary, clean and naturally-lit yoga rooms here are all powered by solar panels, creating a rare and phenomenal mix of urban vibes with nature and serenity. And with a community mission to welcome yogis of all levels and let them leave feeling light, confident and inspired, the ever-evolving friendly and comfortable space hosts a variety of yoga styles and fitness classes, including traditional Hatha and Yin, to Hot Barre, Inferno Pilates and hot yoga in different styles.
Best for: Hot yoga, in particular Bikram and Hot Power Vinyasa.
Ubud Yoga Centre, Jl Raya Singakerta No. 108 (Jembatan Nyuh Kuning), Ubud, p. +62 361 981 782 / +62 811 3803 266, e. [email protected]. Open daily from 7.30am.
13. Intuitive Flow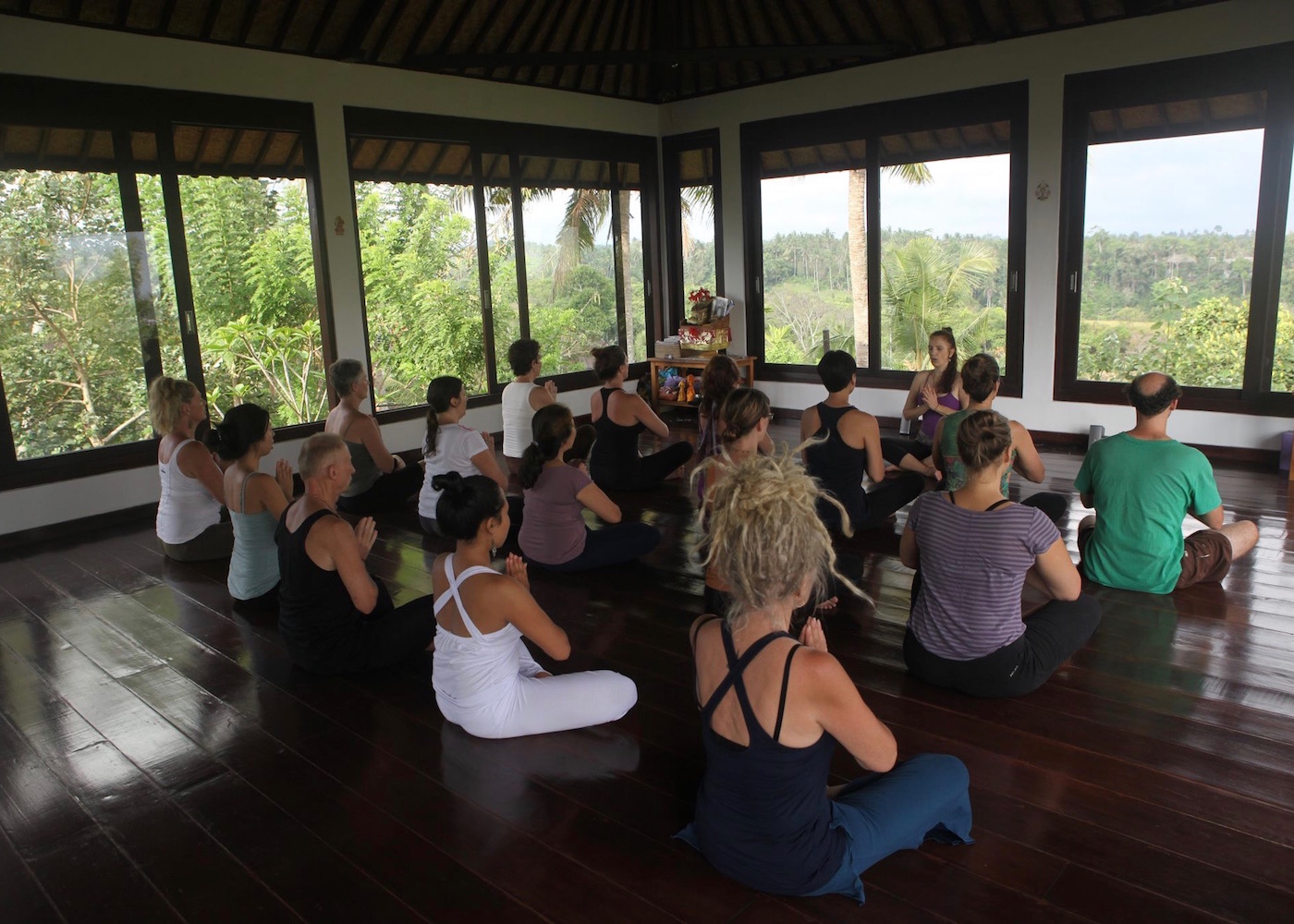 Intuitive Flow is a beautiful yoga studio in the heart of Ubud with breathtaking views across the quiet village of Penestanan. As you stretch your way through the schedule of daily classes, you're surrounded by tropical flowers and the raw and powerful healing properties of the island. All classes are led by a passionate and inspiring team of instructors, covering different yoga styles every day. There's Gentle Yoga for beginners, Yoga Nidra, Hatha Yoga, Vinyasa Flow, Prana Yoga, Restorative, Yin Yoga and more, as well as blissful meditation classes.
Best for: Basic yoga for beginners in a family-oriented environment.
Intuitive Flow, Penestanan Kaja, Ubud, p.+62 361 977 824, e. [email protected]. Open daily.
14. Ashtanga Yoga Bali Research Centre
Tucked away at the top of a picturesque and traditional Balinese village, Ashtanga Yoga Bali Research Centre is the place in Bali for Ashtanga Mysore, Ayurveda and meditation. Their vision is to empower students to become global ambassadors of traditional Ashtanga Mysore Yoga. Taught by guru Sri K Pattabhi Jois of Mysore South India, they teach traditional Mysore as it is the only style of Ashtanga that honours each individual, specifically addressing unique needs and support. They consider this to be the most authentic way to practice and teach, and so they've brought this special practice to Bali.
Best for: Intensive multi-week Ashtanga Yoga Mysore self-practice courses.
Ashtanga Yoga Bali Research Centre, Jl Raya Pejeng Kawan No. 45, Pejeng Kaja, Gianyar, e. [email protected]. Open daily.
15. Alchemy Yoga and Meditation Center
The yogic sister of Alchemy – Bali's first raw restaurant – this yoga and meditation centre brings a wholesome yoga experience to Ubud. Surrounded by lush greenery, each of the daily classes pays homage to a natural element: earth, ether, air, water or fire. And with its calming, eco-conscious studio designed by Bali-based IBUKU (a sustainable architecture firm), it's a very special destination for taking your yoga practice to the next level. After class, stock up on yoga essentials at the eco-friendly store, then recharge with a feast at Alchemy just across the street. And psst… keep your eyes peeled for Alchemy's special community events!
Best for: Eco-conscious, holistic wellness seekers.
Alchemy Yoga and Meditation Center, Jl Penestanan No. 75, Sayan, Ubud, p. +62 812 2837 5036, e. [email protected]. Open daily.
---
The best yoga studios in Uluwatu
16. Morning Light at Uluwatu Surf Villas
Morning Light Yoga Studio is an open-air reclaimed teak yoga shala that envelops yogis in the sights, sounds, and smells of Mother Nature. Designed to help you flow and rebalance, the twice-daily classes here are surrounded by breathtaking views of lush jungle overlooking Uluwatu's famous waves. To really help you discover your Zen, there are even regular retreats each month featuring international legends like American surfer, Gerry Lopez.
Best for: Sunrise and sunset yoga sessions with awesome views.
Morning Light Yoga at Uluwatu Surf Villas, Jl Pantai Suluban, Uluwatu, p. +62 817 555 421, e. [email protected]. Open daily from 7.30am.
17. Yoga Searcher Bali
Nested on the cliffs of Uluwatu, this yoga resort offers a unique yoga retreat centre built inside an original Javanese joglo made from 100% recycled wood. The two yoga studios here offer two different classes experiences: The 160 sqm Big Shala is open for large classes of 50 people or more, while the Little Shala (just 25 sqm) is perfect for more intimate classes, private sessions and small workshops.
Best for: Hatha and Vinyasa Yoga.
Yoga Searcher Bali, Jl Labuan Sait Suluban, Uluwatu, p. +62 811 380 9772, e. [email protected]. Open daily 7.30am – 6pm.
18. Aylan Yoga School
If you want to be pampered from head to toe and feel like royalty whilst mindfully moving through yoga classes, then Aylan Yoga School at The Istana is for you. "Istana" is an Indonesian word for castle, so it's no surprise that you'll be treated like a king during your time here. And with daily yoga classes by Uluwatu cliffs, overlooking the spacious ocean, The Istana is the place to feel oh-so majestic, as you flow through the school's signature Istana Vinyasa classes and Jivamukti Yoga with music, or feel empowered with a fusion of Tantric-Hatha. And FYI if you're up for a spa day, state-of-the-art biohacking is also a specialty here…
Best for: Cliff-side yoga classes with a breathtaking view.
Aylan Yoga School at The Istana, Jl Pantai Suluban, Pecatu, Uluwatu, p. +62 361 769 869. Open daily.
---
The best yoga studios in Seminyak
19. Jiwa Yoga
If you prefer to stretch and sweat Bikram-style, then drop into a class at Seminyak's Jiwa Bikram Yoga. The brainchild of former fashion model, Angie Grgat, Jiwa Yoga leads classes for beginners and experienced yogis alike, working through a series of 26 poses to work every inch of your body, every internal organ, muscle, tendon, ligament and joint. If you haven't heard of Bikram yoga, this practice takes place in a hot-room that reaches temperatures of over 40 degrees Celcius, which allows the muscles to relax, stretch deeper, and create greater flexibility. Jiwa also hosts Ashtanga and Hot Pilates throughout the daily schedule that's updated weekly.
Best for: Hot yoga for both beginners and experienced practitioners.
Jiwa Yoga, Jl Petitenget No. 777, Seminyak, p. +62 851 0041 3689. Open Mon – Thu from 7am & Fri – Sun from 8am.
20. Oasis Yoga Studio & Fitness Centre
This semi-open wooden yoga shala is designed to add some holistic wellbeing to your Seminyak stay. Open to both in-house and outside guests, the drop-in yoga classes here cover a variety of yoga styles. They have lots of wellness programs available too, including colonics and hydrotherapy, and personalised yoga training weeks. And as an added bonus, Blue Karma's dining facility, BKeto Bali, dishes up some delish keto meals loaded with veggies, protein and healthy fats.
Best for: Yoga in small, resort-style classes.
Oasis Studio at Blue Karma, Jl Raya Seminyak, Gg Bima No. 2, Seminyak, p. +62 361 737 898 / +62 819 9007 1888, e. [email protected]
21. Under the Rising Sun or Moon at Desa Potato Head
Morning or night, there's no better way to activate your energy than by calling on mother nature herself! So, head to Desa Potato Head where wellness guru Kim Herben will guide you through a morning or evening yoga and meditation sesh, aimed at getting you ready to start and close the day with renewed energy. An open space right under the rising sun, moon and calming ocean sounds – it's a perfect wellness ritual at Bali's most sustainably built sanctuary, right in the heart of the hip Seminyak.
Best for: Rooftop and open-air yoga and guided meditation.
Desa Potato Head, Jl Petitenget No. 51B, Seminyak, p. +62 811 3800 7979. Open Mon & Wed from 6.30am, Thu from 6.30pm.
---
The best yoga studios in Sanur
22. Power of Now Oasis
So you're biking along Sanur's Mertasari beach, and you come across a beautiful bamboo building and a cow (named Angelique!) calmly grazing on the lawn. Step into this wondrous building and you'll find an eco-friendly yoga studio that is Power of Now Oasis. From Hatha and Vinyasa flows, to Iyengar and Yin – the studio's bamboo walls and floors, plus the breezy ocean view, all add to the relaxing atmosphere as you inhale… and exhale…
Best for: Hatha and Vinyasa flow in a quiet 'hood.
Power of Now Oasis, Jl Retro Beach, p. +62 878 6153 4535, e. [email protected]. Open daily 8am – 5pm (last class).
23. Koa Shala
Located in the very heart of Sanur, Koa Shala is quietly nestled down a banana palm-lined avenue, and once you step through the gate away from the hustle and bustle of life on the street, a peaceful garden sanctuary awaits. The space features a two-storey wooden shala studio, housing different styles daily: traditional Hatha, Vinyasa and Ashtanga, high-powered HIIT yoga and pilates, and Gentle yoga and Yin to finish the day on a blissful note…
Best for: Yoga for all levels, hidden by tropical greenery.
Koa Shala, Jl Danau Tamblingan No. 77A, Sanur, p. +62 823 5905 3384, e. [email protected]. Open daily from 7.15am (Sun from 9am).
24. Umah Shakti
In the midst of a Balinese community compound and tropical gardens is a wooden yoga studio, Umah Shakti. This studio is where you can learn traditional styles of Ashtanga, Vinyasa, Hatha and Yin, as well as yoga with anti-gravity hammocks. Special events like trauma healing, wellness glamping, acupuncture and acupressure therapies are also available for a well-rounded self-care day out.
Best for: Yoga surrounded by the local community.
Umah Shakti, Jl Danau Beratan, Gang XI No. 14, Sanur, p. +62 819 9955 8868. Open daily.
---
The best yoga studios in Nusa Lembongan
25. Yoga Bliss Lembongan
Don't be fooled by Nusa Lembongan's small size – there are plenty of awesome things to do on this picturesque island  just 40 minutes by boat from Sanur), and one of them is moving mindfully, guided by professional yoga teachers. Yoga is a Sanskrit word meaning unification, and a small island getaway is a great way for you to connect with yourself and the environment. Choose from Ashtanga or Vinyasa classes, then cool down with healthy vegan and veggie-friendly refreshments from Green Garden.
Best for: Yoga plus an island getaway with delicious healthy treats.
Yoga Bliss Lembongan, Jungutbatu, Nusa Lembongan, p. +62 812 3766 9466. Open daily from 8am.
26. Yoga Dunia Lembongan
A hideaway far from the hustle and bustle of Bali, Yoga Dunia is where you can go to become more in-tune with your body and mind, as well as nature with its wooden and leafy decor. Start your day with a morning flow and get your energy going, or wind down with calming breathwork or Yin yoga. As for the time in between? Take a dip in the pool, sip a fresh juice, or explore this magical little island.
Best for: Hideaway yoga, just 30 minutes from mainland Bali.
Yoga Dunia Lembongan, Jl Tamarind, Mushroom Nusa Lembongan, p. +62 813 5398 0227, e. c[email protected]. Open daily from 8.30am (Sun from 9.30am).
Namaste, and see you on the mat, Honeys!