Right now, there's no better time to boost your immunity. So try these juice cleanse programs in Bali for a full-body detox, delivered to your doorstep.
Even before this whole Coronavirus pandemic reared its ugly head, Bali has been a mecca for health & wellbeing, with more superfood-rich restaurants, wellness retreats and yoga destinations than you can shake a coconut at. And with the island's abundance of fresh produce, poolside massages and spa treatments galore, Bali is the perfect place to rest, reset and detoxify for a sparkly new you, sans visiting a health retreat.
But don't worry, we're not leaving you to fend for yourself out there. To help you on your wellness journey, we did the detoxing for you to bring you the very best juice cleanses in Bali. After a liquid diet of just juice and sometimes soup, we found these 6 cleanse programs that'll leave you glowing from the inside out in a matter of days…
THE BEST JUICE CLEANSES IN BALI
In the Raw   –   Rainbow Juice Cleanse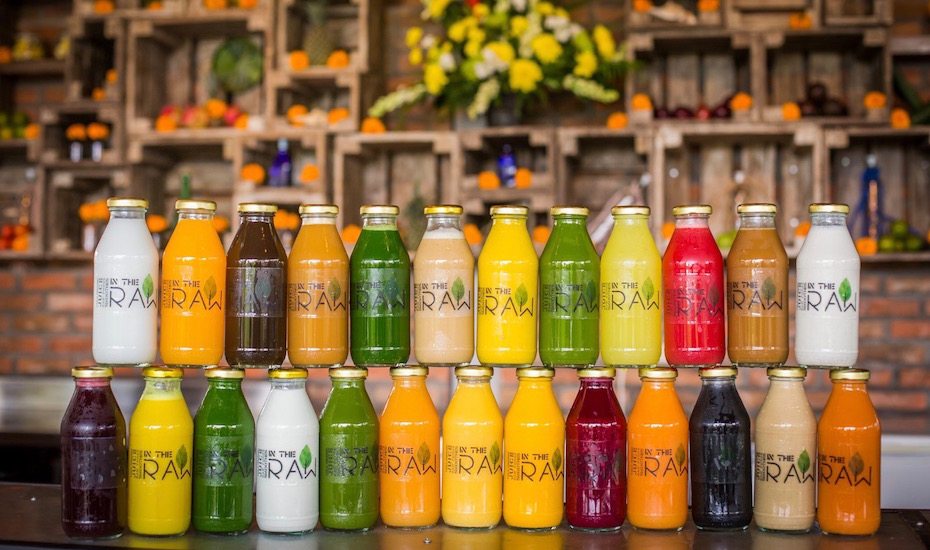 Well known in Bali as a one-stop shop for health goodies a go-go, In the Raw specialises in cold pressed juice cleanses with a rainbow of produce in every bottle. Founded by Mark Baker, one of the pioneers of the cold pressed juice movement in the US, he brought his passion for improving your physical and mental health through juice fasting to Bali. "It's not rocket science" says Mark, "it's all about what you put in to your body and also what you don't put in. A cleanse literally retrains your mind and body to stay away from toxic and processed foods."
In the Raw's juice cleanse programs are completely customisable, usually based around consuming six to eight 350ml bottles of fresh juice a day for the duration. All of the juices taste amazing, each one with just the right balance of ingredients in their carefully curated recipes. With a diverse juice menu, this cleanse never gets boring and gives your digestive system a well-deserved rest. It also floods your body with live nutrients and enzymes, and leaves you feeling on top of the world. Once you've finished, head down to In The Raw Beachgarden in Canggu and get your post-cleanse fill of their healthy bites.
Price:  1 day 330k | 3 days 990k | 5 days 1500k | All delivered to your door. 
Juice and Shine   –   'Live' Low-Sugar Juice Cleanse
The 'Live' cleanse by Juice and Shine consists of raw, cold pressed juices with no sweet fruits or sweeteners of any kind. This makes it an ideal option for experienced cleansers who want a more rigorous detox or for those who cannot tolerate fructose.
Begin your day with the alkaline water infused with cucumber and lemon to kickstart your immune system, then continue your way through seven more colourful juices specifically designed to boost your detoxification system, flush out toxins, hydrate your cells, nourish your body and leave you feeling better than ever. The juices include the Green Wave (with celery, parsley, romaine, spinach, cucumber, lime and ginger), the Sunrise (with carrot, pumpkin, ginger and lime) and the Turmeric Gold – a nutrient-packed blend of turmeric, ginger, lemon, water, coconut flower blossom nectar and chilli pepper. The bottles are quite small, so drink these juices frequently with sips of herbal teas to help get you through. Once you do, you'll emerge glowing.
Price:  1 day 500k | 3 days 1400k | 5 days 2300k | All delivered to your door.
Remix Juice   –   Light Cleanse
Remix Juice handcrafts cold-pressed juices from the heart and each bottle is bursting with an abundance of local produce. If you're not quite ready to dive headfirst into a full liquid cleanse, then their Light Cleanse option could be the perfect segue for you into the world of juicing. Ideal for beginners, this package substitutes one meal a day with one 500ml bottle of Remix juice with a variety of greens, roots, fruits, citrus and raw almond milk.
Remember to keep all the solid meals light, low in calories and rich in fibre to assist your light cleanse. Remix and their Umalas café Remix & Co offer a variety of healthy food options to help you along the way, such as their Buah Bowl (full of tropical island fruits) or Kyoto Bowl – a savoury soba noodle rainbow salad which fits in beautifully with any clean eating regime.
Price:  350k for 5 days | Delivered to your door.
Jiva Juice   –   Juice Reboot
Jiva Juice was founded with a mission to cater to people with all kinds of life goals – we're talking better health, weight loss and mental clarity with their specially designed 1-30 day juice reboot programs. With over 60 health-packed drinks on the menu, Jiva's cleanses really do have something for every taste and target.
A day on the Jiva reboot program will have you guzzling down 3 litres of creatively-made combinations of raw medicinal juices, with the option to make your plan "deluxe" and include energy-rich smoothies, coconut water infusions, booster shots and even creamy dairy-free milks. This makes it ideal for those who want to do a longer cleanse, as along with these more satiating beverages, you can even incorporate plant protein to help you through.
Price:  1 day from 299k | 3 days from 1,090k | All delivered to your door
The Inside Counts   –   7 Day Intensive Detox Cleanse
With its holistic approach to health and wellness, The Inside Counts focusses on programs and products that encourage wellness on a cellular level alongside subtle but sustainable lifestyle changes. Think of it as pressing the reset button while giving your body the foundation to make positive changes to your diet, exercise and fluid intake.
You can start with one-, three- or five-day resets, but our fave (and the most popular choice) is the 7 Day Intensive Detox Cleanse, designed to reset your system by hydrating, energising, rejuvenating and replenishing your body with all the vital nutrients you need. Inclusive of 42 bottles (6 per day) all of the cold-pressed juices are custom-designed using only the best raw, organic and locally sourced fruit and vegetables around, with carefully curated recipes that avoid any spikes in blood sugar levels. The result? Your body is able to reset to its natural state, undergoing a complete detox from the inside out – because that's what counts.
Price:  1,750k for 7 days | All delivered to your door
Motion Fitness   –   Juice & soup detox
Motion Fitness has become a Canggu institution for fitness addicts and those who love to eat clean, delicious, homemade food – all the while supporting local farmers who use organic products. As such, this quaint and cute cafe offers a number of juice detoxes and healthy meal plans to help you on your way to destination glow. Our faves? Try the the Juice Detox, Soup Detox or the Slim Booster Detox. The latter two are ideal for those who want to cleanse yet still have something to chew on…
Dropped right to your villa doorstep, the detox packages are packed full of premium, organic produce nutritionally designed for easy digestion. Flavoured with fresh herbs, spices, Himalayan salt and totally free from refined sugars, these juices taste absolutely delicious, and the Motion Fitness complete service from start to finish makes these wholefood cleanses a breeze.
Price:  1 day from 350k | 6 days from 1600k | All delivered to your door
For Something Different:   Aqua Health Spa's Colon Hydrotherapy
If a juice cleanse alone isn't enough for you, try pairing your liquid diet with a Colon Hydrotherapy treatment at Aqua Health Spa. Located in the heart of Canggu just a stone's throw away from a plethora of healthy cafes, restaurants and yoga studios, the spa's series of colon hydrotherapy sessions may be just what you need to cleanse from the inside out alongside your clean diet. It's designed to gently cleanse and flush out any built up waste and toxins, hydrate the body and assist the hard-working digestive system. The benefits of colonics range from detoxification and weight loss, to mental health improvements, glowing skin and increased immunity, to name just a few. It's the perfect complement to any cleanse, especially juicing, to help clear out toxins released during the fasting process.
Aqua Health Spa uses a state-of-the-art open system machine and is run by an Australian naturopath, so you know you are in the best hands here. An initial course of three or more sessions within the first week is generally recommended to get the most benefits, but you can discuss your individual needs with the knowledgeable in-spa therapists.
Price:  Single session 500k| 4 sessions 1800k.