From dining in a cave in Uluwatu to feasting on Japanese by the seaside in Canggu, these were the very best restaurant openings in Bali in 2022...
With its stunning landscapes, thriving food scene and a global rep as one of the world's most beautiful islands, there's no better place to wine and dine than in Bali. And with so many incredible places to eat (read: award-winning chefs, designer cocktails and sleek architecture too), it's no surprise that finding the best new restaurants in Bali is high priority on every foodie's bucket list. From fabulous fine dining destinations to chic beach clubs and spice-loaded local food too, the island really is your culinary oyster. Luckily for us, 2022 brought us some of the very best new cafes, restaurants and bars, so here's our list of Hot New Tables 2022, AKA last year's hit-list featuring the latest and greatest new restaurants in Bali.
ALL THE BEST RESTAURANTS THAT OPENED IN BALI: 2022
Hot New Tables
1. Skool Kitchen – Canggu
Backed by some of Bali's biggest foodie names (and housed above Canggu's coolest oceanfront destination), Skool Kitchen is the hottest new restaurant by Tai Buddha and Adam McAsey where every dish is touched by fire. A primitive style of cooking meets contemporary culinary excellence here, with its honest modern menu powered by natural wood and charcoal embers. Try the slow-roasted lamb to see exactly what we mean; marinated for over three days in garlic, yoghurt, and spices, before being trussed and hung over the fireplace to roast to perfection. Even the artisanally crafted cocktails get a taste of the flames, like the Burnt Lemon Daiquiri – perfect for watching a fiery Bali sunset overlooking the waves…
2. The Cave – Uluwatu
Serious foodies, this one's for you. The Cave at The Edge is a one-of-its-kind fine dining experience that takes place inside a 25,000 year-old underground cave. And to match such a superlative setting, the menu is the jaw-dropping work of Chef Ryan Clift, the man behind the award-winning Tippling Club in Singapore. This latest venture is a 22-seat subterranean restaurant where you can graze on a seven-course menu of modern gastronomy with interludes in between, all whilst taking in the magnificent rock formations. You also have the option to pair your degustation with wine and cocktails, which isn't mandatory, but highly recommended…
3. Luma – Canggu
A brand new Mediterranean showstopper, Luma is the collaborative work of two award-winning chefs: Cameron Emirali of 10 Greek Street in London, and Kieran Morland of Sangsaka and Merah Putih in Seminyak. The menu is all about rustic dishes that combine classic elements of Southern Europe's traditions, with indigenous ingredients from Bali and nearby islands. Think seaweed-wrapped prawns, Batik lobster risotto and grilled octopus with orzo and a squid ink aioli. And the jewel in the crown here is the charcoal grill and the custom-made, see-through wood fire oven, taking centre stage in the dazzling Luma kitchen. Unsurprisingly so, the carefully curated wine list is second-to-none featuring hand-written rare gems, while the cocktail list follows the menu's lead by using local ingredients for a tropical twist on the classics.
4. Yuki – Canggu
Tuna truffle sushi, nori ahi tacos and even vegan yakitori – Yuki is Canggu's brand new modern Japanese izakaya with some of Bali's biggest hospitality names behind it. And it shows. Served up right beside the seaside, Yuki's boundary-pushing menu is a fusion of fine ingredients and contemporary twists, topped off with an impeccable drinks list and a nifty fit-out too. To find this breezy beachfront spot, follow the beautiful Canggu crowds to the Batu Bolong seafront, where classic cocktails, cold beers and hot sake are served up alongside Japanese aesthetics and some of the best Japanese bites this island has ever seen.
5. Bokashi – Berawa
A healthy grocery store and Japanese-inspired cafe & teahouse, Bokashi is all about organic produce, farm-fresh ingredients and an earth-conscious ethos. You'll know exactly where your food comes from here, because Bokashi's produce is sourced from their very own organic farm. As for the grocery store, expect the same hyper-local concept, plus bulk goods sold in sustainable or recycled packaging. But back to that food… Japanese influences pay a big role here, not only in the wabi-sabi inspired interiors, but in each dish too. The menu is ever-changing to match the season's harvest, but expect full-flavoured staples like the avocado and edamame smash, the pulled oyster mushroom sandwich, or the hearty seafood pie. We love the earthy interior design as a reflection of the farmhouse-style menu – topped off by an entire tasting menu of teas.
6. Mosto – Berawa
Indonesia's very first natural wine bar has officially landed in Berawa, and with it comes a relaxed and unadulterated vibe inspired by the neo-bistros of Paris and Sydney's flourishing wine bar scene. The brains behind Mosto are certainly worth a mention too: a powerhouse collective of six industry superstars from Bali's pioneering Mexicola Group: Da Maria, Luigi's, Uni and Motel Mexicola. Together, these F&B trailblazers bring decades worth of experience to the tabletop, and the result is a forward-thinking food menu (hello skewered ox tongue!) and a drinks list of more than 70 different low-intervention wines and zero-waste cocktails. New releases, rare cuvées, special events and international wine fairs will also be a Mosto mainstay, so vinophiles, watch this space!
7. Tabu – Uluwatu
Mexico meets Japan at Tabu – one of the most exclusive and elegant destinations to open in Uluwatu. Brought to us by the unstoppable Ours Group (the peeps behind Ours restaurant and Our Spa) none of the Ours flair or flavour has been lost at this hot new spot. Think truffle parmesan croquettes, hamachi ceviche rojo and prawn chipotle tacos. And of course, the cocktails are not to be missed either. A smoking Old Fashioned, Grand Negroni and a Bloody Maria keep us coming back every evening. And it goes without saying, you'll need to make a reservation here, as this place is booked out most nights.
8. Segno – Canggu
From Koda in Jakarta to the heart of Canggu, Yutaka Nakashima brings his contemporary flair to Segno – a discreet cocktail bar hidden above Canggu's other must-try newbie, Luma. Step through the sliding door and you'll find an alternative bar experience where the bartenders and their craft take centre stage, surrounded by comfy armchairs, wooden furnishings and a laid back atmo – a welcomed contrast to Canggu's wild party scene. Of course, Segno's selection of creative cocktails are not to be missed, featuring local ingredients like pandan, moringa, coffee and lemongrass. You can even ask the Segno superstars to concoct your own bespoke cocktail, according to your tastes and preferred tipple. We say, pair it all with the special gourmet menu from the Luma kitchen downstairs, from cheesy arancini and creamy burrata, to fine imported lamb and soft shell crab.
9. Bartolo Restaurant & Bar – Uluwatu
Bringing a totally fresh and innovative new dining destination to the Uluwatu 'hood, Bartolo is an elegant European bistro that's unlike anything else around – and we can't get enough. It's the perfect place to swing by for next-level cocktails, or to catch up with a group of friends over shared plates and charcuteries made from locally-sourced and seasonal ingredients – all of which is rooted in European flavours. The menu itself is compact yet punchy, with mind-blowing signatures like the tuna crudo with peperonata, the market clams in a creamy aioli sauce, or the grilled ox tongue with bagna cauda. Of course, all of this is best paired with those next-level cocktails. The margarita with black lime and smoked honey is the best we've tried in a long, as is the cacao-infused Negroni or the Calamansi Paloma. Sit indoors amidst the black-and-white tiled interiors, or go al fresco for those European piazza vibes…
10. RAMU Kitchen – Ubud
True to its Bali roots, RAMU Kitchen in Ubud is bringing traditional values of wellbeing to its farm-to-table concept. This Asian-European fusion restaurant celebrates Bali's rich soil and local farmers by highlighting fresh, high quality and locally sourced ingredients in each of its dishes. Think rotating and seasonal menus consisting of buffalo carpaccio, fish risotto and truffled focaccia, best paired with drinks inspired by the herbs and spices of the land. Sit by the pool bar or the pool terrace and bask in Ubud's jungle vistas, or cosy up in the indoor seating area, with its earthy tones, rattan furniture and wooden decor. Love!
11. Terrazza by Santanera – Canggu
Giving us even more reason to love Santanera in Canggu, Terrazza is the rooftop tapas bar above the main restaurant that overlooks endless ocean. This stylish hangout spot seats just 90 lucky guests, welcoming you with a breezy spring garden ambiance, where you can mingle and munch on a fine selection of pinchos AKA classic Spanish snacks. Each plate is packed full of South American and Mediterranean flavours, inspired by chef and co-founder Andres Becerra's travels. This fusion menu is best paired with Terraza's fine European wines, or the creative cocktails like the Casoni – a negroni-based cocktail made with blood orange, lemon and a dash of sugar. Our top tip: stop by for a sunset aperitivo before making your way downstairs to a romantic dinner at Santanera. Afterwards, head back up for a post-dinner nightcap and a chill party vibe, courtesy of the live DJ playing every Friday night.
12. AKASA at Jumeirah Bali – Uluwatu
The latest addition to the world-famous Jumeirah Bali, AKASA is a premium wood-fired concept using the very best ingredients the island has to offer. This signature cliffside venue welcomes avid foodies with awe-inspiring views of the ocean and chef Joan Achour's Asian fusion menu served on large platters to share. Start with a plate of grilled Jimbaran prawns, and make a surf-and-turf night out of it with the tender lamb rack with yakiniku sauce. As for dessert, you'll want to try the creative fusion of French and Asian cooking, like the Pandan Crème Brûlée, served with homemade kaya jam. You won't want to miss the signature cocktails and smoked concoctions either – try the Sichuan Cognac Sour for extra spice, or the BBQ Merry Bacon made with vodka, cajun spice, BBQ hickory sauce and cherry tomatoes. If you just can't make up your mind on which dishes to order, our top tip is to try the Chef's Table experience – you won't have to worry about choosing, as the chef curates a set menu which features high-end ingredients like foie gras, lobster, marble cod and more!
13. Portofino – Ubud
Drawing inspiration from the Italian Riviera, Portofino dishes up Mediterranean cuisine with a modern flair. You'll find Italian staples here, like the classic whipped ricotta mousse served with the house focaccia bread, or small bites like fried zucchini flowers and house-cured smoked salmon. For the mains, it's all about comfort food with a twist – try the prawn and vongole linguine mixed with lemon and anchovy butter, panagratto and parmesan cheese. And of course, an Italian feast is not complete without a glass (or a bottle…) of fine wine, so Portofino ticks all the boxes in the vino department too.
14. Cliff at Canna – Nusa Dua
The latest venue to open within Nusa Dua's brand new beach club is Cliff at Canna – a scenic fine dining restaurant serving stellar cuisine and million-dollar views. As expected, the sophisticated ambiance is the name of the game here, with oh-so elegant decor made from upcycled materials, topped off with dimmed lighting, live performances, an outstanding wine list and floor-to-ceiling windows that reveal those magical views of the sand and sea. As for the menu, founder and celebrity chef Chandra Yudasswara has designed each dish based around three different seasons, meaning every four months, you can taste something completely new…
15. Mason – Uluwatu
From Canggu to Uluwatu with love (and a whole lotta  well-deserved hype), Mason is once again taking Bali's food scene by storm with this stunning second location. Sitting in prime position on Uluwatu's most happening corner, Mason Uluwatu's breezy indoor-outdoor dining area is filled with tropical plants and a hypnotic buzz from the bustling open kitchen. Low lighting, cosy seating and all of Mason's menu favourites set the scene, flocked by Uluwatu's finest, hungry for a taste of longstanding signatures (like the 48-hour slow cooked short ribs) and new Uluwatu-specific additions. We can't get enough of the lamb kleftiko, or the giant Papuan prawns. Wash it all down with superb cocktails, like the Margarita A La Mason, or our fave, the Paper Plane with bourbon, aperol, amaro and lemon.
16. Alchemy – Uluwatu
Another Uluwatu import, Ubud's OG vegan restaurant has also made a second home in Uluwatu, this time in the quiet Bingin 'hood. And just like its first location, Alchemy Uluwatu is honouring Mother Nature by using all-natural, sustainable and organic ingredients. The kitchen serves up a wholesome menu of raw and gently cooked plant-based and gluten free creations, like big colourful salad bowls, chunky sandwiches and an all-day breakfast menu too. Start the day off with a Tumeric Latte, and grab a Spinach Mushroom Quiche in between surf sessions. As for dinner, share a Pumpkin Moringa pizza (or eat it all yourself!) and pair it with Alchemy's homemade kombucha.
17. Bonito Fish Bar – Umalas
Fresh-from-the-net sustainably caught seafood is what's on the menu at Bonito Fish Bar – the newest venture from Chef Maurizio Bombini and the sister to Seminyak's acclaimed Mauri restaurant. In comparison to its fine dining predecessor, Bonito is a casual restaurant and seafood delicatessen, celebrating the flavours of the sea with its cooked and raw fish creations. And you can even choose your catch from the chilled display counter, or order the imaginative plates from the menu for a taste of Chef Maurizio's true culinary flair. From oysters and ceviche, to charcoal-grilled prawns and even soft-shell crab tempura sandwiches, Bonito Fish Bar gets three thumbs up from us.
18. Izzy Izakaya Street – Sanur
This one's not just a restaurant, but an entire street's worth of epic Japanese cuisine. Izzy Izakaya Street is Indonesia's first and only Izakaya street, where you can bounce from different dining destinations throughout the evening for a taste of absolutely everything. The idea is inspired by Kyoto's vibrant nightlife scene, and hosts not one, not two, but six food concepts to munch through. Start at the deep fried bar for delish bites, before meandering to the indoor Ikigai sushi restaurant. Follow it up with ramen, yakitori and teppanyaki, before wrapping it up the dessert shop. Thirsty? There's even a pub on the street slinging cocktails with Japanese twists, as well as nightly live music to keep the Kyoto vibes alive…
19. Burgreens – Canggu
When two plant-based powerhouses collide, you get Burgeens in Canggu – an all-vegan restaurant described as a "Plant-Based Paradise". This collaborative creation is between Burgreens – a leading plant-based food chain in Indonesia – and Green Rebel, an Indonesian food tech start-up developing all-natural plant-based meats and cheeses with authentic Asian flavours. Think vegan Rendang, the Mighty Mushroom Burger, a beef-less steak, and vegan boba. Or our fave: the Balinese Nasi Campur with sate lilit, chick'n sambal matah, long beans plecing, and balado tempeh and tofu. The kicker? Beautiful breezy interiors overlooking Canggu's iconic rice fields…
20. The Suku Bali – Ubud
A farm-to-table restaurant hidden in the hills of Ubud, The Suku Bali has been built with five of our favourite things in mind: food, community, coffee, art, and music. The restaurant itself is truly breathtaking, but it's what's happening behind the scenes that's really impressive. Suku is committed to supporting an ethical food system, minimising waste and offering world-class quality at a fair price. All of this while changing the menu according to the seasons and produce from local farmers and fishermen. The result? Fresh-from-the-net red snapper with pea puree, pan-search duck with seasonal veggies, and our fave, the carrot ravioli with emmental cream and a parsley oil. Yum!
21. Donna – Ubud
Spanish tapas in the jungle? Check out Donna Ubud. This brand new wining and dining destination is a lively addition to Ubud's culinary and nightlife scene, with scrummy tapas best shared with great company, delectable desserts, and expertly crafted cocktails (some of which are served in a plume of smoke!). Book a hot-seat for a candlelit dinner, and try the house specialties like the grilled pork ribs served with a Spanish BBQ sauce and spiced butter. Pair it with a glass of Margaret River Shiraz from the wine cellar, or head to the rooftop bar for a signature cocktail. Not ready to head home? Stick around for live music and dancing beneath the stars.
22. Gabbi – Berawa
With sustainability at the forefront, Gabbi is Berawa's latest modern Italian restaurant that offers a delicious tribute to its beautiful Bali home, with a farm-to-table concept, line-caught fish and seasonal ingredients. The menu is a clever blend of cultures and flavours: think fish-of-the-day crudo with a coconut dressing, babi guling with pine oil and cannellini bean sofrito, and even french fries with sambal mayo. Finish it all off with the rich and creamy 'Gabbi Alexander' cocktail – night caps here are not to be missed.
23. Kai Cafe – Berawa
Taking inspiration from Australia's modern cafe culture, Kai Cafe is a cosy catch-up spot in Berawa with great food and superb coffee. It's designed to make you feel right at home, with warm interiors and a rice paddy vista right outside the windows. The menu is packed full of home favourites too, like smoked salmon and avocado for brunch, gnocchi and burgers for lunch, and fine imported steaks and local seafood for dinner. You'll want to graze through all the small plates (hello burrata, tuna tartare and snapper croquettas!), and psst, don't leave Fido at home, because Kai Cafe is pet-friendly too!
24. Doheny – Canggu
From Cali with love, Doheny is a chic neighbourhood cafe footsteps away from Canggu's famed Echo Beach. Dishing up LA faves with a twist, this tropi-cool hangout spot welcomes you with homey indoor seating and an outdoor dining area surrounded by lush greenery, and of course, an all-day scrummy menu! Start your day off right with a selection of coffees (made with hand-picked local beans0 and the vegan-friendly Tropical Acai Bowl. Stop by for for lunch and graze on healthy salads, or go big with the Korean Chicken Sando with spicy gochujang sauce. The dinner menu is all about comfort food with modern touches: try the crispy free-range pork with raspberry red wine jus, or the gourmet 'hotdog' with tiger prawns and homemade mayo. Pair your meal with Doheny's signature cocktails – we love the Pink Negroni and the Demenan Komang, made with pineapple arak, Coco Lopez and passionfruit.
25. Shichirin – Ubud
Hungry for charred meats and veg? Check out Shichirin in Ubud – a casual take on a Japanese BBQ, where you'll get to watch your food grilled right at your table. Aside from the Konro grill, the chefs showcase authentic Japanese cooking techniques, like teppanyaki and gyukatsu. This 16-seat restaurant gives you high quality and fresh ingredients, carefully prepared with some true Japanese flavours. Start with the hibachi enoki maki – enoki mushrooms wrapped in sliced pork, drizzled with teriyaki and yakiniku sauces. Then, taste the premium Tokusen Wagyu tenderloin, served with assorted vegetables and a trio of sauces. You can't go wrong with any of the desserts (yuzu cheesecake or tempura matcha ice cream, anyone?!), and for the full experience, sip your way through the Japanese-inspired cocktails, which feature unique ingredients like wasabi, yuzu, shiso and sake.
26. Chow Chow – Canggu
Love Ling-Ling's in Seminyak? We have good news: Chow Chow is Ling-Ling's little sister, this time bringing its contemporary Asian fusion cuisine to Canggu. The quirky kitchen team is dishing up everything from Wagyu wasabi tacos and tom yum fried rice, to weird-and-wonderful rolls like the Fist of Unicorn; a magical combo of eggplant schnitzel and sambal matah. Wash it all down with epic cocktails, like the Japanese pomelo margarita rimmed with chilli lime salt, or the Lemongrass Negroni. We'll take two!
27. Kokokan at Kappa Senses – Ubud
Kokokan is a contemporary semi-gastronomic restaurant within the grounds of Kappa Senses – a hidden sanctuary amongst Ubud's lush rice paddies. Here it's all about fusing Indonesian and Western cuisines, and taking it to the next level with modern preparation using state-of-the-art equipment and the best locally sourced produce. The restaurant features indoor and outdoor dining, but we say, come early for sunset, and choose a seat by the window that overlooks the never-ending rice field vista…
28. Valle Paddy Club – Canggu
Sitting right amongst the rice terraces of Canggu, Valle Paddy Club is a restaurant, bar and lounge where luxurious lifestyles meets the beauty of mother nature. Executive chef Koizumi Hiroshi takes you to Hokkaido with traditional Japanese cuisine AKA washoku, whilst still paying homage to Bali's climate and culture. The menu features healthy and fun dishes made with high-quality ingredients, like the chef-recommended soba noodle, freshly made with imported buckwheat flour all the way from Japan for utmost authenticity. After grazing your way through the menu, unwind at the sun deck, take a dip in the glittering outdoor pool, and chill 'til sunset as the DJ spins some sweet tunes…
29. Banana Lounge Bali – Bingin
Bring an appetite and your bikini, because Banana Lounge Bali is Bingin's newest pool lounge and restaurant where you can graze all day on the wholesome menu, sip your way through the carefully curated cocktail list, and take a break by the poolside soaking in the sunshine and breezy Bingin vibes. We say, come early for brunch, smoothies and freshly-brewed coffee, then stick around all afternoon to feast on pan-roasted baby snapper, Caesar salads, chicken skewers and the oh-so creamy burrata cheese. Order a bottle of bubbles to a cabana, or make it a Margarita on your sunbed. And did we mention, Banana Lounge Bali is just footsteps from the main entrance to Impossibles Beach? A trip down to the sand is highly recommended here, then head back to the poolside for a sunset dinner and cocktails on the ocean-view rooftop. Not ready to leave? Banana Lounge Bali is part of the bamboo-beautiful Jellyfish Villas, meaning you can check-in for a night and do it all again tomorrow…
30. MOAI – Canggu
Bringing Japanese flavours to the famed Canggu shortcut, it's definitely worth making a stop at MOAI for a lunch break, business meeting or a family night out. This haven for Japanese cuisine and seafood serves up a gourmet menu with innovative gastronomic twists to traditional cooking methods. For a light lunch, try the poké bowl or freshly prepared nigiri, sushi rolls and sashimi. If you love seafood, treat yourself to the Sea King Roll with salmon, butterfish and tuna served with unagi-honey-wasabi sauce. On a rainy night, try the chef-recommended Misohiru – a bowl of vegan miso soup with tofu, spring onions and seaweed, while the kids can feast on Little Tiger rolls and maki.
31. FriendSip – Sanur
A classic French wine bar tucked away down one of Sanur's small alleyways, FriendSip is a hangout spot for friends and family to sip the night away. You'll have the best of both worlds here with casual and cosy vibes, and sophisticated French appetisers like foie gras, frog legs and fried camembert. The mains are all about sharing, all thanks to the chef's specialty platters of cold cuts and cheeses. Or, for a fun dining experience, go all-out with pierrade and fondue – cook-your-own meat platter with your choice of three sauces. Pair it all up with FriendSip's selection of wines, or on cooler nights, warm up with Max's Vin Chaud – French-style mulled red wine, spiced with orange, cloves, cinnamon and sugar. For wine connoisseurs, look out for FriendSip's weekly wine tasting… wine not?
32. BaliSabi Poké – Sanur
Poké fans in Sanur, this one's for you! BaliSabi does poké-everything, from classic bowls to gluten-free wraps and poké sushi burritos too. This modern and stylish restaurant offers a pick-and-mix experience, where you can let your creativity run wild and make your own bowls. Choose from rice or a colourful salad base, a variety of proteins (chicken, fish, crispy tempeh, eggs or tofu) and toppings, and finish it all off with a homemade sauce (try the sweet and tangy mango curry sauce). It's the perfect place for a laid-back lunch, surrounded by boho-chic interiors with warm and earthy tones, comfy cushions and rattan chairs.
33. The Kelusa – Ubud
A hidden gem surrounded by the mystical Payangan rainforest, The Kelusa at Samsara Ubud is set to bring us the best of both worlds: classic and refined Indonesian dishes alongside specialty signatures with unique culinary twists. Chef Iwan Sutrisno is the man behind the menu, fusing local ingredients with modern cooking techniques. Start with the Sambal Be Tongkol (a spicy tuna salad with shallots, lemongrass, chilli and local basil), then move onto the pan-seared barramundi before finishing it all off with Gethuk – a traditional Indonesian dessert with sweet cassava, vanilla custard, a mixed nut crumble and vanilla ice cream. Pair it with The Kelusa's signature cocktails, like the Popcorn Sour, or select a wine from Samsara's cellar. Our top tip: on dry nights, grab a seat on the balcony for a romantic dinner beneath the stars.
34. Tony's New York Pizza – Pererenan
Hungry for a fuss-free slice of damn-good pizza in Pererenan? Check out Tony's New York Pizza. No embellishments, no nonsense, just good ol' New York-style single slices of pizza, served on the humble paper plate. You'll find all of the classics here, from pepperoni to six-cheese, and salami and jalapeño too. For the veggos, try the vegetarian-friendly Grandma square slice with fresh and chunky tomato sauce, or the fried eggplant and ricotta. All of the pizza dough here is left to proof for 48 hours, before being baked to a crispy yet floppy crust where the cheese go all brown and bubbly. The result? Perfect pizza that you can fold and eat the New York way. Try a whole 12-incher for two, or gobble the 18-incher with friends. We bet you'll be back.
35. Koast Cafe – Canggu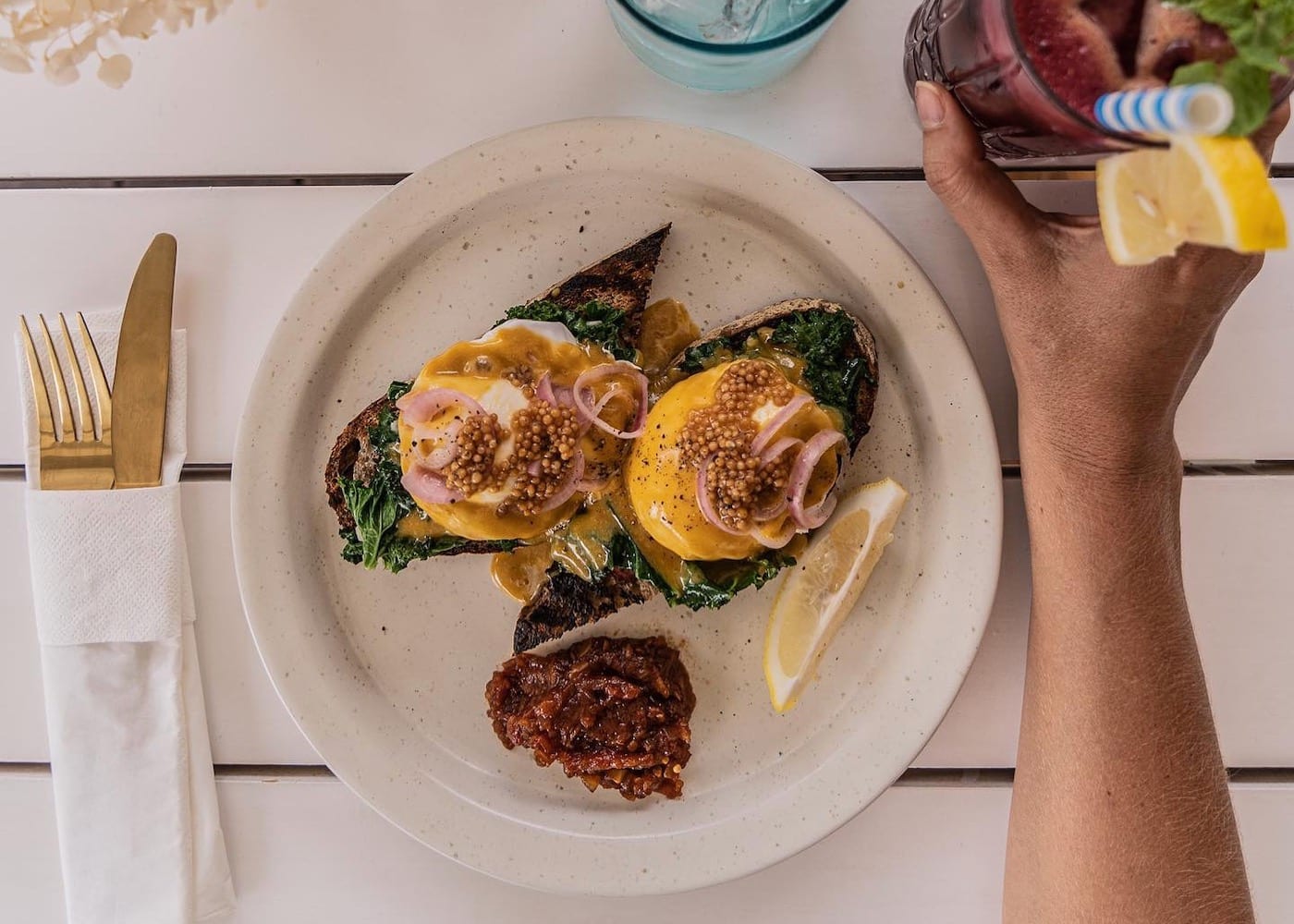 Shabby chic island-style interiors? Check. A glittering pool that's just made for post-brunch dipping? Double check. An all-star lineup of brekkie, brunch and lunch staples that use local and organic ingredients from in and around Bali? Check, check, check! Yup, Koast Cafe is Canggu's freshly reopened daytime destination with easy-breezy coastal vibes that make you want to linger a little longer – helped along by Koast's brioche Wakey Wakey burger, tropical poke bowls and the signature Eggs Benny, loaded with a slab of bacon, kale, poached eggs, pickled shallots and an espresso hollandaise. Don't forget your bikini, because just footsteps from Koast's pool you'll find the ever-famous Echo Beach…
36. Lolita – Canggu
Japanese street food and kawaii presentation for the 'Gram – Lolita takes you on a culinary journey that involves all five senses. The restaurant's concept is inspired by Japan's iconic fashion style: Lolita – cute, Victorian clothing for a sophisticated "tea party". As for the menu, it's packed full of fresh ingredients and bold flavours (to match the colourful murals), prepared with natural cooking techniques like the kitchen's specialty robatayaki (Japanese charcoal-grilling method). It's not just a restaurant, Lolita is a combination of art, scrummy food and uber-relaxed vibes.
37. La Tabla by Mar – Kerobokan
A Mediterranean oasis set amidst emerald rice paddies, La Tabla by Mar brings the best of Spain all the way to Bali. The island's masters of seafood – the peeps behind Mar Seafood Restaurant Bali – present a sophisticated menu meant for sharing, from breakfast to dinner and beyond. Think mezzes and tapas, or large sharing plates of classic Spanish- and Moroccan-spiced meat, seafood and vegetarian creations. As for drinks, classic cocktails are made with quality, locally sourced ingredients. All of this in a tropical, semi-indoor setting – palm trees, wooden furnishings and colourful cushions included!
38. Behind the Green Door – Canggu
One of the latest additions to Canggu's speakeasy scene, Behind the Green Door knows exactly what the cool crowds want: an intimate bar experience with fine cocktails, great music and of course, delectable little nibbles, all in a cosy lounge area. With an award-winning mixologist, Harris Mahendra, at the bar and Kilo Collective's chef Jethro Vincent in the kitchen, you'll get to taste perfectly paired zero-waste cocktails and gourmet bar bites too. Think Japanese oysters, smoked potato dauphine or chicken liver parfait cigars. Just make sure you know the password to open the hidden, mysterious green door…
39. Casa Curandera – Ubud
At Casa Curandera, you'll find traditional Colombian and Italian favourites, all made from plant-based ingredients. This organic vegan restaurant even uses herbs, vegetables and fruits grown in its own permaculture gardens to create its culinary magic. The Jungle Breakfast is inspired by the surrounding greenery and river, while lunch and dinner is all about generous servings of gourmet bowls, tacos and homemade pasta and gnocchi. From the open-air dining room to the wholesome menu, you'll feel like you're in tu casa here, all in the midst of Ubud's lush jungle…
40. El Camino – Ubud
A brand new Spanish bistro, El Camino's menu guides you through the routes of El Camino de Santiago – an ancient pilgrimage leading to Catedral de Santiago de Compostela. With a focus on seafood, fish and traditional Spanish gastronomy paired with Spanish wines, expect dishes rich in classic Spanish flavours and served up tapas style. Try the empanada, the croquetas and whatever you do, don't miss the seafood paella. Set in an elegant, minimalistic space, top it all off with Spanish wines and Ubud's warm hospitality.
41. Bistro Anwa – Umalas
Located within the three-storey Anwa Bali, Bistro Anwa brings a family-friendly Western-style bistro to the Umalas 'hood. Every dish is packed full of organic, nutritious and fresh ingredients, from brekkie and lunch, all the way through to dinner, cocktails and dessert. Start your day right with a creamy eggs benny, a fresh smoothie, or our fave, the Pea Perfect featuring crushed peas on sourdough with poached eggs, feta, mint and preserved lemon. Then for lunch, it's all about hearty comfort food, like homemade pizzas, juicy burgers and zesty plates to share. Be sure to bring the whole family too, because there's regular happy hours for mums and dads (best enjoyed on the breezy rooftop), movie nights for kids (popcorn included!) and even a fully air-conditioned sports bar that sits next door to the blissful Anwa Spa… thumbs up all around!
42. Sababa – Canggu
Sababa, AKA "awesome", is a Middle Eastern and East Mediterranean restaurant sitting in the midst of Canggu's food hub. The region's famous spices are packed nicely into some delicious and authentic dishes. From classic kefta, falafels and shakshuka, to octo-ganoush (grilled octopus on creamy babaganoush) and Levantine grilled meats. Sharing is the name of the game, with every dish served family-style or grazing mezze plates. Complete the feast with yummy desserts and cocktails, all with a Middle Eastern twist. Plus, the restaurant's warm-toned interiors and low lighting give extra homey vibes, perfect for romantic date night or a family night-out.
43. Poke Theory – Canggu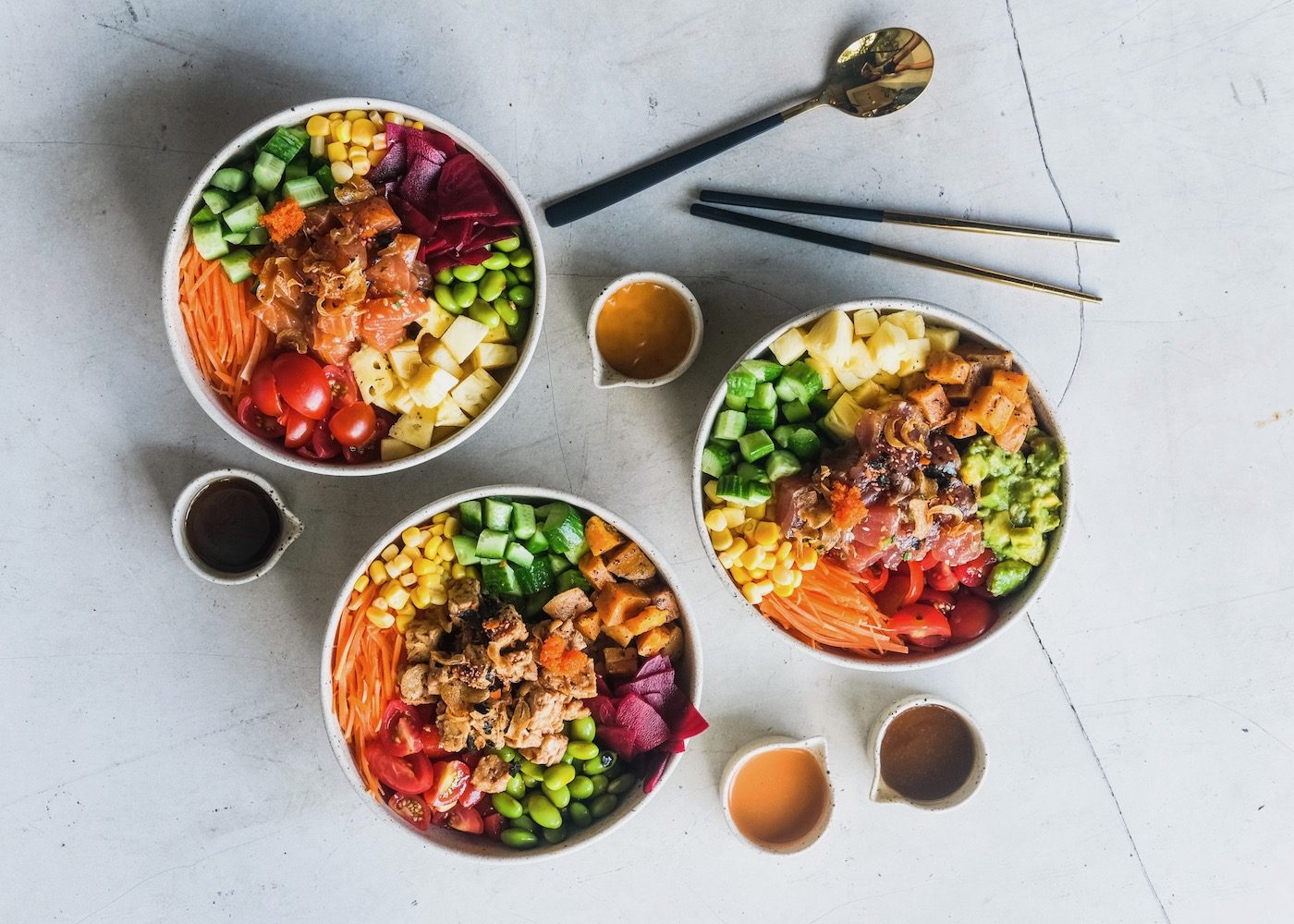 Bangin' food gone healthy! From poke bowls to acai bowls to cold-pressed juices, Poke Theory is the latest poke restaurant that not only values fresh and sustainable produce, but is also on a journey towards being 100% plastic-free. Originating from Singapore, Poke Theory is proving that healthy food doesn't have to be boring, with its signature bowls or build-your-own creations. Load up on fresh tuna or salmon cubes, and if raw fish ain't your thing, add in some sous vide chicken or tempeh. As for the veggies, we say, paint the rainbow!
44. Naughty Nuri's – Sanur
Whether you're a long-time Bali local or just visiting for a holiday, every self-proclaimed foodie knows Naughty Nuri's. People from all over the world queue up at this meat lovers' heaven in Seminyak for a taste of their signature ribs, and now, a second location has opened up on the main Sanur highway. And the best bit? This Sanur hub is enormous enough to fit families, large groups of friends, and of course, anyone looking for that all-important Instagram shot. As for the menu, you'll find all of your favourite Naughty Nuri's signatures here, complete with the famous "Shake Shake" dance with every order of a margarita or martini! If you dare to sip on four of these oversized cocktails in one trip, you'll get your name carved on the Nuri's wall of fame!
45. Barboa – Canggu
What was once Funky Pancakes is now Barboa – a brand new and breezy destination to eat, work and play. Still with epic pancakes on the menu, at Barboa you can also graze on breakfast burritos, loaded sandwiches and colourful poke bowls. We love the tropical-chic interiors, with different nooks and corners for when you want a quiet laptop lunch, or long benches for brunch with your besties. It goes without saying, the coffee is top-notch here too…
46. Woods – Pererenan
Inspired by nature, Woods is all about fresh food, fine local ingredients, and some of the most beautifully presented dishes we've ever seen. This green and breezy cafe feels like a fancy treehouse, with hanging plants beside twinkling chandeliers and indoor palms watching over the colourful spreads of eggs, avocado, pancakes, and of course, great coffee. Psst – breakfast cocktails are on the menu too!
47. Atelier 5 – Canggu
From Paris to Bali with love, and a whole lotta French deliciousness. Atelier 5 is a creative patisserie, cafe and workshop in one, where you can graze on artisanal baked goodies, signature a la carte creations and an entire menu of bespoke teas to wash it all down. Nibble on buttery hazelnut croissants for breakfast, feast on grilled octopus for lunch, and whatever you do, don't leave without trying some of the specialty cakes and desserts from famous pâtissier, Vincent Nigita. Psst – keep your eyes peeled on Atelier 5's social calendar for gourmet workshops too!
48. Pier Eight – Sanur
Sitting right on the beach in Sanur, Pier Eight is a family-friendly restaurant by day, and a chic beach bar by night. The menu features a variety of cuisines, from pastas and pizzas, to classic Indonesian dishes like satay and soto. With a long (and we mean long!) list of cocktails and house wines, you'll want to spend a long and leisurely evening propping up Pier Eight's bar. On Sundays, Pier Eight brings a Breezy Brunch to Bali's east coast, or drop by any day for an early breakfast, since this restaurant is one of the very best spots to watch the sunrise…
49. Ulu Garden – Uluwatu
A hidden oasis behind Uluwatu's most happening strip, Ulu Garden is described as a 'multidisciplinary hospitality space' where you stroll in for brunch, catch a live acoustic band over cocktails, or work away on your laptop overlooking the breezy tropical garden. Founded by a Belgian food entrepreneur and a local artist, Ulu Garden captures the best of both worlds: a wholesome and delicious all-day menu, wrapped up with authentic Balinese character and a raw contemporary look and feel. Swing by in the evening to catch Ulu Roots playing live, and come back for a set menu boozy brunch on the weekend.
50. The Barn – Canggu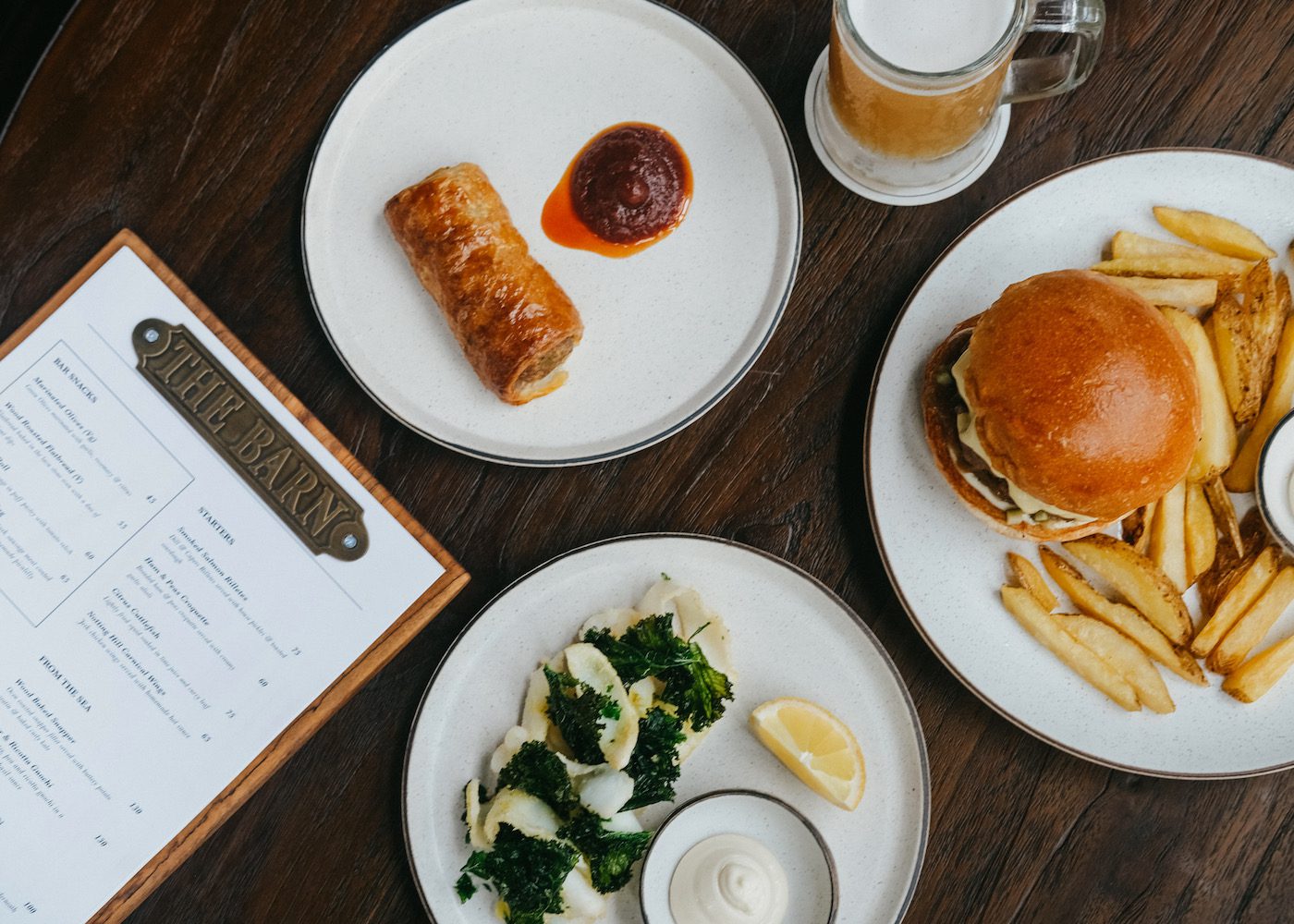 Bringing the charm of a London gastro-pub to Bali, The Barn is where you can feast on all your favourite British pub classics. Think juicy pies, fish and chips and even bangers & mash. In fact, the menu was specially crafted by a top UK consultant and Head Chef Sam Sutanto – a former top Sydney-based chef – to ensure everything's just right. And just like any good English pub, the focus here is on top quality drinks. We're talking craft beer on tap, imported fine wines and premium hand-crafted cocktails too. Top it all off with contemporary yet cosy interiors reminiscent of a London member's club, and you've got yourself a bloody lovely British experience in Bali!
51. Golden Monkey – Canggu
After the roaring success of its steaming dim sum, sticky char-siew pork and deep-fried Gurami in Ubud, Golden Monkey has now opened in Canggu too. Here, you not only get to feast on all your favourite Chinese staples, you can also settle in for an all-you-can-eat Dim Sum Brunch every Saturday and Sunday. And that's not all. While the Golden Monkey menu is perhaps best known for its succulent Chinese BBQ and specialty meat dishes (like the grilled prime rib in oyster or Oriental sauce), there are also plenty of vegetarian dishes too. Think Eggplant Clay Pot, Fenkow dumplings, salt and pepper tofu and a vegetable congee to name just a few. And of course, it wouldn't be a true Chinese feast without dessert, so save room for the custard cream buns and the traditional Gui Ling Gao. Měiwèi!
52. Mar Bali – Berawa
A breezy seafood restaurant and poolside lounge in the buzzing Berawa neighbourhood, Mar Bali is the new go-to spot for Portuguese-inspired ocean delicacies done right. Not only is the seafood here both fresh and cooked to perfection, it's also honest, locally-sourced, and honours the sea and its bounty. Raw, grilled or sautéed, pair your chosen catch with the selection of dipping sauces, from authentic Balinese sambal matah to Mediterranean lemon-garlic butter. Our top tip? Go for the Seafood Platter for a taste of everything (lobster, prawns, clams and oysters!) or swing by from 4-7pm for 5k oysters, 50k cocktails and sunset beats by the pool.
Looking for more of the best new restaurants in Bali? Check out our Hot New Tables roundups for 2021, 2020, 2019 and 2018 too!