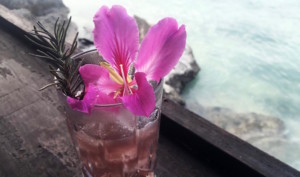 As if we needed more reason to hop on over to Nusa Lembongan. This secret whiskey & gin bar is home to one of our fave tipples...
Just a few years ago, Nusa Lembongan (our fave island escape) was just white sand beaches, local warungs and hidden blue bays. But today, Nusa Lembongan is all of that and so much more, now home to some of our fave beach clubs, swanky sunset spots, and most recently, a Scottish-style speakeasy that really knows how to pour a drink. 
Tucked away under The Deck café & bar, The Howff hangs over rugged rock and turquoise ocean with open air views of Mount Agung. Serving drams of whiskey and gin globes of the finest calibre, this unique dungeon bar is the first in its class on Nusa Lembongan, and we can't get enough.
Our fave cocktail from here (and trust us, we've pretty much tried them all) is The Countess of Ross – a cocktail that's as zesty as the woman warrior it's named after. You see, the in-house mixologist, Mr Luca, shakes up the best of the best, and each winning creation is then named after famous Scots with unique flavours and styles that match the personalities of those in the history books.

The Countess of Ross is a punchy mix of Tanqueray Gin that's been infused with a ripe berry tea, and zested up with Triple Sec, orange peel, grapefruit bitters and lime, before a hint of herbaceous rosemary is flamed into the mix. Cheers to that!
"House-made infusions. Sustainable ingredients. Nothing ordinary allowed. Scottish banter. No whisky sours. Wear your kilt properly. As for the whiskys & gins, you just have to come see the underground collection for yourself – we guarantee there's nowhere in the world like it." – The Howff 

Want to make your own? Try this…

               Ingredients
45ml Tanqueray Gin with Infused Berry Tea

5ml Triple Sec
10ml Orange Peel Syrup
3 Dashes Grapefruit Bitters
30ml Fresh Lime Juice
45ml Tonic Water (preferably Fever Tree)
Rosemary Sprig & Flame

Recipe
First infuse the Tanqueray Berry Gin
1. Infuse one bottle of Tanqueray Dry Gin with 25g of your favourite berry tea.
2. Vacuum for a day for efficiency, or for a classic infusion, keep for 2-3 days depending on taste.
3. Strain with a fine strainer and you're good to go.

Next, prepare the Orange Peel Syrup
1. Make a Simple Syrup using 1 part boiling water & 1 part white sugar.
2. When still hot but off the stove, drop the orange peels & zest from 3 oranges into the syrup. Let the flavours simmer together overnight away from heat.
3. The next day, remove the peels and your syrup is ready!
Time to make mixology magic!
1. Pour the tonic into a classy high tumbler glass filled with ice.
2. Shake all other ingredients together and strain gently on top of the tonic.
3. Garnish with rosemary-flamed sprig & a flower from the Island of the Gods. Make it look pretty & enjoy!
The Howff ~ Whisky, Gin & Wine Bar, Batu Karang Lembongan Resort, Nusa Lembongan, e. [email protected]
p. +62 366 5596377, +62 855 390 4830 or +62 811 3869216. Open every evening.
Like what you've read? Then sign up to our newsletters for more Bali bucket list ideas!