Get ready to sweat it all out with spicy Sichuan dishes. Photography: Qi – House of Sichuan
Numbing peppercorns and burning heat, we're addicted to Sichuan cuisine. Hit up these restaurants in Singapore for your mala fix!
We love our spicy food, from spicy local condiments to authentic Indian cuisine but there's something about Sichuan spice that is just so addictive. Perhaps it's because there are seven aspects of flavour in its dishes – spicy, aromatic, sweet, bitter, sour, peppery, and also salty. This numbingly spicy cuisine is definitely not for the faint-hearted but hotheads everywhere will always put themselves through the heavenly torture… again and again. We've rounded up the best Sichuan restaurants in Singapore for a fiery dining experience.
Best Sichuan restaurants in Singapore
Qi – House of Sichuan
There's a reason why Qi was awarded the Michelin star in Hong Kong. Sticking true to the traditional palate, you'll find a great range of dishes, from chicken to grilled short ribs in mala sauce that really pack in the heat. Just look out for the fire icon on the menu – it's a sign of what's to come. While classic dishes look intimidating with all the chilli, there are non-spicy and kid-friendly options too like sugar glazed ginger and scallion beef. Dining with vegetarians? There's a dedicated plant-based menu as well – there's no escaping!
Qi – House of Sichuan, #02-01, Marina Bay Link Mall, 8A Marina Boulevard, Singapore 018984
Haidilao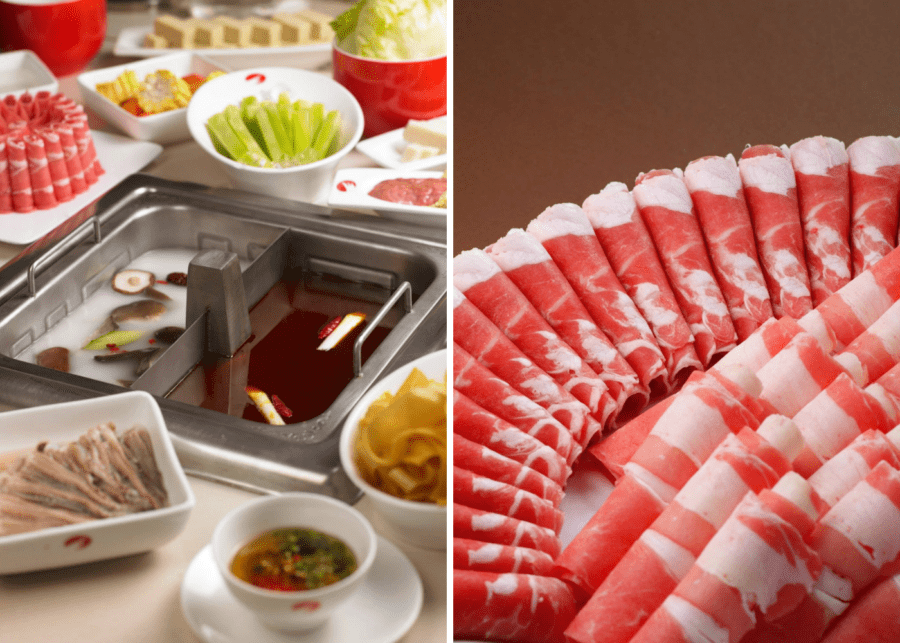 Here's a fun fact! This popular hotpot chain actually hails from Sichuan. With that said, you know you have to go for the spicy Sichuan soup. We say, cut the heat by choosing the addictive tomato soup as your second soup base. Now, go crazy with the ingredients, from meatballs and sliced pork belly to crab and baby Boston lobster. Also, look out for theatrical performances by chefs showing off their kneading skills as they knead hand-pulled homemade noodles right at your table.
Haidilao, multiple locations including [email protected] and Vivocity
Chengdu
Bring along extra tissues for a serious hit of heat at Chengdu. Don't underestimate anything – seemingly mild green pickled beef comes back to haunt a few seconds later. This authentic Sichuan place went OTT with the sweet and spicy grilled frog skewers – it's served on an opera singing straw boat with dry ice smoke for effect. Apart from the usual suspects like spicy chilli chicken, we were breathing fire long after biting into the chilli beef served on a crunchy fried honeycomb corn pastry. Did we go for seconds? You betcha.
Chengdu, 74 Amoy Street, Singapore 069893
Birds of a Feather
Looking for a more updated take on this spicy as heck cuisine? Birds of a Feather serves up Western cuisine with a touch of Sichuan. And by 'a touch' we mean generous sprinklings of peppercorns and splashings of Sichuan red oil (made in-house!) on almost all the dishes. Go straight for the hot ones like the aptly-named Find The Chicken In The Chilis, a plate of fried chicken cubes buried under a mound of chillies and peppercorns. There's also the tasting menu Redefining Sichuan, a seven-course meal that explores the different flavours of Sichuan. Let's just say the dishes get progressively spicier.
Birds of a Feather, #01-01, 115 Amoy Street, Singapore 069935
Si Wei Mao Cai
One of the OGs of Sichuan cuisine in Singapore, Si Wei Mao Cai serves up authentic dishes brimming with peppercorns and heaps of dried chilli. Service is non-existent, but hey, this is often a good sign that the food is legit. Signature dishes include the boiled fish fillet in hot Sichuan pepper sauce, Miao Jia eggplant and fragrant pepper chicken. There's no dumbing down when it comes to spiciness here. So step inside and dine only if you can handle the heat.
Si Wei Mao Cai, 33 Mosque Street, Singapore 059511
Chong Qing Grilled Fish
First, here's a little history lesson. Chong Qing was actually part of Sichuan province before it split in the 90s. Hence, there's a lot of similarities in their cuisines. Now onto the food, shall we? Specialising in grilled fish, this eatery lets diners pick their preferred fish (golden snapper or marble goby) and the side ingredients that go along with it (think black fungus, pork balls and crab sticks). Here's the fun part: you can choose from seven different flavours and spice levels. Our fave has to be the spicy fragrant flavour paired with the medium spice level, which comes peppered with peppercorns (no pun intended) and fresh chillies. Just be prepared to sweat it out.
Chong Qing Grilled Fish, multiple locations including Serangoon Gardens and Chinatown 
Le Fuse
Need a halal fix of Sichuan food? Le Fuse offers plenty of options, including fusion-Malay dishes. Curious about how beef dendeng Sichuan might taste like? It's on the menu, along with some other more traditional fare like the popular fried diced chicken with dried chilli and of course, Mala Tang, a spicy soup with meat and vegetables.
Le Fuse, 47 Arab Street, Singapore 199744
Are you game to brave the heat at these Sichuan restaurants?