Photography: Larry Teo via Unsplash
From breezy brunches to dinner and drinks, these restaurants in Marina Bay serve up exquisite experiences.
Whether it's a Mexican fiesta, Italian spread or Japanese feast, the Marina Bay area is ripe with stunning restaurants that will take you on a culinary trip. That's why we've scoured the area for stellar spots that'll hook you up with fantastic food… and maybe a tipple or two. Plus, who can resist that beautiful waterfront view! A leisurely stroll after dinner, anyone?
Top restaurants in Marina Bay
1. Chinoiserie
We love the Franco-Asian cuisine at this fine dining restaurant headed by celebrity chef Justin Quek. It presents a spread of sophisticated modern-Asian dishes prepared with classic French and Asian cooking techniques. Indulge in freshly shucked French oysters with ginger flower and plum dressing, or roasted chicken coquelet in cereal crumbs. Bon appetit!
Chinoiserie, #B1-15, The Shoppes at Marina Bay Sands, 2 Bayfront Avenue, Singapore 018972
2. Koma
Explore the many faces of Japanese cuisine at Koma. This concept from Tao Group Hospitality uses fresh, seasonal produce from Japan to create innovative, original modern Japanese dishes. Browse its nigiri and sashimi menu and you'll find premium cuts of hamachi and ootoro to start, as well as a selection of maki and grilled skewers to share. For a treat, order the Hobayaki snow-aged Nigata wagyu ribeye cooked in ginger scallion miso – doesn't that sound absolutely delish?
Koma, #B1-67, The Shoppes at Marina Bay Sands, 2 Bayfront Avenue, Singapore 018972
3. Rise
Elevated Southeast Asian cuisine is the name of the game at Rise. Expect signature dishes from countries such as Singapore, Malaysia, Thailand and Vietnam prepared using meticulously refined time-honoured recipes. Think familiar favourites like ayam buak keluak, chilli crab, Thai green curry with chicken, and tender beef rendang made with Australian wagyu.
Rise, Lobby, Hotel Tower, Marina Bay Sands, 1 Bayfront Avenue, Singapore 018972
4. Caffe Fernet
A breezy, casual chic spot right by the Marina Bay waterfront, this restaurant is beloved for its ambience and flavourful food. Must-tries include pasta options like mafaldine cacio e pepe and rigatoni spicy vodka, but be sure to get a couple of small and large plates to share, too. We're talking about burrata, brussels sprouts, chicken marsala and more. There's even a gluten-free menu if you need it! Oh, and did we mention that happy hour lasts all day till 6pm?
Caffe Fernet, #01-05, Customs House, 70 Collyer Quay, Singapore 049323
5. Lantern
Looking for killer views of the glittering Marina Bay waterfront? Lantern is the place to be. Surrounded by the infinity lap pool and verdant landscaping, the swish rooftop spot offers sliders, snacks and dessert to go with your glasses of bubbly and fab cocktails. Head over in the evenings to see the city sparkle to life after sunset.
Lantern, The Fullerton Bay Hotel Singapore, 80 Collyer Quay, Singapore 049326
6. Riviera
Formerly known as Forlino, the romantic resto for a date with a beautiful backdrop, Riviera brings its Mediterranean flair to the table. At the restaurant, you'll be dining amidst hanging chandeliers, furnishings with flecks of gold and the waterfront as your view. Dishes to try include wild-caught Atlantic monkfish or milk-fed veal shank tajine. For a relaxed time, head to the lounge for a glass of wine from places like Lebanon and Greece or sip on cocktail concoctions.
Riviera, #02-06, One Fullerton, 1 Fullerton Road, Singapore 049213
7. OverEasy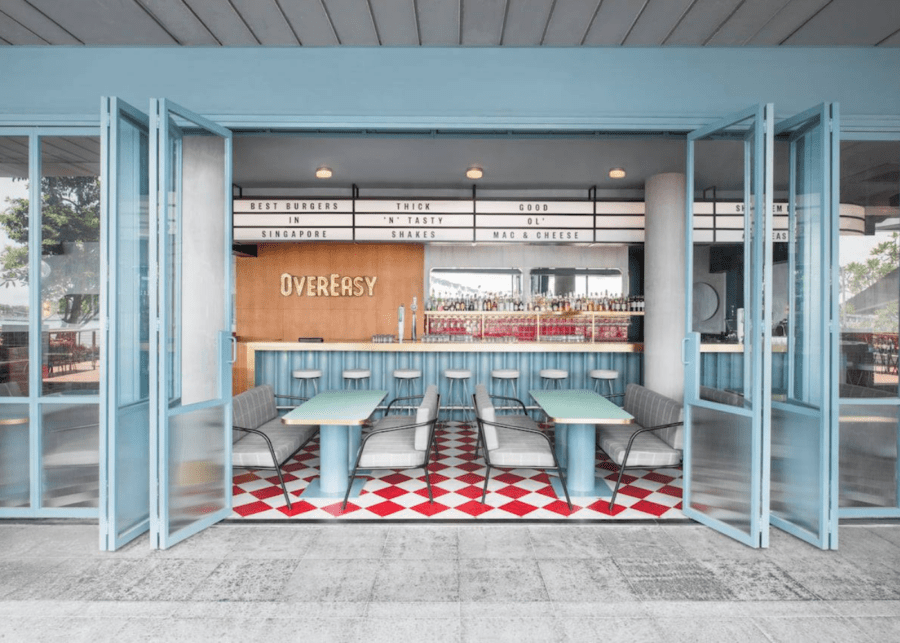 Surrounded by spectacular views of the Marina Bay waterfront, this American diner's cool vibes will take you back to the 60s and 70s. So let your hair down and tuck into the restaurant's classics. We're talking truffled lobster mac and cheese, hearty burgers, baby back ribs and more. To round things off, grab one of the famous milkshakes in flavours like strawberry and vanilla. The chocolate's a winner!
OverEasy, #01-06, One Fullerton, 1 Fullerton Road, Singapore 049213
8. Restaurant Labyrinth
Helmed by chef LG Han, Labyrinth is an experimental kitchen that takes a look at Singaporean food from a different lens. It deconstructs and reimagines flavours and textures, making your dining experience here one-of-a-kind. You'll see familiar names like chilli crab, bak chor mee and chicken rice on the menu, but don't expect to be served anything other than unconventional creations. Let's just say, each dish is a surprise in the best way.
Restaurant Labyrinth, #02-23, Esplanade Mall, 8 Raffles Avenue, Singapore 039802
9. Mott 32
From Hong Kong to Singapore, Mott 32's first restaurant in Singapore is a beautiful place that blends industrial New York design with classic Chinese elements. Once you're snug on the plush seats, browse through the menu to pick out signatures such as applewood roasted Peking duck and the oh-so-tender barbecued pluma Iberico pork.
Mott 32, B1-42 to 44, The Shoppes at Marina Bay Sands, 2 Bayfront Avenue, Singapore 018972
10. Palm Beach Seafood
When a seafood joint has been around for decades, you know it's good stuff. Serving up delectable dishes since 1956, Palm Beach Seafood is known for its chilli crab, black pepper crab and lobster with vermicelli. Your visit won't be complete without trying these signatures!
Palm Beach Seafood, #01-09, One Fullerton, 1 Fullerton Road, Singapore 049213
11. Marguerite
Surrounded by the lush and lovely blooms of the Flower Dome, Marguerite is chef-owner Michael Wilson's new fine dining restaurant in Singapore. Taking over the space left behind by Pollen, it focuses on seasonal ingredients with its seven-course tasting menu. To complement your meal, take your pick from fine wines or a non-alcoholic selection of clarified juices and fermented jun teas. The dining room features a stunning garden setting with Scandinavian furniture and white marble tabletops – it's delightfully charming in the day and incredibly romantic when evening falls.
Marguerite, #01-09, Flower Dome, Gardens By The Bay, 18 Marina Gardens Drive, Singapore 018953
12. Yardbird Southern Table and Bar
Yardbird brings its fresh American flavours to town – think tried-and-tested renditions of chicken and watermelon and waffles, fork-tender smoked pork ribs, and delish mac and cheese. Wash it all down with fab cocktails for a great evening out. If you're here for weekend brunch, the afternoon affair features pancakes and fried chicken, complemented by whiskey, gin, beer and cocktails.
Yardbird Southern Table and Bar, #B1-07, The Shoppes at Marina Bay Sands, 2 Bayfront Avenue, Singapore 018972
13. Level33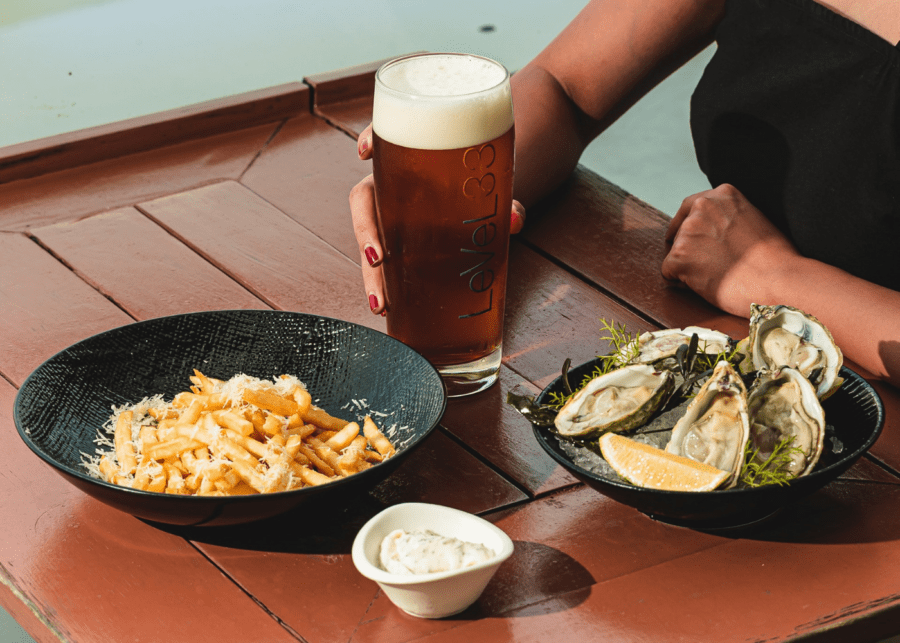 Perched high above the bustle of the city, this brewery, restaurant and lounge is a fantastic option when you're in the mood for aerial views and alfresco seats. Snag a sweet spot outdoors to enjoy skyline views from the world's highest urban microbrewery. While you sip on a craft beer, enjoy oysters, seafood, burgers and steaks.
Level33, #33-01, Marina Bay Financial Centre Tower 1, 8 Marina Boulevard, Singapore 018981
14. Kinki Restaurant and Bar
Sitting on the second floor of Customs House, this contemporary Japanese bar is great for a fun night out. Quirky cool murals and a groovy blend of beats give Kinki an edgy vibe, which is why the crowds flock here for after-work drinks. If you're looking for hearty eats, Kinki's menu includes sushi, sashimi, donburi and sharing mains for dinner. Want an alfresco experience? Get your cocktails to go with karaage chicken bao, squid and chips, and cassava nachos. Oh, and it's also a choice pick for bottomless Japanese brunch!
Kinki Restaurant and Bar, #02-02, Customs House, 70 Collyer Quay, Singapore 049323
15. Zafferano
To savour the best of Marina Bay's waterfront views, head to this upscale restaurant for elegant indoor seating and or rooftop drinks. While enjoying the elegant ambience, treat yourself to oysters, pasta and mains such as roasted Italian sea bass or New Zealand lamb rack. Or go straight for the chef's menu where you'll feast on tagliolini with Alaska king crab, A4 Kagoshima wagyu beef striploin and more. With stellar service, great Italian grub, amazing views of the city skyline and a glass of wine in hand, it's the perfect place for a special occasion.
Zafferano, Level 43, Ocean Financial Centre, 10 Collyer Quay, Singapore 049315
16. Cut by Wolfgang Puck
For some of the best steaks in town, make celeb chef Wolfgang Puck's restaurant your go-to. The American and Australian wagyu cuts are superb, but for the ultimate mouthwatering option, try the Japanese A5 wagyu from the Sendai prefecture. Oh, and feel free to pair your meat with sides like creamed spinach, tempura onion rings and wild field mushrooms.
Cut by Wolfgang Puck, #B1-71, The Shoppes at Marina Bay Sands, 2 Bayfront Avenue, Singapore 018972
17. Super Loco Customs House
For authentic Mexican grub with a contemporary spin, head to Super Loco's bayfront locale and clink margarita glasses as you watch the sun go down. Thanks to its drinks line-up of rare artisanal tequilas and mezcals, you'll be buzzing in no time. Pair your drinks with the excellent selection of tacos, quesadillas, and salsas with chips for a great night out.
Super Loco Customs House, #01-04, Customs House, 70 Collyer Quay, Singapore 049323
18. Ce La Vi
When you're 57 floors off the ground, the panoramic scenic sights are guaranteed to be jaw-dropping. As is the case with Ce La Vi's backdrop, which shimmers and shines when the city's all lit up in the evening. A restaurant, lounge and bar all rolled into one, the Marina Bay hangout welcomes one and all for alfresco drinks, contemporary Asian plates like binchotan grilled tiger prawns and Szechuan roasted chicken.
Ce La Vi, Level 57, Marina Bay Sands SkyPark, Hotel Tower 3, 1 Bayfront Avenue, Singapore 018971
19. PS.Cafe One Fullerton
The brunch hotspot has a chic space at One Fullerton, perfect for weekend chillin' sessions over PS.Cafe's classic truffle fries, sandwiches, pasta, pizzas and decadent desserts. No matter if you're there for a lazy afternoon or a chill dinner, the vibe is always fun and the views are always splendid.
PS.Cafe One Fullerton, #02-03B/04, One Fullerton, 1 Fullerton Road, Singapore 049213
20. Wakanui Grill Dining
Specialising in New Zealand lamb and steak, Wakanui sets the mood for a romantic dinner. Come ready to splurge on signatures such as the ocean beef 21 days dry-aged bone-in ribeye. Binchotan char-grilled meats and teppan grilled seafood are available as well, all of which can be complemented with smoked cheddar mash, garlic rice and grilled veggies.
Wakanui Grill Dining, #04-02, Marina One West Tower, 5 Straits View, Singapore 018935
21. Db Bistro and Oyster Bar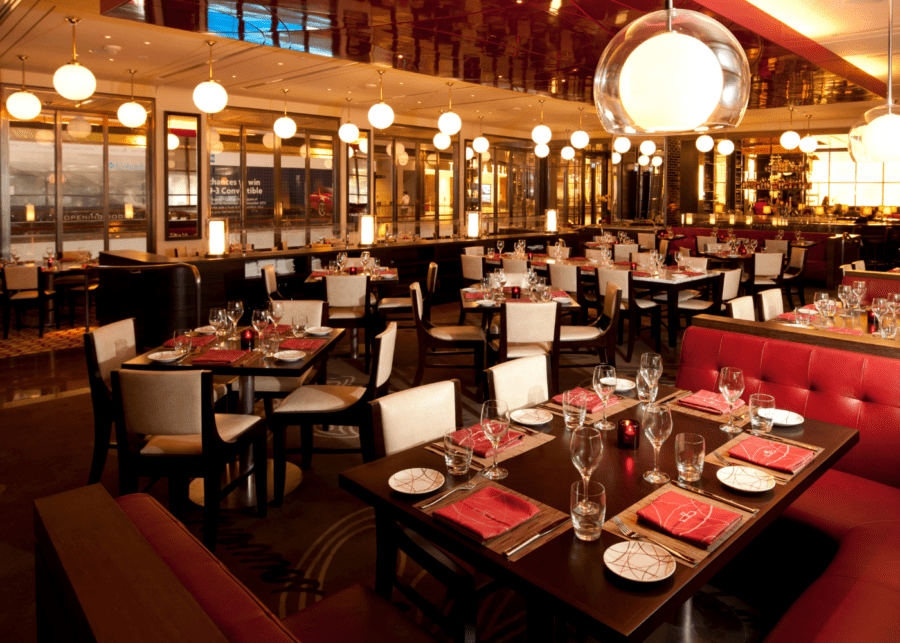 At Daniel Boulud's intimate, dimly-lit restaurant, the dining experience is elevated with impeccable service and rare wines from across the globe. The seafood is seasonal and fresh, so you can take your pick from Boston lobsters, Alaskan king crabs, oysters and sustainably sourced fish. Among the Parisian bistro plates, you'll find meaty mains like herb-roasted organic chicken, burgers and steak frites.
Db Bistro and Oyster Bar, B1-48, The Shoppes at Marina Bay Sands, 2 Bayfront Avenue, Singapore 018972
22. Nude Seafood
Beautifully fresh ingredients are what Nude Seafood focuses on. The concept comes from the folks behind third-generation seafood wholesaler Hai Sia Seafood, so you know they're all about exceptional ingredients. Try the bouillabaisse seafood stew or sashimi-grade swordfish with pearl couscous, or prep your appetite for binchotan-grilled meats such as Iberico baby back ribs and US angus beef short rib.
Nude Seafood, #01-22, Marina One East Tower, 5 Straits View, Singapore 018935
23. Mischief
A funky, playful spot that serves up American street food by the bay, Mischief is popular with the party crowd. Its happy hour lasts from Sundays to Thursdays until 8pm, with a drinks menu that offers everything from shots and cocktails to beers on tap and wines from Australia. To pad your stomach, nosh on burgers, grilled meats, pasta and light bites.
Mischief, #01-10/12, Esplanade – Theatres on the Bay, 8 Raffles Avenue, Singapore 039802
24. The Spot
With a menu that combines contemporary European cuisine with Southeast Asian ingredients, this multi-concept place sure hits the spot with its cafe, restaurant, bar and cigar lounge. Round up a group of friends and munch your way through appetisers, mains and big plates. Think tiger prawn and sakura ebi capellini, lemongrass chicken brochette and 21 days dry-aged ocean beef ribeye.
The Spot, #01-26, Marina One, 5 Straits View, Singapore 018935
25. Ola Cocina Del Mar
Recently closed.
Who's up for a Spanish feast? Tuck into traditional dishes in a cosy, welcoming environment at Ola Cocina Del Mar. Nibble on tapas plates like ceviche, grilled Spanish octopus and jamon Iberico before you move on to the flavourful black fideua or seafood paella. Still hungry? The menu also features fish, seafood, suckling pig and rib eye steak.
Ola Cocina Del Mar, #01-06, Marina Bay Financial Centre Tower 3, 12 Marina Boulevard, Singapore 018982
With this list of top restaurants in Marina Bay, you'll never run out of options to eat.