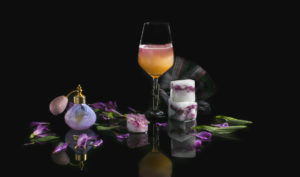 When it comes to cocktail bars in the city, Smoke & Mirrors offers a classy, bespoke experience with rum, whisky, gin and brandy drinks with enchanting presentation
You don't always have to be way up in the sky to enjoy a rooftop view; your scenery can be just as sensational six storeys above ground. Nested atop the summit of the grand National Gallery, Smoke & Mirrors boasts one of the most staggering skyline vistas in the isle, majestically overlooking The Padang, The Esplanade and Marina Bay Sands. You can choose to sit inside lest you get sweaty while you swig, but with a view like this, it's truly hard to resist chilling out in the alfresco area grounded by wood and copper accents. And while I don't get vertigo from towering spots, let me assure you that your head will spin from Smoke & Mirror's new signature cocktail menu.
[hc_component id="105345″]
Packing a punch both in potency and presentation, Smoke & Mirror's new cocktails are prepared by a team led by Head Bartender Yugnes Susela, who's no stranger in the mixology circuit with accolades including #4 in the 2015 Diageo World Class Competition (he also has quite a wicked sense of humour). For starters, the grimly-dubbed Duck's Fat Hope ($22) resembles a Peking Duck daiquiri – the five-spiced honey and drops of Peking Duck jus strike the palate with a savoury wallop, before the jackfruit rum hits for a double whammy as it trickles down the throat. But if whisky's more your game, the Glasgow's Winterfall (top image, $25) will suit you nicely with its mixture of Drambuie, Amaro Nonino and Becherovka, sweetened with grapefruit sherbet and fizzed up with bubbles – it's even served wrapped in a Scottish mini-kilt for visual kicks.
Addictive bar bites like mushroom tempura with crispy tofu crumbs ($10) and tender beef rib cubes with sesame and hoisin sauce glaze ($16) will help you thin out the wooziness from these cocktails (these drinks are formidable!), especially if you're having a couple at a time. Otherwise, opt for fruitier drinks like the revitalising Temporada ($24). Made to bring to mind a "symphony of seasons", this cooling bevvie blends house blend rum, rockmelon juice (the sweetness of this tickles first), coconut agave syrup (the thickness of this lingers after), fizz and Mexican mint garnish dyed in a myriad of colours. My personal favourite, however, is the Go-ju Go-ju ($20), which translates to "fifty-fifty" in Japanese. Doing justice to its name, this balanced, milky cocktail – served in a wooden Japanese masu square cup – beefs up sweet notes of banana bourbon and apricot brandy with oaky Irish whisky.
[hc_component id="105346″]
Susela and co. painstakingly elevate and enhance the art of cocktail-making here, making sure that what you're indulging in is far from just an average tipple. Whether it's mixing a smoky black tea with tequila (Smoked Up, $20), cooking carrot and peppercorn in gin for one novel Martini mash-up (Usagi's Tipple, $22), or creating edible pumpkin leaf garnishes for sweet dessert cocktails (12am Misery, $23); the Smoke & Mirrors team suavely creates mixology magic.
But despite this rooftop bar's name, the bespoke experience that awaits at Smoke & Mirrors is no illusion. Don't believe us? You'll just have to swing by and see it to believe it – or in this case, sip it.
Smoke & Mirrors, #06-01 National Gallery Singapore, 1 St. Andrew's Road, Singapore 178957, p. 9234 8122. Open Sun-Thu 12pm-12.30am, Fri-Sat 12pm-2am.