Beauty swaps to bring home a point. Photography: Biconi
Like that dysfunctional relationship you thought was impossible to shake off – break it off with single-use plastics right now. We've got you some neat and clean plastic-free skincare and sustainable beauty swaps
So we're already down with cruelty-free and vegan make-up and natural, organic beauty brands in Singapore, but think back to your last beauty haul and all the single-use plastic bags, wrappers and cellophane you had to peel off, sometimes more than once for a single product. That along with every non-recyclable bottle of body wash, shampoo and serum… they all end up in the landfills and oceans, not decomposing for 1000-odd years.
Before it turns into a Wall-E like situation (without the cute sentient robots), see how you can make some changes of your own. We've scooped out these seriously luscious, effective and sustainable beauty swaps right here in Singapore that'll help you cleanse your dresser and life.
The ultimate guide to plastic-free skincare & zero waste beauty products in Singapore
Shampoo bars that won't hurt
Love a good lather? Biconi's got a plastic-free shampoo bar (pictured above) that's made with quality natural ingredients. We're particularly fond of the Hair Revitalising one (found at Zerrin) that's gentle on the scalp and environment.
Plus, there's The Clean Attempt with its zero-waste shampoo bars and dry shampoo glass jars that we simply cannot get enough of. Singapore's first zero-waste grocery store Unpackt stocks them. Protip: Pick up a soap saver bag to help your shampoo bars last longer.
Biconi at Zerrin
The Clean Attempt, Unpackt, 6 Jalan Kuras, Singapore 577724
Lip balms that won't bite
Kiss single-use plastic lip balms goodbye with a chapstick by The Lala Lokal. It's all natural – beeswax, organic jojoba oil and shea butter – but we love them extra for the handmade, recyclable push-up tubes they come in.
The Lala Lokal, online.
Body scrubs that don't get into our food
You know those exfoliating body scrubs with colourful microbeads that are supposed to exfoliate your skin… oh, they're doing much more than that. They're deadly dangerous! About 1 millimetre to 1 micrometre in size, these plastic beads (banned in many countries) are polluting our oceans, get eaten by fish and have entered even our bodies via food and water.
So do your bit and pick a natural body scrub like the ones by Twig & Co. If you're a green tea maniac, this macha and sea salt scrub is will turn you green (in a good way). They come in reusable glass jars and the homegrown brand is open to refilling them for a lower price. Give them a buzz and meet them.
Twig & Co, available online and at Naiise stores.
Toners that turn on us
It's rather easy to spot an Aesop store in a mall. But their cult status products and alluring storefront aren't the only reasons to love this brand. To reduce its environmental footprint, Aesop has made a conscious choice to use amber glass bottles to retail their famous formulas. Take these skin toners for instance – packaged in apothecary-style glass, it only extends the shelf life of the product but can be easily recycled too!
Aesop, various locations.
Shampoos & body washes? It's all about the refill…
You know we love The Social Space for all sorts of reasons. This lovely little ethical boutique slash social enterprise slash cafe has its own refillery for shampoos and body wash. Right now, they've got some good stuff on tap – Ecostore for shampoo and hand wash, and Vermont Castile for castile soap that can be used as a body wash. It's best to BYOB here – bring your own bottle to eliminate wastage.
The Social Space, 333 Kreta Ayer Rd, #01-14, Singapore 080333 & Marina One, Downtown
Face masks that won't end up in landfills
Rolled oats and chamomile might sound like breakfast but they're actually ingredients of this lovely, natural earth face mask and cleanser. Made in batches upon request, Espoir & Co Fuller's Earth & Chamomile Cleanser & Mask comes in a reusable and recyclable aluminium jar. When you're done, use it as a travel kit for slices of soap, store sweets, earrings or even organise your desk. Conquer those pesky paper clips.
Trove of Gaia, online.
Hair dyes that don't kill
Changing your hair colour is good but changing your relationship with chemical-heavy, plastic-packaged dyes is even better. Get rid of those greys with plastic-free hair dyes by Lush made of henna, essential oils and cocoa butter because we gotta condition. These dyes come with no plastic wrapping, multiple sachets of random powder or disposable gloves – they are just bars of dye with a paper label.
Lush, multiple locations across Singapore.
Face oils that don't clog our oceans
Give your skin the TLC it deserves with toxic-free face oils. Frank Skincare's line of face oils is made in small batches and sold in recycled or recyclable packaging as much as possible – we'd call that a win-win for you and mumma earth. Once you've used up a dropper bottle, put them back to use – custom-make essential oil blends, or sterilise before using it to store hot sauce or homemade vanilla extract.
Frank Skincare, 6 Shenton Way, #01-46 Oue Downtown Gallery Singapore 068815
Soaps that don't slip up decades later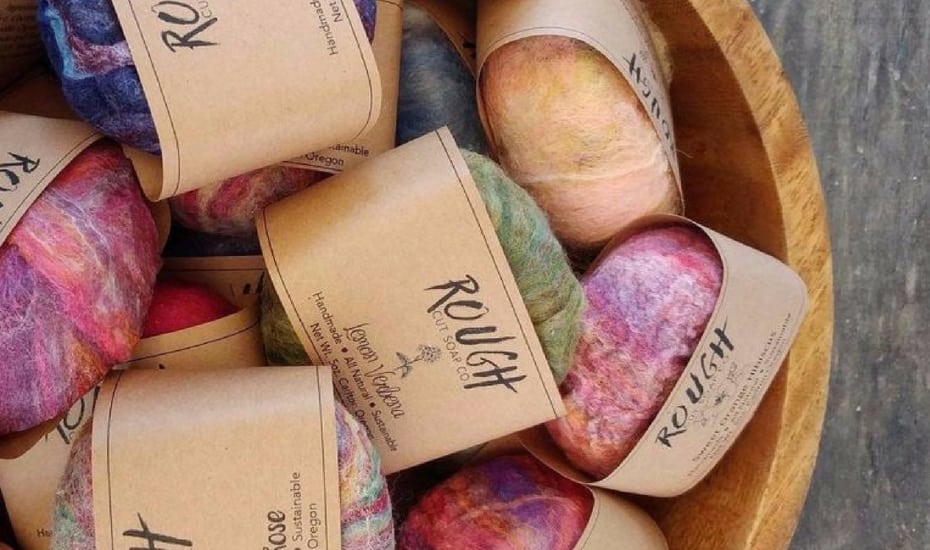 Leave those plastic loofahs alone. Get your hands on these felted soaps that'll make you feel great about your life choices. Soap is cold pressed into this merino silk-wool blend to create something magical and sustainable.
Regular old-fashioned soaps can be plastic-free too. Next time you need to restock this bare necessity, pick one from The Green Collective. The beautiful handmade soap bars from Himmel Blue are package-free, with shampoo and conditioner bars available in refillable tins.
Homegrown brand Oasis Skin's soaps are made with no nasties and no single-use plastic packaging. Almost all the soaps come in sweet cloth bags that can be easily reused at home. We're also crushing on the eco-friendly natural hemp soap bags for daily exfoliation.
Felted soap by The Sustainability Project, online.
Handmade soaps by Himmel Blue, The Green Collective, OneKM mall, #01-26/27, Singapore 437157
Oasis Skin, available online.
Deodorants doing good
We've got a nose for natural deodorants and we're loving Pong Free Pits for more than its au naturel, chemical-free ingredients. This handmade roll-on is packaged in a biodegradable, plastic-free casing. This one lets you free all kinds of pits (if you get the drift).
Pong Free Pits, available at The Social Space and Shopee.