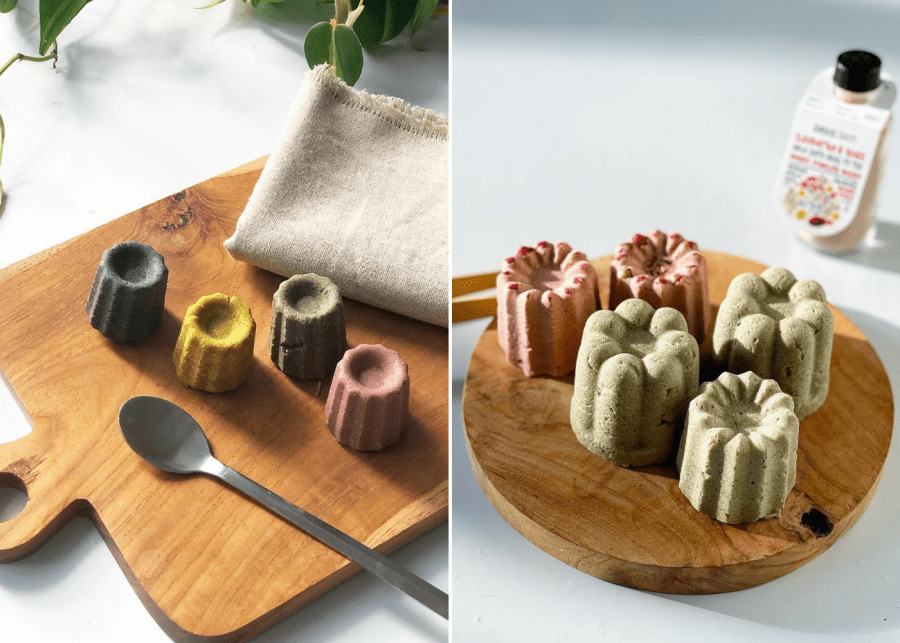 Photography: Oasis:Skin via Facebook
They require no liquids, have minimal packaging and last longer - here's why shampoo bars make solid, eco-conscious substitutes for their liquid contemporaries.
Honest talk: we weren't sure what to expect when shampoo bars became a thing. How does it work? Is it effective? Won't rubbing a bar of soap on the scalp tangle the hair? What felt like a whacky idea at first soon made sense when we found out about the eco-conscious effects it has on the planet. The switch to solid shampoos reduces carbon footprint and the use of plastic packaging; plus it lasts longer and saves water.
Still not sold on the idea? We dish the good (and some not-so-convenient) effects of shampoo bars, how to use them and present to you a list of our favourites.
The use of shampoo bars: Yay or nay?
Let's weigh the pros and cons
One pro with a capital "P" is how good these bars are to the planet, compared to liquid shampoos. Since it's a solid shampoo, little to no liquids are used. The use of plastic bottles is swapped out for minimal and sustainable packaging. It also lasts longer since it's a concentrated version of liquid shampoos.
Moreover, it doesn't contain nasty sulfates and silicones. It also doesn't strip your scalp of natural oils and moisture, so you're left with a softer, shinier and healthier mane.
However, shampoo bars tend to have a waxy coat due to the nature of bar soaps. This might be a hassle for those with frizzy or textured hair as they're more prone to tangling. The solution? A quick apple cider vinegar wash or conditioner (solid ones are available too!) will remove any product buildup.
Solid shampoo 101: How to use 'em
Just like switching to natural deodorant or any new product, new things take time to get used to. For solid shampoos, make sure you thoroughly wet the shampoo bar and your scalp beforehand. We prefer to lather the bar nicely between our hands before applying it to the scalp to reduce tangles and product buildup. Remember to store the shampoo in a quick-drying soap dish.
Depending on your hair and scalp type, you'll probably need some time to adjust to the switch.
Shampoo bars we're loving right now
1. Oasis:Skin Solid Shampoo Ginger
Oasis Beauty Kitchen has a rainbow of solid shampoo caneles, each crafted to treat all types of haircare concerns. The ginger canele (great for limp hair) has a blend of amla, stinging nettle and Indian pennywort to stimulate hair follicles and boost hair growth. The amazing smell comes from ginger and lemongrass oil which also enhances blood circulation and strengthens roots.
Oasis:Skin Solid Shampoo Ginger, $15 for midi canele, available online
2. L'Occitane Intensive Repair Solid Shampoo
Suffering from brittle and damaged hair? Treat your hair fibres right with this intensive repair shampoo. We love the amazing smells that come from natural essential oils like angelica, ylang-ylang, sweet orange, lavender and geranium. But oat amino acid and sunflower oil also work hard to repair and restructure the follicles, leaving the hair soft and supple.
L'Occitane Intensive Repair Solid Shampoo, $20 for 60g, multiple locations islandwide including Ion Orchard, Raffles City and Takashimaya; also available online
3. The Sustainability Project shampoo bars
The Sustainability Project's shampoo bars come in over 10 scents – each suited to every hair type. There's the refreshing and detoxifying charcoal mint, conditioning rose, stimulating and sebum-clearing tea tree and mint, and orange patchouli for dandruff prone or sensitive scalps. All bars are vegan, natural and handmade with optimum pH levels (6.5 to 7).
The Sustainability Project, $11 for 25g, available online
4. The Australian Natural Soap Company – Solid Shampoo Bar Dry Hair
Does your lifeless, dry and brittle hair need a little pick-me-up? The Australian Natural Soap Company uses a winning vegan combo of argan, lavender, clary sage and peppermint oil to tame pesky frizz, split ends and hydrate your tresses. Saponified coconut, almond and macadamia oil also mean no parabens and sulphates.
The Australian Natural Soap Company – Solid Shampoo Bar Dry Hair, $12.95, available online, ships to Singapore
5. Scoop Wholefoods Shampoo Bar Soaps
This bar soap is enough to get you through three to four bottles of shampoo. Just imagine the amount of money, plastic and water you'll be saving! Handmade in Australia with saponified olive, coconut and castor oils, Scoop Wholefoods' nourishing bars come in three varieties for normal, oily or dry scalps. It also has a hint of orange and peppermint that'll leave your scalp feeling refreshed.
Scoop Wholefoods Shampoo Bar Soaps, $8.50, multiple locations including Great World, Paragon and Parkway Parade; also available online
Tempted to throw out your liquid shampoos and try a shampoo bar instead? Or maybe you've tried it and are still getting used to the switch? Let us know your thoughts at [email protected].