Photography: Social.Cut via Unsplash
When you're planning your next big celebration, be sure to check out these party ware shops and online stores in Singapore for every essential imaginable.
Birthdays, bachelorette parties, anniversaries. We'll use any excuse to get liquored up and indulge in some good old-fashioned partying. But planning a get-together can be stressful, whether it's deciding on the party venue, invitations, food and drinks, or decorations. Need a helping hand, young party padawan? Hit up these stores for party supplies in Singapore and get everything you'll need to throw a sweet shindig.
Best shops for party supplies in Singapore
1. Misty Daydream
Make it a party to remember with the help of this one stop party supplier. Misty Daydream's got you covered for any event with its huge range of decorations, which are affordably priced. Personalise your party space with customised helium balloons, which you can purchase as individual letters or opt for packages that are prepared for specific occasions.
Misty Daydream, available online and at #08-25, Link@AMK, 3 Ang Mo Kio Street 62, Singapore 569139
2. Funlah
Balloons are becoming quite the statement piece at parties. We're talking helium-filled behemoths that fill up the backdrop of any birthday cake table. But if we're being honest, trying to lug huge balloons in the train or a cab is a task and a half. This is where Funlah comes in. This balloon-obsessed team specialises in jumbo-sized helium ones and party props. From bouquets and foil balloons to ones filled with confetti or even a balloon arch, the team can do it all. Have no idea where to start? Shop by occasion or theme and sift through your choices from there.
Funlah, available online
3. Party Wholesale Centre
Planning a party on a budget can be quite a headache. You might've thrown your budget into food and drinks, but you definitely can't forget about decor. For some of the lowest prices, click on Party Wholesale. To keep things affordable, all purchases are done online and there's no minimum spend. You also have the option of picking whether you want flat or inflated balloons. Besides party supplies that'll beautify your space, it sells party poppers, sparklers and glow sticks as well.
Party Wholesale Centre, available online
4. Mr Party
Ah, decision fatigue. We know this phenomenon a little too well. It can be a huge hassle trying to pick the perfect decor. But thanks to Mr Party's setup packages, you can say goodbye to all the headaches. Besides decorative balloons and paper garlands to hang up, it supplies fun candles and acrylic cake toppers. We even spotted some fun unicorn and dinosaur pinatas! Psst: we hear the team is working on supplying booze for parties. Exciting!
Mr Party, available online
5. Give Fun
The folks at Give Fun sure know a thing or two about parties. When we say that this online store covers all bases of party planning, we mean it. With just a click of a button, you can shop the extensive inventory. We're talking about bunting, fun cake toppers, and balloons that come in a variety of shapes, sizes, and colours. Planning to get a photo booth to capture precious memories? Shop for party hats, party balloon headbands and a whole array of photo booth props here.
Give Fun, available online
6. CGS Party
If you're the type who prefers sifting through decorations to find the perfect one, swing by CGS Party. The shop is packed full of party supplies, including biodegradable tableware. There are also colourful banners for just about any occasion – think birthday, anniversary and wedding buntings. Plus, if you're planning to dish out party favours, you can grab some colourful kraft paper bags!
CGS Party, available online and at #03-16/17/18, Kinex, 11 Tanjong Katong Road, Singapore 437157
7. Wow Let's Party
Its vibrant interior says a lot about this store. Whether you're planning a birthday or a bridal shower, you can find everything you need here. From piñatas and party balloons to packages and even party favours. If you prefer browsing from the comfort of your own home, the brand offers a fuss-free experience online.
Wow Let's Party, multiple locations including Moulmein Road and Parkway Parade
8. Party City
Welcome to Party City, where you can pick up anything from pinatas to fun candies and quirky gifts. Attending a costume party? The range includes superheroes and fairytale characters, available for kids and adults. Holidays like Valentine's Day, Halloween, Christmas and St. Patrick's Day also get their turn in the spotlight.
Party City, #02-23, Holland Road Shopping Centre, 211 Holland Avenue, Singapore 278967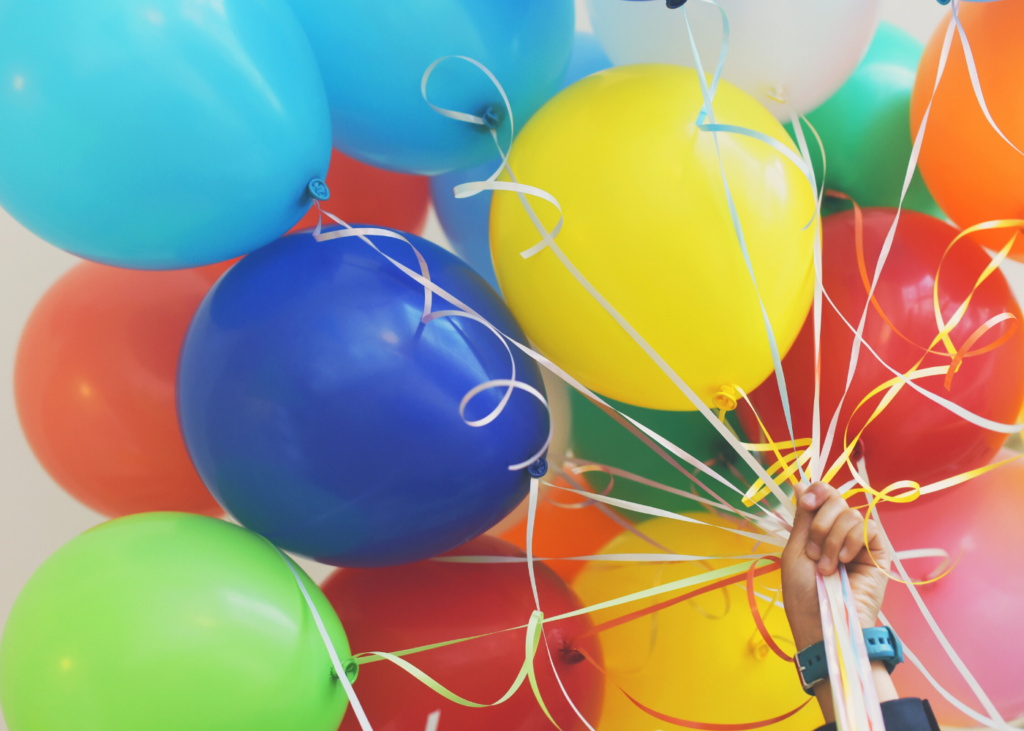 9. SKP
A name synonymous with pocket-friendly party stuff, SKP outlets can easily be found all over the island. It offers paper bags and biodegradable packaging, stationery of all sorts, party games and gifts, seasonal knick-knacks, light sticks and loads more. This isn't just a party supply store, there are even fun activity packages like magical shrink art and 3D-printed plane modelling.
SKP, multiple locations including Ang Mo Kio and Telok Ayer
10. Spotlight
No surprises here – the DIY crafts store we all know and love is a treasure trove for all your party needs. It's got one of the biggest collections of party supplies in Singapore, covering a wide variety of themes. Think birthdays, baby showers and calendar holidays like Christmas or Halloween. Get your decorations, tableware and even cake decorating essentials all in one place.
Spotlight, multiple locations including Plaza Singapura and Westgate
11. MTrade
Billing itself as a party shop with wholesale prices, this novelty store appeals to anyone planning baby showers, kids' birthdays, themed soirees and more. Apart from its collection of balloons, party favours, decor and inflatables, MTrade also offers unique items like glow sticks and old school games, plus all you need for occasions such as Halloween, Christmas and Children's Day.
MTrade, available online
12. Daiso
Everyone's favourite affordable store is the place to be when you're looking to stock up on party supplies. With aisles filled to the brim with crafts, tableware, and decorations, you'll be able to find exactly what you need. We spy fun birthday-themed glasses and hats, unique and colourful candles, and some beautiful garlands.
Daiso, multiple locations including VivoCity and Tampines
13. Party With Us
Temporarily closed.
From fun costumes to themed balloons, this store's got your back. It may take you some time to scroll through its extensive array of goodies, but you'll be rewarded with all the supplies and decor you need for your themed party or birthday shindig. Plus, it's got a neat selection of board games if your party needs a little boost in the entertainment department.
Party With Us, available online
Your celebration will be the talk of the town with these party supplies in Singapore!