Mustafa Centre is the ultimate shopping destination for locals and tourists. Design: Toh Beesuan
The best place in Singapore for shopping ain't Orchard. It's Mustafa Centre. Let's get started on this shopping paradise.
Sure there are all those top attractions in Singapore and the state-of-the-art museums, but Mustafa Centre is hands down a local icon and one place we've got a soft spot for. It's certainly no hidden spot or a Singapore secret, but it can be intimidating to conquer this building on your own. In the name of research, we hit Mustafa at several different timings: at 6am, 3pm, 7pm, 11pm and 3am to show you how it's done.
What is Mustafa Centre?
For the uninitiated, Mustafa Centre on Syed Alwi Road (nearest station is Farrer Park) is a 24-hour department store where you can get practically anything from Pears bar soap to a refrigerator at any hour of the day. Spread over two buildings and over six levels, there's a supermarket, electronics department, textile centre, jewelers and more in one place. If you know your way around this establishment, you can be in and out of the building in less than thirty minutes. But where's the fun in that?
True Singapore success story
Before this one-stop shopping destination became known for what it is today, it started with a small family stall that grew exponentially. Mustaq Ahmad, co-founder and managing director of Mustafa Centre first helped his father run a pushcart selling tea and bread in the 1950s before he started selling handkerchiefs alongside his father's stall. Seeing the potential in Mustaq's venture, his father switched from selling food to clothing retail – before acquiring the space at Serangoon Plaza and setting up the existing Mustafa Centre. It's also fun to note that up till 2005, Mustafa Centre used to sell parallel imported cars. They really do sell everything.
Ready player one
Before we step foot into this esteemed establishment, it's important to note: they absolutely love their cable ties. To avoid getting your backpack cable-tied with your phone and wallet in it (100% true story), lug a small crossbody bag or a tote. Also, if you're a Say No To Plastic eco-warrior, best to be prepared to debate with cashiers when insisting you use your reusable bags – or swallow your ethics and watch them cable tie the approved flagship Mustafa bags (they make for good refuse bags).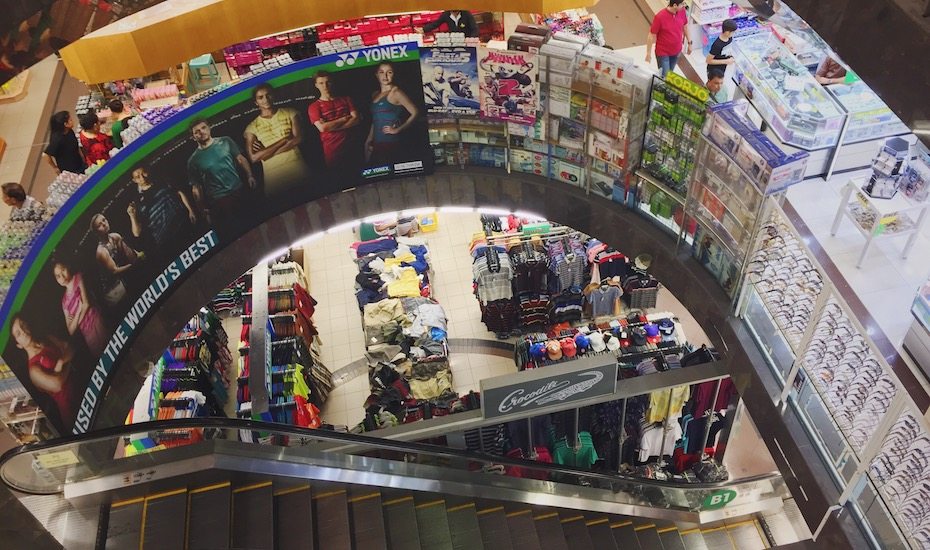 High SES, low SES, all bases covered
Yes, you can get gold in Mustafa Centre. On top of other luxury items like expensive watches, DSLR cameras and 60" television sets. The beauty of Mustafa Centre is that both high spenders and budget buyers can enjoy shopping here. It helps to do a price comparison  across several sources because while you can score a Kindle or an American Tourister luggage for a steal here, there might be better deals on a surround sound system elsewhere.
Having a game plan is everything
Two buildings, several levels – where does one even begin? I would suggest entering from Gate 1 and explore Mustafa Centre from the bottom up. Save the supermarket for last because trust me, you're going to go nuts there. Groceries are next level at Mustafa Centre. If you're big on organic products like milk, grains and flour, this place will give you plenty of choices. Case in point: the entire aisle devoted to pink Himalayan sea salt. From frozen naan to Nando's sauces, tandoori spices to fresh salmon, ghost peppers to pomegranates, this supermarket will put your local NTUC Fairprice to shame.
You're gonna need an exit plan too
With all that loot, you're going to need a cab home. If you're booking a ride on Grab (RIP Uber), then remember to take note of which gate you're waiting at – there are many and can get confusing for drivers. Gave up explaining to your Honda Vezel on how to get into Syed Alwi Road? Get out there on the street and flag a taxi straight, there's plenty!

Come for the shopping, stay for the food
You're in Little India, surrounded by some of the best authentic Indian food you can find on the island. Get walking and exploring the 'hood!
BONUS: Random finds at Mustafa Centre (to date)
A slice of London
Lifejackets
Beautiful copper ware
Some sports sticks…
Pink salt
Ugly jumpers
Enamel bakeware
Mustafa Centre, 145 Syed Alwi Road, Singapore 207704