Photography: Wimbly Lu
Here are 11 reasons why you should head to Serangoon for an afternoon of cafe-hopping!
The cafe culture in Singapore is flourishing – just take a look at our mega cafe guide and you'll know. Tiong Bahru and Telok Ayer are obvious stomping grounds for cafe-hoppers, but for a change of scenery and pace, heartland 'hoods like Hougang and Bedok do the trick with cafes that also boast satisfying brunch meals and impeccable brews. On that note, we are taking a closer look at Serangoon. In addition to the lush enclave of Serangoon Gardens, this residential neighbourhood is home to some of the best cafes in Singapore.
Best cafes in Serangoon
Wimbly Lu
This one hardly needs any introduction, especially if you're a dessert addict. The cosy cafe on Jalan Riang does fantastic desserts that'll be a hit with sweet tooths. Sink your forks into the root beer cake, s'mores pie, Oreo cheesecake and the decadent molten lava cake. Also, make space for waffles, which can be paired with ice cream flavours like salted caramel, honey cinnamon and chocolate truffle.
Wimbly Lu, 15-2 Jalan Riang, Singapore 358987
The Plain Jane
It's hard to distinguish between the sea of cafes offering usual brunch bites like eggs Benedict and English brekkies, but The Plain Jane's forte lies in something a little less conventional – Swiss rolls. The cafe, decked out in vintage kitsch, serves specialty Swiss rolls in flavours such as matcha, Nutella and Thai milk tea. If you're popping by during tea time, get the freshly baked scones to go with a cup of chai latte.
The Plain Jane, #01-10, 211 Serangoon Avenue 4, Singapore 550211
Kooks Creamery
Get out of the heat and cool off at this ice creamery specialising in offbeat flavours. Choose from highlights like Thai milk tea, blue chai Hokkaido milk, mermaid spirulina (think mango passion fruit with a touch of basil) and Arabica coffee. If you're in the mood to really treat yourself, order your favourite scoop along with a molten chocolate cookie.
Kooks Creamery, #01-02, 211 Serangoon Avenue 4, Singapore 550211
Sun Ray Cafe
Great coffee and a room full of gleeful dogs? This must be some kind of heaven. In addition to the playful ambience afforded by the diner's pups, you can tuck into savoury and sweet bites like customisable sammies, burgers, waffles topped with ice cream and the comforting bread and butter pudding. Watch your pooch wag their tail in excitement when you treat them to doggie muffins and homemade beef shepherd's pie. It's also worth mentioning that the coffee is roasted in-house and in small batches to ensure freshness.
Sun Ray Cafe, 79 Brighton Crescent, Singapore 559218
Two Bakers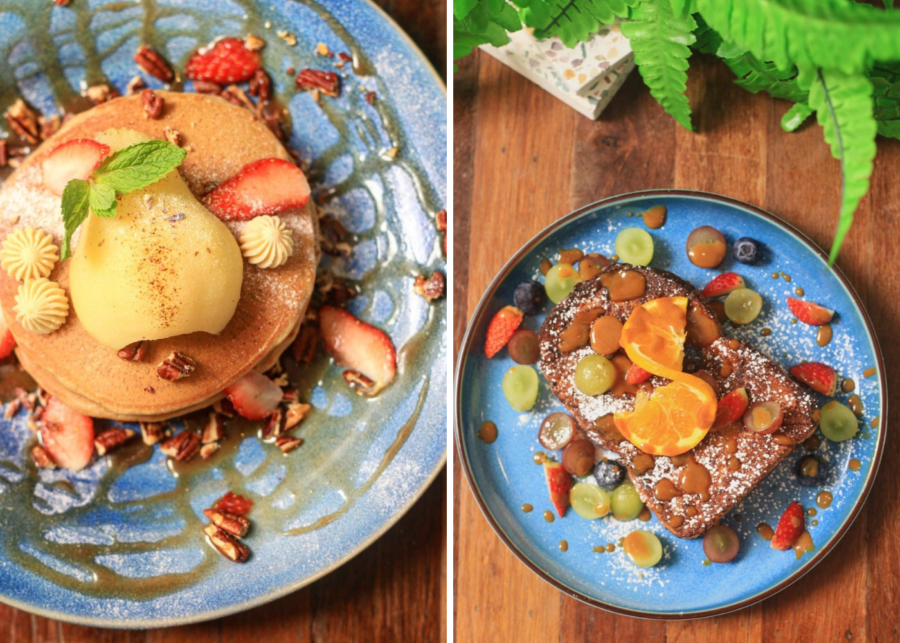 A stone's throw from Serangoon MRT, Two Bakers is a breath of fresh air in the cafe scene. Showcasing mod-Sin flavours, its brunch menu offers dishes like bak kwa-stuffed omelette, kaya French toast and pandan pancakes. For lunch and dinner, the menu moves into Korean-inspired plates, including bulgogi steak don, japchae beef salad and cheese buldak taco, which sees the piquant Korean chilli powder adding a spicy kick. But for the traditionalist, plates of steak and mash, mac and cheese and the keto-friendly salmon with pea puree will surely satisfy. Oh, and with a name like Two Bakers, you don't want to miss out on its artisanal bakes!
Two Bakers, 9 Tech Chye Terrace, Singapore 545720
The Larder Cafe
At this no-frills spot, you can get your fill of burgers, pastas and pizzas alongside brunch fixings like eggs Benedict and cheese toasties. Looking for a pick-me-up? Choose from a slew of beers, wines, coffees and teas.
The Larder Cafe, 66A Serangoon Garden Way, Singapore 555962
Maison Kayser
You don't have to head all the way to the CBD to try its famed croissant, as there's a branch right here in the heartlands. Known for weaving unusual flavours into traditional French recipes, Eric Kayser's eponymous bakery rolls out a wide range of savoury and sweet baked goods. Sunday brunch is settled!
Maison Kayser, 1 Maju Avenue, Serangoon Garden, Singapore 556691
Oblong
Come for the ice cream but stay for the waffles. Popular flavours like red velvet and s'mores are loaded with sweet fillings. Choose from a selection of syrups like caramel and butterscotch, then top it off with a scoop of cookies and cream, ondeh ondeh, rocky road, banana Nutella or mint charcoal ice cream. Just be prepared for the inevitable sugar rush – but it will be worth it!
Oblong, 10 Maju Avenue, Singapore 556688
Cottontail Creamery
Don't be fooled by the moniker! Cottontail Creamery's ice cream, which comes in flavours like honey lavender, earl grey and lychee martini, might be good but the savoury offerings are just as satisfying. So before treating yourself to an icy sweet, go for the pulled pork quesadilla, Peruvian chicken skewers or pesto pasta.
Cottontail Creamery, #01-378, 326 Serangoon Avenue 3, Singapore 550326
Amber Amber
What in the world is a jaffle, you ask? Well, it's essentially a sandwich that got its name from the Jaffle iron. Still baffled? Let the folks from Amber Amber school you on this Aussie-originated toastie with seven options, including the Cheeky Beef, a serving of 18-hour braised pulled beef cheeks with mozzarella, gruyere and emmental; and the Mala del Ray, which is stuffed with pastrami, beef pepperoni, Sichuan spice and mala mayo. End your meal on a sweet note with waffles that come in classic flavours like s'mores and peanut butter and jelly.
Amber Amber, #01-01, 730 Upper Serangoon Road, Singapore 534643
Apollo Coffee Bar
Escape the chaos of Chomp Chomp by ducking into this minimalist cafe. Food-wise, expect to try standard brunch fare like strawberry maple pancake, candied bacon waffle, pork and pear tartine and breakfast burger – the perfect combination of bacon, scrambled eggs and melted cheddar sandwiched in a brioche. It goes without saying that you have to try the coffee, especially in-house bottled brews like The Cosmos and The Milky Way. For something saccharine, check out the cake counter for a range of dessert options.
Apollo Coffee Bar, 65 Serangoon Garden Way, Singapore 555961
Now you're all ready to eat your way through the best cafes in Serangoon!