Let your hair down in a sea of sprinkles! Photography: Melissa Toh
It's August, which means the highly-anticipated Museum of Ice Cream is open to visitors! Here's everything you need to know about the sweet pop-up.
Feeling the heat of our perpetual summer? Fret not, 'cause ice cream-fuelled fun has landed on our tropical island and we're so psyched for it. That's right, the uber popular Museum of Ice Cream is finally open! Singapore is the chosen destination for the experiential exhibition's first-ever international location after its sold-out stints in Los Angeles, New York, San Francisco and Miami. Heads up: this ice cream attraction is one of the most Instagrammed museums in the world – celebs like Beyonce, David Beckham and the Kardashians are fans – so you'd better get your cameras ready.
Ultimate guide to the Museum of Ice Cream in Singapore
The date is set for now till December. The place? Dempsey. Find it within a sprawling space taking up 60,000 sq ft, surrounded by lush foliage. You already know what to expect from photos, but the Singapore version will spotlight 14 never-before-seen installations in 10 themed rooms – all devoted to ice cream. If that's your fave dessert, you'll be thrilled to have countless photo ops, so come in your sundae best.
With everything looking pretty in pink and pastels, you'll be transported to a world of interactive fun, scrumptious-looking backdrops and oh-so-sweet treats. Friendly museum guides will take you on a playful trip around the space. Oh, and did we mention the UNLIMITED ice cream throughout the experience? Yay to that!
Ready for a whirlwind adventure through sweet treats, colourful experiences and plenty of fun? Start by creating your very own ice cream name. Once your name tag is on, step through the curtains to the Museum of Modern Ice Cream. Here, you can feast on bite-sized ice cream trivia and design the wildest ice cream cone of your dreams on the interactive touch screen panels.
For more pink-themed fun, challenge your pals to a game at Marble Run, with a castle-like installation that looks like something out of a Disney movie. Spin the wheel to get your marble on the track and watch it go!
Now, if you're itching to travel, take a summery trip to the room of California Dreamin, where the palm trees are pink and the ice cream flavours are boozy. Yes, the crowd favourite is an alcoholic pick: the pina colada ice cream, which tastes just like it sounds!
Wanna throw it back to the time of jukeboxes and payphones? Pay Scream's Diner a visit for all the pink-hued retro vibes you need. Take a seat by the counter and order up a frosty treat from one of the friendly servers.
We like the apple pie flavour, topped with sprinkles. Psst: the jukebox is actually functional! Just select the number of your desired track and hit play.
Heads up if you miss playing in bouncy castles: Inflatable lets you jump around to your heart's content. This bright pink space isn't just reserved for the kiddos – we spotted many adults having the time of their lives, too. Needless to say, we had to join in the fun!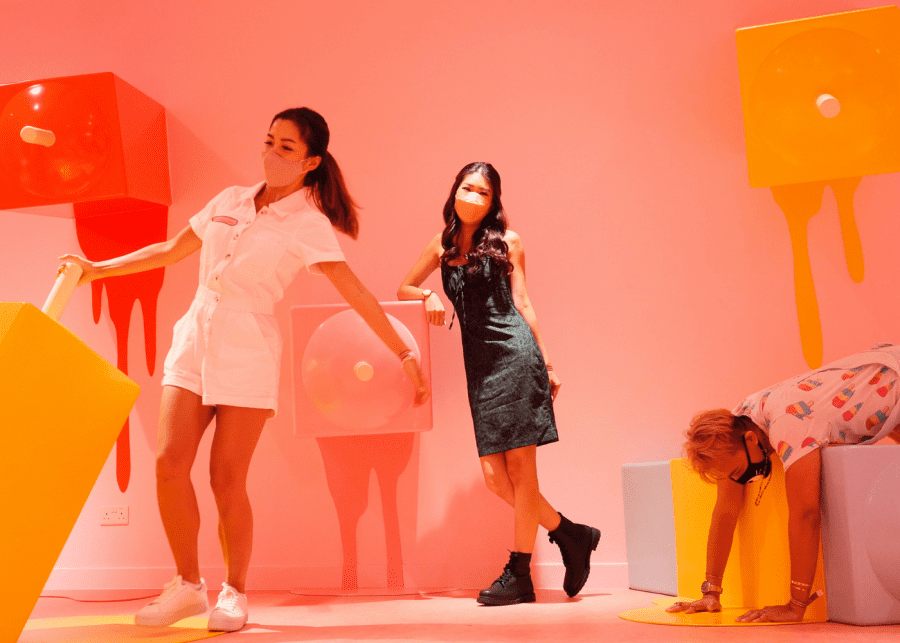 For a dose of nostalgia, Potong transports you into a world decorated with larger-than-life installations of this childhood ice cream. After snapping your pictures, swing by the ice cream cart for a scoop of locally-inspired pulut hitam ice cream.
Caution: more fun ahead at Playspace! Think banana and cherry swings, a pastel-themed version unicorn playground (that resembles the retro dragon playground in Singapore) and more. To fuel your adventures, there's also lychee bandung and taro milk tea ice cream to indulge in.
Love neon? Enjoy ice cream? You'll be stoked for Melted infinity, a slightly trippy space with mirrored walls and melted ice cream installations lit up with neon lights. It certainly melted our hearts!
And because no ice cream sundae is complete without bananas, Banana Split is a room dedicated to this fruit. It's not without a MOIC twist, of course. Walk through the installation where some bananas are a normal sunny hue, while others are designed in bright red and orange colours.
Finally, one of our favourite highlights of the experience: the MOIC Sprinkle Pool. Jump into a sea of sprinkles and let your hair down as everyone parties in this glorious pool of multicoloured goodness.
Birthday fun for opening weekend
Those of you lucky ones who managed to snap up tickets for the weekend of 19 to 22 August can celebrate the nation's 56th with nostalgic games. Challenge your friends to chapteh and five stones, meet Mercone (part Merlion, part ice cream), get tatted up with National Day-themed designs and show off your creativity on the National Day Ice Cream Truck. You can also shop merch in collaboration with local brands at the retail area and sip on a limited edition Singapore Sling boba cocktail at the bar.
Say it with us, all together now: we all scream for ice cream!
Museum of Ice Cream, from $38 per person, tickets available online, open Thurs – Sun, 10am – 11pm; 100 Loewen Road, Singapore 248837