These faces are going to change Singapore's bar scene. Photography: Lulu's Lounge
Equal parts genius and downright crazy, Tertius Wharton and Julyan Phillips (and their cocktail creations) are ones to watch.
Greeted by a drag queen, cocktails with nipple pasties and a magician on stage… heads up, if you've never been to Lulu's Lounge, you're in for a titillating night. One of our fave bars has brought a refreshed cocktail menu to the table and trust us, you'll love the energetic duo behind it.
International bar connoisseurs Tertius Wharton and Julyan Phillips cleverly combine their bartending skills, passion for cocktail experimentation and Lulu's unmistakeable theatrical flair. Ladies' night will never be the same.
The duo independently made their mark at the likes of Hong Kong's J. Boroski and Ophelia and New Zealand's Hippopotamus Bar at Museum Wellington. Now, their reunion in Singapore will put a new spin on Lulu's Lounge and they have the cocktails to prove it.
The menu has five new tipples including the Cherry Red Lace concocted with cherry liqueur, sweet vermouth, blood orange soda and embellished with a black lace garter. The Loosen Mai Tai pays homage to a tiki and is shaken with handmade Venezuelan silk rum, orgeat, yuzu and more rum (Fun fact: the yuzu was an accidental discovery when Tertius could only find yuzu sake).
We had a chat with the duo and soon discovered why they were perfect for this unabashedly risque bar…
How did both of you become friends? And when did you decide to collaborate?
Julyan: Friends is a strong word – we've been mutually responsible for each other's undoing for around 18 years since school.
We worked on and off together in London six years ago and lived together for much of it. We then went on our own adventures, and finally reconvened on the back of a sporadic phone call where I asked Tertius to drop his life in New Zealand and fly to Singapore. For some unbeknownst reason he said yes after four days' notice.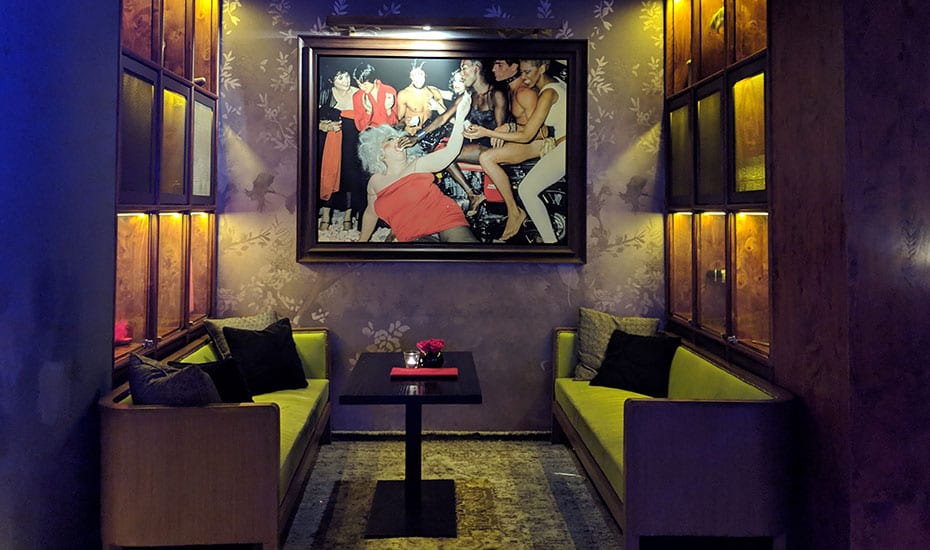 What do you love about Lulu's Lounge?
Julyan: We've both worked in every kind of bar you can think of. We have always struggled between the desire to make amazing drinks whilst pushing boundaries but still generate a party environment. We love our cocktails but we love dancing on the bar just as much. Lulu's Lounge allows us to take our drinks seriously and ourselves less so.
Your inspiration behind the new cocktail menu at Lulu's Lounge?
Julyan: Leading on from our previous point, we wanted to remember the roots of our industry just as the decor in Lulu's Lounge does. We enjoy playing with aspects of culture that are often dismissed as trashy or cliché.
For an example, the slip of the tipple cocktail is our twist on a porn star martini, a drink that is heavily criticised by the "serious" bartenders. We looked at it and thought: "You know what, vanilla and passion fruit is a delicious combination, let's find a way to make this work." We replaced the vodka with a decent cognac and a citric cocoa twang from Aztec chocolate bitters. We created a drink that speaks more to artisanal dessert than a trashy disco drink, then we stuck a nipple tassel on it…
What's your favourite drink from the new cocktail menu?
Tertius: Probably the Loosen Mai Tai.  I've always loved tiki drinks and rum, and the yuzu sake just comes straight out of left field and creates a fantastic balance you wouldn't expect.
Julyan: For me, it's got to be the Cherry Red Lace. It's not the kind of drink I would normally order as I'm much more of a stirred down, punchy drink kinda person but my aim was to bring the subtle complexity and nuance of something stirred down and make it accessible with a lower ABV (alcohol by volume). The vermouth, cherry liqueur and bitters really create that, while the blood orange soda just makes you smile.
Personal go-to cocktails that you order when visiting bars?
Julyan:Tertius: Ditto on the daiquiri, after that I'm going for a dry gin martini. Let the bartender pick the gin, always with a twist. Olives, however, are a snack so keep them out of my drink!
What is your least favourite cocktail to make?
Julyan: ALL LAYERED SHOTS! Ordering a b52 is the quickest way to tell everyone in the room you have the palate of a child. Just order a real shot, it comes with all the fun and none of the diabetes – e.g. rum, tequila or whisky!
What makes for a great night out in Singapore?
Tertius: Air conditioning! But on a more serious note, Singapore has so many amazing bars that the best thing we would say is: variety. We love knocking back boilermakers at Skinny's Lounge or sipping on the reverse gin and tonic at The Other Room, service standards here are incredibly high whatever you're into, so try it all and come see us at Lulu's Lounge when you're done. In short, good drinks and better people!
Any fun stories to share about your worst night(s) out in Singapore?
Julyan: All we can reveal at this point is "Orchard Towers!" We still owe them a bottle of Dom Perignon. And we love Fung Kee Hot Dogs.
Where are your go-to spots for post-shift supper/breakfast?
Julyan: We've got to thank our more local colleagues for this one. 揾到食 at 126 Sims Avenue, the only place that gave me a century egg I enjoyed. Tertius, on the other hand, is vegetarian so we normally just feed him the leftover cucumber from the garnish trays.
What's your secret remedy for a hangover?
Julyan: Vietnamese pho, and obscene amounts of chilli to sweat out the toxins then start all over again!
Tertius: In the words of Archer: "If I stop drinking now the accumulated hangovers will kill me." I always feel fine when I go to bed and awful when I wake up, my advice? Avoid sleep!
And a recommended hangover breakfast spot?
Julyan: We will assume that by breakfast you mean late lunch, we take strong moral objection to the notion of breakfast! But Oxwell and Co. does a phenomenal roast! The gravy and Yorkshire puddings are out this world.
Lulu's Lounge, Pan Pacific Hotel, 7 Raffles Boulevard, Singapore 039595, Wednesdays: 7pm-3am; Thursdays: 9pm-3am; Fridays and Saturdays: 9pm-6am. Closed on Sunday-Tuesday.