Balance a wine glass while mini-golfing, destroy your friends at board games or kick serious ass at Space Invaders!
Stuck in a Groundhog Day-like loop after work? Sure, your regular watering hole takes good care of you. But you could use a change of scene. Switch it up with these exciting new themed bars that serve tipples with a side of character!
Tee off at Holey Moley Golf Club
Who's ready to par-tee? We're totally lovin' Holey Moley in Clarke Quay – a two-story mini golf club and cocktail bar that's all kinds of whacky. Give clubbing a whole new meaning at this mini golf course x club where you can expect putting holes that celebrate Game of Thrones, Jaws, The Simpsons, a hawker centre and more pop culture themes. 'Cos booze, burgers and Insta-worthy interiors are the only legit way to make golf fun. Immaright? Read our full review here.
Holey Moley Golf Club, 3B River Valley Road #01-01 Clarke Quay Singapore 179021
Show 'em who's boss at King and the Pawn
Hold your battleship, we've got news. Board games, including some fun locally designed ones, are up there on the popularity ladder right now. Extra points for the good guys at King and the Pawn for plotting this cool new board game themed bar and cafe. We're already claiming a table here but how do we choose from 300 odd games that include ruckus-causing party ones to intense two-player ones (date night, anyone?). Can't think on an empty stomach? Good thing they serve easy to eat and share bites like nachos and croquettes. If you do your best strategising over cocktails (like us), they've got plenty of those as well as craft beer, wine and coffee.
King and the Pawn, 24 Purvis Street, Level 2 Singapore 188601
Get lit at Cook & Tras Social Library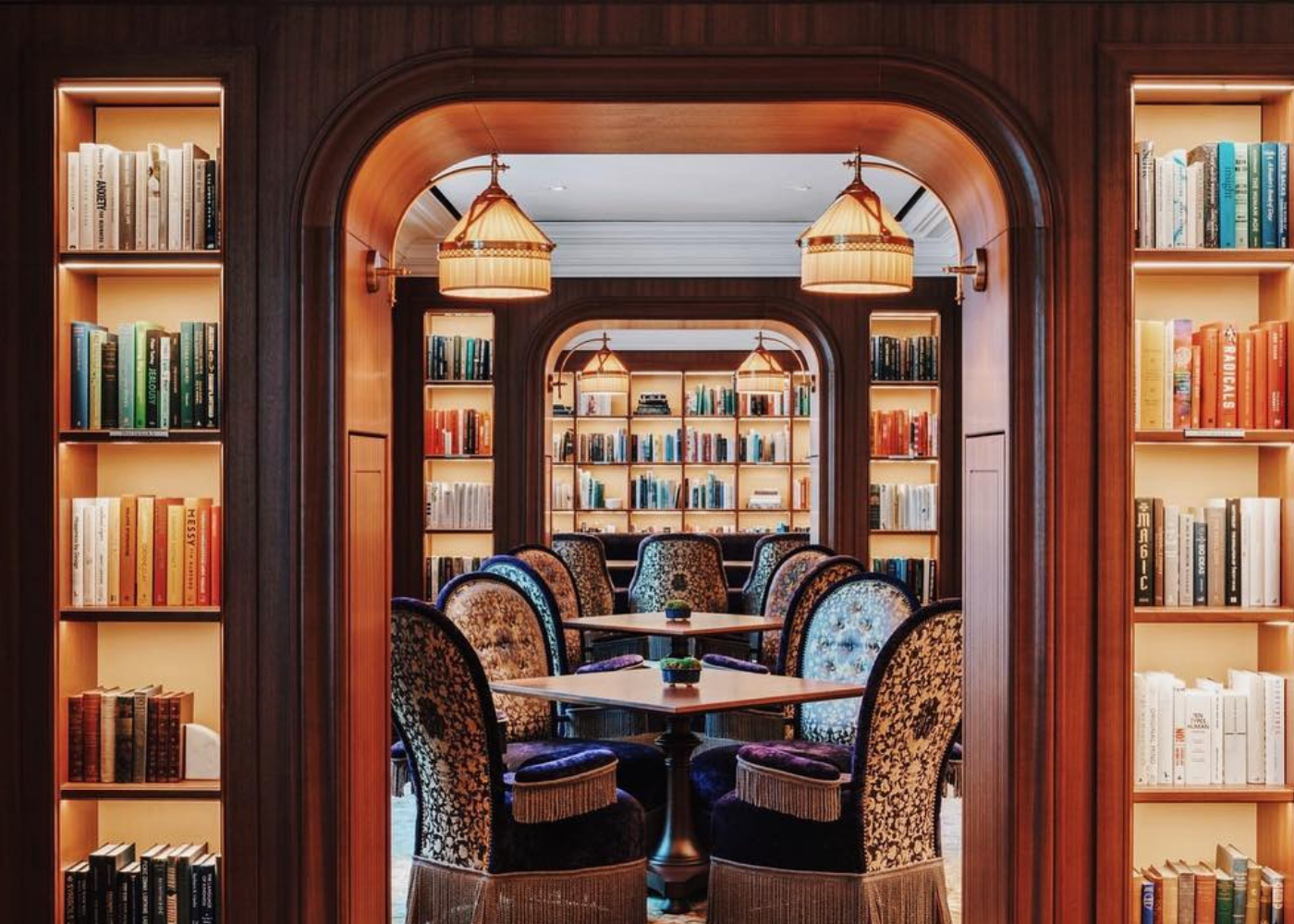 For starters, we simply can't stop swooning over the heritage Art Deco-era building that's now home to Six Senses Maxwell. Inside is Cook & Tras, a swanky bar that doubles up as a library. Bibliophiles, once look at the massive collection of hardbound books will have you swooning. We hear they've got over 3000 titles in this social library and you can simply one up to read. If you happened to book a staycation at the hotel, you can even check-out books – they've got that old school card system for it too!
Cook & Tras Social Library, Six Senses Maxwell, 2 Cook St, Singapore 078857
Bounce around at Pong Singapore
If there's one place on this island that takes beer pong really seriously, it's this one. So much that's even named after it! Don't go expecting a regular traditional game with red solo cups at this sports-themed bar. The game is high on tech here – PongConnect technology lets you and your crew connect to live scoreboards with players from around the world.
Pong Singapore, 3B River Valley Road, #01-17, The Foundry, Singapore 179021

Rewind big time at White Label Records
Leave it to absolutely crazy vinyl lovers to spin a new bar concept. Ann Siang House is opening its doors to White Label Records where you can buy LPs and celebrate with drinks. Come dusk, this day-time record store (that'll serve limited lunch sets too) changes its tune to turn into a fully stocked intimate pub, complete with DJs, live acts and a philosophical neon sign.
White Label Records,  28 Ann Siang Road #01-01, Ann Siang House, Singapore 069708
Hide away at Jigger & Pony
Say hello to an old friend – Jigger & Pony with its Prohibition-era like feel is back to fill us up with incredible craft cocktails. We weren't too bummed out when this iconic watering hole shut shop on Amoy Street early this year. Only 'cos we knew something bigger and better was coming our way. The new Jigger & Pony at Amara Singapore is one helluva upgrade – it's bigger, glitzier and a world in itself. The classic grid-menu makes an appearance… on the back cover of a magazine-like menu. But if you're looking for the exact same tipples to make an encore, you'll only find a chosen few. Instead, try some great new concoctions and bar bites to go with it. The foot tapping music, plush seaters and the quirky art that's travelled from the original J&P make this our new (old) favourite.
Jigger & Pony, Lobby Level, Amara Singapore, 165 Tanjong Pagar Road, Singapore 088539
Time travel at Nineteen80 & Level Up
#ThrowbackThursday? More like throwback every single day at this neon-drenched arcade bar in Tanjong Pagar. Walking into Nineteen80 is like stepping into a time machine – a pixelated Bruce Lee is hanging around, old school video game characters make an appearance and there's a cassette tape wall to make you go "O.M.G I haven't seen this in decades!". Nothing beats getting competitive at arcade games with your friends. Besides, the loser buys the next round of drinks.  
Nineteen80, #01-05 21 Tanjong Pagar Road, Singapore 088444
Clarke Quay too has its own arcade bar stocked with games like Street Fighter, Metal Slug, Puzzle Bobble and the likes. It's a sprawling space on level two and there are plenty of games to choose from. And of course, they have air hockey, beer pong and a pool table to keep you and your pals occupied all night. Bring your game face…
Level Up 3A River Valley Road #02-04, Singapore 179020
Bonus!
Crazy carnival at Marquee Singapore
Have you been to Singapore's largest nightclub yet? Marina Bay Sands' newest jewel Marquee Singapore is more than just a club. It's an OTT nocturnal carnival with a full Ferris wheel inside. Each booth even has a fun gif-making tablet inside. And if you find yourself on level three, forget about taking the stairs down. Queue up at Sunny Slide Up – an indoor spiral slide that transports you to level one. Such fun!
Marquee Singapore, The Shoppes at Marina Bay Sands, 2 Bayfront Avenue, #B1-67, Singapore 018972
Like this story? Check these out:
Sing your heart out at these KTV bars
Get high on the view: Rooftop bars to be at
Yes, it's Ladies Night!
Merci Marcel is now on Club Street
Let's take things to the next level: invite us into your inbox!