Win cool prizes for dear old dad.
Shout out to all the awesome dads out there! Celebrate Father's Day in style with our groovy giveaway.
Father's Day is just around the corner and we've got a fantastic giveaway for daddy dearest. From bar accessories to bottles of wine to fancy dining experiences, there's a prize for every dad. Just enter the draw by 13 June for your chance to win. Good luck!
Father's Day Giveaway 2021
Update: The giveaway has closed and the winners have been picked. Thank you for your participation!
The ins and outs of the giveaway: Competition closes on 13 June 2021, and winners will be notified by email. Winners need to be in Singapore to claim their prizes. All T&Cs will be at the discretion of vendors. This giveaway is non-refundable or exchangeable for cash. Check out our full competition terms and conditions for more details.
---
1. A sophisticated Italian dining experience at Monti
A gorgeous space offering glittering views of Marina Bay, Monti plates up authentic, elevated Italian cuisine for an unforgettable time. Ingredients are premium and sourced with much care, including olive oils created just for the resto. Charming and traditional, its menu highlight has to be the in-house handcrafted pasta dishes. Complete your meal with dreamy appetisers and mains that dad will love.
Father's Day giveaway: $150 Monti dining voucher for 1 winner.
2. A sleek speaker from Bang & Olufsen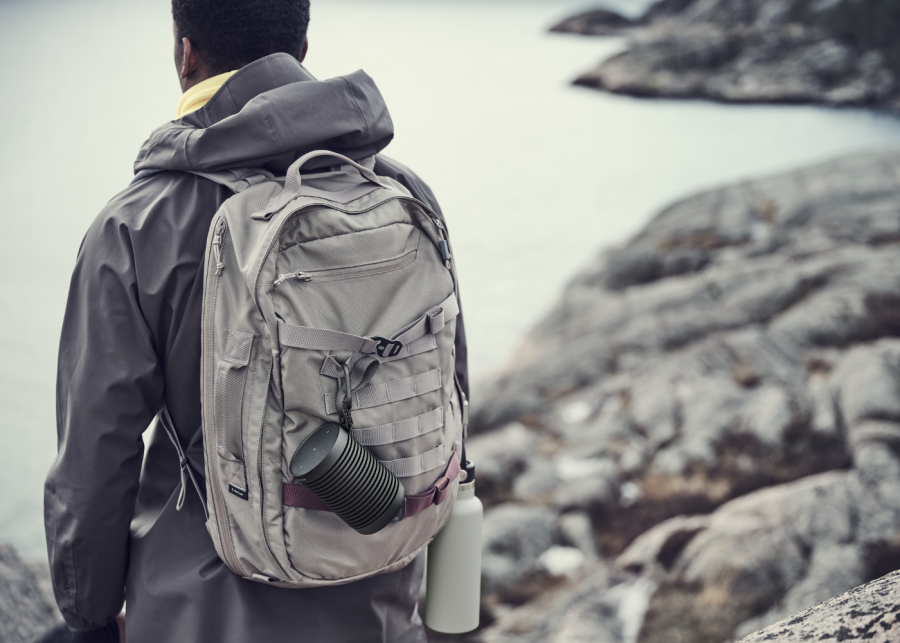 Does dad need a new Bluetooth speaker? The Bang & Olufsen Beosound Explore is durable, portable and features up to 27 hours of battery life – perfect for the father on the go. Whether he's going camping or hiking, this sophisticated outdoor device delivers the power and volume he needs. Best of all, its surface is resistant to scratches and corrosion, and the speaker is dust and waterproof. A fantastic addition to any audiophile's collection! Psst: As the official distributor of this brand in Singapore, Design Collection Denmark brings an array of Danish luxury lifestyle brands to our shores.
Father's Day giveaway: Bang & Olufsen Beosound Explore (worth $329) for 1 winner.
3. Bottles of red from California Wines
California Wines offers 100 grape varieties – what better way to gift pops a little something to indulge in? Rodney Strong's pinot noir features exquisite earthy, floral and red fruit aromas. Its soft and silky texture, combined with dark cherry, cranberry and baking spice notes, gives you a beautiful, lingering finish. As for The Prisoner Wine Company, its red blend surfaces flavours of ripe raspberry, boysenberry, pomegranate and vanilla. Swirl and sip to get the aroma of bing cherry, dark chocolate, clove and roasted fig.
Father's Day giveaway: Rodney Strong Russian River Pinot Noir 2017 and The Prisoner Red Blend 2018 (worth $173) for 1 winner.
4. A sky-high dining treat at 1-Atico
Sitting high in the sky – 55 floors up on Ion Orchard, to be exact – 1-Atico takes its name from the Spanish word, 'penthouse'. It's home to three concepts: Flnt, Fire and Atico Lounge. The first is a 'fire-in-the-sky' Argentinian restaurant that specialises in wood-fired cooking techniques for amazing flavours, while the second is a sumiyaki bar and grill with Japanese and Peruvian influences. Oh, and Atico Lounge is where it's at for the ultimate luxury in nightlife entertainment. No matter which place you pick, you'll have a swell time with good ol' dad. Cheers to stunning panoramic views, good vibes and great nights!
Father's Day giveaway: $150 1-Atico dining voucher to be used at either Flnt, Fire or Atico Lounge for 1 winner.
5. Bar accessories for the discerning drinker
If dad's big on whisky and wine, he'll love this Georg Jensen pair. The stylish corkscrew, crafted from mirror-polished stainless steel, is a classy blend of form and function. Meanwhile, the reusable 'ice cubes' are perfect for keeping drinks cool at any dinner party. Both items feature such striking, contemporary designs, they'll be the gems of any home bar! Design Collection Denmark is also the official distributor of this brand in Singapore – check out other names in its portfolio including Ro Collection and By Lassen.
Father's Day giveaway: Georg Jensen Sky Ice Cubes Set and Sky Corkscrew (worth $140) for 1 winner.
6. An indulgent meal at Mimi
A chic hangout in Clarke Quay, this modern Chinese restaurant is hidden away on the upper floor of The Riverhouse. The 150-year-old building is one of two remaining conserved Chinese mansions in Singapore, and it provides an exquisite backdrop for your dining experience. Bring the fam and tuck into Mimi's traditional Chinese cuisine with a contemporary spin as you luxuriate in your elegant surroundings.
Father's Day giveaway: $150 Mimi dining voucher for 1 winner.