Photography: Ice Cream Sundays
We've got no lack of great parties in Singapore, but when you think chill tunes and good vibes, one name comes to mind.
Ice Cream Sundays, a party collective that throws shindigs as fun as its moniker, has been serving up day-to-night revelry since its debut in August 2016. Thought up by buddies Daniel O'Connor and Jake Camacho, Ice Cream Sundays has grown through the years to collaborate with DJs, musicians and local artists to add a dash of funk and flair to its merrymaking affairs. From cosy rooftop sessions in residential areas to massive takeovers of local landmarks like National Gallery Singapore, Gillman Barracks and Haw Par Villa, the group constantly churns out fresh concepts in unexpected places. Curious to find out more, we had a chat with Daniel about his party spirit and his love for Singapore.
Tell us about yourself and your love for daytime parties.
My love for daytime parties stemmed from my time in Melbourne, where I lived and worked for a year before moving back to Singapore. I was working in F&B at that time, and my only days off were Sundays, so a big part of my social life revolved around Sunday sessions. When I came back to Singapore – and maybe it was just because I was so out of touch with what was going on after six years away – it felt as though there was a big gap that was crying out to be filled.
How did Ice Cream Sundays get started?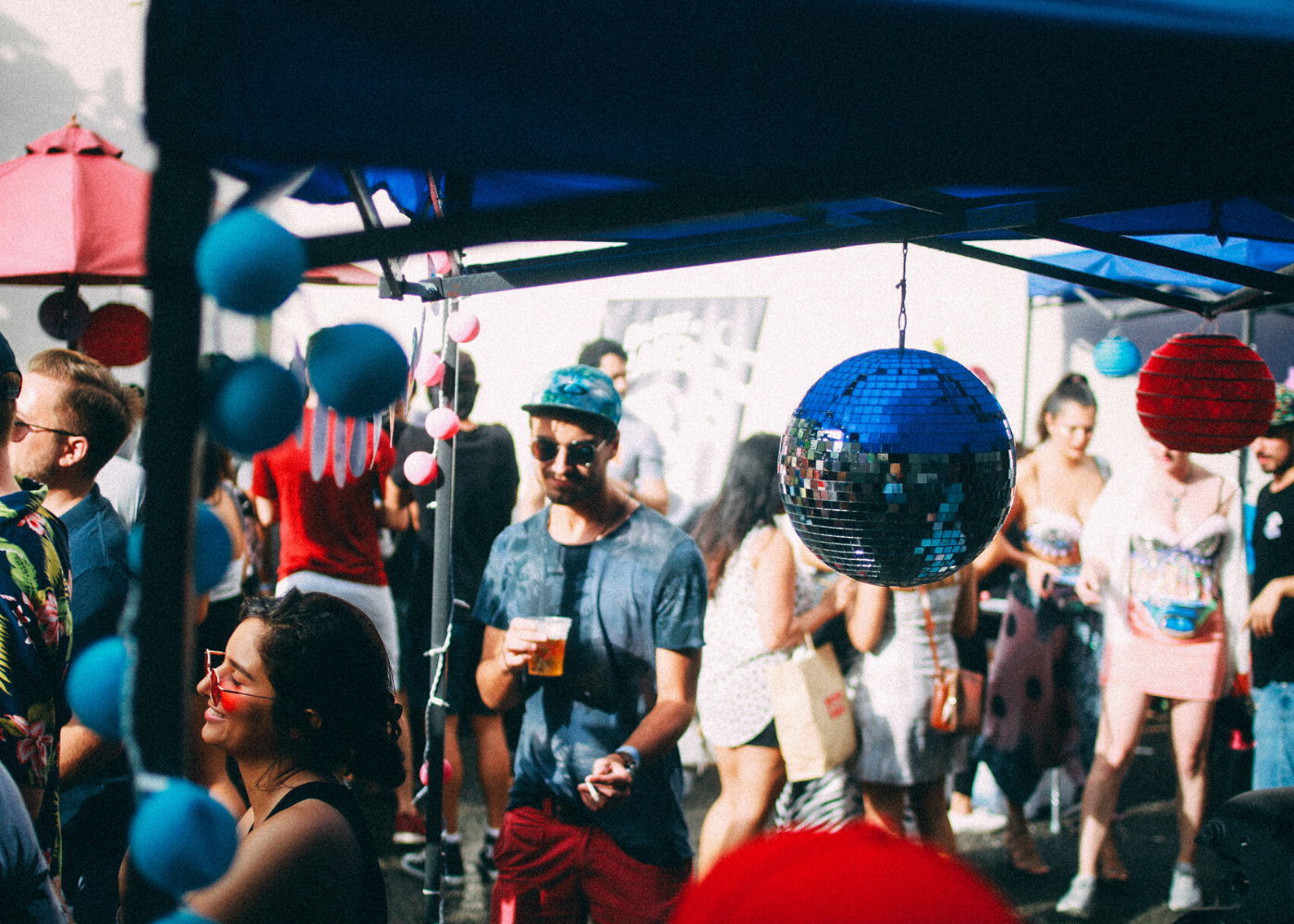 ICS came about after a drunken conversation with my old schoolmate and co-founder Jake back in 2015 after I had just moved back to Singapore. Jake was over for a visit while waiting for his work pass to be approved and we went for a night out at the old Club Kyo. Fuelled by a few too many drinks, we spent half the night bemoaning the lack of options for parties that felt accessible to us in terms of the music, the crowd, the vibe and affordability. Through the hazy memories of that evening came the very rough outline of a concept that we refined in the months before Jake's move to Singapore. We decided to start small with a series of very intimate house parties.
We had little to no experience as promoters back then, or any kind of industry network in Singapore to tap into, so it felt like the right way to start things off. Once Jake made the move, we took the plunge on our first party, which was held on the rooftop of our friends' duplex in Geylang. All the DJs, bartenders, door people, set-up/clean-up crew were just friends who saw the value in what we were trying to build, and we're so thankful to this day for all the help we received to get it off the ground.
At its core, what sets Ice Cream Sundays apart from other party collectives?
I think the day to night concept has definitely worked well for us, as people have the option to party and wake up feeling human the next day. Switching up venues from event to event then allows us to keep things fresh, with each space giving each party its own unique character, even though the other core ingredients remain similar. We also try not to take ourselves or our brand too seriously, which we hope makes the parties feel accessible to different types of people.
One thing I also strongly believe works in our favour is that our team has a good balance. Unlike many party collectives, we are not all DJs. I think it's important to have an organising team with a variety of backgrounds, interests and skill sets in order to be able to think about things from different perspectives.
Is it easy being a young entrepreneur in Singapore?
I don't think it's easy being an entrepreneur in any context. Singapore makes the process of incorporating a company very straightforward, and offers great incentives to do so, while the scale of the city means you can build a network quickly. Having said that, in this line of work, the size of the market can also be a big disadvantage in terms of securing the sort of funding you need to make your ideas a reality, while operating costs can run very high.
I can't overstate how important the loyal support of our network of friends and partners has been. It allowed us to make our mistakes along the way and take our time to find a stable model that would allow us to grow, while keeping true to our principle of keeping the parties affordable.
Juggling ICS with our day jobs and other personal interests is a massive challenge, particularly as it grows, but it gives us a great outlet to be creative and meet so many new people outside of our professional lives. On a personal level, I am in the process of transitioning to being a full-time entrepreneur, and having this experience of running a small business in my spare time this past three years has been invaluable.
Ice Cream Sundays is all about the community. Share with us a few instances when you really truly felt the community spirit.
There are countless moments. People asking us at the parties if they can volunteer at future events, friends of our team regularly staying from setup in the early morning until the moment the last item is packed away in storage, bar staff staying beyond the clock to make sure every last bit of the teardown is complete, guests of the parties grabbing bin bags at the end of the night and offering their help to clean up… I could go on.
Some of my favourite memories of running ICS are at the end of the night when we've finished packing up and everyone is recounting funny things that happened during the party, or laughing at things that would otherwise never be funny. That shared feeling of almost delirious exhaustion really bonds us and makes it feel like family.
Within the larger music scene too, we've collaborated with a number of different collectives in the last year, including Darker Than Wax, Mugic, Revision Music, and The Council. It's refreshing to see that spirit of collaboration over competition. That's the kind of community spirit that is driving things forward here, and that merging of different crowds is what parties should be all about.
What's been your biggest lesson since you launched Ice Cream Sundays?
We learn so much from event to event, but the biggest takeaway is to never compromise on the principles that bring you your early successes. Though the scale is different now, we approach a party like Haw Par Thrilla 2 much in the same way we did that first house party for 50 people three years ago.
It's about trying to maintain that level of authenticity even as you gradually increase the level of production and the number of people at each party. 'Quality over quantity' is also a principle we place a massive emphasis on in our team, in terms of the frequency of events and the number of attendees. We get a lot of offers for interesting projects that can make it tempting at times to deviate from the plan, but it's important for us to stick to our guns.
What do you do to unwind in Singapore?
I try to box a few times a week to let off some steam, and I watch football at home to relax. Those are the two things that really allow me to switch my mind off for the most part. I also love to go and check out other events happening in Singapore – it's always nice to be on the other side enjoying myself without any responsibilities, and dancing is always good for the soul! Darker Than Wax's bi-monthly Brew series at Chye Seng Huat in Jalan Besar is a personal favourite.
How about your favourite restaurants?
I'm a total sucker for Din Tai Fung, as boring as that may be. My girlfriend and I probably go there every other Sunday when we're a bit fragile from the night before. Our good buddy Will is a veteran of the East and a big foodie, so we've mostly been relying on him to show us the good spots. Oh Deli is our go-to for a healthier meal, and they do great wraps, sandwiches and salads if you're looking for something fresh. Tall Girl Cuisine hits the spot when we're craving a bit of Chinese food, specialising in dumplings and hand-pulled noodles. Both are also veggie-friendly, which is a nice bonus.
What would you say are the most underrated spots to chill out in the city?
I'm not sure if they're considered underrated but I'm a big fan of RPM by D.Bespoke on Duxton Road and Choice Cuts in Joo Chiat. RPM has a great selection of shochu cocktails and a huge vinyl collection that the bartender chooses from throughout the night. It's a great place for a quiet catch-up or a date night when you feel like treating yourself. Choice Cuts is a more regular hangout spot. It's a cross between a record shop, cafe and event space.
Can we expect something new from you and/or Ice Cream Sundays soon?
We're always looking at ways to keep things fresh. We're now working with a small but tight-knit network of artists and designers who have helped to take the ICS experience to the next level, particularly during our recent Haw Par Thrilla events, while staying true to the kind of raw, DIY, no-frills vibe that we've tried to maintain throughout our three years. We feel like the expansion of the more artistic components is a very important part of our continued development, and we love the challenge of working with cheap, everyday materials to create a visually appealing space.
Finally, let's talk music. If we were to get on your Spotify account, what songs would we find?
I've had Joe Armon-Jones' new(ish) album 'Turn to Clear View' on repeat while I've been working recently. Theo Parrish just dropped a smooth new single too called 'This Is For You', with vocals by Maurissa Rose. 'Cherrystones' by Eugene McDaniels helped ease me back to life on the second day at Shi Fu Miz festival last month. I also recently rediscovered Jamie 3:26's edit of Prince's 'Purple Music' during Powder's set at Tuff Club.
Ice Cream Sundays, keep tabs on the Facebook page for updates on parties.