Photography: Castle and Things
From stone-washed to hand-printed, we hunt high and low to bring you our pick of the best bedsheets in Singapore and beyond.
The average person sleeps approximately eight hours a night – do the math and you'll realise that's about a third of your lifetime. With so much time spent in bed, it makes perfect sense to invest in a good night's sleep with the right frame and mattress, as well as quality bedding. We can't stress the importance of cosy and pretty bed linen – they're what you immediately see when you step into the bedroom, and they're the best thing to sink into after a long day. Thankfully, we aren't short of great options for bedsheets in Singapore. Whether you like your sheets crisp and cool, soft and fluffy or printed and patterned, these stores have it all.
Where to buy the best bedsheets in Singapore
1. Sojao
So you've heard about sustainable fashion, food and beauty. But bed linens? That's new. Homegrown brand Sojao champions 100% organic cotton sheets. Forget everything you've heard about higher thread count leading to softer sheets. Sojao's sheets are buttery soft despite having a 300 thread count, as they're made of single-ply yarn spun from long-staple (the shorter they are, the rougher they are) cotton fibers. These sheets aren't wrinkle-free, which is actually good news – it means they're not treated with formaldehyde resin or toxic chemical fabric finishes which can harm the skin and won't wash out. The sheets come in three colours: white, natural (a neutral, beige shade) and grey.
Sojao, available online
2. Oak & Sand
If you love luxurious sheets, we have news for you: Oak & Sand has upgraded its previous Tencel and bamboo lyocell sheets with the Tencel X Naia bedsheets. Custom crafted by the brand, this is the latest generation of Tencel lyocell bedsheets in the industry. Feel it for yourself with the 30-day guarantee, where you can return the sheets for a refund within 30 days even if they're used! But we reckon you won't have to once you sink into the feathery soft Tencel X Naia bedsheets. These feature a luxurious smoothness, with a super cooling and breathable functionality to ensure a good night's sleep.
Perk alert! Use the code 'OASXHNCMB10' for 10% off storewide with no minimum spending.
Oak & Sand, available online
3. Heavenluxe
Insomniacs, Heavenluxe is here to save your slumber with sleep-inducing Tencel sheets. A superior alternative to cotton, the brand only uses 100% Austrian Tencel. This cooling fabric keeps you sweat-free throughout the night, while promising the utmost comfort at all times. Plus, it's organic and hypoallergenic, with no harmful chemicals used in its production. This makes it kind to the environment and safe for sensitive skin, too. Wanna try it out? Use the code 'HC50' to bag Heavenluxe's premium set at just $50 per sheet!
Heavenluxe, available online
4. Heveya by European Bedding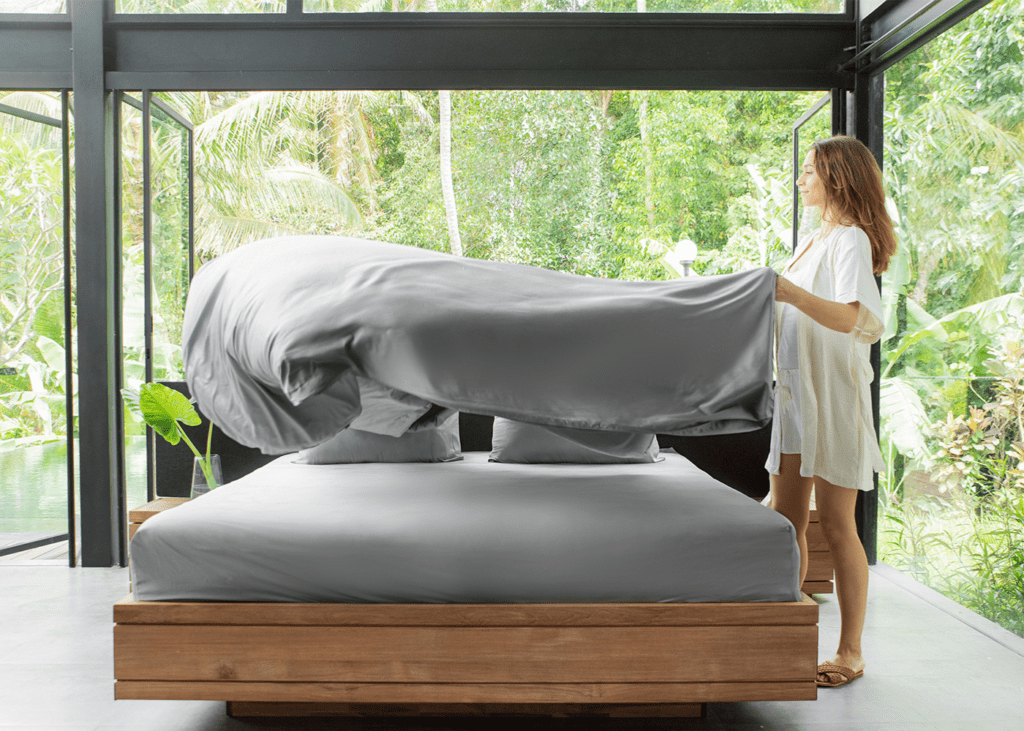 Heveya by European Bedding is a fan favourite for organic latex mattresses and bed accessories. One of the best buys from this one-stop bedding shop? The soft and sustainable bamboo sheets are a comfortable and eco-friendly choice for a good night's sleep. Interestingly, this breathable fabric is made of bamboo lyocell, a fibre that is naturally antimicrobial and fuss-free to maintain. Plus, it keeps you cool when dozing in the Singapore heat!
Heveya by European Bedding, shop online or at the Tiong Bahru showroom, 32 Eng Hoon Street, Singapore 169780
5. Edition Limitee
Finding stone-washed French bed linen isn't as tricky as you might think. We've ordered some great finds from Edition Limitee to add to our growing collection. Follow these guys on Instagram or order their permanent collection of French washed linen beddings online. You can also find them at some stores (Cuckoo on Dempsey Road and The AC on Joo Chiat Road) across the island.
Edition Limitee, available online
6. Bedtribe
Say goodbye to sleepless nights with comfy bamboo bed sheets from Bedtribe. Sold as a set or as bedding separates, this store shows that quality sheets don't have to cost a bomb. Its bamboo fibres are environmentally-friendly, while being super durable too. We like how it's incredibly breathable and absorbent, perfect for the local weather. If your skin is fussy, sleep easy knowing that these sheets are hypoallergenic and antibacterial as well.
Bedtribe, available online
7. Weavve Home
Humid weather getting you down? Sleep better with premium Tencel Lyocell bed linen from Weavve Home! This silky smooth material is sourced from sustainable eucalyptus forests and are perfect for keeping you cool in Singapore's warm weather. Aside from helping to regulate temperature, these comfy sheets are hypoallergenic, antibacterial and anti odour. Psst: it's great for those with sensitive skin, too! Wanna give them a go? Weavve Home offers a 100-day free trial for all its bedsheets, so go forth and give them a try. The store also has 100% cotton sheets – another ultra soft bedding option to send you into dreamland. Cart out and enjoy free delivery for orders above $150. With amazing service and affordable products, it's no surprise that this store has plenty of five star reviews and repeat customers! Perk alert: use the code 'WVXHC20OFF' to get $20 off your purchase with a minimum spend of $150.
Weavve Home, available online
8. Bedding Affairs
For luxurious bed linen at fair prices, hit up Bedding Affairs. Choose between its luxurious Tencel sheets or comfy cotton bedding. Psst: there's free delivery for purchases above $70, as well as the option of same-day express delivery if you're in a hurry!
Bedding Affairs, available online or at Hola Centre or IMM
9. Epitex
Looking for affordable, comfy bedsheets? Epitex is where it's at. With a much-loved Silkysoft series, the brand's range of sheets in a multitude of prints will dress up every mattress in your home. Tokidoki fans, the website even has blanket and bolster options to suit your fancy!
Epitex, available online
10. Originals
As if you need another reason to visit Originals! One of our all-time fave furniture stores on the island, these guys stock cult product Cultiver, which is probably the most sought-after French bed linen around. We just love this luxurious range, and Originals has a great one at very reasonable prices.
Originals, Level 5, 1 Bukit Batok Street 22, Singapore 659592
11. Shiva Designs Bespoke
Here's another need-to-know homeware address in Singapore. Shiva stocks our most beloved brands like Jai Vasicek, Bonnie and Neil and Anokhi. But more recently, we have been loving the homegrown range of dip-dyed and spotted linen throws – the perfect accessory for the linen lover's bed.
Shiva Designs Bespoke, #04- 02, Cluny Court, 501 Bukit Timah Road, Singapore 259760
12. Annette
This SG-based bedding brand is all about slow, conscious living. In fact, it stays away from those plastic pockets and cardboards you get with store-bought sheets. All sheets are packaged in jute bags. You'll also find timeless designs that transcend seasons. As for the sheets? The ultra-delicate pieces are made from 100% French flax fibre and are put through a stone washing process, hence the breathable fabric and alluring faded colours like slate blue, grey, white, as well as dusty pink.
Annette, available at The Green Collective SG, Soul & Tables and online
13. Feroza Designs
So, this place doesn't carry bedsheets but hear us out. One look at Feroza Designs and it'll immediately take you to your happy place. The cotton dohars (traditional Indian summer blankets), reversible quilts and throws exude charm, what with hand block prints in soft, neutral colour palettes. The 100% cotton material is great for our weather too!
Feroza Designs, available online
14. Sunday Bedding
Is your bedroom screaming for quality (read: ultra comfy) sheets? Look no further than Sunday Bedding. Being in the biz for over three decades, these folks know the answer to a good night's sleep. Think cooling, silky smooth sheets made with 100% bamboo rayon, French linen, cotton sateen and 100% organic cotton. All sheets are also prewashed, so just remove them from the packaging, dress your bed and tuck yourself in. Test the sheets at the lovely HQ at Amoy Street before placing an order.
Sunday Bedding, Level 2, 20A Amoy Street, Singapore 069855; or online
15. Akemuchi
This one-stop home concept store puts comfort as its priority, and we ain't complaining. The collection of bedsheets is pretty extensive! Options range from breathable, wrinkle-resistant bamboo ones that absorb excess moisture to exceptionally soft, anti-bacterial eco-friendly ProModal fibre sheets.
Akemuchi, multiple locations including VivoCity, Tampines 1 and Plaza Singapura
16. Affordable Style Files
With the move to a retail shop in Dempsey, ASF has definitely put a dent in our wallet with its homeware range and stunning monochrome accessories.
Affordable Style Files, 6A Dempsey Road, Singapore 247661
17. Taylor B. Fine Design
Besides its in-house bed linen collection, Taylor B Fine Design also carries popular brands such as Lauren by Ralph Lauren and Caracole. Check out its range of fitted sheets and embroidered duvet covers, made of cotton for the ultimate comfy feel.
Taylor B Fine Design, 65 Mohamed Sultan Road, Singapore 239003
18. Linen House
For all things home-based, make Linen House your go-to store. It stocks a wide range of bedding products, including on-trend bed linen that's designed and produced in-house. This lifestyle store has also collaborated with Alex Perry and Marie Claire Paris to create designer beddings under these brands – so you know it means business when it comes to bedsheets. Shop online and enjoy free delivery for orders over $50!
Linen House, available online
19. Bed Bath N' Table
This Aussie homeware label is our top-secret fave for decor items, including gorgeous bedsheets. We're not always big on printed ones, but these are an exception. The range has the most tropi-cool ones we've ever seen – think flamingoes and toucans – and fab boho prints of Indonesian ikat or mandalas.
Bed Bath N' Table, multiple locations including Plaza Singapura, Suntec City Mall and Parkway Parade
20. Greenhouse Interiors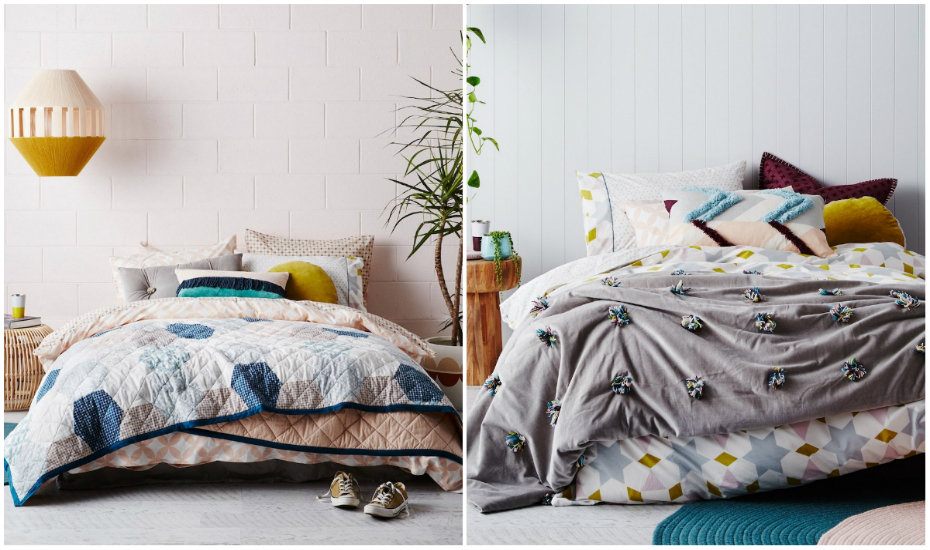 Another absolute go-to online store from Australia (yes, we are quite biased!), we have purchased loads of prints, homeware and accessories from this store. It's worth following on Instagram and email, as it often hosts flash sales – and there ain't nothing like a flash sale in our book! Shipping to Singapore isn't straightforward, so drop 'em an email at [email protected] for a shipping quote.
Greenhouse Interiors, available online
21. Castle and Things
While Castle and Things doesn't stock linens per se, it does have the most gorgeous brightly-coloured range of pillows, bedsheets and tea towels. We just love the perk-me-up colours and cute typography with very Aussie sayings like "It's a long way to the shops if you want a sausage roll" #swoon. Delivery is free worldwide for any order above $300.
Castle and Things, available online
22. I Love Linen
Ok, here's another must-visit Aussie online linen store; couldn't you tell from the self-explanatory moniker? The brand has great range that's simply irresistible, and its prices are pretty darn good, too. Can you say steal? Email [email protected] for a postage quote.
I Love Linen, available online
23. Major Minor
An online store based in Sydney, this is definitely worth checking out. Run by a mother and daughter team, the site has one of the best ranges of linen colours, and it allows customers to mix and match – which we love.
Major Minor, available online
24. Country Road
This is a large Australia fashion and homewares store that has a great range of bedsheets and home accessories – we tend to stock up every time we travel home as shipping can get exxy. A must-visit for anyone heading Down Under. An A$10 flat shipping rate applies, with free standard delivery for orders over A$50.
Country Road, available online