Photography: Taryn Elliott via Pexel
Set the mood and bliss out on these scented candles that have extra #shoplocal feel-good factor.
So you've got great lighting, cool art mounted on your walls and stylish sofas for chillaxing. But your home isn't exactly complete without the one accessory interior designers swear by: Candles. Scented candles and tealights are not only perfect for (ahem) setting the mood, but also great for elevating sensory levels when kicking back and relaxing at home, thanks to their divine scents. Bring out the aromatherapy in full-force, we say, with fresh-smelling candles created right here in Singapore.
Where to buy artisanal candles in Singapore
Diadem Candles
We're totally digging this origin story. The founders created handmade candles for wedding favours at their own nuptials. It became such a hit that they decided to turn it into a business. Get your hands on these 100% natural soy wax igniters made with cotton lead-free or wooden wicks. In addition, you can select from vintage enamel mug candles and recycled bottle candles (buffed and cut to perfection). Scents include bergamot and teak wood, coconut and lime, or vanilla and rosemary and mint, just to name a few.
Diadem Candles, available online and at multiple locations including Redmart and Art of Yoga
Nine Wicker Ave
These small-batch lovelies are made with a blend of fragrances, botanicals and gemstones that'll immediately turn your day around. You'll notice bits of spices, dried flowers and fruits, as well as gemstones in your candles – they make a great home accessory. These lovelies sell out quick, so fastest fingers first!
Nine Wicker Ave, available online and at multiple locations including Therapy Market and Assemble/Accent 
Lynk Artisan
One thing that Lynk Artisan stands by? The importance of the transparency of ingredients used in candles. That's why only clean, cruelty-free and phthalate-free natural palm wax is used. Toggle between exquisite scents that ignite fond memories like a luxury holiday, a fresh field of flowers and even a hug from a loved one.
Lynk Artisan, available online and at Komma Social Cafe
Soul Good Project
Having tried its deodorants, we were ecstatic when the local wellness brand launched a series of candles. The candles are made with vegan coconut wax and rapeseed wax premium fragrance oils, then hand-poured in glass jars with a bamboo lid. Take your pick from beach paradise (coconut, bergamot, vanilla and almond), rhubarb and black plum (with peach), or the seasonal gingerbread cookie (anise, homemade gingerbread and caramel).
Soul Good Project, available online and at The Min List
Artisan of Sense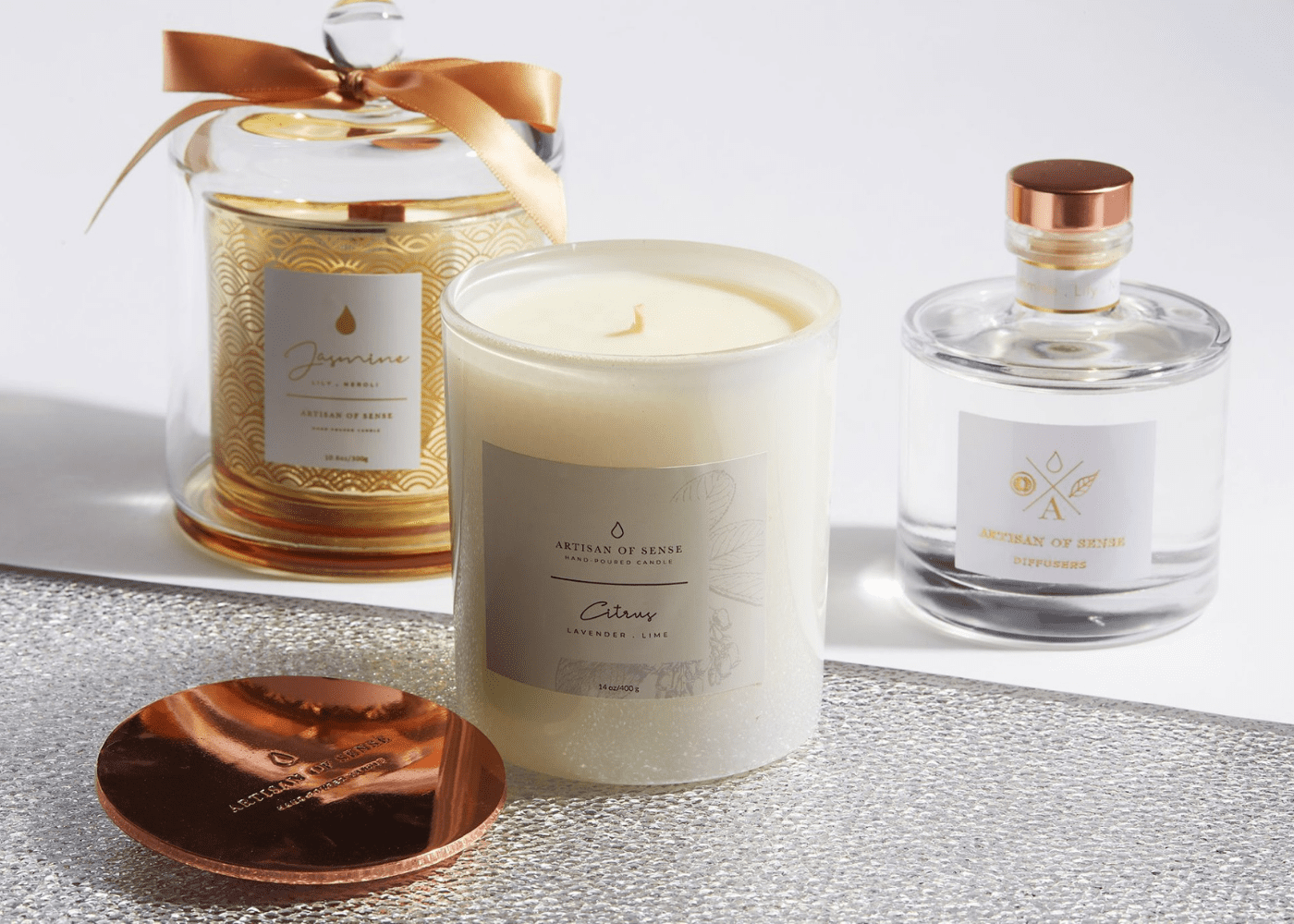 No one does sophisticated and gift-worthy candles quite like Artisan of Sense. Gorgeous packaging aside (love the rose gold lid!), each soy wax candle is created with 100% pure, therapeutic-grade essential oils. Calm your mind with scents like coconut palm lime, peppermint and eucalyptus, grapefruit, orange and tangerine, and lemongrass.
Artisan of Sense, available online  
Sally's Room
It's scents galore at this local candle artisan. Select up to nine fragrances in notes of floral and sweet, citrus and fruity, or fresh and woody. Whatever the mood, there's definitely something for you. Getting a gift? Go for the three-candle set where you can choose your own scents. Love some DIY action? Candle-making workshops are available too!
Sally's Room, available online
Houghton & Gough
We'd like to call Houghton & Gough's candles mood enhancers, thanks to its use of calming aroma oils. For instance, the moisturising melted soy wax can even be applied on the skin. We particularly love the natural citronella and lemongrass scent that helps repel mosquitoes.
Houghton & Gough, available online

HighGarden Candle
This home-bred brand infuses crystals into the candles so you can soak up all that healing energy. Each candle contains up to five crystals each including amethyst (calms the mind), moonstone (for good fortune) and tiger's eye (for mental clarity). In addition, they're prepared in soothing scents. Think orange and cedarwood, English pear and freesia, and neroli and ylang-ylang.
HighGarden Candle, available online 
Maison 21G
Bespoke perfumery Maison 21G now carries candles and they're far from ordinary. The dual candles combine two half-moon-shaped candles to create unique, complementary fragrances. Create your own winning combo with choices like sage, sandalwood, rose, amber, cedar, fig, vanilla and raspberry. Or pick candle set recommendations from the pros themselves. Plus points for the sleek black matte packaging and elegant brass-plated holder.
Maison 21G, available online and at multiple locations including Ion Orchard and Duxton Road 
Hush
Jam-packed with artisanal candles that are entirely made from organic soy wax and natural essential oils, Hush is one homegrown brand we can't keep mum about! Its scented candles aren't just something to light up the mood and keep your home smelling fresh. They can also be used as scented massage oils when melted. The lemongrass candle has natural insecticidal properties that drive mosquitoes and other insects away, too. Excellent for tropical countries like Singapore.
Hush, available online and at multiple locations including Paper Market and The Min List
Candles of Light
If you're all about bringing out the smells of the garden in full-force, make Candles of Light your go-to store. This homegrown brand offers handcrafted, luxury all-natural candles made from pure soy and beeswax. So treat your nose (and home) to its tropical and botanical scents made using spices, herbs, essential oils and more.
Candles of Light, available online and at multiple locations including Design Orchard and Essential Extra
To Be Calm
This go-to local store stocks a luxurious collection of fragrant candles and diffusers. Here's where you can find candles, temple tamers and atmospheric room sprays to create the perfect ambience for any occasion. Above all, To Be Calm carries scented candles of all sizes, from large to mini, as well as tea caddies for your teeny tealights. And if you're all about getting handsy, it also conducts candle-making workshops for all you candle enthusiasts. Plus, with a name like that, how can we not feel at ease?
To Be Calm, available online and at multiple locations including Tangs Orchard and Naiise Iconic
Artisan's Garden
This homegrown candle brand offers unconventional candles such as handmade soy wax candles and those in the form of wax melts. If you're all about organic products, swap your department store home accessories for Artisan's Garden's vegan wax, a better alternative to paraffin wax. With 15 different scents ranging from fresh ocean breeze to sweet yet spicy frankincense and myrrh, you'll be sure to find the one best for your home.
Artisan's Garden, available online and at multiple locations including Unpackt and Eco.Le
Maison by Amanda Dyer
Amanda Dyer, founder of homeware label Maison by Amanda Dyer, offers simple and beautiful candles designed to make you focus, play and calm down. Candles include beautiful scents with a mix of cedarwood, sandalwood, cinnamon, spearmint, ylang-ylang and many more.
Maison by Amanda Dyer, available online and at multiple locations including Tangs Orchard
Add these candles in Singapore to cart for soothing scents at home!