Photography: Nutmeg & Clove
Presenting our ultimate food guide to Bugis and its collection of amazing restaurants, cafes and bars.
Bugis is one of our favourite places to explore, and for good reason. The area is home to Haji Lane, Arab Street and Kampong Glam, where you'll find plenty of cafes, indie boutiques, fabric shops, nail salons and street art. On your stroll, you'll pass by familiar icons like the National Library, Malay Heritage Centre and National Design Centre. And if you're a shopaholic, there's always the bustling Bugis Street and its surrounding malls. But since we're here to talk about food, behold: these are our go-to places in Bugis.
Bugis food guide: Best restaurants, cafes and bars
1. Nutmeg & Clove
Elevated Singaporean cuisine is the name of the game at Nutmeg & Clove. Its latest dinner menu features innovative renditions of classic local dishes. Start off with otak otak: made with sea bass and rempah, this boasts a good amount of heat and has a light, fluffy texture. The assam batang is also a must-try (it definitely stole our hearts!). Rich and robust, the spicy cream stew will have you sopping up every drop with the accompanying fluffy garlic Hainanese toast. Wash it all down with tipples from the innovative new menu titled Flavours & Memories Volume 6: The Cocktail Diaries. This selection of drinks is inspired by a traveller's account of visiting Singapore. We especially love Garden City, a refreshing and herbaceous concoction comprising Hendrick's gin and infused musk melon.
Nutmeg & Clove, 8 Purvis Street, Singapore 188587
2. Chikuyotei Singapore
Fancy quality Japanese cuisine? Reserve a seat at Chikuyotei. This fine dining place in Bugis is the first unagi restaurant in Japan to be awarded a Michelin star. Have an entire unagi don to yourself if you'd like, or splurge a little on the omakase experience and be surprised at every turn by the adept chefs behind the counter.
Chikuyotei Singapore, #01-01, Intercontinental Singapore, 80 Middle Road, Singapore 188966
3. Bar Uva
Oenophiles, kick back with a glass (or two) at Bar Uva. From the folks behind Nutmeg & Clove and Tess Bar & Kitchen, Bar Uva (which means 'grapes' in Spanish) is perfect for beginners and wine snobs. Have your wine with small plates like deep-fried frog legs with burnt yuzu sauce, Kuyjukushima oysters with tomato sherry jelly and smoked caviar, or something for the table: USDA prime ribeye with house pickles and harissa peppers.
Bar Uva, 24 Purvis Street, Singapore 188601
4. Twenty Grammes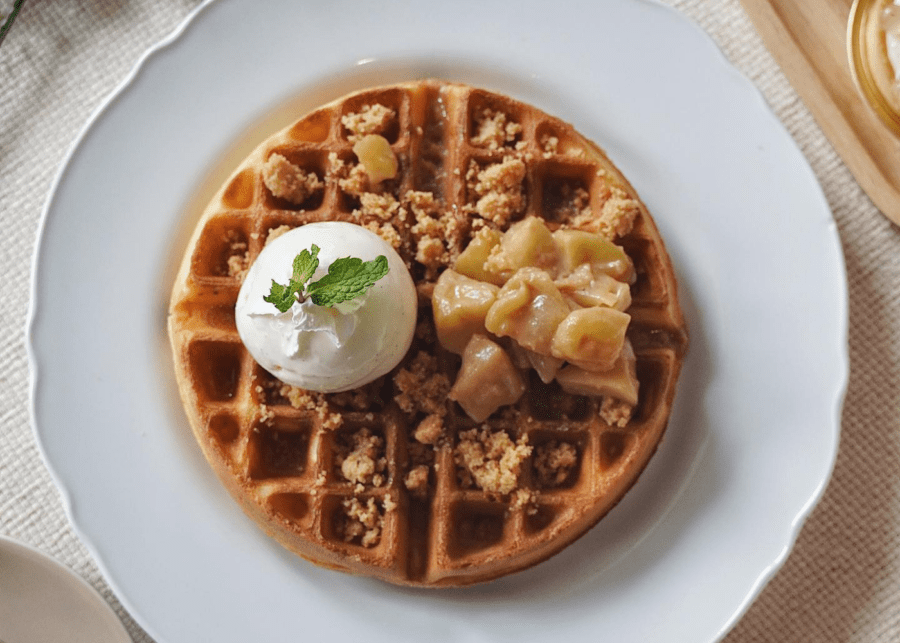 If coffee, ice cream and waffles are your dream trio, you've come to the right place. The cosy Bugis cafe serves gelato, house-made waffles, cakes, tarts and more. Pretty perfect for Sunday afternoon chillin', if you ask us.
Twenty Grammes, #01-01, 753 North Bridge Road, Singapore 198721
5. The Masses
Serving French food with an Asian spin – without the stuffiness of fine dining – The Masses offers an ever-evolving menu of exquisite creations. Everything's intricately made, beautifully plated and totally photogenic. Best of all, they taste just as good as they look. Pair your meal with classic cocktail concoctions or wines for the full experience.
The Masses, #01-02, 85 Beach Road, Singapore 189694
6. Salted and Hung
A contemporary Australian concept that aims to cook sustainably and minimise waste by highlighting the forgotten parts of animals, Salted and Hung gets creative with its smoking, curing, pickling and grilling methods. Its tasting menus take you on a flavour journey through seafood, meat and sweets, presenting ingredients like you've never seen them before. Just step inside for a taste!
Salted and Hung, 12 Purvis Street, Singapore 188591
7. Cicheti
A rustic chic shophouse space serving up small plates for communal dining, Cicheti is a fab hangout for fans of Italian cuisine. It's beloved for its wood-fired Neapolitan pizzas that come in options like ortolana (eggplant, zucchini, stracciatella) and romana (tomato, fior di latte, anchovies, basil, parmesan). But don't look past the equally fantastic pastas! Highlights include gnocchi (forest mushrooms, truffle ricotta) and paccheri (pulled beef cheek, soffritto).
Cicheti, 52 Kandahar Street, Singapore 198901
8. Clinton Street Baking Company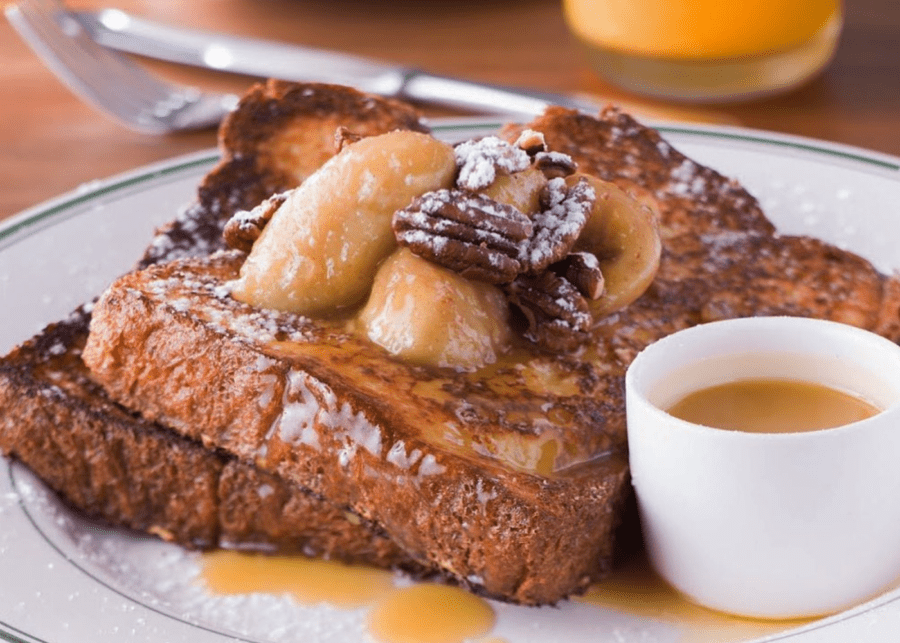 The Singapore branch of this well-loved NYC bakery and resto is always packed with the brunch crowd. All-day brekkie dishes are a hot fave, with options such as brioche French toast, pancakes and Spanish scramble. If you're after a hearty dinner, take your pick from waffles with tabasco honey, fried chicken burger or wagyu beef cheeseburger. Then wash it all down with thick milkshakes in vanilla or chocolate flavours.
Clinton Street Baking Company, 31 Purvis Street, Singapore 188608
9. Artichoke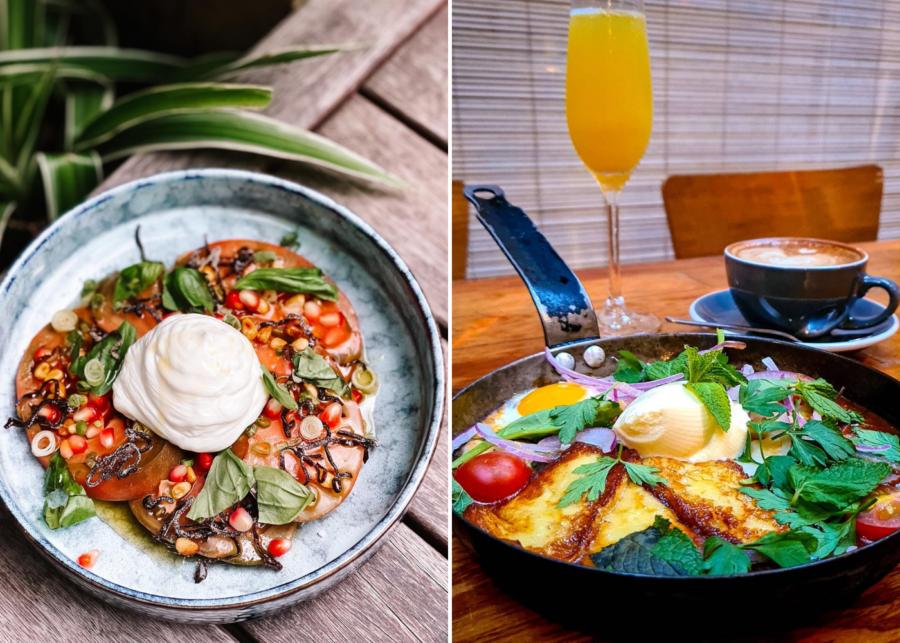 One of our fave go-tos, this Middle Eastern-inspired resto is all about innovative creations and flavour bombs. Throwing tradition out the window, chef-owner Bjorn Shen never fails to surprise with dishes that are so good, you'll definitely be back for more. Think Za'atar crumbed swordfish, fish kofta tagine, scallop ceviche and the famous 'lambgasm', a 2.4kg slow-roasted lamb that feeds four and requires a 48-hour pre-order. Show some love to the cocktails, beers and wines, too!
Artichoke, 161 Middle Road, Singapore 188978
10. Brotherbird Coffeehouse
Freshly reopened in 2021 with a brand spanking new space, this uber popular local bakery is famous for its deliciously chewy mochi donuts and croissants (they pair perfectly with swirls of soft serve!). But let's not forget its savoury menu, as well as coffees and desserts. Go ahead and get your brunch on.
Brotherbird Coffeehouse, 32 Bali Lane, Singapore 189868
11. Sawadee Thai Cuisine
Got a craving for Thai? The warm, elegant eatery has been around since 2001, serving fresh ingredients in a combination of sweet, spicy, salty and sour flavours. Tuck into your fave Thai dishes, with classics like tom yum soup, green curry chicken, deep fried pomfret and seafood phad Thai on the menu.
Sawadee Thai Cuisine, #01-01, TQL Suites, 9 Tan Quee Lan Street, Singapore 188098
12. Madame Fan
Located at The NCO Club, a multi-concept space for dining and drinking, Madame Fan is known for its classic Cantonese cuisine that's authentic and modern. While you're ensconced in the glamorous restaurant, you'll be enjoying signatures such as braised Taiwan noodles, crispy duck and wagyu beef rolls with enoki. Want a post-dinner tipple? Head to the sleek bar for East-meets-West concoctions that dazzle. Psst: check out the boozy dim sum brunch if that's your scene!
Madame Fan, 32 Beach Road, Singapore 189764
13. Joo Bar
In the mood for Korean? Joo Bar takes traditional dishes and gives them a whirl in the kitchen, plating up modern treats with a twist. The space is laidback, dark and edgy – great for casual date night or drinks with friends. Try good grub like kimchi wagyu lasagne, brown butter pasta and loaded fries, all washed down with jugs of makgeolli in lychee, peaches and honey, mango, Yakult and strawberry flavours.
Joo Bar, 5 Tan Quee Lan Street, Singapore 188094
14. King and the Pawn
Calling all board game enthusiasts! Round up your most competitive friends and have a ball at this cafe-bar. The ambience is cool, the food is served comfort-style, and the drinks feature beers on tap, cocktails and locally-roasted coffee. Oh, and the board games number more than 300, so you can get in on the fun with strategy games, party games and more.
King and the Pawn, L2, 24 Purvis Street, Singapore 188601
15. Earlybird
Yaas, another cafe that loves fried chicken – because why not? A casual dining spot for all-day brunch, Earlybird whips up a mean fried chicken with buttermilk pancakes, surrounded by a halo of chilli maple syrup. It's the bomb, especially when paired with sriracha tater tots. Alternatively, go for plates of salmon and avo, steak and truffle mash, tom yum prawn pasta or strawberries and cheese French toast. If you're popping by for a drink, you've got coffees, teas, juices, smoothies and milkshakes to choose from.
Earlybird, 17 Jalan Pinang, Singapore 199149
16. Vatos Urban Tacos
Blending the best of Korean and Mexican food, this Bugis hangout is a great place for chill dinner and drinks. Ya gotta love the fusion creations, including stunners like kimchi pork quesadillas, galbi short rib tacos and Korean po'boy burritos. Oh, and don't miss out on fruity makgeolli (tequila plus Korean rice alcohol) cocktails or massive Vatos' Ritas (frozen margaritas with beer or cider)!
Vatos Urban Tacos, #01-03, South Beach Quarter, 36 Beach Road, Singapore 189766
17. Mother Dough Bakery
Let your search for freshly baked artisanal bread guide you to Mother Dough, where you'll be warmly enveloped by the scents of sourdough baguettes and croissants. And if your sweet tooth is calling out for satisfaction, take home goodies like danishes, tarts and puffs, depending on what's the line-up for the day.
Mother Dough Bakery, #01-01, 749 North Bridge Road, Singapore 198717
18. Captain K Seafood Tower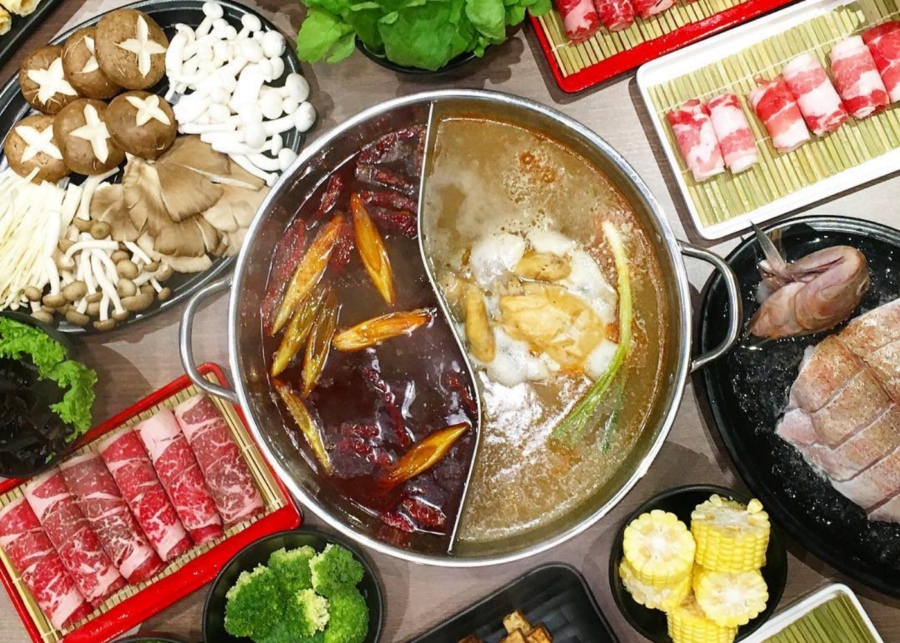 Love fresh seafood and steamboat? This seafood tower and hot pot resto brings you the best of both worlds with oysters, scallops, lobsters and more steamed in a custom-made tower, with soup bases such as Korean tomato, ginseng chicken and tom yum mushroom.
Captain K Seafood Tower, #01-00A, Midland House, 112 Middle Road, Singapore 188970
19. Ginett
Step into this chic, bistro-style French restaurant for a classy catch-up with friends or an intimate dinner. The place is warm and inviting, with a menu that features charcoal-grilled and dry-aged meats, seafood, cold cuts, cheeses and, of course, French wines. That's your weekend plan, sorted.
Ginett, Hotel G Singapore, 200 Middle Road, Singapore 188980
20. Overrun
Famed for its chendol soft serve, the family-owned dessert spot offers pocket-friendly ice cream cups stacked with toppings. You've probably seen them on social media, with cool, ever-changing flavours such as strawberry cheesecake, Snickers, bandung, ondeh ondeh, popcorn caramel and more. Pop by to beat the heat!
Overrun, 18 Baghdad Street, Singapore 199657
21. So France
For a cosy, warm bistro experience, head to So France and order up a storm. Its indoor seating is perfect for intimate gatherings, while the terrace hosts fuss-free alfresco lunches and after-dinner drinks. Taking you from breakfast to weekend brunch to dinner, the menu features familiar classics such as duck confit, cote de boeuf and coq au vin, alongside cold cuts and French cheese that you can nibble on. Best of all, you can step into the gourmet grocery after your meal to stock up on artisanal pantry products, ready-to-eat meals, sweets, teas and more.
So France, #01-51/56, Duo Galleria, 7 Fraser Street, Singapore 189356
22. Symmetry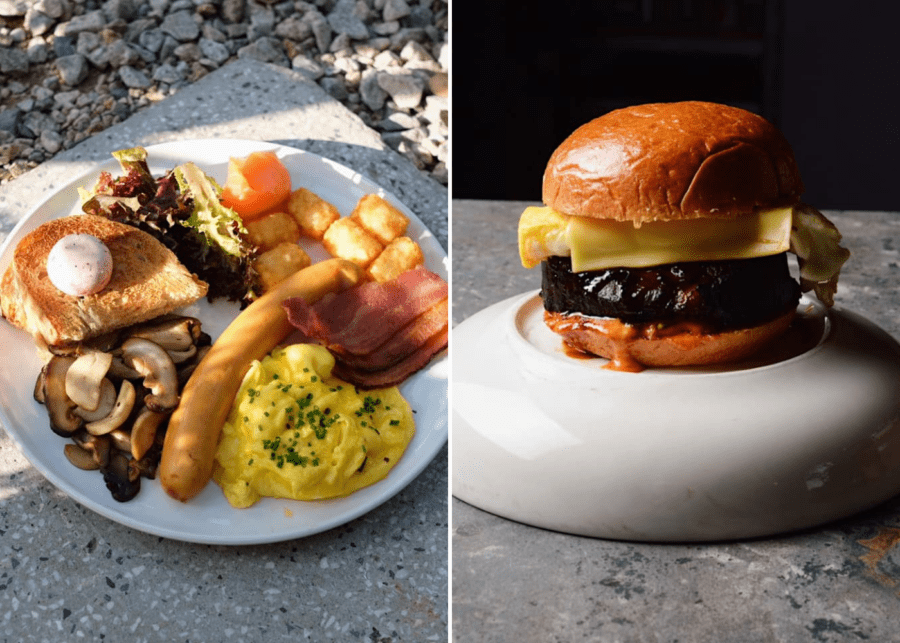 A popular all-day dining restaurant and bar, this Aussie-inspired hotspot in Bugis is all about good vibes and good food. Whether you're meeting up with brunch buddies or going on your first date, you'll be having a fab time wolfing down the menu's burgers, pasta, meats and brunch bites.
Symmetry, #01-01, 9 Jalan Kubor, Singapore 199206
23. Gunther's
Fancy a French fine dining treat? Gunther's is excellent at what it does, and its namesake chef has the chops to prove it, having spent time in the kitchens of well-known restaurants in Belgium. Every experience here is elegant and unique, with unconventional flavour combinations that are plated beautifully.
Gunther's, #01-03, 36 Purvis Street, Singapore 188613
24. Atlas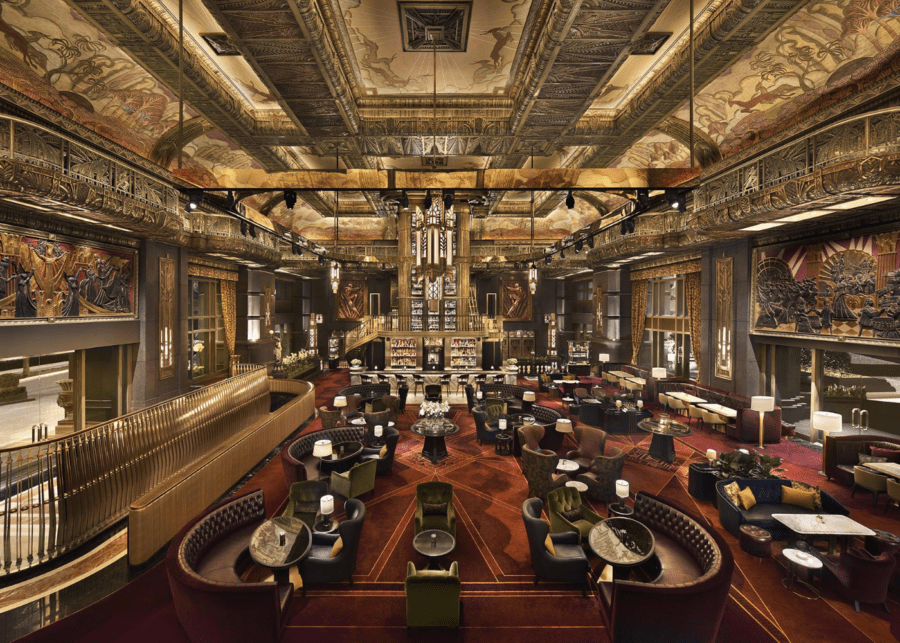 It doesn't get any more magnificent than this. The lavish lobby and bar, decked out in Art Deco trimmings, offers a sumptuous experience – no matter if you're having dinner, drinks or light bites. You might think you're already familiar with the tipples at Atlas, but get ready to be impressed all over again because it's just launched an all-new drinking menu. Evoking the lively spirit and energy of European Art Deco architecture, these handcrafted tipples are made with innovative techniques and a selection of curious ingredients.
Atlas, Parkview Square, 600 North Bridge Road, Singapore 188778
25. Tom's Palette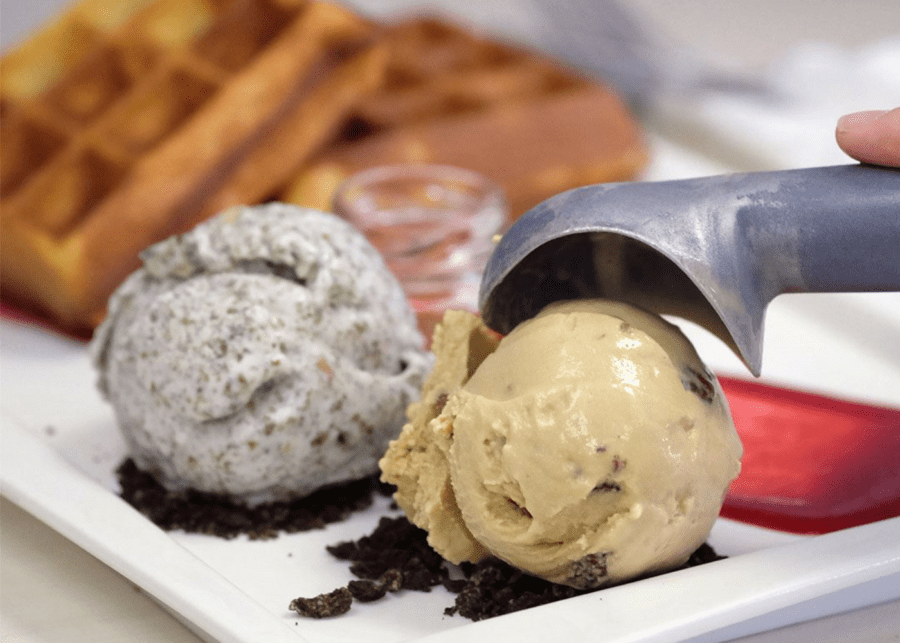 This is not your ordinary ice cream parlour. Tom's Palette thinks way outside the box with its unusual gelato flavours that you won't find elsewhere. Besides familiar favourites like chocolate sorbet, salted caramel cheesecake and yuzu, the line-up includes wacky ones such as salted egg yolk, nasi lemak and mango sticky rice. Get yours in a cup or with a cone, waffle or affogato-style.
Tom's Palette, #01-01, 51 Middle Road, Singapore 188959
26. Working Title – Burger Bar
Burgers, brunch and coffee – that's what this halal-certified eatery dishes out. Think cheddar and relish mayo layered generously atop nacho chips alongside hulking brioche bun-and-patty combinations starring beef or lamb patties, grilled chicken leg and grilled portobello. Pair your order with truffle tater tots and caffeine for the ultimate morning meal.
Working Title, 783 North Bridge Road, Singapore 198751
27. Tanuki Raw
Gotta love Tanuki Raw for its modern menu of Japanese-influenced cuisine. The donburis are a hot fave, topped with the likes of truffle yakiniku, yuzu miso salmon and spicy mentaiko tuna. If you're stopping by with a group of friends, order sharing plates like truffle spam fries for the table. Psst: happy hour goes from 5pm to 8pm daily, so don't miss out on wallet-friendly cocktails, beers and even freshly shucked oysters.
Tanuki Raw, #01-05, National Design Centre, 111 Middle Road, Singapore 188969
28. Garibaldi
Want a Michelin-starred experience? Pop in your reservation for this sophisticated Italian restaurant and bar in Bugis to enjoy the indulgent experience. It's perfect for a quiet dinner or romantic date night, thanks to the stellar service and authentic Italian dishes that take you from fresh seafood and beautiful pasta to impeccable meats and decadent desserts.
Garibaldi, #01-02, 36 Purvis Street, Singapore 188613
29. Omurice Keisuke
Obsessed with omurice? Get your fix right here. This western-influenced Japanese creation of omelette wrapped over fried rice with ketchup takes the spotlight on the menu. Made with locally-farmed eggs, the dish offers top-up options like cheese and sides such as salad and miso soup.
Omurice Keisuke, #04-01, Bugis+, 201 Victoria Street, Singapore 188067
30. IndoBowl
So you love your Indomie? This halal cafe in Bugis specialises in homestyle Indonesian dishes, made using recipes passed down from generations. Fill up on hearty, flavourful rice plates such as nasi ayam sambal tomat and nasi goreng seafood petai. Or go straight for the Indomie section of the menu to enjoy those instant noodles paired with everything from ribeye steak to lamb chop. And don't miss out on the homemade sambal for a kick!
IndoBowl, 39 Sultan Gate, Singapore 198487
With these plentiful food options in Bugis, you'll never go hungry again!