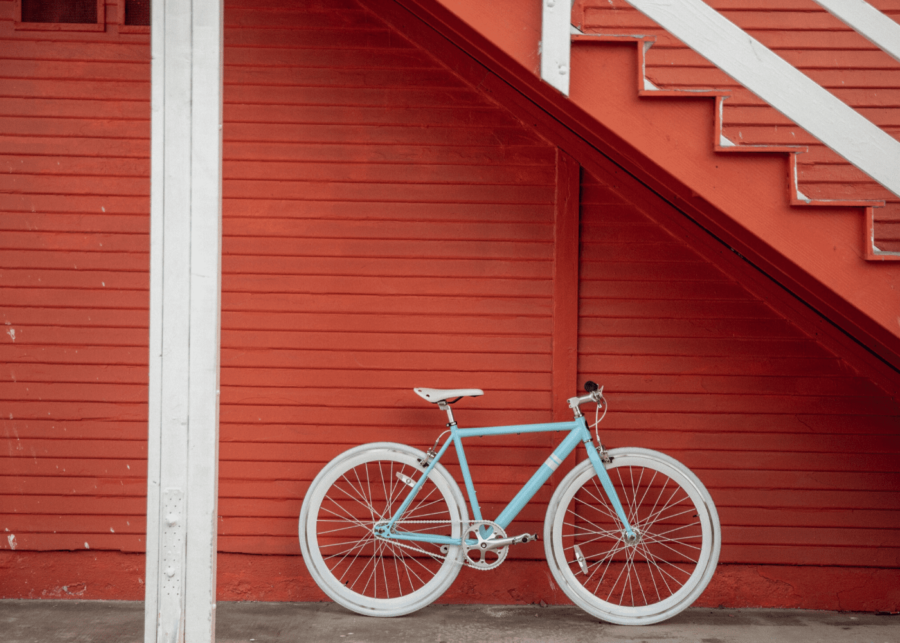 Photogr by Solé Bicycles on Unsplash
Commute in style with chic two-wheelers from these fantastic bicycle shops in Singapore.
Believe it or not, Singapore is a great city for cyclists. We boast a comprehensive cycling network that links the entire city through park connectors and cycling paths. Getting from point A to point B is an easy feat! It also helps that cycling is a good way to sneak in some exercise while lowering your carbon footprint (it helps save the environment!). Switch your four wheels for two and get yourself a spiffy bicycle, say a fixie or a pretty cruiser, at these awesome bike shops.
Best bicycle shops in Singapore
Mighty Veloe
If long-distance commutes on two-wheelers seem unbearable to you, try riding with a neat foldable bicycle from Mighty Veloe. That way, you can take your trusty bike along with you on the train. The foldable bike specialist also offers checks and tunings for all customers pro bono!
Mighty Veloe, 239 Lavender Street, Singapore 338783
Attitude Bikes
Set up by a group of bike enthusiasts in 1997, this is one of the best bicycle shops in Singapore to get a customised ride. Everything here is built according to your needs and preferences, so no two bikes emerge alike. Serious mountain bikers will be pleased to know the establishment also stocks coveted brands such as DMR Bikes and Monty.
Attitude Bikes, 118 Telok Kurau Road, Singapore 423803
Brompton Junction
Hailing from London, Brompton Junction sure makes you want to be a true-blue cyclist. Apart from their stylish aesthetic, the bikes here are a practical choice for our busy city lifestyle. Each one is sturdy, compact and, most importantly, foldable – making it a top choice for any biker. Swing by its flagship store in Funan and test drive your pick on the mall's in-house cycling path before making the commitment.
Brompton Junction, #01-26, Funan Mall, 109 North Bridge Road, Singapore 179097
Treknology 3
One of Singapore's most established bicycle shops – with over 25 years in the bike biz – Treknology 3 can hook you up with a ride for all your needs. Road bikes, mountain bikes, triathlon bikes and even bikes for young'uns; Treknology 3 will have you covered. With over 15 brands in stock, the cycling buff in you will be like a kid in a candy store.
Treknology 3, multiple locations including Siglap Shopping Centre and Cuscaden Road
Hello, Bicycle
Ride in style with a range of good-looking two-wheelers from renowned brands including Linus, Lekker, Shulz, Crème and Tokyobike. The modish store also sells fashionable cycling tees and cool bike accessories. Not ready to invest in your own? Check out its rental store, which is located just behind the showroom at Waterloo Centre.
Hello, Bicycle, #01-01, Byland Building, 135 Middle Road, Singapore 188975
Decathlon Singapore
New to biking? Head on over to French mega sports retailer Decathlon to kickstart your cycling adventure.  Take your pick from city bikes, road bikes, mountain bikes and hybrid bikes. Plus, you don't have to run from pillar to post as Decathlon Singapore Lab at Kallang has a wide selection of cyclist's paraphernalia such as helmets and bike lights.
Decathlon Singapore, multiple locations including Novena, Holland Village and City Square Mall
Hup Leong Co.
Attending to bikers' needs since 1968, Hup Leong Co. needs no introduction. Carrying internationally recognised brands like Cannondale, Merida and Colnago, prices here can be pretty steep. But if you're looking to #treatyourself and don't know where to start, these friendly folks offer bike consultations. For old and rusty bicycles that need a little sprucing, give them the bike spa treatment, which entails cleaning, polishing and the full works.
Hup Leong Co., #01-107, Block 51, Chin Swee Road, Singapore 160051
Wheeler's Yard
Lucky for us, Wheeler's Yard ended up being more than just a simple bicycle warehouse like it was initially planned. The kick-ass bike atelier-slash-hipster cafe is where to get your coffee and brunch fix while you wait for your darling two-wheeler to be repaired. No wheels? Come for the grub and caffeine, and feast your eyes on the stunning rides on display.
Wheeler's Yard, 28 Lorong Ampas, Singapore 328781
My Bike Shop
If you've never owned a bike, My Bike Shop should be your go-to option. The store has a large selection of foldable bikes to choose from and the friendly staff, who are avid cyclists, will guide you along your journey to find the perfect ride. Psst: We'd suggest reading up on the bike buying guide on its site before heading to the store.
My Bike Shop, multiple locations including Henderson Road and North Spring Bizhub
Rodalink
Housing some of the best bike brands – including Polygon, Topeak, Kore and Marin – under one roof, Rodalink is a mecca for seasoned cyclists. While we all love online shopping, do hop on over to the actual store as it stocks a splendid selection of bike accessories, frames and wheels for that complete customisation.
Rodalink, multiple locations including Upper East Coast Road and One Commonwealth Lane