Photography: Hisu lee via Unsplash
"We provide a way forward for each man, to do something good for their skin, for the planet, and to allow them to feel great about it."
It's about damn time we normalise beauty for men. These days, men are taking more interest in what they put on their face and body. Gone are the days of generic 3-in-1 formulas, heavily-scented shampoos and packaging that screams "MASCULINITY". We've seen a steady rise in makeup and skincare for men, popular male beauty influencers and more attention paid to male grooming, with brands gravitating towards the male beauty scene and its consumers.
Enter Mojomojo, a lifestyle bar soap brand for men. That's right, men can now amp up their shower game with bar soaps made of natural, super ingredients that do good to their skin and the planet. We chat with the folks behind Mojomojo on their decision to create the niche product, sustainability practices in the beauty scene and the evolution of male grooming practices.
Meet the creators of Mojomojo
Co-founders and cousins, Jules and William Prothais, saw a gap in the market when their choice of soap was limited to the generic industrial bars or feminine scents (flower blossom wan't really their cup of tea).
That's when it hit them. What if they created bar soaps with a natural formula that was lightly scented, less messy but foamy enough? And that's how Mojomojo came to be.
Crafted in Cambodia using locally-sourced natural ingredients like coconut oil, aloe vera, peppermint, and charcoal powder, these heavy duty bar soaps are definitely raising the bar for men's shower routines. After all, it's a form of self-care and all humans deserve it!
Intrigued? Here's everything else we discovered during our chat.
Hi, Jules and William! Tell us more about Mojomojo. What's behind the name?
The most important thing we decided at the very beginning was to create a brand that customers feel great buying and using. The brand name must resonate with the story you want to tell: great quality natural products for men to look good and feel great. And that's what the mojo is all about!
The word "mojo" refers to the magic charm or natural influence each one has. That's how we found Mojomojo, Crafted for Men.
What sets Mojomojo apart from other soap brands?
Mojomojo is the first lifestyle bar soap brand for men in Singapore. We provide a way forward for each man, to do something good for their skin, for the planet, and to allow them to feel great about it. Our products are natural, full of super ingredients like spirulina, turmeric, charcoal, aloe vera, coconut oil and many more that will purify, protect, energise and nourish men's skin.
What's one important factor in the conceptualisation of Mojomojo?
What's important for us is that the brand appeals to men looking for natural skincare. We want men to feel great buying and using Mojomojo products. That's why we designed a colourful, energetic and dynamic brand. To make sure we were matching expectations, we ran a three-month testing phase in Singapore. We collected feedback and tailored our offer accordingly. Customer satisfaction is our northstar.
We love the range of soaps. How did you decide on the set of ingredients?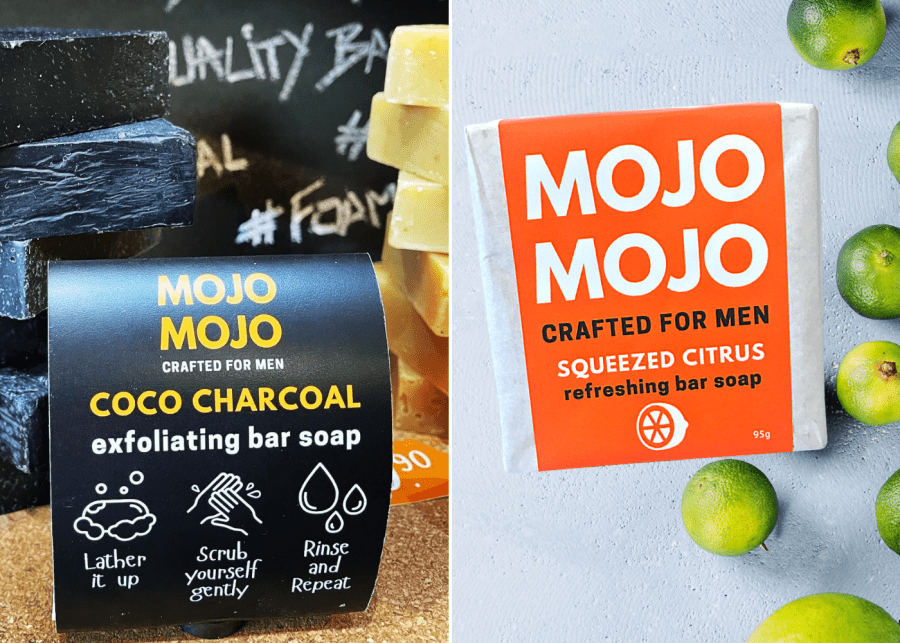 We work with experts in natural cosmetics. We created several bar soaps made of natural ingredients like aloe vera, activated charcoal, spirulina and peppermint that have enhanced benefits for men's skincare. We also made sure our products have a light and natural scent that caters to men.
The four bars we provide are great for every skin type: Aloha Aloe, a moisturising bar ideal for dry and sensitive skin; Coco Charcoal, an exfoliating bar to clean skin impurities; Mint Tonic, an energising bar to purify the skin while reducing acne and breakouts; and Squeezed Citrus, a refreshing bar full of vitamins and antioxidants.
 What are your thoughts on sustainable practices in the beauty industry?
What we've learnt from the beauty industry is that customers are more demanding on transparency and sustainability. This new trend is deeply impacting ingredient sourcing, product composition, production processes and customer relationship.
We believe that the beauty industry for men should also address these consumers' concerns. It's an uphill battle as some companies have still not adopted the best practices around transparency and sustainability. However, it's a must at Mojomojo.
How do you think the beauty scene for men has evolved over the years?
Men's interest in skincare is rising in Singapore with men's grooming products becoming very popular recently. Though we're still at the early adopter stage of the product life cycle. For us, the market in Singapore is evolving in a way that now includes an appetite for quality products, an increased demand for natural and organic products, willingness to buy products customised to skin types, and an appetite for not so convenient but better products.
And what changes would you like to see?
There are changes in the way people consume, and these are going in a great direction. People are now more careful and conscious when shopping, ready to trade some convenience for better quality and eco-friendly products. Changing a routine requires commitment but it's for the better. That is the kind of behaviour we'd like to see happening more often.
We can't wait to see what else Mojomojo has in store for the men's beauty scene. In the meantime fellas, it's time to upgrade your shower routine with these nifty bar soaps from Mojomojo.
Mojomojo, available online