Photography: Aditi Gaitonde Fernandes
Traditional, or tarted up? No matter how you like them, there's a pineapple tart here for you. Which one of these CNY treats do you think is the best in Singapore?
Pineapple tart season has officially kicked off in Singapore. Buttery, flaky, with a perfect balance of sweet and sour – these glorious Chinese New Year treats are pure gold. As with all things, go for the best in town, so you don't waste your calories on unworthy contenders. Here are our top picks for the best pineapple tarts in Singapore…
Crystal Jade
Remember the legendary Fortune Bo Lo pineapple tarts from Crystal Jade? As its name suggests, they're made to resemble the popular Hong Kong-style pineapple buns, except Crystal Jade's version, are small, crumbly, bite-sized little wonders.
Crystal Jade, various locations islandwide.
Goodwood Park Hotel
We're still not over the gargantuan pineapple tart they rolled out last year. This year, the tarts have shrunk in the shape of adorable golden rats. Nibble through the buttery pastry to taste the homemade pineapple jam and this time 'round, you can go for seconds.
Goodwood Park Hotel, 22 Scotts Road, Singapore 228221
SPRMRKT
Leave it to SPRMRKT to come up with something new year after year. This year, it's the upside-down pineapple tart and no, the pineapple jam isn't on the outside. Topped with sea salt, the upside-down element is the way you eat it. Pop one in upside down and you get the right amount of sweet and salty!
SPRMRKT, various locations.
Janice Wong
In true Janice Wong style, her brand new pineapple tarts are gold dusted, chocolate coats bites of wonder. Bite into these shimmering treats and it goes from dark chocolate to crumbly pastry in a flash. The bitterness of the 76% single origin dark chocolate might be a precursor for a sweet, fibrous pineapple but the dark chocolate lingers long after.
Janice Wong, various locations.
Old Seng Choong
Put your diets aside as Old Seng Choong has three flavours of pineapple tarts this year. If you're a purveyor of these sweet gems, try the yuzu or fig-flavoured ones; and for the classicists, the traditional pineapple tart never fails to satisfy.
Old Seng Choong, order online.
Bengawan Solo
It hits you when you bite into one – so much butter! But for these, we're more than willing to spend an extra 30 minutes on the treadmill. Bengawan Solo's pineapple tarts have been around for the longest time, and we love that they haven't changed one bit.
Bengawan Solo, various outlets islandwide.
Teaspoon of Love
Made from real pineapple and infused with fragrant earl grey, there's little wonder why Teaspoon of Love's tea-infused pineapple tarts are a crowd pleaser. Oh boy, are they generous with the filling! These nuggets are small enough to pop in your mouth so there's no need to worry about crumbs.
Teaspoon of Love, order online.
Bakerzin
Bakerzin gets an A+ for creativity and presentation. Aside from the classic pineapple tarts, the new pandan kaya flavour is encased in a buttery golden ingot – a nostalgic twist and we ain't complaining!
Bakerzin, various locations.
Regent Singapore
Regent Singapore's pineapple tarts are more than the average size. Though it looks like any normal tart, the taste begs to differ. We found ourselves reaching for it over and over again. Safe to say we emptied the jar sooner than expected!
Regent Singapore, self-collection at CNY Festive Lobby Booth, 1 Cuscaden Road, Singapore 249715, or order online.
Le Café Confectionery & Pastry
Nicknamed "golf balls", the pineapple tarts from Le Café are round, large, and oh-so-tasty. The crust may be a little thin, but they make up for it by being super generous with the pineapple jam filling.
Le Café Confectionery & Pastry, #01-01, 31/33 Mackenzie Road, Singapore 228686
Kele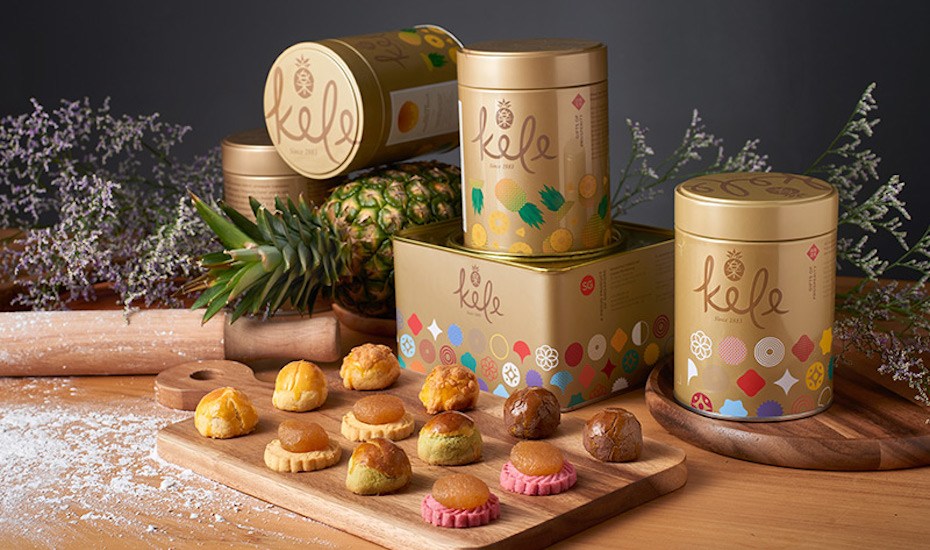 Kele has been around for almost 30 years, so you know they must be doing something right. We like their open-face pineapple tarts and how everything's delicately balanced – from the butter to the texture of the pastry and the sweetness of the pineapple filling.
Kele, 2 Smith Street, Singapore 058917
SunnyHills
Chunky, rectangular and Taiwanese, SunnyHills famed pineapple cakes are a delicacy and with good reason. Packed in a red box with a sweet illustration, these individually wrapped pineapple cakes are heavy on the filling. The dense and textured pineapple jam is not too sweet, sufficiently tart. Plus, the pastry isn't too crumbly so you can have a mess-free binge session
SunnyHills, B2-27A, 391 Orchard Road, Takashimaya Shopping Centre, Ngee Ann City, Singapore 238872
Makko Teck Neo
The restaurant's famous for their authentic home-style Peranakan cuisine, but these pineapple tarts are not to be belittled – long queues are often expected over the CNY period.
Makko Teck Neo,#01-303,Blk 35 Telok Blangah Rise, Singapore 090035
Joe and Dough
Coffee and cakes are not the only things we visit Joe and Dough for. Look out for their Golden Pineapple Tarts, with melt-in-the-mouth pastry and pineapple jam that is mixed with coffee-infused cranberries for a tangy, unique taste. Plus points to their beautiful packaging!
Joe and Dough, various outlets islandwide.
Sucre
Here, pineapple tarts get a contemporary spin into Sucre's signature pineapple truffles. Made with fine Australian butter, these handmade pineapple truffles are a modern take on the traditional pineapple tart recipe but served equally aromatic and savoury. Looking for more flavours? Go all out and try their blueberry, and cheese lite pineapple truffles.
Sucre, order online.
Four Seasons Hotel Singapore
Pineapple tarts from the award-winning Jiang-Nan Chun are a treat, homemade to perfection with each bite a lovely mix of buttery goodness and tangy sweetness. You'll wanna pre-order this for the fam!
Four Seasons Hotel Singapore, 190 Orchard Boulevard, Singapore 248646
Keong Saik Bakery
The next time you visit Keong Saik for breakfast, look out for these handmade pineapple tarts at this bakery-cafe where nostalgia meets contemporary vibes! The crust is buttery and rich, and we can never get enough of them pineapple balls.
Keong Saik Bakery, 41 Keong Saik Road, Singapore 089146
Creme Maison Bakery
For adventurous foodies, Creme Maison Bakery's signature pineapple truffles come in seven flavours including original milk, french cheese, earl grey, charcoal truffle, ondeh ondeh, lychee rose, and everyone's beloved salted egg. Have a bite into the buttery crust and feel it melt in your mouth – absolutely delish! Can't decide which to get? Good news, because they have a Prosperity Bundle which gives you the choice of two flavours.
Creme Maison Bakery,#08-03C, 30 Tai Seng Street, Singapore 534013
The Pine Garden
Heartland bakeries are always the go-to for a familiar taste, and here at The Pine Garden, the homemade pineapple tarts are created from a family recipe and pineapple jam is made using selected fresh pineapples. If you're looking for something less sweet, their yuzu pineapple rolls are made with reduced sugar so you can happily indulge in pineapple goodness over the CNY period.
The Pine Garden, various outlets.
Man Fu Yuan Intercontinental Singapore
Looking for something simple but delicious? Indulge in some signature Prosperity pineapple balls from Man Fu Yuan Intercontinental Singapore, which will also make pretty gifts for your friends and family.
Man Fu Yuan Intercontinental Singapore, order online.
Carlton Hotel
Their signature Carlton Premium Pineapple Tarts are baked to golden perfection and chock full of Sarawak pineapple filling, making each bite a mixture of buttery pastry and tangy sweetness. Best of all, they make gorgeous gifts for your CNY house visits.
Carlton Hotel, 76 Bras Basah Road, Singapore 189558
Peach Garden
Handcrafted pineapple tarts at this Chinese dining establishment come in the shape of flowers and each bite is a melt-in-the-mouth kind of buttery goodness. The tanginess of the pineapple jam provides a nice balance to the richness of the pastry, and we love how beautiful these tarts look on our dining tables.
Peach Garden, order online.
The Fullerton Hotel
The rat-shaped pineapple cookies might not be as cute as last year's – you can't compete with miniature bulldog terriers, but they taste just as good!
The Fullerton Hotel, 1 Fullerton Square, Singapore 049178
Ollella
You may have heard of Ollella's fancy pastries but Ollella has also launched a series of CNY goodies, including these delightful mini pineapple balls – think tangy, spiced pineapple compote covered in a buttery pastry that crumbles in your mouth.
Ollella,#01-01, 3 Petain Road, [email protected], Singapore 208108
Thye Moh Chan
Serving handcrafted Teochew baked goods since 1943, this well-known confectionery also dishes out delectable pineapple pastry as part of its colourful CNY festive offerings. If you're a fan of local flavours, don't miss out on their popular Gula Melaka Pineapple Pastries.
Thye Moh Chan, various outlets.
Out of the Cake Box
Pineapple tarts here are wildly ingenious, and by that, we refer to the chicken floss pineapple tart. A mop of savoury and sweet chicken floss sits on top of each golden orb, resulting in bold flavours as you bite into your pineapple tart. For something lighter, try the Beurre Noisette Pineapple Tarts, which are citrusy with a hint of nuttiness.
Out of the Cake Box,#01-173, 45 Telok Blangah Drive, Singapore 100045
Pulse Patisserie
This small shop at Depot Road whips up a beautiful collection of cakes and macarons, and you can also get your hands on their rich handcrafted pineapple tarts made from fine French butter and top flour. The tarts aren't your ordinary sweet treat; they come in an unusual ingot shape with a gold coin indention.
Pulse Patisserie,#01-06, 180 Depot Road, The Interlace, Singapore 109684
Joyus Pastries
If you're working near the Tanjong Pagar area, here's another place to get your CNY goodies. The traditional pineapple tarts are sold in tubs or box sets, with a crisp biscuit base and hand-made filling.
Joyus Pastries, outlets at Tanjong Pagar XChange and Ang Mo Kio.
Emicakes
Pineapple tarts sold here come in thick, buttery goodness and not to forget, that sweet, tangy pineapple paste. Three-Day lead time is required to make an order so don't get them at the last minute!
Emicakes, various outlets.
Butter Studio
Going beyond customisable home bakes, Butter Studio's artisan handcrafted pineapple tarts are out to win us over with their oh-so-flavourful signature pineapple cheese balls and golden pineapple pillow tart.
Butter Studio, various outlets.
Home's Favourites
Possibly one of our go-to brands when it comes to purchasing festive cookies, Home's Favourite has launched three types of pineapple tarts this year including the traditional pineapple tarts, pineapple balls, as well as the visually appealing black and gold pineapple tarts – there's something for everyone!
Home's Favourites, various outlets.
HarriAnns
As a family-run business specialising in Peranakan cuisine, the pineapple tarts here are some of their signature goodies. They're available either open or closed, but both are just as flavourful with a buttery cookie dough that's aromatic with every bite.
HarriAnns, various outlets.
Divine
Looking for eggless pineapple tarts with reduced sugar? Divine's artisanal pineapple tarts are your answer. Inspired by Peranakan cuisine, these handcrafted goodies are delicious without causing you excessive grief over all that sugar intake. Eat away!
Divine,#02-31, 462, Crawford Lane, Singapore 190462
Yang Yang
This is a home-grown Singapore brand with family recipes handed down over the years, and their traditional premium pineapple balls are all-time favourites – bite-sized and with more than 70 in a box, everyone can join in the eating fun.
Yang Yang, order online.
Baker's Well
It's pineapple tarts and pineapple pillows galore at this cosy shop off East Coast Road that specialises in homemade baked goods. Besides these signature products, you can also get apple-shaped Nonya pineapple tarts or pineapple tarts with cheese.
Baker's Well, 35 East Coast Road, Singapore 428754
PrimaDeli
If you're more of a traditionalist, opt for PrimaDeli's time-tested pillow pineapple tarts. This well-loved classic is prized for its rich, crumbly crust and fresh pineapple filling. It's also available with a hint of cheese if you want to be a bit more adventurous.
PrimaDeli, various outlets.
Cedele
For the calorie counting lot, CNY is exceptionally hard with all those delicious carb-laden treats teasing you wherever you go. So, we decided to try a healthier version of the pineapple pocket pie by Cedele to gauge if it's worth the bite. Soft and easy to eat bite-sized tarts that don't make mess (doesn't leave a crumb trail iykwim), the Cedele treats are not too sweet and taste healthy (in a good way). The filling to pastry ratio is good and it's got a pleasant hint of tartness to it too.
Cedele, various outlets.